County government offices are located at 436 Grant Street; Pittsburgh, PA 15219; phone: (412)‑350‑5300.
---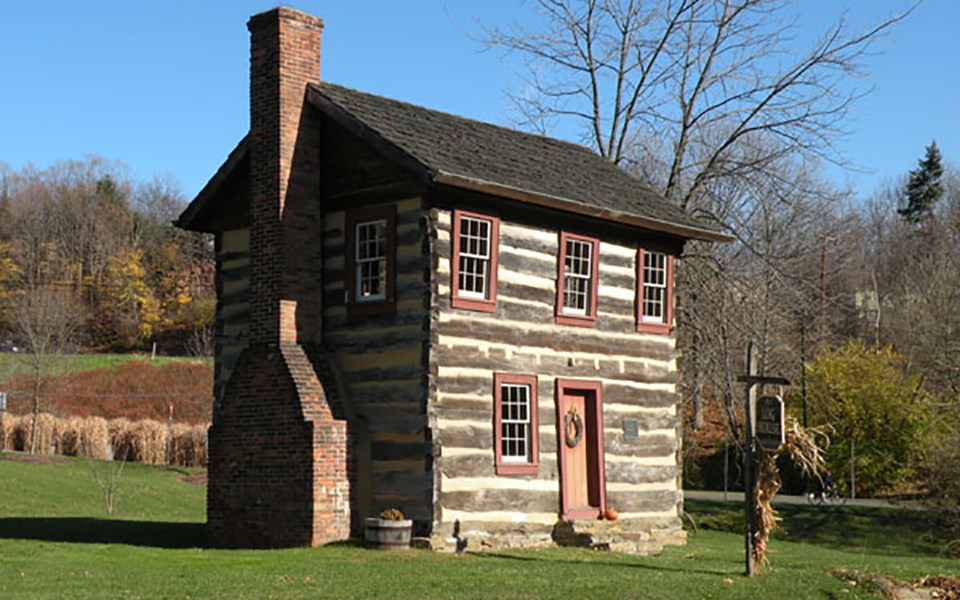 Fulton Log House, circa 1830, Clifton-Bridgeville Road, Upper St. Clair Township, Allegheny County. Listed on the National Register of Historic Places in 1975. Photographed by user:Lee Paxton (own work), 2009, [cc-3.0], via Wikimedia Commons, accessed Octoner, 2021.<
---
TOWNS
Aleppo Twp
Baldwin Twp
Bell Acres Boro
Bethel Park Boro
Braddock Hills Boro
Carnegie Boro
Castle Shannon Boro
Chalfant Boro
Churchill Boro
Collier Twp
Crafton Boro
Crescent Twp
Dravosburg Boro
East Deer Twp
East McKeesport Boro
East Pittsburgh Boro
Edgewood Boro
Edgeworth Boro
Elizabeth Twp
Emsworth Boro
Etna Boro
Fawn Twp
Findlay Twp
Forest Hills Boro
Foward Twp
Frazer Twp
Green Tree Boro
Hampton Twp
Harmar Twp
Haysville Boro
Heidelberg Boro
Indiana Twp
Ingram Boro
Jefferson Hills Boro
Kennedy Twp
Kilbuck Twp
Leet Twp
Leetsdale Boro
Lincoln Boro
Marshall Twp
McDonald Boro
McKees Rocks Boro
Monroeville Boro
Mount Oliver Boro
Munhall Boro
Neville Twp
North Braddock Boro
North Fayette Twp
North Versailles Twp
Oakdale Boro
OHara Twp
Ohio Twp
Osborne Boro
Pine Twp
Pitcairn Boro
Pleasant Hills Boro
Rankin Boro
Reserve Twp
Richland Twp
Robinson Twp
Rosslyn Farms Boro
Scott Twp
Sewickley Heights Boro
Sewickley Hills Boro
Shaler Twp
South Park Twp
South Versailles Twp
Springdale Twp
Stowe Twp
Trafford Boro
Turtle Creek Boro
Upper St Clair Twp
Versailles Boro
Wall Boro
West Deer Twp
West Elizabeth Boro
West Homestead Boro
West Mifflin Boro
West View Boro
Whitaker Boro
White Oak Boro
Whitehall Boro
Wilkins Twp
Wilmerding Boro
Created on September 24, 1788, from parts of Westmoreland and Washington Counties and named for the Allegheny River. General John Forbes named Pittsburgh, the county seat, in November 1758 in honor of William Pitt, a British statesman. It was incorporated as a borough on April 22, 1794 and as a city on March 18, 1816.
The conflict between the British and French over claims in this area was settled in 1758 when Gen. John Forbes and his British and American army forced the French to abandon Fort Duquesne, a post they had built in 1754. The British completed Fort Pitt in 1761. After the defeat of an Indian resurgence in 1763 and the end of a dispute for control with Virginia (1780), settlement swelled. This was an outfitting point for settlers who rafted down the Ohio River, and soon shipbuilding developed. A blast furnace erected by George Anshutz about 1792 began the long rise of the iron and steel industry. In 1845 a fire destroyed one-third of Pittsburgh, but in 1852 the Pennsylvania Railroad was opened to Philadelphia and in 1859 coke was first used in a blast furnace and cold rolling was invented. Pittsburgh was a major manufacturing center during the Civil War. Between 1874 and 1880 oil refineries, papermaking, and wood products industries were pushed to other locations because products that were made through high heat processes took over in Pittsburgh. From 1882 to 1901 the partnership of Henry Clay Frick and Andrew Carnegie achieved world leadership in steel. Violent labor strikes included the railroad strike of 1877, the Homestead Steel strike in 1892, and the SWOC 1936 strike. In 1901 Carnegie sold out to the new U. S. Steel Company. In 1920 the "value added by manufactures" figure for Pittsburgh's industry began to decline, but from 1939 to 1954 steel experienced a second period of grandeur. In 1946 the "Pittsburgh Renaissance" city revivals (I and II) were first conceived. From about 1970 to the present, an era of deindustrialization has prevailed. However, an increase of 15 percent in the county's figure for value added from manufactures between 1987 and 1992 suggests that the economy may have finally stabilized. The peak of Allegheny County's population was 1,628,587 in 1960; the peak for Pittsburgh was 676,806 in 1950—and it is now only 369,879. The county has also been a major bituminous producer, blessed with the magnificent Pittsburgh coal vein. In the last five years subsurface mining has almost ceased. Farms still cover 9.2 percent of the land, and Allegheny is the ninth ranked mushroom- producing county.
† The Counties of Pennsylvania, Pennsylvania Historical and Museum Commission, www.phmc.state.pa.us, accessed October, 2020.
HISTORIC SITES
109-115 Wood Street
Allegheny County Courthouse and Jail
Allegheny West Historic District
Alpha Terrace Historic District
Bowman Homestead
Brightridge Street Rowhouses
Burtner Stone House
Carson, Rachel, House
Charles Street Rowhouses
Chatham Village Historic District
Dutchtown-Deutschtown Historic District
East Carson Street Historic District
Elmridge
Evergreen Hamlet
Firstside Historic District
Fourth Avenue Historic District
Frew, John, House
Fulton Log House
Gardner-Bailey House
Gilfillan Farm
Hamnett Historic District
Heathside Cottage
Henderson-Metz House
Highland Towers Apartments
Hoene-Werle House
Homestead Historic District
House at 200 West North Avenue
Hutchinson Farm
James Scott House
John Woods House
Kerr, Thomas R., Dr., House and Office
Lehner Grain-and-Cider Mill and House
Lightner, Isaac, House
Linden Grove
Logans Ferry Powder Works Historic District
Manchester Historic District
Mexican War Streets Historic District,
Miller, James, House
Mooncrest Historic District
Moreland-Hoffstot House
Mt Lebanon Historic District
Mt Lebanon Historic District
Neville House
Oakmont Country Club Historic District
Old Allegheny Rows Historic District
Old Heidelberg Apartments
Penn-Liberty Historic District
Pennsalt Historic District
Pittsburgh Central Downtown Historic District
Sauer Buildings Historic District
Schenley Farms Historic District
Sellers House
Shields, David, House
Singer, John F., House
Thornburg Historic District
Van Kirk Farm
Walker-Ewing Log House
Way, Nicholas, House
William Penn Snyder House
---