Cuyahoga County, Ohio
The Cuyahoga County Courthouse is located at 1200 Ontario Street, Cleveland, OH 44113; phone: 216-443-8560.
---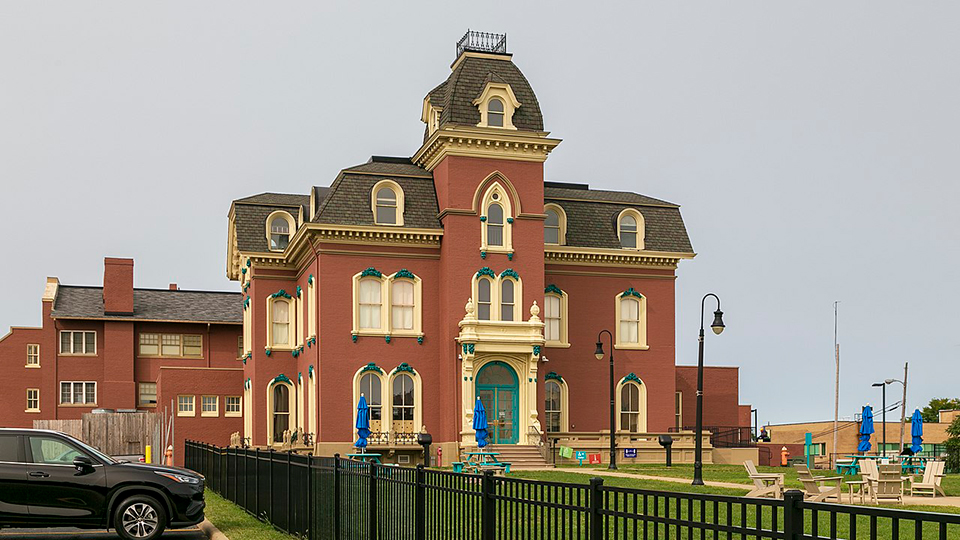 ---
TOWNS
Bay Vlg City
Bedford Heights City
Bentleyville Vlg
Berea City
Bratenahl Vlg
Brecksville City
Broadview Heights City
Brook Park City
Brooklyn Heights Vlg
Cuyahoga Heights Vlg
East Cleveland City
Euclid City
Fairview Park City
Garfield Heights City
Gates Mills Vlg
Glenwillow Vlg
Highland Heights City
Highland Hills Vlg
Hunting Valley Vlg
Indpendence City
Linndale Vlg
Lyndhurst City
Mayfield Heights City
Mayfield Vlg
Middleburg Heights City
Moreland Hills Vlg
Newburgh Heights Vlg
North Olmsted City
North Randall Vlg
North Royalton City
Oakwood Vlg
Olmsted Falls City
Olmsted Twp
Orange Vlg
Pepper Pike City
Richmond Heights City
Rocky River City
Seven Hills City
Shaker Heights City
Solon City
South Euclid City
Strongsville City
University Heights City
Valley View Vlg
Walton Hills Vlg
Warrensville Heights City
Woodmere Vlg
Cuyahoga County was created in 1810. The name Cuyahoga is an Indian word that means "crooked river." Cleveland, the county seat, was established in 1796 and named for its founder, Moses Cleaveland.
HISTORIC SITES
Adams, John And Maria, House
Aldrich, Aaron, House
Ambler Heights Historic District
Annis, John M., House
Archwood Avenue Historic District
Bedford Historic District
Bell, Dr. James, House
Benedict, Sarah, House
Blossom, Elizabeth B., Subdivision Historic District
Body Block
Bolton, Chester and Frances, House
Bomante House
Broadway Avenue Historic District
Brooklyn Centre Historic District
Brown, John Hartness, House
Buehl House
Burdick, Harold B., House
Burt, William, House
Cedar Glen Apartments
Chagrin Falls East Side Historic District
Chagrin Falls Triangle Park Commercial District
Chagrin Falls West Side District
Clague House
Clark, Jared, House
Cleveland Arcade
Cleveland Home For Aged Colored People
Cleveland Warehouse District
Clifton Park Lakefront District
Clinton Apartments
Commodore Apartment Building
Cooley Farms
Coonrad, Jonas, House
Courtland, The
Cozad, Justus L., House
Crawford-Tilden Apartments
Dall, Andrew, Jr. and James, Houses
Day, Erastus, House
Dixon Hall Apartments
Drake, Alonzo, House
Dunham, Hezekiah, House
East 89th Street Historic District
East Boulevard Historic District
East Fourth Street Historic District
Ensworth, Jeremiah, House
Euclid Avenue Historic District
Fairhill Road Village Historic District
Fairmount Boulevard District
Falls River Road
Forest Hill Historic District
Franklin Boulevard Historic District
Franklin Boulevard--West Clinton Avenue Historic District
Frazee, Stephen, House
Froelich, John, House
Fuller-Bramley House
Gabel, Daniel, House
Gaensslen, Phillip, House
Garfield Memorial
Gates Mills Historic District
Gates, Holsey, House
Gifford, Dr. William, House
Gilbert, Calvin, House
Gleason, Edmund, House
Glidden, Francis K., House
Goldsmith, Jacob, House
Gordon Square Building
Gordon Square Historic District
Greyhound Bus Station
Gwinn Estate
Hackenberg, Harvey, House
Halle Building
Hangar, The
Hanna, Howard M., Jr., House
Harp Apartments
Hay-McKinney and Bingham-Hanna House
Henn, Albert W., Mansion
Henninger, Phillip, House
Henry, Robert W., House
Hill, James, House
Honam, John, House
House of Wills
Hoyt Block
Humphrey Concrete House
Ireland, Joseph, House
Jaite Mill Historic District
Jennings Apartments
Jones Home for Children
Karamu House
Kennedy Apartments and Commercial Block
Keyt, Gideon, House
Kies, Lewis, House
Kindra, W. H., Apartments
Knapp, William, House
Knowlton, Dr. William A., House
Kuenzer, Joseph II, House
Kulas, E. J., Estate Historic District
Lay, Samuel, House
Lilly House
Lock Tender's House and Inn
Lorain Avenue Commercial Historic District
Lorain Station Historic District
Lorain-Carnegie Bridge
Lower Prospect-Huron Historic District
Magnolia-Wade Park Historic District
Malio House
March, George, House
Mather, Flora Stone, College District
McFarland, Duncan, House
Merwin, George, House
Miles Park Historic District
Miller Block
Montana Apartments
Morgan, Garrett, House
Neff Apartments
Newton Avenue Historic District
Nicholson, James, House
Northrop, Julia Carter, House
Ohio City Preservation District
Ohio and Erie Canal Historic District
Old River Road Historic District
Olmsted Falls Historic District
Olney, Charles, House and Gallery
Overlook Road Carriage House District
Packard-Doubler House
Panek Block
Pickands, Jay M., House
Plaza Apartments
Pomeroy, Alanson, House
Prospect Avenue Row House Group
Quad Hall
Rich, Charles B., House
Rockefeller Park and Cleveland Cultural Gardens Historic District
Rose Hill and Community House
Schweinfurth, Charles, House
Shaker Square Historic District
Shaker Village Historic District
Snow, Russ and Holland, Houses
South Brooklyn Commercial District
Southworth House
Stager-Beckwith House
Stanley Block
Stearns, Lyman, Farm
Stebbens Farm
Stockbridge Apartment Building
Stone, Valerius C., House
Stoneman, Joseph, House
Strong, John Stoughton, House
Taylor Mansion-Lakehurst
Telling, William E., House
Temple, The
Terra Vista Archeological District
Thorp, W. A., House
Tiedemann, Hannes, House
Townes, Clayton, House
Tremaine-Gallagher Residence
Tremont Historic District
Ulyatt, Abraham, House
Valley Railway Historic District
Vaughn, Richard, Farm
Wade Park District
Warren, Moses, House
Warszawa Neighborhood District
Wheeler, John, House
White, Henry P., House
Whitney, George W., House
William Tricker Inc. Historic District
Wilson's Mills Settlement District
Woodland Avenue and West Side Railroad Powerhouse