Cleveland Heights City
Cleveland Heights City Hall is located at 40 Severance Circle, Cleveland Heights, OH 44118.
Phone: 216‑291‑1444.
---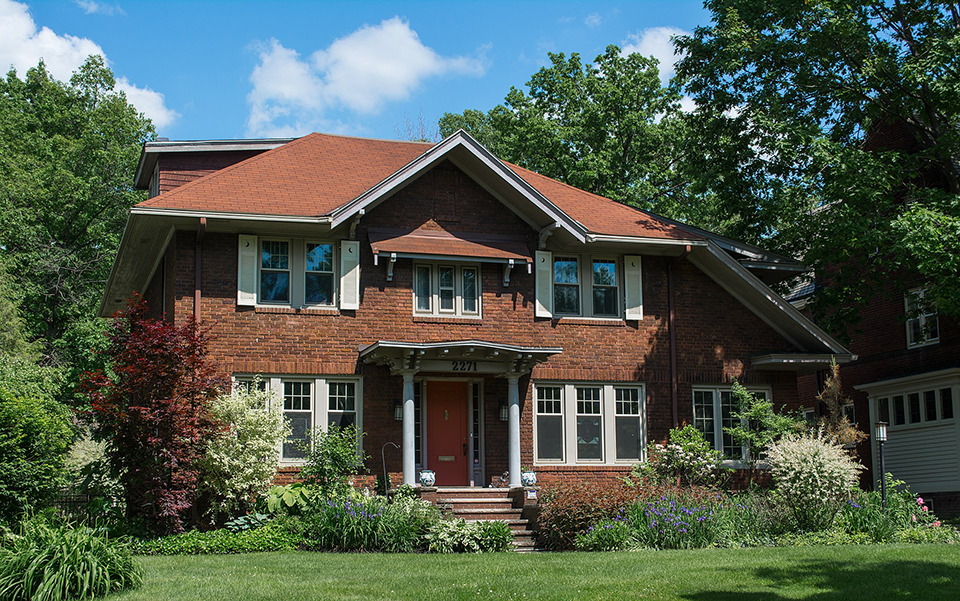 House at 2271 Woodmere Drive in the Euclid Golf Historic District, Cleveland Heights. The District was listed on the Nationak Register in 2002. Photographed by wikipedia username: Tim Evanson, own work, 2015, [cc-2.0], accessed July, 2022.
---
Cleveland Heughts is one of Cleveland's historic Streetcar Suburbs.
The founding of Cleveland Heights [1] was part of the exodus of the American middle and upper classes from cities to suburbs, a migration that began with the horse-drawn trolley in the 1860s and accelerated with the electric streetcar, beginning in the 1890s. Cleveland's wealthy families traveled east on Euclid Avenue, "Millionaires' Row," to build homes in the 1870s in the eariy suburban communities of Glenville, Collinwood and Collamer in East Cleveland Township, along or near the shores of Lake Erie. The city of Cleveland, a flourishing industrial metropolis with a growing, increasingly cosmopolitan population of 261,353 in 1890, continuously expanded its boundaries east, annexing contiguous villages. The future Cleveland Heights in the southeast corner of East Cleveland Township remained relatively isolated, thanks to the hills that rose steeply to the east from Euclid Avenue. The neighborhood's small population owned farms, quarries, orchards, and vineyards.
Neighborhoods
Berkshire Condominiums
Bluestone Condos
Boulevard Townhomes
Buckingham
Burlington Courts
Campus District
Castle Gardens
Cedar Heights
Cedarbrook
Cedarmount
Chestnut Hill
Courtyards
Coventry
Crestwood
Fairhill Road Village Historic District
Forest Hill Historic District
Forest Hills
Glenturret Condominiums
Grant Deming's Forest Hill Allotment Historic District
Greyton Court
Mayfield Heights Historic District
Oakwood Club Subdivision Historic District
Potter Estates
Rushleigh
Severn Park
Shaker Farm Historic District
Shaker Village Historic District
Stadium Square Historic District
Summit Park
Superior Heights
Taylor Heights
The Oaks
Washington Boulevard
Wyldwood Estates
Wyldwood Heights
Due to its location on top of a densely forested bluff, Cleveland Heights [2] was settled later than some surrounding areas. The first road—now known as Mayfield Road—was built in 1828 and the area became home to farms and quarries.
By the 1890s, streetcars connected the Heights to Cleveland and many of the area's elite began settling atop the bluff due to its location just outside of Cleveland. In 1901, residents organized to form the Hamlet of Cleveland Heights, later becoming the Village of Cleveland Heights in 1903. By 1920, the Village reached a population of 15,396 and the City of Cleveland Heights was incorporated on August 9th, 1921.
Most building construction occurred in the 1910s and 1920s with Colonial and Tudor Revival houses, apartments, and commercial districts spreading throughout the city. The 1930 population was 50,945, a five-fold increase over a 20-year span. Several 'gentlemen farmers' had estates in the area, including American business magnate John D. Rockefeller who owned a 700 acre estate in the City. Rockefeller donated the land for Forest Hill Park—a third of which is located in Cleveland Heights and two-thirds in East Cleveland—in 1938.
Adapted from: Marian J. Morton with the assistance of Kara Hamley O'Donnell and Ken Goldberg, Euclid Heights Historic District, nomination document, 2012, National Register of Historic Places, Washington, D.C.
City of CLeveland Heights, Master Plan, 2017, www.clevelandheights.gov, accessed July, 2022.
Nearby Towns: Beachwood City • Lyndhurst City • Maple Heights City •
---