Maple Heights City
Maple Hieghts CIty Hall is located at 5353 Lee Road, Maple Heights, Ohio 44137.
Phone: 216-662-6000.
---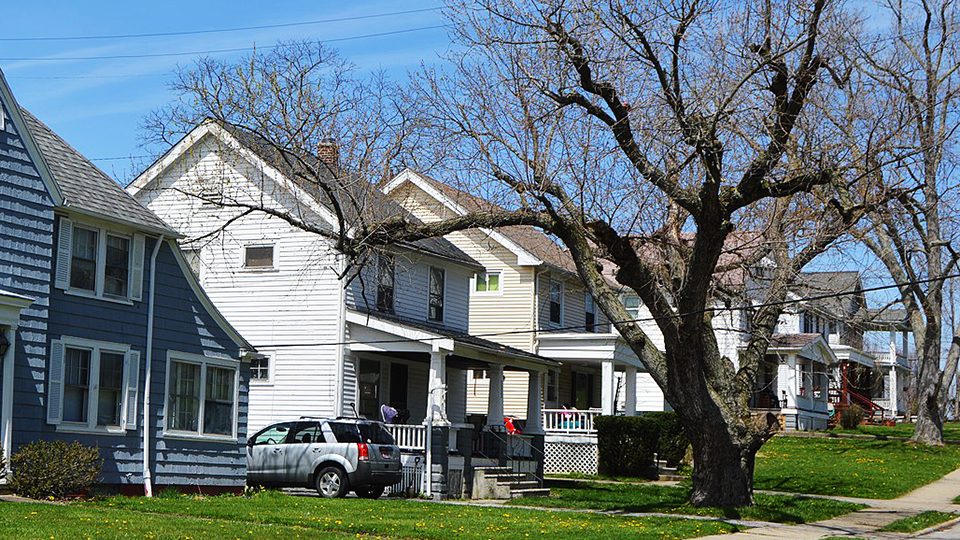 Photo: Residential neighborhood along Vine Street. Photographed by User:Nyttend (own work), 2016, via Wikimedia Commons, accessed September, 2021.
---
Neighborhoods
Bedford
Blue Ridge Park
Comstock Farm
Raimer
Suburban Estates
Valley Ranch Estates
Woodlawn
Beginnings [†]
Present day northeastern Ohio was a part of the Connecticut Western Reserve, land claimed by the state of Connecticut after the American Revolutionary War. The land was sold to the Connecticut Land Company in the late 1790s and divided into Townships and the City of Cleveland by surveyor Moses Cleaveland. The first known settler in the area was Benjamin Fitch in 1813. The area which is now Maple Heights was the Maple Grove area of Bedford Township, established in 1832, until it incorporated in 1915. The community incorporated to avoid annexation by Bedford Village. Maple Grove and Maple Heights were named for the area's many maple trees.
Maple Heights incorporated as a village in July of 1915 with approximately 1,000 residents and the same boundaries that define it to this day. A Mayor-Council form of government was established in June of 1930. On January 1, 1932, the Village incorporated as a City after a significant population increase to more than 5,000 residents as a result of eastern European immigration to Cleveland spreading south. This included many immigrants from Italy, Poland, the Czech Republic, Hungary, and France.
Maple Heights became a prime location for industry after the Cleveland & Pittsburgh Railroad was built through the area in 1849 as well as the Connotton Valley Railroad in 1881. The Akron, Bedford, & Cleveland interurban line also ran through Maple Heights from 1895 to 1932. Industry expanded after Dunham Road was built in 1827 and connected to the Ohio and Erie Canal. This included a variety of companies from Aluminum Smelting&Refining Co. and Jones and Laughlin Steel to Lempco Industries, an auto manufacturing company, and Kraft Foods.
An increase in shopping centers followed the end of World War II in Maple Heights. Mapletown Shopping Center was constructed in 1947 at the intersection of Libby and Broadway, followed by Southgate Shopping Center in 1955. At the time, it had 44 stores but grew to 86 stores by 1961. Both retail areas still exist today.
Since the end of the Post-War boom, Maple Heights has struggled to maintain prosperity. Southgate Shopping Center lost two of its department stores and has seen minimal investment since a new K-Mart opened in 1978. The City's housing stock has also aged as new development has moved to greenfields outside the land-locked space of Maple Heights.
Despite the struggles associated with a built-out community and the remnants of the housing crisis of 2008, Maple Heights' retains many of the economic attractors that made it successful in the first place. The City's railroads still actively move freight and goods throughout the region and nation, its housing stock is affordable and attractive, and its location along major highways makes the City easily accessible. While difficulties remain, the City's strong fundamentals can be built upon for new development in the 21st Century.
† Cuyahga County Planning Commission, Maple Heights Master Plan, 2019, www.countyplanning.us, accessed September, 2021.
Nearby Towns: Beachwood City • Bedford City • Cleveland Heights City • Sagamore Hills Township •
---