Norfolk County administrative offices are located at 614 High Street, Dedham MA 02026; phone: 741-461-6105.
---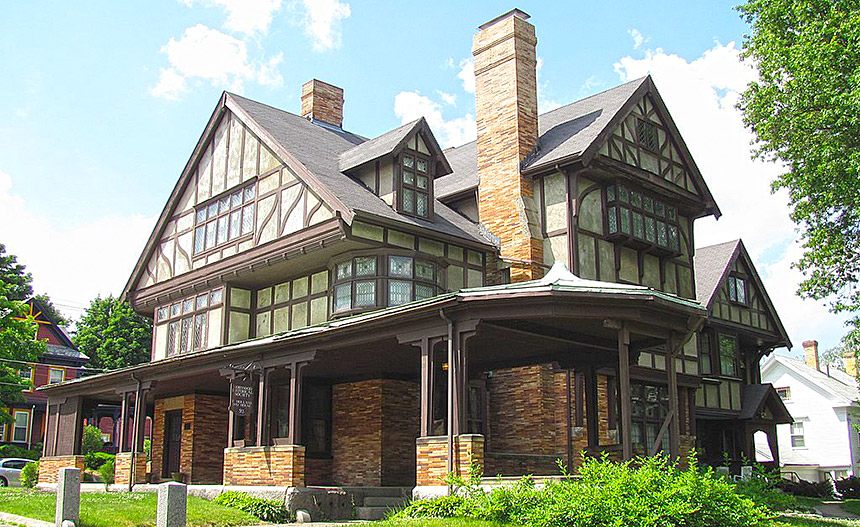 Photo: Fred Holland Day House, circa 1859, located at 93 Day Street, Norwood. Listed on the National Register of Historic Places in 1977. Photographed by wikipedia username: John Phelan, own work, 2919, [cc-3.0], accessed September, 2022.
---
TOWNS
Bellingham Town
Cohasset Town
Holbrook Town
Medfield Town
Millis Town
Norwood Town
Plainville Town
Randolph Town
Westwood Town
Beginnings [1]
As originally erected (1793), the County of Norfolk consisted of twenty-one towns, to wit: Bellingham, Braintree, Brookline, Cohasset, Dedham, Dorchester, District of Dover, Foxborough, Franklin, Medfield, Medway, Milton, Needham, Quincy, Randolph, Roxbury, Sharon, Stoughton, Walpole, Weymouth and Wrentham.
It is not certain who is responsible for the county's name. In the bill a space was left and the name "Norfolk" was inserted just before the final passage of the measure. Geographically, the name is inappropriate. As the first settlers of Massachusetts were English people, it was natural that they should adopt many of the names of their native land. In the eastern part of England, on the shores of the North Sea, there are two counties called Norfolk and Suffolk. The inhabitants of the northern county were originally known as the "North Folk," and those of the southern were called the "South Folk." In time the names were shortened to Nor'Folk and Sou'Folk, and the counties became known as Norfolkshire and Suffolkshire. It is related that not long after Norfolk County, Massachusetts, was organized, John Randolph of Virginia walked up to John Quincy Adams in the national House of Representatives, of which both were then members, and said: "Look here, Quincy, how is this? You live in Norfolk County; now what the devil do you people in Massachusetts mean by setting off Norfolk County and putting it south of Suffolk County?"
Norfolk County is distinguished as being the birthplace of four U.S. Presidents: John Adams, John Quincy Adams, John F. Kennedy, and George H. W. Bush.
Cook, Louis A., ed., History of Norfolk County Massachusetts 1622-1918, Volume I, S. J. Clarke Publishing Company, New York, 1918
HISTORIC SITES
Adams National Historic Site
Adams, John Quincy, Birthplace
Adams, John, Birthplace
Alden, Arthur, House
Anderson, Larz, Park Historic District
Bainbridge, Randolph, House
Barker, George A., House
Barker, Henry F., House
Barnes House
Bateman, William R., House
Baxter Street Historic District
Baxter-King House
Beacon Street Historic District
Beaconsfield Terraces Historic District
Belcher, Jonathan, House
Belcher-Rowe House
Bent, G.H., Company Factory
Bowditch, William Ingersoll, House
Boyden, Seth, House
Brandegee Estate
Brookline Town Green Historic District
Brookline Village Commercial District
Brookwood Farm
Brown-Hodgkinson House
Brush Hill Historic District
Burgess, Charles H., House
Burgess, Frank, House
Burgin, Clarence, House
Cabot, Lewis, Estate
Candler Cottage
Carpenter, Ezra, House
Cary, Otis, House
Caryl, Benjamin, House
Central Fire Station
Central Square Historic District
Chestnut Hill Historic District
Child, Isaac, House
Cohasset Common Historic District
Colburn School-High Street Historic District
Corey, Timothy, House No. 1
Corey, Timothy, House No. 2
Cottage Farm Historic District
Crane, Frank W., House
Curtis, Noah, House
Curtis, Thomas, House
Cypress-Emerson Historic District
Davis, Dr. Frank, House
Davis, Robert S., House
Davis, Thomas Aspinwall, House
Day, Fred Holland, House
Dean Junior College Historic District
Dedham Village Historic District
Devotion, Edward, House
Dicey, Russell M., House
Dogget, Solon, House
Dorothy Q Apartments
Douglass, Alfred, House
Dutch House, The
Dwight-Derby House
Elliot, Gen. Simon, House
Emmett Cottage
Endicott Estate
Fairbanks House
Faxon House
Fernwood
Fisher Hill Historic District
Fisher School-High Street Historic District
Forbes, Capt. Robert B., House
Francis, Dr. Tappan Eustis, House
Franklin Common Historic District
Fuller, Amos, House
Fuller, Robert, House
Glover House
Goddard, John, House
Government Island Historic District
Graffam Development Historic District
Green Hill Historic District
Hagerty, Josephine M., House
Halloran, John, House
Hardwick House
Harris, John, House and Farm
Heath, Charles, House
Heath, Ebenezer, House
Hersey, Ebenezer B., House
Holbrook Square Historic District
Holbrook, Dr. Amos, House
Hotel Adelaide
Hotel Kempsford
House at 105 Marion Street
House at 105 President's Lane
House at 12 Linden Street
House at 12 Vernon Street
House at 12-16 Corey Road
House at 15 Gilmore Street
House at 155 Reservoir
House at 156 Mason Terrace
House at 19 Linden Street
House at 20 Sterling Street
House at 23-25 Prout Street
House at 25 High School Avenue
House at 25 Stanton Road
House at 32 Bayview Avenue
House at 38-40 Webster Place
House at 4 Perry Street
House at 44 Linden Street
House at 44 Stanton Road
House at 5 Lincoln Road
House at 53 Linden Street
House at 83 Penniman Place
House at 89 Rawson Road and 86 Colburne Crescent
House at 9 Linden Street
House at 92 Willard Street
House at 94 Grandview Avenue
Houses at 76-96 Harvard Avenue
Hunnewell Estates Historic District
Inness-Fitts House and Studio/Barn
Jackson, Thaddeus, House
Jewell, David L., House
John Fitzgerald Kennedy National Historic Site
Kilsyth Terrace
Kingsbury-Whitaker House
Lennon, Edward J., House
Lewis, Deacon Willard, House
Lewis, Joshua, House
Linden Park
Linden Square
Longwood Historic District
Lothrop, Caleb, House
Lynch-O'Gorman House
Marsh, Charles, House
Marsh, Edwin W., House
McIntire, Herman, House
McIntosh Corner Historic District
Milestone
Miller, Edward, House
Mills, Davis, House
Milton Centre Historic District
Milton Hill Historic District
Minot, George R., House
Morse, Amos, House
Murphy, William, House
Needham Town Hall Historic District
Nelson, John R., House
Newcomb Place
Nightengale House
Nightengale, Solomon, House
Norfolk County Courthouse
Norfolk Grange Hall
Nowland, J. Martin, House
Olmsted, Frederick Law, House, National Historic Site
Orrock, Rev. John, House
Paine Estate
Partridge, John, House
Peak House
Perkins Estate
Pettengill, C. F., House
Pill Hill Historic District
Pinkham House
Plimpton-Winter House
Pratt, Capt. Josiah, House
Pratt-Faxon House
Quincy Homestead
Quincy, Josiah, House
Rabbit Hill Historic District
Railway Village Historic District
Record, Jonathan Dexter, House
Redman Farm House
Reed, Timothy, House
Reservoir Park
Richards, Alfred H., House
Roughwood
Saint Aidan's Church and Rectory
Saint Mary of the Assumption Church, Rectory, School and Convent
Saint Paul's Church, Chapel, and Parish House
Saint Paul's Rectory
Scott's Woods Historic District
Sevenels
Sharon Historic District
Sheppard, Eben W., House
Sidelinger, George A., House
Spear, Seth, Homestead
Smith, James, House
Spooner, William, House
Spurr, Eliphalet, House
Standish, James H., House
Stoddard, Bela, House
Stoneholm
Strathmore Road Historic District
Suffolk Resolves House
Thayer, Gen. Sylvanus, House
Tolman-Gay House
Toussaint, Winand, House
Townsend House
Tuckerman, William F., House
Turner, Stephen, House
Twitchell, Ginery, House
Warelands
Weymouth Civic District
White Place Historic District
White, Benjamin, House
White, Charles E., House
Whitney, Israel, House
Wilson, Capt. John, House and Bates Ship Chandlery
Winfield House
---