Ocean County government offices are located at 101 Hooper Avenue, Toms River NJ 08753; phone: 732‑929‑2000.
---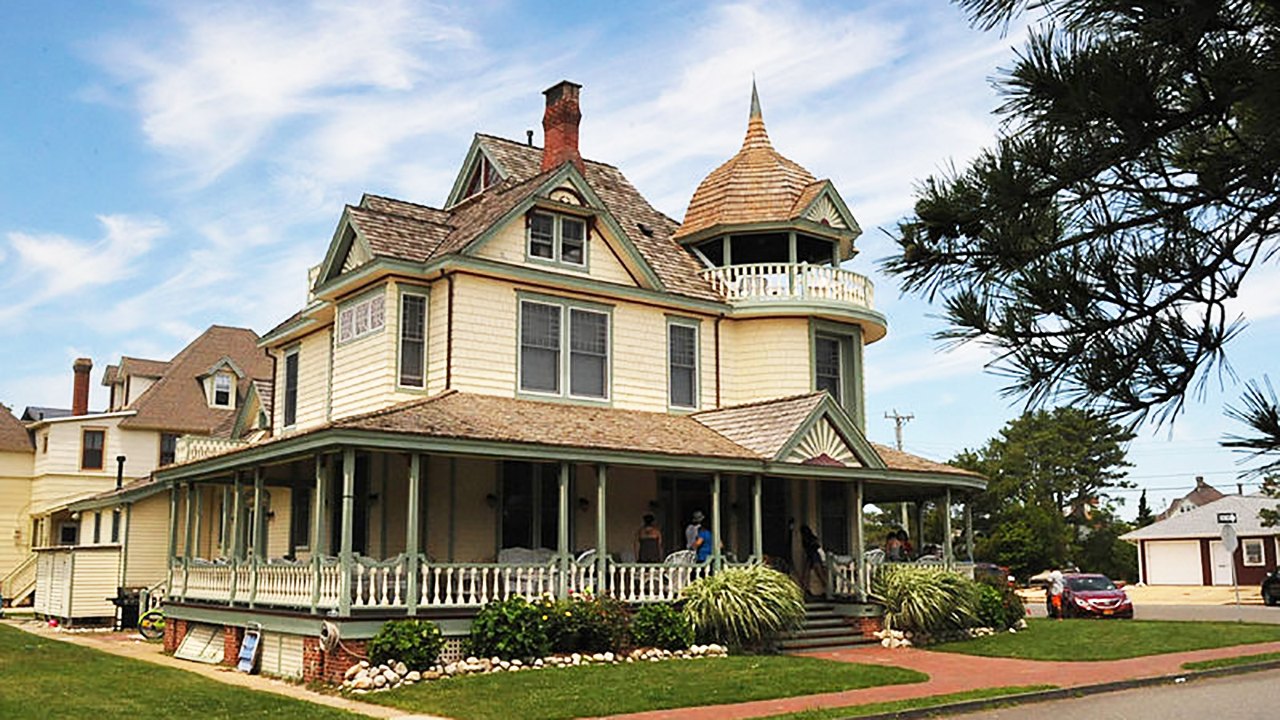 Photo: Converse Cottage, Summer House, circa 1884, located at 500 South Atlantic Avenue, Neach Haven. Listed on the National Register of Historic Places in 1983. Photographed by User:Jerrye & Roy Klotz MD (own work), 2007, [cc-3.0], via Wikimedia Commons, accessed September, 2021.
---
TOWNS
Brick Twp
Eagleswood Twp
Long Beach Twp
Ocean Gate Boro
Point Pleasant Beach Boro
Point Pleasant Boro
Seaside Park Boro
South Toms River Boro
Ocean County was split-off from Monmouth County and incorporated in 1850. There are 2 deep sea ports in the county: Point Pleasant Beach and Barnegat Light.
Barnegat Bay off Ocean County is the start of the Inland Waterway which terminates in Florida.
Beginnings [1]
Letters of Honorable Edwin Salter, published in the New Jersey Courier (in 1877 and 1878), give many interesting items respecting the early settlers of Ocean county, which was originally a part of Monmouth. The Rogerine Baptists came from New London (via Schooley's Mountain) to Waertown in 1737. Abraham Waer, one of their number who gave name to Waertown, is said to have come from near the Hurlgate, above New York. The Brown family came originally from Goshen, N. Y.; the Headleys from the same State. Samuel Bennett came from New England; John Perkins came from England during the old French war. The first Soper who landed in West Jersey, was Thomas Soper, in 1678. Tradition says that the Sopers were of Huguenot descent. The Camburns came from New England, probably from Nantucket. They went on whaling voyages. The Birdsall family originally came from Long Island. The Predmores are said to be from Middlesex County.
The Stout family of Ocean and Monmouth counties descended from John Stout, a gentleman of good family of Nottinghamshire. England. His son Richard married a widow, whose maiden name was Penelope Van Princes. Her romantic history and marvelous escape from the Indians are described [in various historical accounts.]
The Falkenberg families of Ocean county are said to have descended from Henry Jacob Falkenberg, who came from Holstein, a little province adjoining Denmark. He acted as interpreter between the English and the Indians, near Trenton, in 1677. He removed his residence from Burlington about 1698 to Little Egg Harbor, settling a short distance below Tuckerton.
The Holmes family in Ocean county are descended from Reverend Obadiuh Holmes, so favorably remembered in the annals of the Baptist Church in America. His son Jonathan became a resident of Monmouth County, and was in 1668 a member of the Assembly.
Proceedings of the New Jersey Historical Society, Second Series, Vol VI-VII, 1879-1881, Daily Advertiser, Newark, 1881.
HISTORIC SITES
A.A. Brant House
Bay Head Historic District
Beach Haven Historic District
Capt. Amos Birdsall House
Capt. George W. Giberson House
Cassville Crossroads Historic District
Cavarly Cottage
Converse Cottage
Crawford House
Double Trouble Historic District
Dr. Edward H. Williams House
Falkinburg Farmstead
Georgian Court
Horner House
Island Heights Historic District
Ocean County Courthouse
Sherbourne Farm
Stewart House
Stoutenburgh-Minturn House
Willits-Andrews Farmstead Site
ary Etta Cox MHouse
---