County Government was abolished in 1960. The eight counties continue solely as geographical subdivisions of the state.
---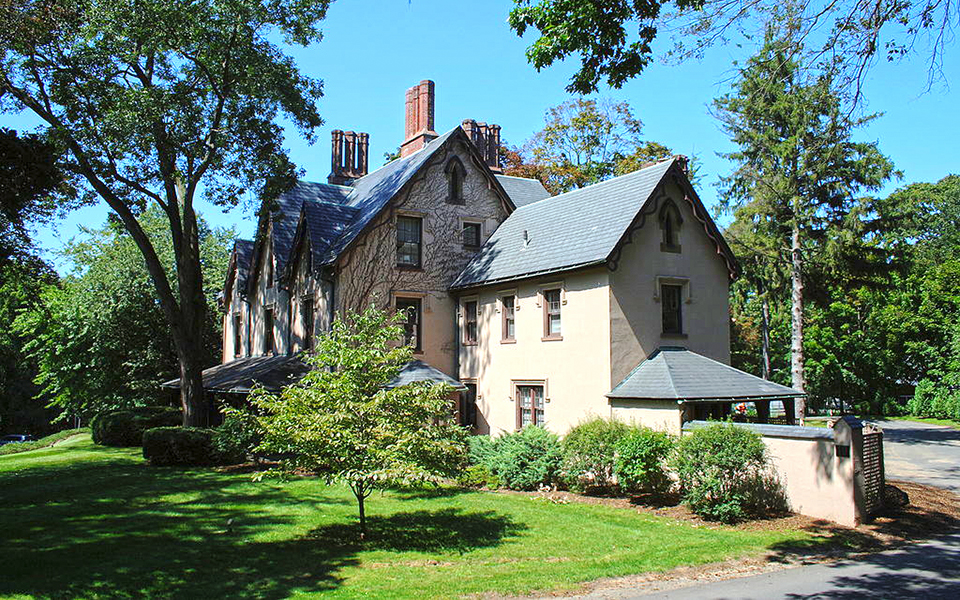 Photo: Perkins-Clark House, circa1861, located at 9 Woodland Street, Hartford, CT. Listed on the National Register of Historic Places in 1978. Photographed by user:Sage Ross (own work), 2009, [cc-3.0 ], via Wikimedia Commons, accessed September, 2021.
---
TOWNS
The Connecticut Tourism Bureau divides the state into five regions. Hartford County is part of the region known as "River Valley." The county was established in 1666 as one of the 4 original counties of the State. Population approaches 900,000 residents and incomes are typically about 20% above the national median.
HISTORIC SITES
Allen Place-Lincoln Street Historic District
Allyn, Capt. Benjamin, II, House
Andrews, Luman, House
Ann Street Historic District
Apartment at 49-51 Spring Street
Armsmear
Asylum Avenue District
Asylum-Trumbull-Pearl Streets Historic District
Atwater Manufacturing Company
Austin, A. Everett, House
Avon Center Historic District
Barber, Giles, House
Barber, Martin, House
Barber, Warren M., House
Barbour, Lucius, House
Barlow, Boce W., Jr., House
Barnes, Selah, House
Barnes-Frost House
Batterson Block
Beach, Charles E., House
Beardsley-Mix House
Belden, Horace, House
Beleden House
Bemont, Makens, House
Bigelow-Hartford Carpet Mills Historic District
Brace, Moses-Uriah Cadwell House
Bradley, Icabod, House
Brewer, Selden, House
Broad Street Green Historic District
Buckingham Square District
Burnham, Edward L., Farm
Butler, James, House
Butler, Roger, House
Butler-McCook Homestead
Buttolph-Williams House
Canton Center Historic District
Canty, Marietta, House
Capen-Clark Historic District
Carter, John, House
Case, Benomi, House
Central Avenue-Center Cemetery Historic District
Chaffee, Hezekiah, House
Chapman, Taylor, House
Charter Oak Place
Cheney Brothers Historic District
Children's Village of the Hartford Orphan Asylum
Church Home, The
Church of the Good Shepherd and Parish House
City Hall-Monument District
Clark Farm Tenant House Site
Clark, Avery, House
Clay Hill Historic District
Collins and Townley Streets District
Collinsville Historic District
Colt Industrial District
Colton, Benjamin, House
Congress Street Historic District
Connecticut State Capitol
Connecticut Statehouse
Copper Ledges and Chimney Crest
Coult, Abraham, House
Cowles, Capt. Josiah, House
Cowles, Gen. George, House
Curtisville Historic District
Darling, Robert and Julia, House
Day House
Day, Calvin, House
Day-Taylor House
Deane, Silas, House
Department Store Historic District
Downtown Main Street Historic District
Downtown North Historic District
East Granby Historic District
East Weatogue Historic District
East Windsor Hill Historic District
Ellsworth, Horace H., House
Ellsworth, Oliver, Homestead
Elm Street Historic District
Elm Street Historic District
Elmore Houses
Endee Manor Historic District
Enfield Historic District
Enfield Shakers Historic District
Eno Memorial Hall
Eno, Amos, House
Ernest R. Burwell House
Erwin Home for Worthy and Indigent Women
Evans, Ebenezer, House
Farmington Historic District
Farnsworth, Samuel, House
Federal Hill Historic District
First Church Parsonage
First Congregational Church of East Hartford and Parsonage
Frog Hollow Historic District
Frost, Levi B., House
Fuller, John, House
Garvan-Carroll Historic District
Gillett, Asa, House
Gillette, Francis, House
Gilman-Hayden House
Glastonbury Historic District
Glastonbury-Rocky Hill Ferry Historic District
Goodman, Timothy, House
Goodwin Block
Gothic Cottage
Grace Church Rectory
Granby Center Historic District
Grandview Terrace Boulevard Historic District
Grannis, Stephen, House
Grant, Ebenezer, House
Gridley-Parsons-Staples Homestead
Hale, Dr. Elizur, House
Hanna's Block
Hart's Corner Historic District
Hart, Timothy, House
Hart, Timothy, House
Hartford Golf Club Historic District
Harvey, William H., House
Hastings Hill Historic District
Hatheway House
Hayden, Capt. Nathaniel, House
Hayes, Samuel II, House
Hazardville Historic District
Henry Barnard House
High Street Historic District
Hill-Stead
Hilltop Farm
Holcomb, Judah, House
Holcomb, Nathaniel, III, House
Hollister, John, House
Holmes, Francis H., House
Hooker, Henry, House
Hooker, John and Isabella, House
Hooker, Sarah Whitman, House
Hosmer, Daniel, House
House at 1010 Shuttle Meadow Road
House at 111 Maple Avenue
House at 1137 West Street
House at 130 Hayden Station Road
House at 140 and 144 Retreat Avenue
House at 36 Forest Street
House at 44 Court Street
House at 590 West Street
House at 736 Palisado Avenue
House at 847 Main Street, North
House at 88 Maple Avenue
Humphrey, John, House
Hyde-St. John House
Imlay and Laurel Streets District
Isham-Terry House
J. B. Williams Company Historic District
James B. Colt House
Jefferson-Seymour District
Jerome, William I, House
Johnson, Wilfred X., House
Joseph Webb House
Kellogg, Gen. Martin, House
Kelsey, Enoch, House
Kelsey, Ezekiel, House
Kimberly Mansion
King's Field House
King, Alexander, House
King, George, House
Langdon, Thomas, House
Laurel and Marshall Streets District
Lewis Street Block
Lewis-Zukowski House
Linke, William L., House
Little Hollywood Historic District
Loomis, Capt. James, House
Loomis, Col. James, House
Loomis, George G., House
Loomis, Gordon, House
Loomis, Ira, Jr., House
Lyman House
Magill, Henry, House
Main Street Historic District No. 1
Main Street Historic District No. 2
Main Street Historic District
Main Street Historic District
Manchester Historic District
Marion Historic District
Marlborough House
Mather Homestead
Meriden Avenue-Oakland Road Historic District
Mills, Elijah, House
Mills, Oliver W., House
Mills, Timothy Dwight, House
Moore, Deacon John, House
Moore, Edward and Ann, House
Moore, Rosswell, II, House
Moore, Roswell, II, House
Morley, Edward W., House
Murphy, Patrick, House
Naubuc Avenue-Broad Street Historic District
New Britain Opera House
Newington Junction North Historic District
Newington Junction South Historic District
Newington Junction West Historic District
Nook Farm and Woodland Street District
Norton, Charles H., House
Old Wethersfield Historic District
Palisado Avenue Historic District
Parkside Historic District
Payne, Daniel, House
Perkins-Clark House
Phelps, Antoinette Randolph, House
Phelps, Capt. Elisha, House
Phelps, Eli, House
Phelps, Ezekiel, House
Pine Grove Historic District
Pinney, David, House and Barn
Plantsville Historic District
Polish National Home
Pomeroy, Arthur G., House
Porter, Dr. J., House
Pratt Street Historic District
Prospect Avenue Historic District
Robbins, John, House
Robbins, Unni II, House
Rocky Hill Center Historic District
Rogers Farm Historic District
Root, Jonathan, House
Rowe and Weed Houses
Royal Typewriter Company Building
Seymour, Elisha, Jr., House
Shelton, William, House
Sigourney Square Historic District
Simpson, Dr. Frank T., House
Simsbury Center Historic District
Simsbury Townhouse
Sisson-South Whitney Historic District
Skelton, Dr. Henry, House
Sloper-Wesoly House
South End Historic District
South Glastonbury Historic District
South Green Historic District
Southington Center Historic District
Spanish House, The
Spencer House
Stanley-Whitman House
Stanley-Woodruff-Allen House
Stanly, Samuel, House
Steele, Allyn, House
Stowe, Harriet Beecher, House
Suffield Historic District
Sweetland, Sophia, House
Tariffville Historic District
Terry's Plain Historic District
Terry-Hayden House
Thompson, William H., Farmstead
Treadway, Townsend G., House
Treadwell House
Tunxis Forest Headquarters House
Twain, Mark, House
Union Village Historic District
Upper Albany Historic District
Walnut Hill Historic District
Webster, Horace, Farmhouse
Webster, Noah, Birthplace
Welles, Gideon, House
Welles-Shipman-Ward House
Wells, John, Jr., House
West Boulevard Historic District
West End Historic District
West End North Historic District
West End South Historic District
West Granby Historic District
West Hartford Municipal Historic District
West Hill Historic District
Whiting Homestead
Whitman House
Wiard, John, House
Widows' Home
Wightman, Rev. John, House
Wightman, Valentine, House
Willard Homestead
Williams, Austin F., Carriagehouse and House
Wilson, Henry, Jr., House
Windsor Farms Historic District
Woodbridge Farmstead
Woodruff House
Woodruff, Capt. Samuel, House
Woodruff, Charles, House
Woodruff, Ezekiel, House
Woodruff, Jotham, House
Woodruff, Urbana, House
Worthington Ridge Historic District
---