Burlington Town
Burlington Town Hall is located at 200 Spielman Highway, Burlington CT 06013.
Phone: 860‑673‑6789.
---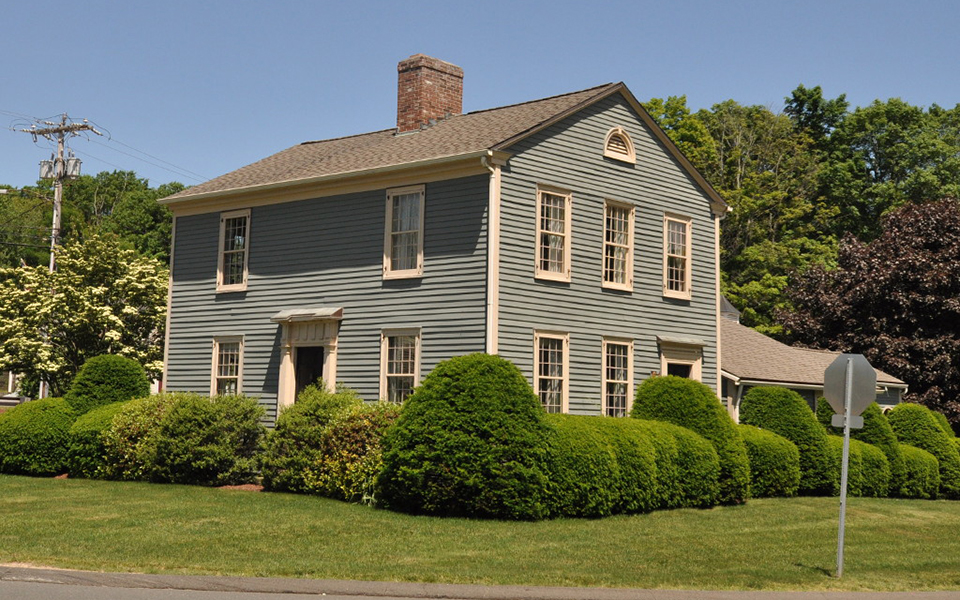 Photo: Treadwell House, 253 Spielman Highway, circa 1810 built for then Connecticut Governor John Treadwell. Listed on the National Register in 1982. Photographed by User:Magicpiano, own work), 2019,creative commons [cc 4.0], via wikimedia, accessed January, 2021.
---
The Town of Burlington [1] is miles of forest, watershed land and unique neighborhoods that blend into natural beauty. We live on streets overlooking peaceful lakes as well as the Farmington River, in homes where our agrarian roots are still evident or in mountainside homes nestled among the soaring trees. Atop Johnnycake Mountain, we can walk the Blue Trail from our door, watch the migration of the Golden Eagle, and choose active adult living.
Our population of over 9,000 has a treasure in the hundreds of acres of State Forest named Sessions Woods. This is a vibrant learning center and series of trails used by residents and visitors alike. The Burlington Land Trust dedicates its efforts to preserving the natural resources of the town. The Farmington River Watershed Association keeps watch over our Farmington River and its banks.
Burlington's natural charm is enhanced by the dedication of its citizens. From our Volunteer Fire Department to members of our civic groups, we all benefit from the involvement of those in our community. The children of Burlington not only receive an outstanding education at Region 10 schools, but have the benefit of volunteers in the town's many organizations. The Town of Burlington is a multi-layered community and a close-knit group of families, businesses and individuals whose one goal is to keep Burlington a wonderful place to work and live.
Neighborhoods
Barnes Ridge
Burlington Village
Highwood Crossing
Johnnycake
Table Rock Estates
The Village
Trotters Gait
Wood Ponds
Woodcrest
Beginnings [2]
Burlington was first settled around 1740, organized as the Parish of West Britain in 1774, and incorporated as a town in 1806. The name Burlington may have been derived from 'Bridlington' in Yorkshire, England. Some historians claim it was named for the third Earl of Burlington.
Formerly known as "West Woods" or "West Britain," a section of Farmington, Burlington was first settled by 19 families of the Seventh Day Baptist Church, who came from Westerly, Rhode Island, to seek asylum in the wilderness, and organized a church here, September 18, 1780.
Burlington Economic Development Commission, Elcome to Burlington, CT, 2016, www.burlingtonct.us. accessed January, 2021.
Edgar L. Heermance, compiler, The Connecticut Guide: What to See and Where to Find It, Connecticut Emergency Relief Commission, Hartford, 1935.
Nearby Towns: Bristol City • Harwinton Town • New Hartford Town • Plymouth Town • Torrington City •
---