Franklin City
Franklin City Hall is located at 430 Thirteenth Street, Franklin PA 16323.
Phone: 814‑437‑1485.
---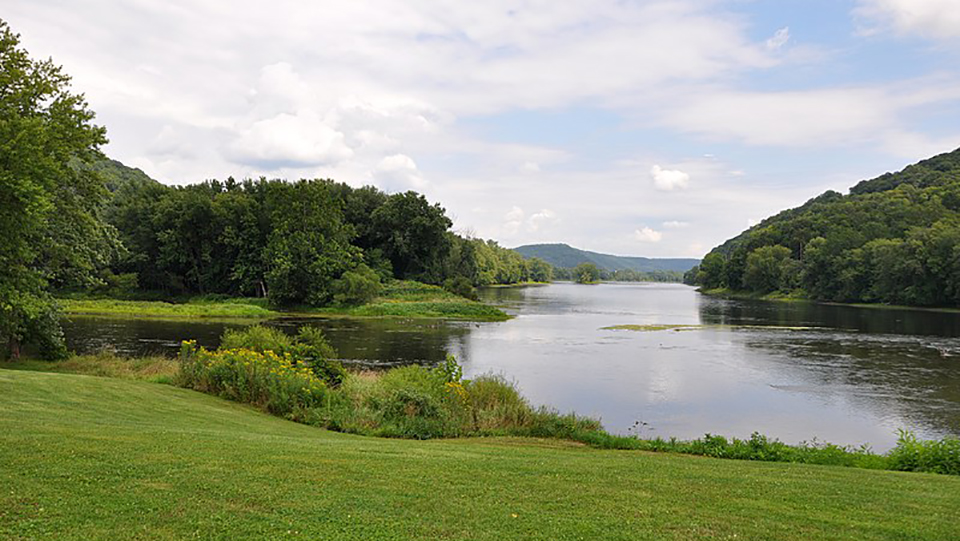 Photo: Confluence of the Allegheny River and French Creek as viewed from Riverfront Park. Photographed by User:Finetooth, Wikipedia (own work), 2012, [cc-by-3.0], via Wikimedia Commons, accessed June, 2021.
---
Franklin [1] has developed a complex architectural heritage that is very evident and well documented. This fascinating period of cultural history occurred here in one of the most noted historic settlements in Northwestern Pennsylvania. The City's strategic location was the leading cause for this early activity. The first sixty-four years (1741‑1805) was centered upon frontier trade and military enterprise involving French and English colonial interests and subsequent American permanent settlement.
A major portion of Franklin's architecture was erected during the late 19th and early 20th century. The rapid economic sophistication of the town caused a total transformation of its commercial, residential, industrial and institutional buildings. All of the period's architectural styles can be seen in some form in downtown Franklin — Gothic Revival, Victorian, Second Empire, Queen Anne, Tudor Revival, Italianate, Stick and Romanesque. Highly varied, many of these buildings are associated with the region's most prominent and sometimes colorful people.
Neighborhoods
Beginnings [2]
Franklin, county seat, named for Benjamin Franklin, was laid out by William Irvine and Andrew Ellicott, state commissioners, in 1795, on a plateau where a few Seneca Indians were living in comparative security, with a lookout on the highest point of the highest hill, giving views up and down the two beautiful rivers. Being a conservative town, the original city plan has been closely followed, descendants of the early white settlers are living on their own lands from original surveys. Courthouse, Renaissance, brick, in center of a fine wide park, contains portrait of John Morrison, first town crier; near by is Soldiers' Monument, marble shaft surmounted by an eagle; on the pedestal are carved names of Venango County soldiers killed in the Civil War; opposite is the Franklin News office, Renaissance, good modern construction.
St. John's Protestant Episcopal Church has fine Tiffany windows; the Presbyterian, Baptist, and Roman Catholic churches all have good architecture and stained glass windows. Fine Armory Building. Original lock and dam are preserved intact, in an early canal extended to Franklin, from the "Feeder" Canal several miles below Meadville, on French Creek, its course is plainly seen at many places along the creek; five old bridges that were swept away by fire and ice have been replaced by modern structures; one is called the "Washington," concrete, handsome design.
Three early frontier forts were here, sites marked by monuments and tablets, Fort Machault, French, Elk Street near Sixth Street, 1753-59; Washington came here on way to Fort Le Boeuf, 1753; this fort had a share in the maneuvers that precipitated "the great seven years war" and dissipated the dreams of an extended French empire; the expedition which brought on actual hostilities was organized and received its impetus at Fort Machault. French troops passed through, and often a thousand Indians lingered here. Fort Venango, Elk Street at Eighth Street, English, 1760-63, captured and burned by the Indians during Pontiac's war; and Fort Franklin, on Franklin Avenue west of Thirteenth Street, built by United States 178796, later abandoned; also the Old Garrison, on bank of French Creek near junction with Allegheny River, erected by the United States after Fort Franklin. This city has never failed in a military crisis; during the war of 1848, George C. McClellan led the "forlorn hope" which captured the fortified buildings at Chepultepec, making the taking of the palace possible.
Six miles down the river is "Indian God Rock," on which are still seen Indian picture writings; near this rock, Celeron, a Frenchman, under orders from the governor of Canada, is said to have buried one of the engraved leaden plates, placed at various points from Lake Erie to the Mississippi River, as marks of renewal of French possession. Opposite is a bald mountain, from which are fine views of river scenery; among the hills are numerous caves and ravines, a lovely ravine is Glen Fern south of Franklin; Monarch Park, halfway to Oil City, is a well-equipped pleasure ground.
Franklin Brochure Projest, 2006, franklinpa.gov, accessed June, 2021.
Archambault, A. Margaretta, ed., A Guide Book of Art, Architecture, and Historic Interests in Pennsylvania, John C. Winston Company, Philadelphia, 1924
---