Denver City
Denver's City and County Building (City Hall) is located at 1437 Bannock Street, Denver CO 80202.
Phone: 720‑913‑3050.
---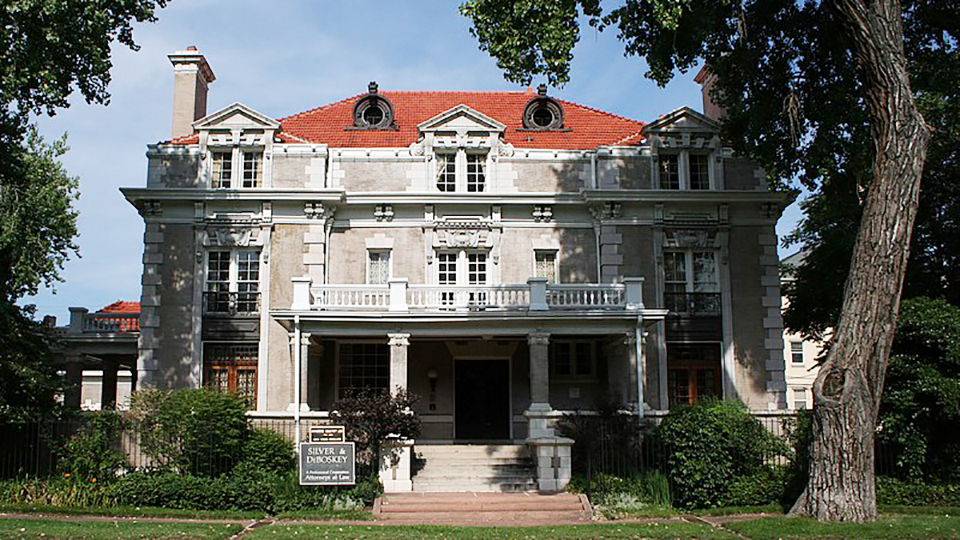 Photo: Frank L. Smith House, 1801 York Street, Denver, built ca. 1891. Listed on the National Register of Historic Places in 1995 Photograph by Jeffrey Beall, 2009, (own work) [cc-3.0], via Wikimedia Commons, accessed June, 2021.
---
Denver is a consolidated City‑County governed by a mayor and 13-member city council.
Beginnings [1]
In the fall of 1858 a settlement of miners and prospectors grew up in the vicinity of the " diggings " where the Green Russell party found gold. The confluence of the Platte and Cherry Creek made a natural site for a town. In the winter of 1858-1859 there were a hundred log cabins on the east and west banks of Cherry Creek. The village on the west side of the little stream was called Auraria; that on the east side was named Denver, after James W. Denver, then governor of Kansas Territory (which extended westward to the Rockies). For a year the two towns maintained a separate existence, and then were united into one burg with the name of Denver City; thenceforth "Auraria" passed into history.
Neighborhoods
Abbey On Adams
Abbotsford
Abington
Academy
Adams Gardens
Adams Park
Ajax Lofts
Alameda Heights
Alameda Hills
Alamo Placita
Aloha Beach
Alta Vista
Alton Park
Appletree West
Arapahoe
Argo Park
Arlington Heights
Arlington Park
Arrowhead
Art House Condos
Arvell Condos
Asbury Park
Athmar Park
Atrium Condos
Auraria
Avon
Bag Factory Lofts
Baker
Baker Flats On Broadway
Balboa Park
Bancrofts Addition
Barclay Towers
Barnum West
Barnums
Barrington Condos
Bayly Lofts
Bear Creek Ranchettes
Bear Valley Heights
Bear Valley West
Beaumont Place
Beauvallon
Belcaro
Belcaro Park
Bellevue
Bellevue Park
Bellevue West
Belmont Heights
Belmont Park
Belmont Place
Berkeley
Berkeley
Berkeley Gardens
Berkeley Highlands
Berkeley Hills
Berkeley in Jefferson
Berkeley Park Gardens
Berkeley Park Heights
Bills Brothers Addition
Biltmore Arms Condos
Biscayne
Bolt Factory Lofts
Bonnie Brae
Bonnie Brae
Bonnie Brae South
Boulevard Gardens
Boulevard Heights
Boulevard Highlands
Bow Mar
Bow Mar Heights
Bowling Green Condos
Brandy Chase
Brandy Chase at Eastmoor Park
Breenlow Park
Broadway Heights
Broadway Highlands
Broadway North
Brooks Tower
Burns Boulevard
Burns Heights
Burns Hill Addition
Burnsdale
Buschman
Byers East
Cable Heights
Camberly By The Park Townhomes
Cambridge Square Condos
Cameron at the Lake
Candlewyck Condos
Canterbury Court Condos
Canyon Club
Capitol Avenue
Capitol Hill
Carol Sue Heights
Carriage Row at Cherry Creek
Casements Addition
Cawkers Addition
Cedar Bridge
Cedar Pointe Condos
Centennial Acres
Centennial Estates
Central Capitol Hill
Chaffee Park
Chaffee Park Heights
Chamberlin Heights
Chamberlins
Chaplinskiy
Cheesman Park
Cheltenham Heights
Cherry Creek
Cherry Creek Condos
Cherry Creek Country Club
Cherry Creek Gardens
Cherry Creek Meadows
Cherry Creek North
Cherry Creek South
Cherry Creek Tower
Cherry Creek Townhouses
Cherry Hills Heights
Cherry Hills Vista
Cherry Park Commons
Cherry Point
Chestnut Condos
Cinnimon Courtyard Homes
City Heights
City Horizons
City Living at Gaylord Condos
City Park
City Park North
City Park South
City Park West
City View Heights
Clayton
Claytons Addition
Clements Addition
Clough Addiiton
Cloverdale
Club Monaco
Club Valencia
Colfax Terrace
College Crest
College Square
College View
Colorado Center
Columbine
Concha
Concord
Confluence Heights
Congress Park
Cooper Flats Condos
Copperstone Condos
Corona Village
Coronado
Cortona at Cherry Creek Condo
Cory
Cottage Hill Highlands
Country Club
Country Club North
Country Club Villas
Country Hills
Creamery Condos
Creekview
Crestmoor Park
Crestview Estates
Crisps Addition
Cumberland
Curtis Park
Curtis Street Commons
Dakota Lofts Condos
Dartmouth Downs
Dartmouth Heights
Dayton Green Limited Condos
Deer Run
Deer Trail
Delappe Place
Delgany Condos
Denver Country Club
Denver Dry Condos
Denver Gardens
Denver Tower
Detroit Flats Condos
Devonshire Square
Dexter Court Condos
Dickinson
Dora Lea
Dorchester Condos
Downing Place
Downing Street Station
Downings Addition
Downington
Duntons Holly Hills
Eagle Ridge
Earl Place
East Berkeley
East Capitol Hill
East Colfax
East Creek Villas
East Denver
East Montrose
East Ninth Condos
East View
Eastgate
Eastmoor Park Condos
Eckhart Place
Edbrooke Lofts
Edgefield
Edgewater
Eleven Hundred Cheesman Park
Elmsdale Heights
Elmwood Addition
Elyria Addition
Embassy House Condos
Emerson Condos
Emerson Court Condos
Emerson Place Condos
Enterprise Hills Historic District
Epic On Penn Condos
Epic on the Park Condos
Esplanade Heightse
Estes
Evans Park Estates
Evanston
Explorador Vista
Exposition Addition
Fairmont Addition
Fairview
Fairview Place Residences
Fairways at Pinehurst
Fire Clay Lofts Condos
First Creek Condos
Five Points
Five Twenty Five Condos
Florado
Fords Addition
Forresters Garden
Fort Logan
Fountain Court
Four Hundred Third Condos
Four Mile Condos
Franklin Court Condos
Franklin Lofts
French Quarter
Gaiser Holly Hills
Garden Home
Garden Park
Garden Place
Garfield Heights
Gates
Gateway
Gateway Park
Gateway Village
Gavin Addition
Gaylord Place Condos
Geneva Condos
Gilpin
Glass House Condos
Glen Ridge Square Condos
Glenborough Condos
Glenbrook
Glenn Court Row Condos
Globeville
Golden Triangle
Goldsmith
Gotham City Condos
Governors Manor Condos
Governors Park
Governors Place
Grand View
Grant Park Condos
Grant Ranch
Granville
Granville West
Green Acres
Green Valley Ranch
Greenwood Reserve
Grenvalley Ranch
Grnd View Highlands
Gunnison Heights
Hagus Addition
Hale
Hamilton Condos
Hampden
Hampden Court Condos
Hampden East Condos
Hampden Heights
Harkness Heights
Hartmans Addition
Harvey Park
Harvey Park South
Heidelberg Condos
Heights at Cherry Creek Condos
Heritage Court
High Point Village
High Street Condos
Highland Park Addition
Highland Place
Highland Square
Highland Terrace Condos
Highland View
Highlands
Highlands Garden Village
Highline Glen
Hiland Hills
Hilltop
Hilltop
Holly Hills
Holly Point
Holly Ridge
Homers Addition
Honeymoon Manor
Honneckes Addiition
Hughes Mountain View
Humboldt Place
Humphreys Addition
Hunt Club
Huntington Estates
Hunts Addition
Hurley Heights
Hutchinson Hills
Hyde Park Addition
Icon 1107 Condos
Indian Creek
Inslees Addition
Inspiration
Inspiration Point Estates
Inspiration Terrace
Irving Park
Ivanhoe Addition
Ivy Villa Townhomes
J P Farmers Addition
Jasmine Condos
Jasmine Townhouses
Jefferson Park
Jensen
Jerome Addition
Jewell Circle
Kaisers Addition
Kassermans Addition
Kennedy
Kensington
Kentucky Gardens
Kettles Addition
King Houston
Kinyon Heights
Kirkland
Knox Addition
Krisana Park
Kurtz Place
La Fontana Condos
Lake Archer
Lake Park Condos
Lake View
Lakeridge
Lakeshore Village
Lakewood
Lakewood Estates
Lakota Heights
Lanai Condos
Larimer Place Condos
Lawndale
Lee Downs
Left Bank
Legacy at City Park South
Lessig Addition
Lewis Hurst
Lexington Village Condos
Leydon Heights
Liberty
Lido Condos
Lighthouse Breakers
Lincoln Manor
Lincoln Park Condos
Linden Lea
Little Turtle
LoDo
Lodo
Lofts at Denver Rock Drill Works
Logan Street Condos
Lohi Flats
London House Condos
Lower Downtown
Lowrey Heights
Lowry
Lowry Park Heights
Lowry Promenade
Lynn Peterson
Lynwood
Madera
Manchester Heights
Manlea
Manor Homes at Cherry Creek
Mansion Condos
Maple Grove
Mapleton
Maplewood
Mar Lee
Mar Lee Manor
Marais Uptown Condos
Marbro Park
Marland Heights
Marston Villas
Maxim Condos
Mayfair
Mayfair Park
McCoy Hills
McCulloughs Addition
McCulloughs Hill
McGills
McIntosh
McKees Addition
McNeils Addition
Merrill
Metro View Park
Metropolitan Lofts Condos
Middlefields
Midland Condos
Milan Condos
Miles
Miller Park
Miralago at Marston Lake
Mississippi Heights
Monaco Gardens
Monaco Place Condos
Monaco Village Condos
Monarch Mills Condos
Monbello
Monroe Park Condos
Montbello
Montclair
Monterey Gardens
Montgomery Court Condos
Montrechez
Montrose
Morbro Park
Morningside
Morrison
Morristown
Mountain Shadows Condos
Mountain View
Mountain View Park
Mountain View Place
Muse
New England Heights
Newell
Newport Place Condos
Nob Hill Condos
North Capitol Hill
North City Park
North Denver Heights
North Highlands
North Lawn Gardens
North Lowell Heights
North Park Hill
Northeast Park Hill
Northfield
Northview Estates
Northwest
Number One Downing Ltd Condos
Oak Park Condos
Oakland
Observatory Park
Officers Row Condos
Ogden Gardens Condos
Old South Gaylord Condominium
One Polo Creek Condos
One Riverfront Condos
One Thousand South Monaco Condos
Overland
Overland Park
Overlook at Park Hill
Overlook Condos
Packard Hill
Paekfield
Palace Lofts
Park Avenue Addition
Park Club Place
Park Forest
Park Hill
Park Lane Condos
Park Mayfair Condos
Park Monaco Condos
Park Place Tower Condos
Park View Addition
Park Vista
Park West
Parker Glen
Parkfield
Parkway Condos
Parkway Towers Condos
Pattersons
Pauline
Pebble Creek Condos
Pecos Place
Pelican Pointe
Penn Court Condos
Penn Square Condos
Penn Towers Condos
Pennborough Condos
Perl Mack
Perrins
Piersons Addition
Pine Valley
Pine Valley Estates
Pinehurst Bowmar
Pinehurst Estates
Pinehurst Village
Pinnacle at City Park
Pinnacle Ranch Condos
Platt Park
Plaza De Monaco Towers Condos
Point South
Polo Club
Polo Club North
Porters Addition
Portico Condos
Portofino
Portofino Tower
Potter Highlands
Prestons Addition
Progress Heights
Promenade Lofts Condos
Promontory Condos
Prophecy Lofts Condos
Prospect Park Townhomes
Provence
Quail Crossing
Quincy Park Condos
Quincy Place at Pinehurst
Rachelle Condos
Raintree
Raintree East
Range View
Regis
Regis Heights
Residences at Lawrence Street
Residences at Penterra Plaza
River Rock Condos
Riverclay Condos
Riverdale
Riverdale Farm
Riverfront
Riverfront Park
Riverfront Tower
Riverside Addition
Riviera Park Condos
Roberts
Rohlfings
Rose Acres
Rosedale
Roslyn Court at Stapleton Condos
Rowan Jacobs
Royal Crest Subd
Royal Oak Condos
Ruby Hill
Rue Royale Condos
Sagamore Hill
San Rafael
Santa Fe Art District
Schade
Schinners
Seven Springs
Shackelton Place
Shadow Wood Condos
Sharon Park
Sher-Mor
Sheridan Park
Sheridan Sunset
Sheridan Terrace
Sherman
Sherman Court Condos
Sherrelwood Estates
Shiloh
Shoshone Lofts
Silver Square
Skye Condos
Skyland
Sloans Highlands
Sloans Lake
Sloans Lake
Sloans Lake Heights
Smedleys
South Capitol Hill
South Decatur
South Fairview
South Park Hill
South Pearl Commons Condos
South Platte
South Swansea Addition
Southern Hills
Southlawn Gardens
Southmoor
Southmoor Park
Southwest Denver
Speer
Speer Lofts Condos
Spire
Springfield at Indian Creek
St James Heights
Stadium Lofts
Stanford Commons
Stapleton
Stebbins Heights
Stevens School Condos
Stiles Addition
Stoney Brook
Sumners Addition
Sun Valley
Sunnyside
Sunnyside
Sunnyside Highlands
Sunrise Club Addition
Sunset Heights
Sunset Terrace
Swallow Hill
Swanee Condos
Swansea
Syracuse Village
Tall Pines
Tamarac Hills
Tamaron
Tapestry Flats Condos
Taxi 2 Condos
Tejon Heights
Terrace at Stoney Brook
Terre Bonne
Thatcher Condos
The Flats at Fulton Court
The Paragon
The Polo Club
The Promontory
The Turtle Creek Condos
The Village
Thornton
Three Fountains
Topaz at Indian Creek
Tower on the Park
Towers at Cheesman Park
Towne Square Lofts
Townhomes at Leyden Walk
Trail Creek Ranch Condos
Trails at Parkfield Lake Condos
Tuxedo Park Addition
Two Thousand Cheesman East
Ullmans Addition
Union Addition
Union Station
University Gardens
University Hills
University Park
University Place
Uptown 21 Condos
Uptown Lofts Condos
Uptown Tower on the Park
Valley Hi
Valley Station
Valley Vista
Valverde
Valverde Heights
Van Camps Addition
Versailles Condos
Vestal Addition
Viaduct Addition
Viking Condos
Villa Marbella
Villa Margaux Townhomes
Villa Park Addition
Village Commons
Village West
Villages at Raccoon Creek
Villarosso Residences
Villas at Cherry Hills
Villas at Stoney Brook
Virginia Vale
Virginia Village
Vrooman
Walnut Hill Subdivison
Wareington
Warren Square Condos
Washington
Washington Manor Condos
Washington Park
Washington Terrace
Watermark Village
Waterside Lofts
Watertower Lofts Condos
Watertown Place
Welby Hill Condos
Wellington Condos
Wellshire East
Wellshire Heights
Wellshire Hills
West Colfax
West End Lofts
West Highland
West Villa Park
West Washington Park
Westbridge
Westchester North
Westchester South
Western Hills
Westlawn Addition
Westlawn Gardens
Westmoorland
Westwood
Westwood Park
Whispering Pines
Whispering Pines West
Whittier
Wickford Patio Homes
Wildhorse Ridge Condos
Wilkies Addition
Wind Stream
Windsong
Windsor
Windsor Condos
Windsor Gardens
Windsor Gardens East
Winston Downs
Winston Downs
Wolff Place
Wonderland at City Park South
Wood
Woodglen
Woodside
Woodstream
Woodstream Falls
Woodstream Village
Wormington
Wymans Addition
Yale Heights Condos
Yale Park
Yorktown Homes
Yosemite Street Condos
Youngs Addition
[ continued ]
Queen City.
The spring of 1859 brought an enormous influx of "Pike's Peakers," and Denver suddenly sprang into an important city. It became a base of supplies for the mountain towns and mining camps. As the years rolled by, it forged ahead and outstripped all its rivals in Colorado Territory. In the 1860's Denver was dubbed "The City of the Plains." In the 1870's it was recognized as the metropolis of the Rocky Mountain country and got the nickname "Queen City of the Plains." In 1881 it was chosen as the permanent capital of the Centennial State.
State Capitol Building
The Capitol is situated on Capitol Hill, 1-1/2 miles from Union Depot and about one mile from the post office. The corner-stone of the Capitol was laid July 4, 1890. Although the building was not completed in 1895, the Tenth General Assembly met in it. Some of the decorative details of the State House were not finished until 1900. The cost of construction exceeded $2,500,000. Mr. E. E. Myers of Detroit was the architect. The Capitol site includes 10 acres of land, given to Colorado Territory by the late Henry C. Brown. The building stands in the center of a beautiful terrace. The west front faces Broadway; the north front faces Colfax or Fifteenth Avenue (the entrance being directly opposite Sherman Avenue); the east front faces Grant Street; and the south front faces Fourteenth Avenue.
The Colorado Capitol is a majestic edifice, cruciform in shape. It was built of native granite, and finished inside with Colorado onyx. The structure is of the Doric order of classic architecture, with Corinthian ornamentations. In its general appearance it is characterized by simplicity and severe grandeur. The interior decorations are tasteful and artistic. The Capitol is 384 feet long from north to south, 313 feet wide, and 102 feet high from the ground to the cornices. The distance from the ground line to the top of the globe on the dome is 276 feet. The building contains altogether 160 rooms.
Parsons, Eugene, A Guidebook to Colorado, Little, Brown, and Company, Boston, 1911
Nearby Towns: Denver City-County • Edgewater City • Englewood City • Mountain View Town • Sheridan City •
---