Denver's City and County Building, also known as City Hall, is located at 1437 Bannock Street, Denver CO 80202; it is on the west side of the city's Civic Center Park.
---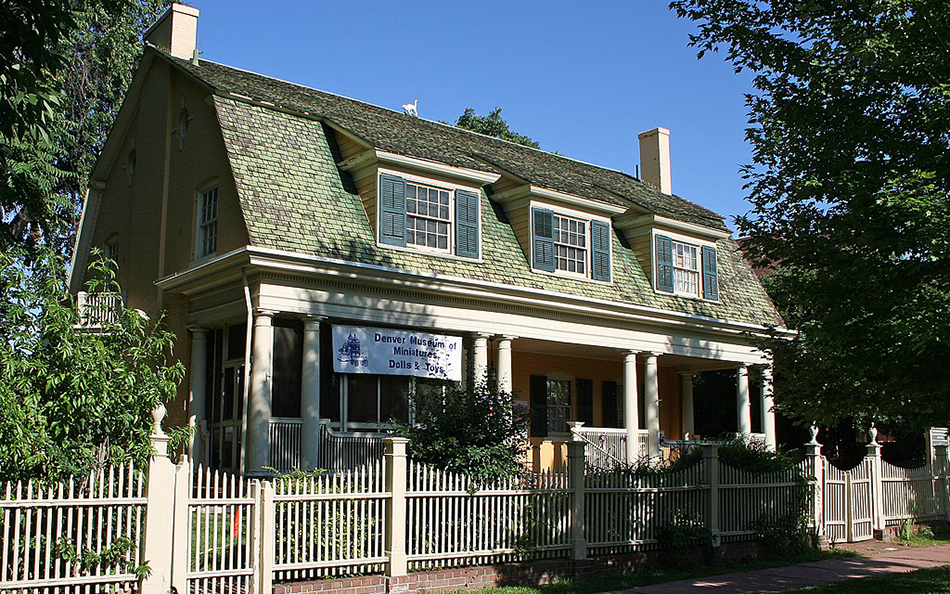 Photo: Pearce-McAllister Cottage, 1880 Gaylord Street, Denver, built circa 1899. Listed on the National Register of Historic Places in 1972 Photograph by Jeffrey Beall, 2009, (own work) [cc-3.0], via Wikimedia Commons, accessed September, 2021.
---
TOWNS
Denver is the capital of Colorado and operates as a combined City-County government.
See City of Denver for additional info.
HISTORIC SITES
Altamaha Apartments
Arcanum Apartments
Arno Apartments
Auraria 9th Street Historic District
Bailey House
Bancroft, Caroline, House
Beierle Farm
Belcaro
Bouvier-Lothrop House
Bowman, William Norman, House-Yamecila
Brown, Molly, House
Buchtel Bungalow
Butters, Alfred, House
Byers-Evans House
Campbell, Richard Crawford, House
Chappell, Delos Allen, House
Chateau, The
Cheesman Park Duplex
Civic Center Historic District
Clements Rowhouse
Cole Neighborhood Historic District
Colorado Governor's Mansion
Cornwall Apartments
Country Club Historic District
Cranmer House
Crawford Hill Mansion
Creswell Mansion
Croke-Patterson-Campbell Mansion
Curry-Chucovich House
Curtis-Champa Streets District
Denver Orphans' Home
Doud, John and Elvira, House
Dow-Rosenzweig House
Doyle=Benton House
Dunning-Benedict House
Dunwoody, William J., House
Elsner, John, House
Enterprise Hill Historic District
Eppich Apartments
Field Officer's Quarters, Fort Logan
Field, Eugene, House
Field, Thomas M., House
Fisher, William G., House
Fitzroy Place
Fleming-Hanington House
Flower, John S., House
Flower-Vaile House
Ford, Justina, House
Foster, Ernest LeNeve, House
Four-Mile House
Fourth Church of Christ, Scientist
Gates, Russell and Elinor, Mansion
Gebhard Mansion
General Electric Building
Ghost Building
Glenarm Place Historic Residential District
Grafton, The
Grant-Humphreys Mansion
Grimm, S. A., Block
Guerrieri-Decunto House
Hamburger, George, Block
Hanigan=Canino Terrace
Haskell House
Helene Apartment Building
Highland Park-Scottish Village Historic District
Highland Park
Humboldt Street Historic District
Joshel, Lloyd M., House
Keating, Jeffery and Mary, House
Kerr House
Kistler-Rodriguez House
Kohn House
Lafayette Historic District
Lang, William, Townhouse
Larimer Square Historic District
LeFevre, Owen E., House
Lower Downtown Historic District
Lowry Field Brick Barracks
McCourt, Peter, House
Moffatt, David H., House
Montgomery Court
Neef, Frederick W., House
New Terrace
Niblock-Yacovetta Terrace
Nordlund House
Norman Apartments
Orlando Flats
Palmer, Judge Peter L. House
Palmer=Ferril House
Park Hill
Pearce-McAllister Cottage
Pierce-Haley House
Potter Highlands Historic District
Raymond, Wilbur S., House
Richthofen Castle
Robinson House
Romeo Block
Roth, Henry, House
San Rafael Historic District
Schleier, George, Mansion
Schlessinger House
Schmidt, George, House
Sheedy Mansion
Sherman Street Historic District
Smith House
Smith, Milo A., House
Smith, Pierce T., House
South Side=Baker Historic District
Stanley Arms
Stearns House
Stonemen's Row Historic District
Swallow Hill Historic District
Tallmadge and Boyer Block
Tears-McFarlane House
Thomas, H. H., House
Vine Street Houses
Weckbaugh House
Westside Neighborhood
Wheeler House
Wood-Morris-Bonfils House
Zall House
Zang, Adolph J., House
Zang, Adolph, Mansion