Franklin City
Franklin City Hall is located at 109 3rd Avenue South, Franklin TN 37064.
Phone: 615‑791‑3217.
---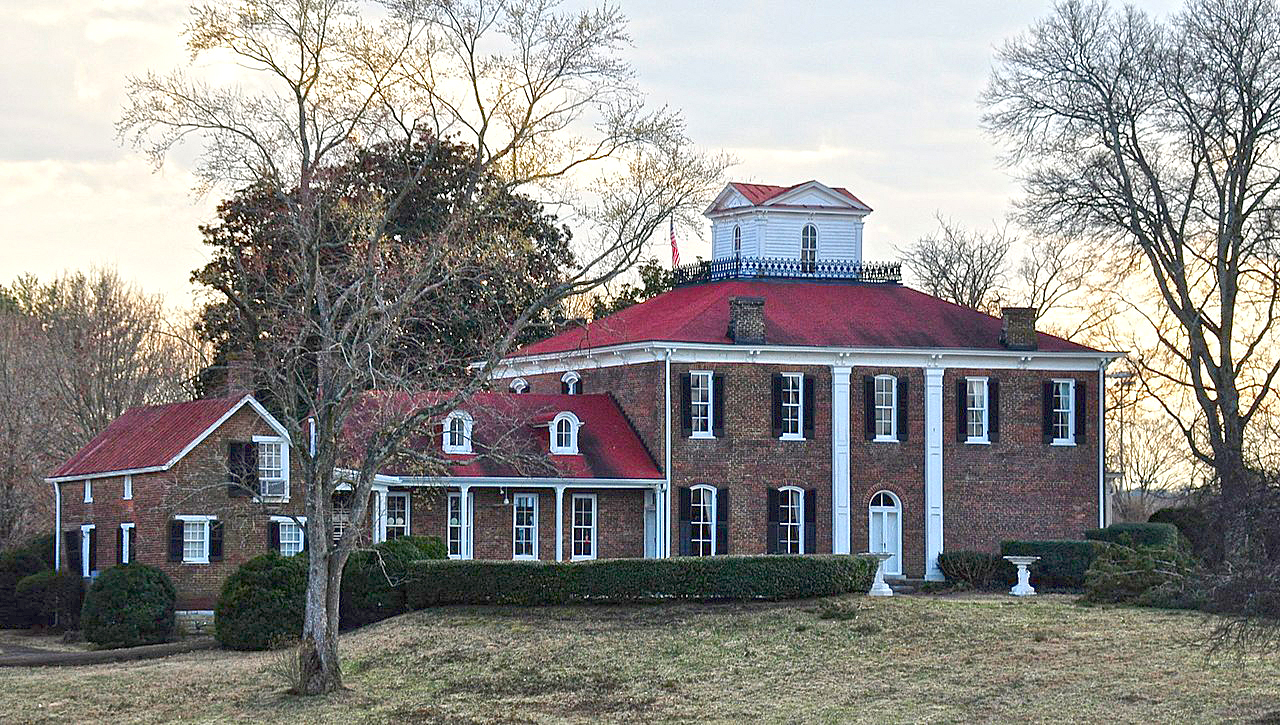 Photo: William S. Campbell House, circa 1840, located on Route 96, Franklin, TN. Listed on the National Register of Historic Places in 1975. Photographed by User:Skye Marthaler (own work), 2014, [cc-3.0], via Wikimedia Commons, accessed September, 2021.
---
The Williamson County Seat (Franklin) is located in the center of the county. Franklin is adjacent to the Big Harpeth River in an area characterized by flat, undulating farmland. To the north of Franklin is similar undulating farmland broken up by hills and ridges.
Neighborhoods
Adams Square
Albany Pointe
Amber Glen
Andover
Ashton Park
Aspen Grove
Avalon
Battlewood Estates
Beechwood Plantation
Belle Chase Farms
Belle Vista
Boxley Springs
Boyd Mill Estates
Brandon Park
Brandon Park Downs37064
Breezeway
Brentwood Pointe
Brienz Valley
Buckingham Park
Cadet Homes
Caldwell Estates
Callie
Cannonwood
Carlisle
Carnton Square Condos
Carolina Close
Carriage Park
Carronbridge
Cascade Estates
Cedarhill
Cedarmont Farms
Cedarmont Valley Estates
Chapelwood
Chardonnay
Charlton Green
Cheekwood
Cherry Valley
Chestnut Bend
Cheswicke Farm
Clairmonte
Cobblestone Court
Cool Springs East
Cornerstone
Cottonwood
Creekstone
Cross Creek
Dallas Downs
Darling Meadow
Deerfield
Del Rio Commons
Derry
Douglass Glen
Durham Manor
Eagles Glen
Eastview
Echo Park
Eddy Pointe
Ewingville
Executive House Condos
Falcon Creek
Farmington
Farmington South
Farmington West
Fernvale
Fieldstone Farms
Finley
Flippen
Forest Home Farms
Forrest Crossing
Founders Pointe
Franklin Green
Franklin Historic District
Garden Club Estates
Gardens at Old Natchez
Garrison Springs
Gateway Village
Generals Retreat
Glass Lane Estates
Golden Meadows
Goose Creek
Grandview
Grant Park
Grassland Estates
Green Valley
Harbison
Hardison Hills
Harlinsdale Manor
Harpeth Meadows
Harpeth Woods
Heath Place
Henley
Henpeck Lane Estates
Heritage Chase Condos
Heritage Place
Heritage Pointe
Hickory Ridge
Hidden River
Hidden Valley Estates
Highgate
Highland Gardens
Hill Estates
Hillsboro Acres
Hillsboro Cove
Hincheyville Historic District
Historic Ledgelawn
Hopewell Ridge
Hunters Chase
Hurstbourne Park
Hydeaway Hills
Idlewood
Indian Springs
Ivan Creek
Ivy Glen
Jamison
Jamison Station
Jasmine Grove
Jubilee Ridge
Keegans Glen
Kendall Hall
Keystone
Kinnard Springs
Ladd Park
Laurel Hill
Laurelbrooke
Laurelwood
Leeland
Legends Ridge
Leipers Fork
Lewisburg Avenue Historic District
Liberty Hills
Liberty Square
Longwood
Lynnhurst
Lynnwood Downs
Maplewood
Mauldin Woods
Mayberry Station
Mckays Mills
Mclemore Farms
Mcmillan Farms
Meadowgreen Acres
Millgate
Monticello
Montpier Farms
Morningside
Myles Manor
Natchez Street Historic District
Natchez Valley
Nestledown Farms
Oakleaf Estates
Oakwood Estates
Old Natchez
Orleans Estates Condos
Parkside at Aspen Grove
Peaceful Haven Farms
Petway Place
Peytonsville
Polk Place
Prescott Place
Preserve at Echo Estates
Preserve at Forrest Crossing
Pritchard
Ralston Glen
Ravens Trace
Rebel Meadows
Redwing Meadows
Reid Hill Commons
Residences at South Wind
Richards Glen
River Landing
River Rest
Riverview
Riverview Park
Rogersshire Crest
Rolling Meadows
Rosemont
Royal Oaks
Rucker
Savage Pointe
Scenic Hills
Shadow Mountain
Shagbark
Sneed Forest
Sneed Glen
Sneed Valley
Songbird Springs
South Point
Southgate
Spencer Hall
Springhouse at Breezeway
Springview
Stags Leap
Stewart Hills
Stockett Creek
Stonebridge
Stonebridge Park
Stream Valley
Sturbridge
Sturbridge Pointe
Suburban Estates
Sullivan Farms
Summer Hill
Taylor Ridge Estates
Temple Hills
Temple Hills Reserve
The Enclave
The Highlands at Ladd Park
Thompsons Station
Trace View
Traceland Estates
Treemont
Twin Oaks
Two Rivers
Valley Acres
Villages of Clovercroft
Walnut Hills
Walnut Winds
Warren Park
Watkins Creek Estates
Wedgewood
Westfield
Westhaven
Whitehall Farms
Whitworth
Willow Springs
Winchester Estates
Windsor Park
Windstone
Winstead Court
Worthington
Yorktown
Despite the rapid development of the past twenty years many sections of Williamson County remain largely unchanged, especially in the southwest and southeast sections. In 1980, one-third of the county remained forested and there were 1,595 operating farms with the average size of each farm at 153 acres. Franklin has designated two large areas of the community historic districts and the retention and renovation of historic structures is an important part of community life. Williamson County is at a crossroads regarding the protection and preservation of its historic structures. The city and county planning agencies are seeking ways to retain the heritage of the county while accommodating new growth.
After the Civil War most of the large and ornate residential and commercial buildings were constructed in Franklin. A number of fine Italianate and Second Empire style residences and stores were constructed around the town square from 1865 until 1900. Only a few large Italianate residences were built in the rural areas of the county in these years. The majority of historic structures which survive in Williamson County are frame buildings constructed between 1875 and 1910 in rural areas of the county and in the Franklin historic districts. Most of these fit into several categories of building plans and forms and are generally unpretentious interpretations of the styles of the period.
After 1900, Franklin's population grew as new roads and railroads connected the town with Nashville and adjacent counties. From 1900 until 1940 most of the notable residential architecture built in these years took place in Franklin. Houses reflecting the Colonial Revival, Bungalow and English Tudor styles were built in the Hincheyville area and along Lewisburg Avenue. Most of these houses were built on small lots creating a dense and compact streetscape in the areas around the public square. There are no examples of the Art Deco or International Style in the residential areas of Franklin but some commercial buildings in the downtown area do have Art Deco inspired detailing. After 1940, the architecture of the county followed established national trends with many new subdivisions and tract housing built outside of Franklin and in Brentwood.
Thomason, Philip and Matter, Mary, Williamson County Tennessee Multiple Resource Area (MRA), nomination document, 1988, National Park Service, National Register of Historic Places, Washington, D.C.
Nearby Towns: Brentwood City •
---