Memphis City
Memphis City Hall is located at 125 North Main Street, Memphis, TN 38103.
Phone: 901‑576‑6000.
---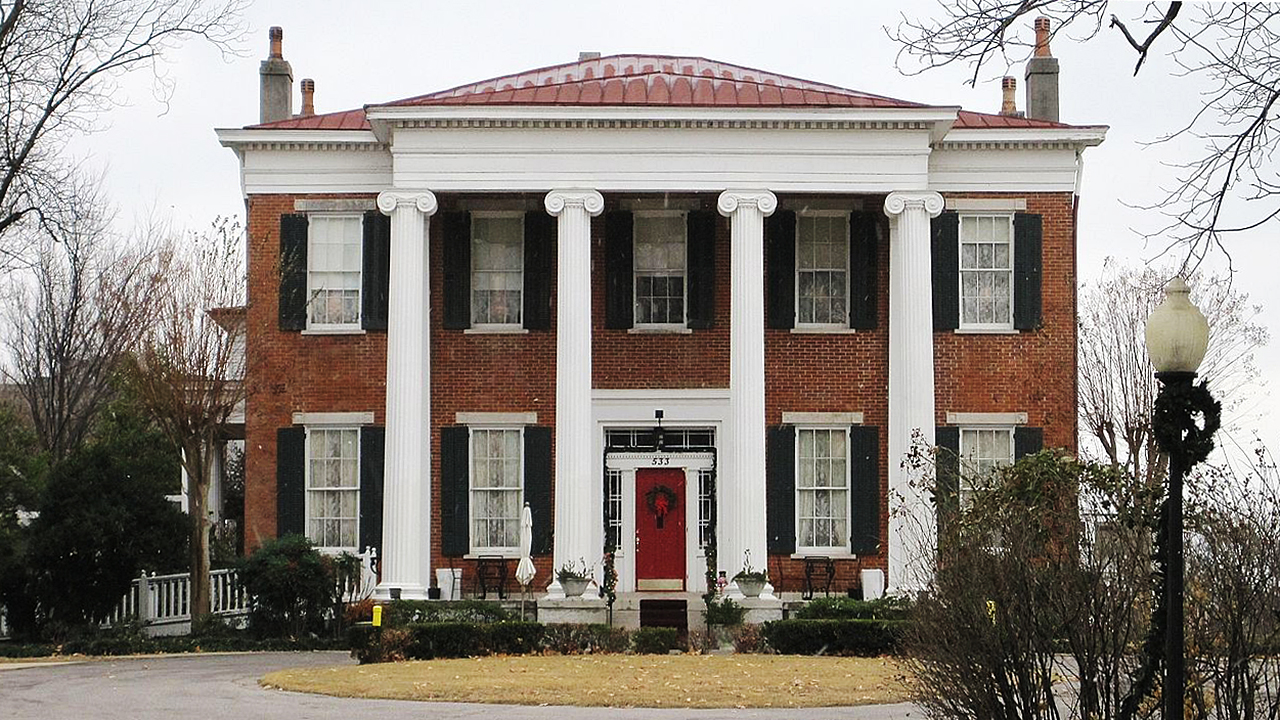 Photo: Hunt-Phelan House, ca. 1838, 533 Beale Street in Memphis, TN. Listed on the National Register of Historic Places in 1971. Photographed by User:Thomas R Machnitzki (own work), 2010, [cc-3.0], via Wikimedia Commons, accessed July, 2021.
---
Neighborhoods
Adams Avenue Historic District
Alcy Ball
Aldens Gate
Aloy Ball
Alta Vista
Annesdale-Snowden Historic District
Ashley Ridge
Auburn Ridge
Audubon Oaks
Audubon Park
Audubon Square
Audubon Square Condos
Autumn Ridge
Balmoral
Barksdale
Barton Heights
Beale Street Historic District
Belle Meade
Beltline
Bennington Park
Bethel Grove
Binghampton
Blue Ridge Park
Bluebird Estates
Bremington Place
Brierwood
Bromley
Bruins Plantation
Brunswick
Buckingham Farms
Burlington
Calvary Creek
Cane Sparks
Carver Heights
Cedar Lake
Central Gardens Historic District
Chapel Creek
Cherokee Heights
Cherokee Park
Chickasaw Gardens
Cleaborn
College Park
Colonial Acres
Colonial View
Cooper-Young Historic District
Cordova
Cordova Club
Coro Lake
Cotton Row Historic District
Countrywood
Court Square Historic District
Crosstown
Davies Plantation
Delmar-Lema Historic District
Dogwood Creek
Dottie Sparks
Downtown
Downtown
East Buntyn Historic District
East Germantown
East Midtown
East Parkway
Eastlawn
Eastwood Manor
Easview
Elliston Heights
Evergreen Historic District
Fairhills
Fairlawn
Fairway Glen
Faronia Fields
Fisherville
Foote Homes
Fountain Court
Fountain Court Historic District
Fox Chase
Foxcroft
Frayser
French Fort
Galloway-Speedway Historic District
Gardenview
Gardenwalk
Gaslight Square
Gaston Park Historic District
Gayoso-Peabody Historic District
Gemstone
Georgian Hills
Germantown
Glenview
Glenview Park
Goodwyn Street Historic District
Grahamwood
Grays Creek
Green Meadows Historic District
Green Meadows-Poplar Glen Historic District
Greenlaw
Greenlaw Addition Historic District
Greentrees
Hain Park
Hamilton
Harvest Knoll
Hawkins Mill
Hedge Hills
Hedgemoor
Hein Park Historic District
Heiskell Farms
High Bridge
High Gate
High Point Terrace Historic District
Highland heights
Holmesdale
Hunters Hollow
Hunters Ridge
Hunyington Oak
Hyde Oark
Idlewild
Idlewild Historic District
Idlewilde East End Historic District
Imogene Heights
Indian Hills
Inwood Farm
Island View
Jefferson Square
Karrington Woods
Kendale
Keswick East
Kimbrough Woods
Kingdom Oaks
Kingfisher
Kirby Oaks
Kirby Trace
Klondyke
Kswick Stornaway
Lake Village
Lakes of Forest Hill
Lakewood Hills
Laurelwood
LeMoyne College Historic District
Lenox
Levee Oaks
Lovgview Heights
Lundee
Macon Bend
Madison-Monroe Historic District
Magnolia Oaks
Maint Street
Mallard Ridge
Mallory Heights
Masjid Al-Noor
Massey Hill
Meadow Brook
Memphis Hope
Mendenhall Estates
Messick Buntyn
Midtown
Mitchell Road
Montgomery Plaza
Morning Woods
Mt Pisgah
Mt Pisgah Heights
Normal Station
Normal Station Historic District
Normandy
North Memphis
North Parkway Forest
Northeast
Oak Acres
Oakshire
Oates Manor
Old Binghampton
Old Hicory Hill
Orange Mound
Park Terrace
Paul Borda Towers
Peabody Vance
Pine Lake Gasette
Pinnacle Point
Plaza Scenic Gardens
Pleasant Acres
Pleasant Place
Pleasant Ridge
Poplar Glen Historic District
Poplar Highland
Poplar Ridge Farms
Ragan Farms
Raleigh
Raleigh Ridge
Raleigh Trace
Rangeline
Red Acres
Red Oaks
Rhodes View
Richland Acres
Richmond Colony
Richwood
Ridgeway Estates
Riveredge
Riverview
Riverview Kansas
Rocky Woods Estates
Roseleigh
Roselle
Rosemark
Rozelle Annesdale
Rugby
Sanga Grove
Sanga Pointe
Saratoga Block
Scenic Hills
Sea Isle Park
Shelby Forest
Skylakes
Snowdon Claybrook
Soulsville
South Bluffs Warehouse Historic District
South Germantown
South Laureldale
South Main Historic District
South Main Street Historic District
South Memphis
South Parkway-Heiskell Farm Historic District
Southeast
Southland Hills
Southwestern at Memphis Historic District
Southwestern at Memphis Sorority Row Historic District
Southwind
Speedway Terrace Historic District
Springhill
St Paul Avenue Historic District
Stage Park Meadows
Stonewall Place Historic District
Strathmore Place Historic District
Summerdale
Sunset Trace
Sweet Oaks
The Cordova
Third Additon to Jackson Terrace Historic District
Trafalgar Village
Trigg
Trigg Subdivision
Twin Oaks
University Area
University Lane
Uptown
Valley Forge
Vance-Pontotoc Historic District
Victor Kerr
Villages of Bennington
Vollintine Evergreen North Historic District
Vollintine-Evergreen Historic District
Walnut Creek
Walnut Gardens
Walnut Grove
Walnut Grove Forest
Walnut Grove Lake
Walnut Grove Woods
Walnut Ridge
Washington Heights
Waynoka
Wellington Shadowlawn
Wells-Arrington Historic District
West End
West Junction
Westhaven
Westlawn Galveston
Westside
Westwood
Westwood Meadows
Westwood Shores
Whispering Meadows
Whitehaven
Whiteville Alice
Whitmar
Williamsburg Colony
Winchester Park
Windyke
Windyke Area
Wood Chase
Worthington Place
Memphis as Described in 1907 [1]
Memphis, the county seat of Shelby County, is located on a high bluff overlooking the great Mississippi. It is from a fancied similarity in location that Andrew Jackson gave to it the name of its ancient Egyptian prototype on the river Nile. The city was incorporated in 1826, although at the time its population was barely 300 inhabitants. From 1826 to 1906, in spite of several reverses, the city has developed into the acknowledged metropolis of Tennessee with a population of over 150,000.
Here is the first inland cotton market in the world. In the surrounding agricultural district is produced over 1/10th of the entire cotton production of the world, almost 1/8th of the annual crop in the United States. Memphis also stands first as the largest hard wood lumber market in the world and ranks as the 6th city in the list of grocery markets in the United States. As a financial center the city stands preeminent in the South. The total of bank clearings of Memphis exceed the combined totals of Atlanta, Nashville, Chattanooga and Birmingham.
Memphis is a city of beautiful homes. Miles of electric car lines supply rapid transit to the citizens. The streets are well-kept and the public buildings and business blocks exhibit a grade of architecture decidedly above the average. Two modern theaters and a grand opera house contribute to supply the citizens with all that is best in the dramatic arts.
The great river supplies a cheap method of transportation and 10 lines of railroads put Memphis in close connection with all the great trade centers.
The city has an established reputation as the gateway to many famous pleasure resorts, especially Raleigh Springs, noted for its medicinal waters and splendid hotels. The American horse racing season begins in Memphis every spring and fall. Here is located the fastest racing track in the world, and the large purses invariably attract the attendance of the best horses of the American turf, and their noted owners, trainers and jockeys.
Memphis: The Metropolis of Tennessee, S. H. Kress&Company, publisher, Memphis, 1907.
---