Chattanooga City
Chattanooga City Hall is located at 101 East 11th Street, Chattanooga, TN 37402.
Phone: 423‑425‑7800.
---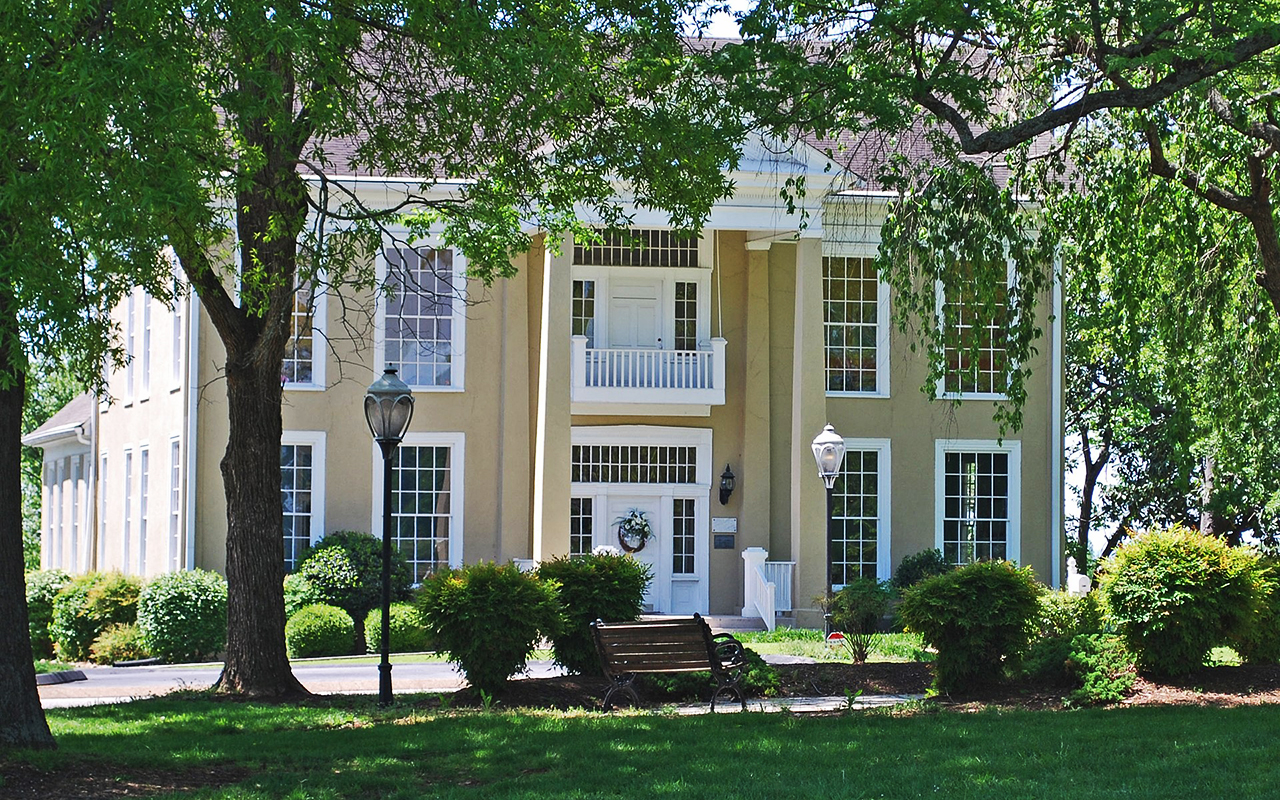 Photo: Bonny Oaks (Dent House), circa 1854, located at 5114 Bonny Oaks Drive, Chattanooga, TN. Listed on the National Register of Historic Places in 1980. Photographed by User:Andrew Jameson (own work), 2011, [cc-3.0], via Wikimedia Commons, accessed September, 2021.
---
Neighborhoods
Allens Addition
Alta Vista Addition
Alton Park
Amberbrook
Andersons
Andover Place
Andrea Heights
Aragon Heights
Arbell Place
Arbor Cove
Arlington
Arlington Heights
Ashton View
Ashwood
Austin Farms
Autumn Chase
Avondale
Bagwell City
Bal Harbor
Battery Heights
Battery Place
Beck
Belaire Estates
Bella Vista Acres
Belle Meade
Belleau Village
Belleau Woods
Belvoir
Belvoir Hills Estates
Belvoir Park
Belvoir Place
Belvoir Terrace Estates
Bennetts
Big Fork Bluff Estates
Biltmore
Biltmore Estates
Black Creek
Black Oak
Blaney Forest
Bohr Farm
Bohr Place
Bonny Oaks
Booths
Boyds
Boydston Estates
Bragg Point Homes
Brainerd
Brainerd Bend
Brainerd Crest
Brainerd Heights
Brainerd Hills
Brainerd Park
Brandermill Estates
Brandywine Estates
Brently Woods
Briarwood
Bridgeview
Brittanys Cove
Brock Pointe
Brockhaven
Brookfield Place
Brooks Pointe
Brookside Place
Browns Ferry Landing
Bryans
Burgess
Burns Addition
Bushtown
Cambridge Estates
Carlton Place
Carolina Hills
Carson Heights
Cary Brothers
Castle Park Addition
Cedar Brook
Cedar Glen Estates
Channing Creek
Charles Park
Chatt Estates
Chattanooga Estates
Chatwood
Cherokee Farms
Cherokee Hills
Cherry Street Townhomes
Chickamauga Heights
Chickamauga View
Chiswick
Citico City
Claremont
Clearview Heights
Clifton Hills
Concord Acres
Concord Highlands
Conner Estates
Conner Hills
Continental Condos
Council Fire
Cowart Estates
Crabtree
Crestview
Crestwood
Cross Creek
Cumberland Heights
Cummings Cove
Dallas Heights
Daytona Hills
Delawanna Terrace
Dent Acres
Dixon
Dogwood Gardens
Dogwood Village
Drake Forest
Drake Villas
Duncan Hills
Eagle Bluff Estates
Ealy Estates
East Brainerd
East Brainerd Ridge
East Chattanooga
East Highlands
East Lake
East Ridge
East Side Park
East View Terrace
Eastdale
Eastern Hills
Eastover Acres
Eddings
Eden Park Addition
Elder Cove
Elder Mountain
Elderview
Ellington Place
Elmore
Elmwood
Emerald Valley
Enclave at Riverview
Engleton Heights
Esterbrook
Fair Hills
Fairfax
Fairfax Heights
Fairlane
Fairwood
Fitehaven Addition
Flower Branch
Forest Acres
Forest Highlands
Forest Place
Forest Shadows Estates
Fort Negley Addition
Fort Wood
Foster Glen
Foxwood Heights
Frazier
Freeman
Friar Branch
Fryers
Gaylan Heights
Gentry Square
Gillespie Place
Gillespie Terrace
Glass Farm
Glendon Place
Glenmar Hills
Glenwood
Gray Acres
Grey Oaks
Hales Addition
Hamilton Acres
Hamilton Cove
Hamilton Mill
Hamilton Oaks
Hamilton Place
Hamilton Run
Harbor Hills
Harborpoint Villas
Hardy Heights
Harris Hills
Harrison Bluff
Hawks Eye Bluff
Haywood Heights
Hendersons
Heritage Green
Heritage Landing
Hickory Creek
Hickory Trace
Hickory Valley Acres
Hickory Valley Manor
Hickory Valley Park
Hickory View
Hidden Lakes
Highland Hills
Highland Manor
Highland Pines
Highlands
Highway Park
Hill City
Hill Pointe
Hillcrest Estates
Hillcrest Heights
Hillsboro Heights
Hillsdale
Hixson
Holiday Hills
Holland Gardens
Holly Hills
Horse Creek Farms
Howell Mill
Howells Addition
Hundleys
Hunters Addition
Hurricane Creek Estates
Hurricane Ridge
Igou Village
Indian Hills
Indian Shores
Indian Woods
Irwin Hills
Irwin Place
J Berry Brown Estates
Jacoway
Jarren Court
Jefferson Heights
Jefferson Place
Jersey Heights
Kelly Gardens
Kenton Ridge
Keystone
Kill Burton at Hendersons
Kings Lake Estates
Kings Point
Kingsley Village
Kingwood Estates
Kirklin
Knickerbocker Cottages
Knollwood
Kozy Homes
La Porte Estates
Lake Brook
Lake Haven
Lake Hills
Lake Terrace
Lake Villa
Lake Vista
Lakeshore Estates
Lakeshore Heights
Lakeshore Hills
Landers
Langston Heights
Lattner Farm
Laurel Heights
Laurel Oaks
Lauters Addition
Ledford Acres
Legacy Park
Legends
Lerch Place
Liles Addition
Lindsey
Lockwood Heights
Logan Heights
Long Street Addition
Longholm at Riverview
Lookout Valley
Lookout Valley Estates
Lovemans Addition
Lupton City
Lupton Hills
Mac Claire Hills
Magnolia Gardens
Mahala Acres
Majestic Hills
Manchester Park
Maplewood Heights
Marina Cove Place
Marlboro
Marlboro Park
Martin Hartman Farm
Martin Heights Addition
Massey
Maypo Addition
Mcclaire Hills
Mcconnell
Mccuistion Estates
Mcdonalds Addition
Mcreynolds
Meadow Acres Estates
Meadow Brook
Meadow Lawn
Meadowbrook Heights
Midfield Acres
Midland
Midvale Park
Mimosa Park
Minnekahda
Minnekahda Woods
Mission Oaks
Missionary Heights
Mollys Meadow
Montagues Addition
Montclair East
Montcrest
Moore View
Mooremont Manor
Mooreview
Mount Belvoir
Mountain Creek Trail
Mountain Shadows
Mountain Shadows Estates
Mountain View
Murray Hills
Museum Bluffs
Navajo Hills
New England Park
Normal Park
North Chattanooga
North Hickory
North Lupton Drive
North Missionary Ridge
North Redbank Highlands
North Side
North View
Northcrest Estates.
Nottingham
Oak Grove Addition
Oak Meadows
Oakhurst
Olmstead
One North Shore
Orchard Knob
Overlook Addition
Palmetto
Panorama Heights
Paragon Place
Pardue Heights
Park City
Park Place
Pavillion Townhomes
Paynes Addition
Pebble Creek
Pecan Springs
Phillips
Pine Ridge Estates
Pine Terrace
Pineview Place
Pineville
Pinewood Terrace
Pinoak
Plantation Station
Point South
Prairie Pass
Princeton Ct
Quail Hollow Condos
Quail Run
Raccoon Mountain Estates
Ranch Hills
Ravenwood
Redlands
Renaissance Square
Reunion
Rickeys
Ridge Creek
Ridge Garden
Ridgedale
Ridgeview
Ridgeview Place
Ridgewood Acres
Riggins
River Forest
River Knoll
River Landing
River Point
Riverfront Condos
Riverfront Estates
Rivermont
Riverview
Riverview Oaks
Riviera Villas
Roberts
Robin Acres
Rolling Ridge
Rosebrook
Roselawn Heights
Rosemary Heights
Rosemere
Rossville
Rustic Village
Saint Elmo Historic District
Savannah Place
Scholzes
Searles
Sequoia Place
Seven Lakes
Shadow Ridge
Shadybrook
Shallowford Hills
Shaufs
Shawnee Hills
Shawnee Park
Shenandoah
Shepherd Hills Addition
Sherman Heights
Sherman Park
Sherwood
Signal View
Silver Crest
Simpson Estates
Southern Wood Village
Southside
Spring Meade
Spring Valley
Springplace Addition
Standifer Oaks
Stanley Heights
Stanton Row
Sterling Oaks
Stewarts Addition
Stone Trace
Stonehenge
Stoneridge
Stormy Hollow
Stormy Hollow Estates
Stuart Crest
Stuart Heights
Summertown
Sunny Dell
Swope Heights
Terra Queen
Terrace Heights
The Arbors
The Enclave at Riverview
The Gables
The Gardens at Heritage Green
The Lakes at Standifer
The Overlook
The Pinnacle
The Preserves at Dallas Park
The Terrace at Frazier
The Trails
Thomas Addition
Thomisons
Thrushwood
Tiftonia
Tiftonia Heights
Townhomes at Stone Trace
Tunnel Place
Twin Brook
Twin Brook North
Tyner
Tyner Hills
Valley View
Valley Village
Valleybrook
Varnell Farms
Vaughns Addition
Village at Greenway
Village of Ashwood
Villas at Shallowford Trace
Vista Terrace
Waconda Bay
Waconda Shore Estates
Walnut Hills
Wando
Wards Addition
Ware Heights
Washington Heights
Washington Hills
Washington Park
Waterhaven
Waterhouse
Webb Acres
Welwood Heights
Westview Park
Whitehaven
Wildwood Addition
Wileys Addition
Williamsburg Estates
Willow Bend
Willow Trace
Windsor Court
Windthrush
Windward Point
Winfield Estates
Winifred Hills
Winterview
Wooded Dale
Woodlawn
Woodmore
Woodmore Terrace
Woodmore View
Beginnings [1]
The settlement of Chattanooga commenced in 1835. At that period, the site of the present city was one vast forest, through which the aborigines roamed at will. In December of the previous year, the treaty for the lands in this section was made with the Indians, and ratified by the U. S. Senate May, 1836. At this time there were but few white men here — a primitive hut did service as a hotel — Daniel Henderson, Esq., father-in-law of Richard Henderson, Esq., doing the honors of the host.
The name of the place was "Ross' Landing," taking its suggestive title from John Ross, a distinguished half-breed, who resided here, and the Chief of the Cherokee nation. He educated his daughters in North Carolina — thus evincing his estimate of culture and knowledge. He established a ferry and warehouse at the Tennessee River, and resided at Rossville, 5 miles south of Chattanooga, in Georgia.
In 1835, among the white men who settled here were Samuel Williams, Daniel Henderson and John Keeney. In 1836 came Aaron M. Rawlings, Jonathan P. Long, D. A. Wilds, W. M. Davis, Samuel Stewart, William Long and Dr. Nathan Harris. The first post office was established in 1837 with Captain John P. Long as the first postmaster. The first newspaper was the "Hamilton Gazette," by Ferdinand A. Parham. The material for the paper was floated down the Tennessee River in a flat-boat from Knoxville, and placed in a small log cabin on Walnut Street. Politically, the Gazette was a Whig newspaper.
The town was laid off into lots in 1838 and sold off in April, 1839. About 250 acres constituted the limits of the new town, which was built near the river, owing to the trade there. The name Chattanooga was given in 1841. Chattanooga was incorporated in 1839.
Louis L. Parham, Chattanooga, Tennessee; Hamilton County, and Lookout Mountain, Louis L. Parham, publisher, Chattanooga, 1876.
Nearby Towns: Hixson • Signal Mountain Town •
---