Melrose Heights-Oak Lawn-Fairview Historic District
Post Office: Columbia
Zip Code: 29205
---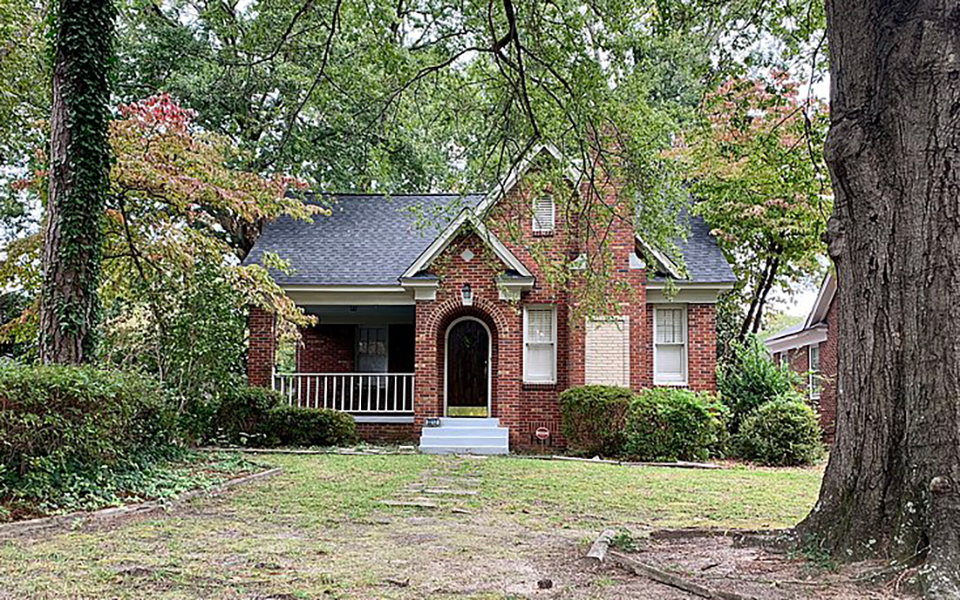 Photo: Home in the historic District, Columbia. The District was listed on the National Register of Historic Places in 2016. Photographed by User: Eastward Gypsy own work), 2018, [cc-4.0], via Wikimedia Commons, accessed August, 2022.
---
The Melrose Heights-Oak Lawn-Fairview Historic District is a collection of 607 contributing buildings, including historic outbuildings, and 185 non-contributing buildings, including non-contributing outbuildings, and 24 non-contributing structures located a mile and a half east of Columbia's original city limits. The neighborhoods of Melrose Heights and Oak Lawn emerged in the early 20th century, beginning with the efforts of the Powell family to subdivide and develop the land. The period of significance for the Melrose Heights-Oak Lawn-Fairview Historic District is 1900 to 1965. The beginning date correlates with the earliest official effort by the Powell family to incorporate the new suburb, while the ending date is associated with the neighborhood's waning new construction by the mid-1960s. By 1965 more than 90% of the extant homes currently within the district had already been constructed. The Melrose Heights-Oak Lawn-Fairview Historic District is laid out in three distinct patterns of development, the westernmost section, historically referred to as Fairview, is defined by rectangular blocks,
Melrose Heights is primarily composed of square blocks, and Oak Lawn is a mixture of square and rectangular blocks. Buildings in the district represent many distinct architectural styles and forms from the early- to mid-twentieth century. These styles and forms include Colonial Revival, Tudor Revival, Spanish Colonial Revival, Prairie School, Bungalow/Craftsman, Airplane Style Bungalow, Ranch, Bungalow, Minimal Traditional, Kit Homes, and American Foursquare. Several real estate development companies contributed to the emergence of the neighborhood from 1900-1940. These developers included the Fairview Realty Company, Melrose Heights Development Company, Oak Lawn Development Company, The Ideal Home Company, Bagnal-Nettles Development Company, and the Holly Realty Company. Additionally, the district includes one park (Melrose Park).
The Melrose Heights-Oak Lawn-Fairview Historic District's streets are laid out in a pattern that runs north-south and west-east. The district is bounded to the north by Gervais Street and Trenholm Road; to the east by Butler Street, Princeton Street, and Maiden Lane; to the south by Michigan Street and Millwood Avenue; and to the west by Woodrow Street. The interior streets that run north-south include: Fairview Drive, Maple Street, Gladden Street, Hagood Avenue, Shirley Street, Butler Street, Daly Street, and Princeton Street. The interior streets that run west-east include: Devereaux Road, Kline Street, Pickett Street, Bratton Street, Kershaw Street, Webster Street, Senate Street, and Kirby Street. Some street names have changed over time as maps and plats depicting Melrose Heights and Oak Lawn from 1906 to 1957 show earlier monikers. Fairview was formerly Ellerbe, Maple was Powell, Kershaw was Third, Senate was first called Fourth then State, Kirby was Fifth, Princeton was Oak Court, Shirley was Hampton, and Carlisle was originally Chestnut.
On average, houses are set back thirty to forty-five feet from the street and have deep lots behind. The streets are wide, with ample room for vehicles to park, and for the most part, houses all have driveways. Many north-south streets feature sidewalks and curbing. Shade trees, mostly varieties of oaks, were planted throughout the neighborhood. Most of these specimens have matured to maximum height over the past century, and in many cases are in decline due to their age.
The character of the neighborhood is largely residential, with virtually all commercial development occurring on Millwood Avenue and Gervais Street. It was not until the mid-twentieth century that commercial interests on Millwood Avenue led to the demolition of some residences and the repurposing of others for non-residential use. One exception to this commercial shift was the construction in 1949 of the Christine building, an apartment building located at 3135 Millwood Avenue and designed by the architecture firm of Stork & Lyles. By 1950, only five commercial businesses appeared along Millwood Avenue between King Street and Adger Road: a filling station on the northwest corner of Maple Street and Millwood Avenue, two stores between Shirley and Butler streets, a filling station at the intersection of Carlisle Street and Millwood Avenue, and a store between Butler and Daly streets. Also, while some sections of Gervais Street were improved with houses, other portions, such as those at the intersections of Kirby and Woodrow streets, came to feature businesses. By 1956, it appears commercial interests sharply increased along Millwood Avenue and several new businesses replaced former houses. This trend continued over the years, and today, Millwood Avenue's four remaining residential buildings have all been repurposed.
Development of properties throughout Melrose Heights and Oak Lawn occurred rapidly from the 1920s through the mid-1930s. During this time, a neighborhood emerged that illustrated the era of early suburban expansion that occurred in Columbia and other cities throughout the United States during the first half of the twentieth-century. Following the cessation of hostilities during World War II in 1945, development regained momentum, during which time many of the neighborhoods' minimal traditional houses took their places alongside earlier 1920s- and 1930s-era bungalows, cottages, and American four squares. The predominant form in the neighborhood is the bungalow, but there are many examples of 1930s- and 1940s-era cottages. For the purposes of this nomination, the term cottage is used primarily in contrast to the bungalow, another prominent style within the district. Cottages are typically one to one-and-one-half stories in height. Unlike the low rooflines and prominent overhangs associated with bungalows, cottages typically featured highly pitched roofs with overhangs of more modest proportions. In later years, some ranch houses, split-level residences, and other mid-century residential structures were built on vacant lots. This collection of building types demonstrates the ongoing suburban development around Columbia.
This collection of architectural styles built during the period of significance, 1900-1965, created a diverse assortment of styles and forms throughout the neighborhood. The styles and forms include: Colonial Revival, Tudor Revival, Mission/Spanish, Colonial Revival, Prairie School, Bungalow/Craftsman, Airplane Style Bungalow, Ranch, Minimal Traditional, kit homes, and American Foursquare.
Significance
Development of the Suburbs
Nationally, suburbanization offered individuals an escape from the congestion of densely populated cities. Architects, developers, planners and engineers designed suburbs to create a rational and comprehensive system for living. In the United States, suburban growth, in the sense that "suburbanization" is defined by the city's periphery growing at a faster rate than its core, dates to the first quarter of the nineteenth century, and was mostly limited to the large urban centers of the northeastern seaboard. It would not be until the improvement of transportation technology that suburbs would truly expand and grow, both nationally and regionally.
For Columbia, South Carolina, growth beyond the city limits began in the late nineteenth century. Shandon, located southeast of the city by 1893, holds the distinction as Columbia's first "official" suburb (although Waverly developed earlier, it was not incorporated until 1913). Melrose Heights (1900) developed shortly thereafter, as did the subdivisions of Fairview (1910) and Oak Lawn (1925). Other early Columbia suburbs included Elmwood Park (1905), Alta Vista (1906), Wales Garden (1914), Heathwood (1914), Rose Hill (1914), Hollywood (1921), and Forest Hills (1925). The impetus for this late nineteenth- and early twentieth-century outward expansion lay in both infrastructural improvements made in Columbia's downtown years earlier and land speculation. In 1882, Columbia passed legislation that allowed for the creation of a public transportation system. By 1886, the Columbia Street Railway Company operated three lines consisting of four miles of track and six mule-drawn cars. The increased use of electricity over the next few years prompted the company to abandon its beasts of burden for electrically powered cars in 1893. Columbia's streetcar network grew in phases during the next two decades, reaching increasingly greater ridership inside the downtown. This growth helped meet the needs of the city's burgeoning population, which swelled from 10,036 residents in 1880 to 15,353 residents ten years later. By 1895, expansion of services pushed beyond the city's original two-mile-by-two-mile city limits, stretching toward the southeast into the new suburb of Shandon. Further technological improvements that followed became a harbinger of greater things to come. As interest in life beyond the confines of Columbia's downtown increased during the late-nineteenth century, real estate speculators purchased surrounding farmlands in anticipation of future profit, subsequently establishing new suburbs. Seeking to grow their business, leaders of the Columbia Electric Railway and Light Company (later renamed the Columbia Railway, Gas & Electric Company) championed their transportation system's ease of use and its accessibility to areas that soon would transition from farmland into new neighborhoods. The company developed new rail lines into the "country" so that prospective suburban residents would be swayed to use the efficient and convenient service they had come to enjoy downtown. This strategy worked. By 1900, Columbia had four main street railway lines, which included the route to Shandon via Valley Park (present-day Martin Luther King, Jr. Park) and a route that transported passengers to the Epworth Orphanage area at the intersection of Maple Street and Millwood Avenue. The streetcar effectively compressed time and space, providing would-be suburbanites with easy access to the jobs and amenities that remained at the city center and facilitating suburban development along the outskirts of city.
The streetcar system enjoyed peak success at the end of World War I; though less than a decade later, it had fallen out of favor. In 1925, the Columbia Railway, Gas & Electric Company removed its tracks along Maple Street. This removal presaged future changes, as, in 1927, the company moved to end rail service altogether. Although an order by the United States Supreme Court in 1931 resurrected the system's operation and streetcars once again competed with vehicular and pedestrian traffic, by 1936 the company replaced its entire rail-based mass transit system with buses. Before their demise, streetcars influenced the development of the Powell family's suburb of Melrose Heights and the subdivision of Fairview for over two decades (and to a far lesser extent the development of the Oak Lawn subdivision). Thereafter, during the late 1920s through the post-World War II era, bus service and increased automobile ownership would continue to shape these early 20th-century Columbia suburbs.
Development of Melrose Heights
As Columbia outgrew its original two-mile-by-two-mile limits, several suburbs emerged to accommodate the increasing population, including two eastern suburbs, Shandon and Waverly. Much of the land around these two suburbs remained unimproved, though several families owned large tracts of property, including the Powell family, which held title to a significant portion of land east of Columbia. Thanks, in part, to the Epworth Orphanage streetcar stop, members of Columbia's Powell family would become well-known and successful suburban real estate developers. While the tracts past the Epworth Orphanage stop were little more than rural farmland, the family foresaw the likelihood of a successful neighborhood being developed within the area that lay north of Shandon. By the 1890s, the Powell family looked to capitalize on its large holdings that lay adjacent to the growing Shandon neighborhood and began purchasing additional property to add to its existing acreage. By the turn of the century, the family purposefully developed the area into what would become two distinct suburbs, Melrose Heights and Fairview.
The foundation for the family's perceptive late nineteenth-century real estate moves rested on land acquisitions they made following the Civil War. In 1872, during the Reconstruction period, Aaron H. Powell (b. 1848 - d. undetermined) paid $29 to the State of South Carolina for 67‑1/2 acres of land lying east of Columbia. The original owners lost this land in 1868 due to tax foreclosure. Subsequent members of the Powell family later built upon this initial investment by adding additional territory, on which they would later establish suburban housing developments. In 1881, Powell conveyed his holdings to his mother, Eliza J. Powell (b. 1830 - d. October 28, 1929) and that same year, his brother, John William Powell (b. 1860 - d. 1921), who was a wood dealer and native of Fairfield County, relocated to Columbia. Once in the capital city, J. W. Powell continued to bolster the family's earlier real estate purchases throughout the decade.
In 1889, J. W. Powell, one of two people who owned the largest share of property in the area, commissioned a survey of his holdings. The resultant plat, produced by Samuel G. Henry, included the Powell family's 94‑1/2 acres as well as property owned by the area's second most significant land owner – T. G. Patrick. Thomas Gilfillen Patrick was a Fairfield County planter, extensive landowner, and resident of White Oak, South Carolina, where he established a mercantile business by 1876 and became a successful capitalist. Henry's plat depicts six tracts of land situated between Garner's Ferry Road and Trenholm Road with areas denoted as belonging to the two men.
Two years later, in 1891, Powell and Patrick announced that they planned to build a new suburb on the Powell property through a land and investment company that would, "divide up the property into town lots, build houses on them and then sell them." This area would include thirty-two acres of "dry and level" land considered to be the "choice portion of the Powell Tract adjoining Owen Daly Farm" that Powell boasted would be the "finest sites for suburban residences in the vicinity of Columbia." Over the next few years, the two men frequently appeared in newspaper real estate listings selling and buying land east of the city, with Powell slowly becoming the larger of the two landowners. Beyond these real estate interests, Powell owned and operated both a coal and wood yard on Blanding Street and the Fairview Dairy, Truck and Poultry Farm, which he ran on his lands. In later years, other joint ventures with his sons, John Davis Powell (b. 1882 - d. January 29, 1948) and H. Walker Powell (b. 1884 - d. November 8, 1955), grew beyond the wood yard, expanding to include coal, groceries, and other general merchandise. In 1905, J. W. Powell opened the Powell Supply Company, which was located at the corner of Blanding and Laurens streets at 2010 Blanding Street. Adjacent to the Charlotte Railroad depot, Powell's business secured several contracts with railroad companies, including the completion of an eighty-day challenge to build railroad tracks into Camp Jackson for the United States government.
The Powell-Patrick partnership appears to have lasted until shortly after Powell's brief incarceration for manslaughter in 1897. After Governor William Ellerbe commuted his sentence in 1898, Powell continued to promote his lands advertising building lots in what he eventually called Melrose Heights, the name the family had assigned to the area by December 1900. While promoting and developing his land, and before the mass development of the area, the Powell family either rented out the few houses that existed in the area, which the family had received from earlier land purchases, or they sold lots to individuals interested in building homes. An example of an early rental includes the "Sims House," which J. W. Powell listed for rent in 1900, describing the house then as being "located two miles east of the State House, on Garner's Ferry Road, having twelve rooms, and being in a shady grove, a very desirable place to live." In addition to renting, the Powell family also sold parcels of land at affordable prices. One of the earliest advertisements Powell ran in December 1900 offered one-acre building lots for $300. The price for lots remained at $300 until 1906, when land values increased to $500. By 1909, the real estate market in Melrose Heights became quite active, as newspaper headlines stated, "dealers in Columbia are busy" and "signs of times are better." Additionally, early real estate advertisements and articles urged Columbians to invest immediately, as "the people who make investment now will be the gainers in the months and in the years to come."
These "gainers" were those willing to embrace the opportunities afforded them by living just outside of a New South city whose suburbs were a hallmark of modernity, health and vitality.
Further advertisements ran over the next several years, often placed by agent John H. Bollin. Often, these advertisements highlighted the property's proximity to the rail line, and included phrases such as located at the "corner [of] Maple Street and Garner's Ferry Road on car line" or "situated on a beautiful elevation overlooking the city and . . . very convenient to car line." Other advertisements highlighted Melrose Height's access to essential utilities, such as gas and water, which without, the neighborhood would not thrive and the Powell's emerging neighborhood would fail.
Development of the area collectively known today as Melrose Heights began slowly. The earliest houses were constructed on the western portion of the family tract, on and around what is today Maple Street. Eight homes from 1900-1919 remain, which are located on Maple Street, Shirley Street, and Woodrow Street. A 1906 plat references the names of several owners of these early homes. The earliest inhabitants of Melrose Heights represented mostly middle- to upper-class white residents who often owned additional property. These residents' occupations ranged from grocers, such as D. B. Shull, who owned two lots on the corner of Bratton and Hagood streets, to contractors, such as W.M. Padgett who occupied the corner of Pickett and Bratton streets, and to dentists, such as William S. Lindsay who had a practice at 1438 ½ Main Street.
Working independently of each other, Powell and Patrick continued to develop the area for future residents in the 1910s. In 1911 and 1912, Patrick commissioned two separate surveys that produced two different plats of the land in order to establish a defined layout of streets. The 1911 plat appears to depict the first iteration of how the land was divided into lots for the new suburb. Every lot is marked 100' by 200' and the streets width is measured at 50'. Between Woodrow and Patrick's land (present-day King Street), are four distinct blocks that feature four lots per block. The land between Woodrow Street and present-day Fairview Drive (land owned by J. W. Powell) features a slightly different layout of one block that contains sixteen lots and that does not have a break for east to west streets. It appears that the following year, further experimentation with the land's layout continued, as the 1912 plat depicts four different lot sizes, 100' by 160', 100' by 200', 81.6' by 160', and 81.6' by 200'. Additionally, the plat demonstrates a refined street width of Woodrow Street to 64', the width of the east to west streets to 42.6', and Fourth and Third streets extend throughout the whole area. Comparing the two plats illustrates the development and experimentation Powell and Patrick went through in developing the area.
After the land and streets were properly laid out, Powell was finally able to develop the suburb that was still outside of city limits and adjacent to the suburb of Shandon, which was a burgeoning community of thirty-four residences. Development began slowly, and by 1919, Melrose Heights had at least eight homes built. It would not be until the next decade that development would radically takeoff as Melrose Heights witnessed a surge in construction, increasing from eight to one hundred and sixty-one homes by 1930. As Powell reached retirement, he passed along the responsibility of the Powell Fuel Company and Powell Paving and Contracting Company to his sons, J. Davis Powell and H. Walker Powell. J. Davis Powell oversaw the early development of Melrose Heights. Once J. Davis Powell assumed control of the family's real estate development interests the suburb came into its own. Under the younger Powell's direction, the family became one of the driving forces behind Columbia's increasing suburbanization.
Development of Subdivisions
Columbia's population continued to increase, reaching 37,524 residents by 1920. In response to this growth, the Powell family decided, in the 1920s, to divide portions of its land holdings into distinct subdivisions. Channeling his entrepreneurial spirit, businessman and contractor J. Davis Powell created several real estate development companies to acquire and sell land. Each subdivision represented distinct communities and highlighted particular areas of Melrose Heights. The first subdivision, Fairview, was laid out by 1910 but not developed until 1927 as a prestigious model for the rest of the area. The second subdivision, Oak Lawn, [often conjoined to read, "Oaklawn"], was created in 1925 and composed of four city blocks. Before development of the subdivisions began and under J. Davis Powell's leadership, fifty-five additional homes in Melrose Heights were constructed between 1920-1924. Hagood Avenue received the most construction, with nineteen houses built during this period, followed by Woodrow Street, Maple Street, Gladden Avenue, Shirley Street, Bratton Street and Kershaw Street. Shirley Street was a new addition. Within the next five-year period, 1925-1929, one hundred and six homes were constructed. Woodrow Street received the most construction, followed by Maple Street, Kline, Shirley Street, Fairview Drive, Hagood Avenue, Princeton Street, Daly Street, Gervais Street, Gladden Street, Bratton Street, Kershaw Street, Murray Street, Butler Street and Pickett Street. With over fifty homes constructed, a small community formed in Melrose Heights and interest in the area surged.
Capitalizing off this interest, J. Davis Powell, a contractor and businessman, realized that the most efficient and economical way to sell his family's land was to subdivide Melrose Heights and develop large areas of Melrose Heights beyond what his father, J. W. Powell, had established. Initially, J. Davis Powell subdivided the land by either selling empty lots or building filed for and then selling new homes through numerous newspaper advertisements. The younger Powell promoted the homes he already had constructed with the slogan of "Builtright Homes," attempting to articulate the quality and excellence his homes embodied. As business increased, Powell enlisted the help of several selling agents, including Mary Gambrill Jenkins and Walker, Ravenel and Company, to promote his properties. By 1922, Powell had built "over $200,000 worth of homes.
Further real estate transactions occurred to the west of Fairview Drive and Woodrow Street during the early years of Fairview and Melrose Heights' development. These transactions included property J. Davis Powell purchased from T. G. Patrick and land that Patrick retained and improved himself. For instance, by 1924, J. Davis Powell had purchased lands belonging to Patrick located at the intersection of King and Gervais streets and where Fourth Avenue meets Senate Street and Tree Street. Later, the Powell family developed the land west of King Street up to present-day Tree Street and south to Senate Street extension. Throughout the developed area, both entrepreneurs erected architecturally sympathetic residences to those that stood farther to the east.
The types of residences Powell developed varied in style. Early houses in the neighborhood ranged from Craftsman bungalows to Tudor cottages. An example of one of the early homes Powell developed includes 1225 Gladden Street, the neighborhood's first airplane bungalow. The Powell family's chic Shirley Street residence also served as proof of what the development company could offer discriminating clientele.
J. Davis Powell soon realized that he needed a way to develop the subdivisions on a more efficient and larger scale and so he created two development companies, the Fairview Realty Company and the Melrose Heights Development Company, to manage and build both subdivisions. Each subdivision represented diverse communities and highlighted particular areas of Melrose Heights. Though distinct, J. Davis Powell brought a sense of unification to these subdivisions' by maintaining similar architectural styles and building types. This resulted in a neighborhood whose architectural nuances were subtle enough for residents to not immediately notice the different eras in which growth occurred, yet cohesive and inclusive of the larger Melrose Heights neighborhood.
Development of Fairview
Before the Powell family's interest in establishing a suburb developed, it placed its land holdings to agricultural use. In 1892, J. W. Powell advertised that his Fairview Dairy farm, which sat on a plateau just north of Epworth Orphanage, was to begin delivering milk and butter to all interested parties. Later advertisements indicated that Powell's agricultural efforts grew beyond dairy to include vegetables, fruit and poultry. The farm's name was likely derived from the family's residence, known by the same name.
While the area was surveyed in 1910 for future development, it remained undeveloped until 1927. At that time, J. Davis Powell announced that the Melrose Heights Development Company would immediately begin to build properties. Many of the homes that the development company built were located on Fairview Drive and featured on the company's official letterhead. The announcement of Powell's first development company followed the establishment in January 1926 of a family-run corporation—the Fairview Realty Company—named for the pending suburb. The subdivision was located on either side of Fairview Drive (initially called Ellerbe Street), one block west of the populated Maple Street and featured sixty-two lots, laid out in the square-in-grid format. It was intended to be "a restricted residential section on a street where no two homes are alike," and serve as a model for future development of the area.
In planning his new venture, J. Davis Powell placed other restrictions on its character, including "that all residences be [made] of brick or semi-fireproof construction." Fairview Drive, the subdivision's, "perfectly planned," premier street, featured paved sidewalks and streets, whose fine residences offered modern conveniences, a Frigidaire, and a gas range. Adjacent to the family's Melrose Heights development, Fairview was only slightly separated as a distinct entity. In fact, by J. Davis Powell's own admission at the time of his announcement, the new section of Fairview "was really being added to Melrose Heights, being only a few hundred feet from and paralleling Maple Street," which by that point was one of Melrose Heights' more developed streets. The best illustration of the subdivision's layout is from the Tomlinson Engineering Company's Map of Columbia, S.C. & Vicinity, published in 1928. This detailed representation highlights the neighborhood's original boundaries, which were Garner's Ferry (present-day Millwood Avenue), Gladden Street, Fifth Street (present-day Kirby Street), and Mr. Patrick's lands as the western boundary. However, an advertisement placed in The State newspaper shortly thereafter, in March 1929, offered a somewhat mixed message. Lauding 1314 Fairview Drive as "A Real Dream House Made of Stone," built to "express the individuality of some discriminating home lover," J. Davis Powell went on to describe the "quaint, distinctive" residence as being located in the "restricted residential section" of Melrose Heights rather than in Fairview. Yet, legal descriptions of properties falling within the section of the former Powell family tract nonetheless continued to reference their location as within "the suburb of the city of Columbia known as 'Fairview.'"
In 1926, J. Davis Powell partnered with his brother, W. Claude Powell, and received a charter for the Fairview Realty Company, Inc. to buy and sell real estate, as well to execute and deliver mortgages. While this realty company sold property throughout the neighborhood, it appears that the partners concentrated their efforts in the northwest corner of Melrose Heights. For example, Fairview Realty Company constructed and sold 2572, 2574, 2580, and 2610 Gervais Street and the company received several building permits for the 1500 block of King Street.
By the end of 1926, fifty-five homes existed in the Fairview subdivision including twenty-four on Woodrow Street, twenty on Maple Street and eleven on Gladden Street. The following year, in 1927, J. Davis Powell received a charter for the Melrose Development Company. Operating under the auspices of both companies, Powell sold, promoted and developed the majority of houses within the neighborhood and the density in the subdivision sharply increased.
Powell's two development companies failed shortly after the stock market crashed in 1929, as the event proved too difficult to recover from and there was too little growth in the housing market to sustain them. During this lull, the family managed its properties as rentals until 1937, when J. Davis Powell briefly revived his development company, rebranding it Melrose Realty. This retooled company was responsible for the homes built and sold during and after World War II, when the area experienced another housing boom due to returning veterans who were able to purchase homes with Federal Housing Administration funds. By the mid-1950s, every lot within the Melrose Heights neighborhood had been subdivided and two hundred and four homes comprised the subdivision. Over the subsequent decade the final homes that compose the Melrose Heights-Oak Lawn-Fairview Historic district would fill nearly all of the remaining vacant lots.
Development of Oak Lawn
While the Powell family was the primary driving force behind the development of Melrose Heights, other development and real estate companies bought and sold land in the area as well. In 1925, the Oak Lawn Development Company announced the opening of "a new sub-division known as Oak Lawn, located in the Heathwood section, one block north of Heathwood School, less than one block from paved street, and with sixty-five beautiful large lots," with the cost to purchase a lot initially ranging from $800 to $1,250. The area was full of oak trees, and the suburb was only two blocks from the streetcar line. The development company appointed John I. Rice as its president and the Holly Realty Company as the selling agent. Rice, a lawyer and businessman, had a history of purchasing and selling land. Born in Barnwell County, Rice went to law school at the University of South Carolina and remained in Columbia post-graduation. In 1924, Rice worked for the National Loan & Exchange where he sold mortgages and lent money to individuals interested in purchasing land or farmland in Richland County. Well-versed in land development, Rice oversaw the initial development of Oak Lawn and ensured its success. In fact, eighteen months after Rice's management of Oak Lawn, fifteen homes had been constructed and thirty lots had been sold.
As the selling agent for the development of the Oak Lawn subdivision, Holly Realty had a history of selling homes in newly developed suburbs. Beginning in 1923, advertisements for \Holly Realty frequently appeared throughout The State, starting with homes in the Wales Garden area. In fact, when the suburb of Hollywood was developed, Holly Realty was the selling agent for the new development of fifty-six acres and building lots west of Shandon Terrace and south of Five Points. The realty company's success even grew to include building residences designed by notable Columbia architects, such as Lafaye & Lafaye. By 1925, the realty company sold and built a few homes in Oak Lawn, including a property deemed the "House Beautiful." Then, in 1927, the real estate company went bankrupt for an undetermined reason. By then, the previous secretary-treasurer-manager, J. Frank Bailey, had launched a new company in 1926, for which he received a charter to buy, sell, and improve real estate. Under these auspices, he took over many of the Holly Realty Company's properties to help quickly sell the subdivision's last forty lots. Bailey lowered the lot price to a range of $600 to $1,000, claiming, "because of other business interests, one of the principal owners of Oak Lawn desires to dispose of all remaining lots quickly," however, this move may have been largely dictated by the strains placed on the real estate market due to the Stock Market crash of 1929. J. Frank Bailey continued to sell homes in Oak Lawn from 1927 until 1929 when he seems to have ceased activity there while continuing to sell elsewhere. Under Rice's leadership, the Oak Lawn Development Company did not construct many houses; rather, they partitioned land that they owned and the Holly Realty Company sold that land to individuals, realty companies, or other development companies. One of these companies was the Ideal Home Company [a subsidiary of the Bagnal-Nettles Lumber Company], a business first envisioned by M. R. Bagnal and a company who developed the majority of Oak Lawn's Craftsman bungalows.
Mallard Ralph Bagnal entered the construction business in the early 1900s by working for the Shand Builders Supply Company, of which his father was a manager and treasurer. Bagnal spent several years at his parents' residence at 2303 Senate Street in the Waverly neighborhood, so he would have been aware of the emerging Melrose Heights suburb. Since the family lived in the area during the period of significant development, and perhaps through his observations, Bagnal realized the opportunity in investing in Melrose Heights. By 1922, Bagnal partnered with J. Frank Bailey and created Bagnal & Bailey, Inc., a lumber and building materials company, and Palmetto Realty Company, which sold property throughout Columbia including in Melrose Heights. Bagnal was the president for both companies; Bailey was the vice president of the lumber company and secretary, treasurer, and manager of the realty company. In 1923, they changed the name of the lumber company to Bagnal & Bailey Lumber Company, but by 1925, Bagnal and Bailey parted ways. Bagnal left both companies and Bailey served as the secretary, treasurer and manager for Holly Realty Company and Palmetto Realty Company. Bagnal started a new lumber company with G. J. Cunningham, who was the former secretary and treasurer for Bagnal & Bailey Inc., and formed the Bagnal-Cunningham Lumber Company, which catered to supplying materials for small residences in Columbia.252
In 1926, after several years of distributing building materials, Bagnal left his partnership with Cunningham and submitted a new application for another lumber company, Bagnal-Nettles Lumber Company. Working with John J. Nettles [the secretary] and John J. Nettles Jr. [the treasurer], the Bagnal-Nettles partnership purchased and sold lumber and other building materials, bought and sold real estate and personal property, and offered general logging and sawmill services. As business grew, Bagnal and Nettles formed a subsidiary company, the Ideal Home Company, to develop and sell the homes in which its lumber company supplied materials. The first neighborhood the company focused on was the brand new subdivision of Oak Lawn, in which it purchased several lots from the Oak Lawn Development Company.256
Between 1928 and 1933, the Ideal Home Company constructed at least 20% of the residences erected in Oak Lawn. All were bungalows. Construction of three houses on Daly Street and one on Kline Street in 1928 represented the company's earliest involvement in the subdivision. The following year, in 1929, the Ideal Home Company built a record number of eight dwellings in the neighborhood: two on Kline Street, three on Murray Street, and three on Oak Court [today's Princeton Street]. The company promoted these properties through frequent advertisements run each week in The State. The Ideal Home Company also held two extended open houses a year in which it showcased an "Ideal Home." Offering music and refreshments well into the evening, these open houses were a popular way of enticing prospective buyers into the neighborhood and highlighting the types of houses the company built and the modern conveniences its properties featured.
Two residences in the Oak Lawn neighborhood were featured, including a brick veneer bungalow at 1214 Daly Street and one at 3220 Murray Street. A full-page advertisement run in the September 16, 1928 edition of The State listed the contractors and furnishers used at the Daly Street property, including Stanley's China Hall, Haverty Furniture Company and Cashion-Green Electric Company. The advertisement offered further details, including the house's finish—a veneer of Richland Shale brick—and the bungalow's layout—three bedrooms, a living room, a dining room, a breakfast room, a kitchen, and bath. In describing 1214 Daly Street, the company stressed that it would build other homes with the same, or similar, floor plans. Lastly, the Ideal Home Company boasted that this "ideal home" stood in "an ideal home section—Oaklawn [sic]." While promoters stressed that "the object of this public exhibit [was] purely educational," prospective clients also walked away with a healthy lesson on why the Ideal Home Company and their partnering subcontractors were the companies with whom budding suburbanites should do business. Enthusiasm for the Ideal Home Company's Murray Street open house reportedly received equal interest on the part of "hundreds of Columbians [who] visited . . . and [were] loud in their praise of the way it [was] built."
While the Ideal Home Company developed the largest concentration of residences in Oak Lawn, it did not build every house in the neighborhood. The Holly Realty Company erected the Mission Revival house at 1118 Princeton Street that became the venue for the woman's auxiliary of St. John's Episcopal Church, which held a show house of sorts there whose proceeds went to paying for the Shandon church's pipe organ. By the 1930s, most of Oak Lawn was developed and the Ideal Home Company changed its focus, advertising for properties in other Columbia suburbs. In fact, Bagnal had a strong presence in the development of the new suburb of Forest Hills to the north. His company constructed several homes and even purchased several lots, similar to what it did in Oak Lawn. The company continued to build houses throughout the city and eventually changed its name in 1951 from Bagnal-Nettles Builders Supply Company to Bagnal Builders Supply Company.
From 1928-1941, sixty homes within Oak Lawn were erected. Twenty-three homes were built on Princeton Street, seventeen on Kline Street, eight on Devereaux Road, seven on Murray Street and five on Daly Street. Uniquely, Oak Lawn remained an isolated subdivision separated from Melrose Heights and Fairview by two blocks of undeveloped land. An aerial view of Oak Lawn in 1938 illustrates its separation from the rest of Melrose Heights and depicts the subdivisions high density of homes. In fact, it was not until development along Hagood Avenue and Daly Street in the 1940s, as well as in the nearby Heathwood suburb, that the subdivision was connected. The biggest developments connecting Oak Lawn with Melrose Heights occurred in the 1940s on Butler and Daly streets, as well as a few houses on Pickett Street. It appears that eighteen out of thirty-two homes on Butler Street, or 56.3% of Butler's total homes, were constructed during this decade. Additionally, ten out of fourteen homes on the west side of Daly Street, or 71.4% of the homes on Daly's west side, were constructed and four out of eight homes on Pickett Street between Shirley and Daly streets were built. By the mid-1950s to the 1960s, there are few mentions in common parlance of the subdivision, as the larger Melrose Heights subsumed Oak Lawn. The physical, as well as linguistic, melding of the two neighborhoods is perhaps most visible in a 1959 aerial view of Oak Lawn and Melrose Heights, which illustrates how the two had largely grown together by that time. This merging, however, did not detract from the architectural heritage and distinct development of the larger Melrose Heights, and in fact, the city of Columbia established a Melrose Heights/Oak Lawn architectural conservation district in 2003.
Development 1930s-1960s
At the end of 1929, all three subdivisions of the neighborhood that collectively became known as Melrose Heights were well under development. By 1930, 161 homes (28.6% of the total number of homes) were developed within the boundaries of Melrose Heights. Over the next ten years, 1930-1939, building in the neighborhood skyrocketed and construction and development companies built 174 homes during this decade, doubling the total number of homes to 335. The largest concentration of construction in this decade occurred within the Fairview subdivision, as Fairview Drive, Maple Street, Gladden Street, and Woodrow Street all accrued large numbers of construction. On the other hand, the Oak Lawn subdivision's construction dwindled by the middle of the decade as a home had been constructed upon every lot within the subdivision. While the bulk of homes on Kline and Princeton streets were developed between 1930-1934, only ten homes were built inside the boundaries of Oak Lawn between 1935-1940. The concentration of development in Oak Lawn during this five-year period included four homes on the north end of Devereaux Road, three homes on the south side of Murray Street, and one house each on Kline Street, Maiden Lane, and Princeton Street. Other construction did occur around the Oak Lawn subdivision, including eight properties on the north side of Murray Street, which suggests the popularity and increasing interest of the subdivision.
Construction throughout Melrose Heights, and primarily on east-west streets and as infill of homes between Melrose Heights and Oak Lawn, remained in the double-digits throughout most of the 1930s. In 1940, the suburb witnessed a surge of thirty-one homes constructed, a year high only beaten by the thirty-six homes built in 1931. However, with the United States entrance into World War II, construction steeply declined to eleven houses in 1941. As WWII dragged on and entered its fifth and sixth years, construction in Melrose Heights, and across the country, dwindled and was fairly stagnant, ultimately picking up after the war concluded. Across Melrose Heights, construction during the 1940s included twelve homes on Pickett Street (66.7% of the street's total homes), eight out of thirteen homes on the south side of Devereaux Road (61.5% of the homes on Devereaux's south side), and seven out of the eight homes on the north side of Michigan Street (87.5% of the street's total homes). While seven homes (21.2% of the street's total homes) were built on Bratton Street, most of its development occurred after the 1960s.
By the 1960s, new construction within the suburb sharply declined, as by that point very few undeveloped lots remained. In fact, by 1965 508 homes had been constructed throughout Melrose Heights, 92.9% of all extant homes in the neighborhood today. Between 1966 and 2008, the last forty-one homes were constructed, bringing the total number of houses in the Melrose Heights-Oak Lawn-Fairview Historic District to 547.
Adapted from: Robert Olguin and John Sherrer,Historic Columbia, Melrose Heights-Oak Lawn-Fairview Historic District, nomination document, 2016, National Park Service, National Register of Historic Places, Washington, D.C.
Nearby Neighborhoods
Forest Hills Historic District
Street Names
Bratton Street • Butler Street • Daly Street • Fairview Drive • Gervais Street • Gladden Street • Hagood Avenue • Kershaw Street • Kirby Street • Kline Street • Maiden Lane • Maple Street • Michigan Street • Michigan Street • Millwood Avenue • Murray Street • Pickett Street • Princeton Street • Princeton Street • Shirley Street • Trenholm Road • Webster Street • Woodrow Street
---