Franklin County Administative Offices are located at 425 Franklin Farm Lane, Chambersburg PA 17201; phone 717‑264‑4125.
---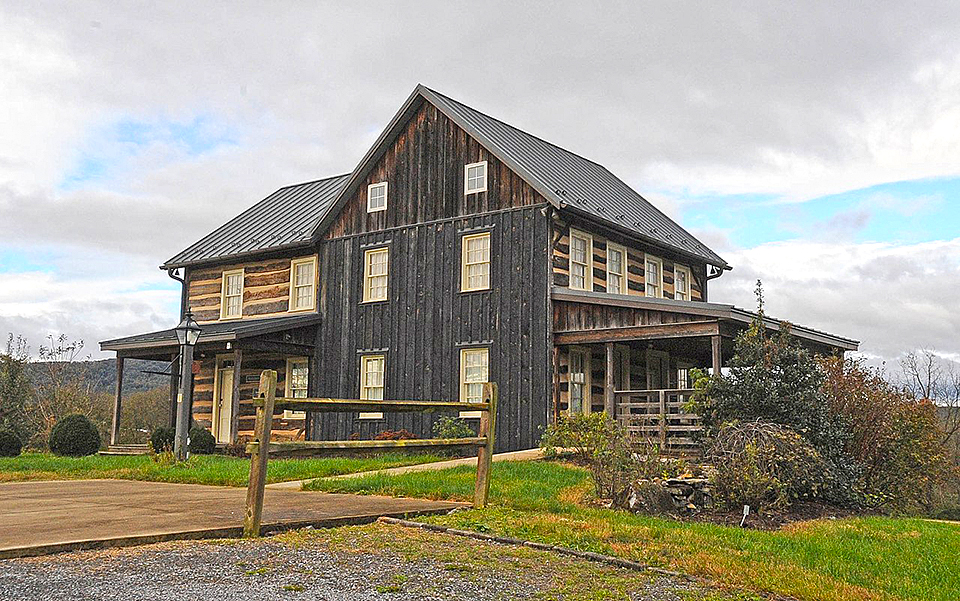 Photo: Davis-Stauffer Farm Complex (Rock Hill Farm), circa 1810, located at 12995 and 12755 Bain Road, Montgomery Township. Listed on the National Register of Historic Places in 1999. Photographed by User:Jerrye & Roy Klotz MD (own work), 2018, [cc-4.0], via Wikimedia Commons, accessed October, 2022.
---
TOWNS
Fannett Twp
Fayetteville
Hamilton Twp
Lurgan Twp
Metal Twp
Peters Twp
Quincy Twp
Saint Thomas Twp
Shippensburg (part)
Southampton Twp
Warren Twp
Beginnings [1]
Formed September 9, 1784; named for Benjamin Franklin, whose fame was then world-wide. Earliest settlers Scotch-Irish, later Germans. Chief industry agriculture, the land east is limestone and very fertile; west, slate lands prevail, abounding in pure streams and rich meadows; the Conococheague and Conodoquinet Creeks drain the central part of the county, they are crossed by many stone arch bridges of graceful architecture, the most notable is at Hiester's Mill, three arches. The principal road,now part of the Lincoln Highway, enters the county near the historic Thaddeus Stevens Iron Works, built, 1837, at Caledonia, which comprised about 20,000 acres, now in State Forestry Reservation, and with the Mont Alto tract, makes a total of about 40,000 acres; the mill and machinery were entirely destroyed, in 1863, by order of General Early, on account of Stevens' well-known activity as an abolitionist; this road was route of greater part of Lee's Army to and from the battlefield of Gettysburg to Chambersburg; site of encampment before the battle, a little beyond the hospital, east from Chambersburg. Other roads leading west, of historic interest, are the Two Mountain, and the Path Valley, formerly Indian trails.
Archambault, A. Margaretta, ed., A Guide Book of Art, Architecture, and Historic Interests in Pennsylvania, John C. Winston Company, Philadelphia, 1924
HISTORIC SITES
Angle Farm
Brotherton Farm
Brown, John, House
Burns, Jeremiah, Farm
Chambersburg Historic District
Church Hill Farm
Coldbrook Farm
Corker Hill
Culbertson-Harbison Farm
Donaldson, Widow, Place
Findlay Farm
Finley, James, House
Franklin County Courthouse
Franklin Furnace Historic District
Gass House
Greencastle Historic District
Hamilton, Alexander, House
Harbaugh's Reformed Church
Hays Bridge Historic District
Lane House
Mansfield
McCoy-Shoemaker Farm
Mercersburg Historic District
Millmont Farm
Mitchell-Shook House
Monterey Historic District (Pennsylvania)
Mt. Pleasant Iron Works House
Oller, Joseph J., House
Rock Hill Farm
Royer-Nicodemus House and Farm
Spring Grove Farm and Distillery
Stover-Winger Farm
Townhouse Row
Welty's Mill
Woodland
Work, Col. John, House
---