South Wayne Historic District
Post Office: Wayne
Zip Code: 19087
---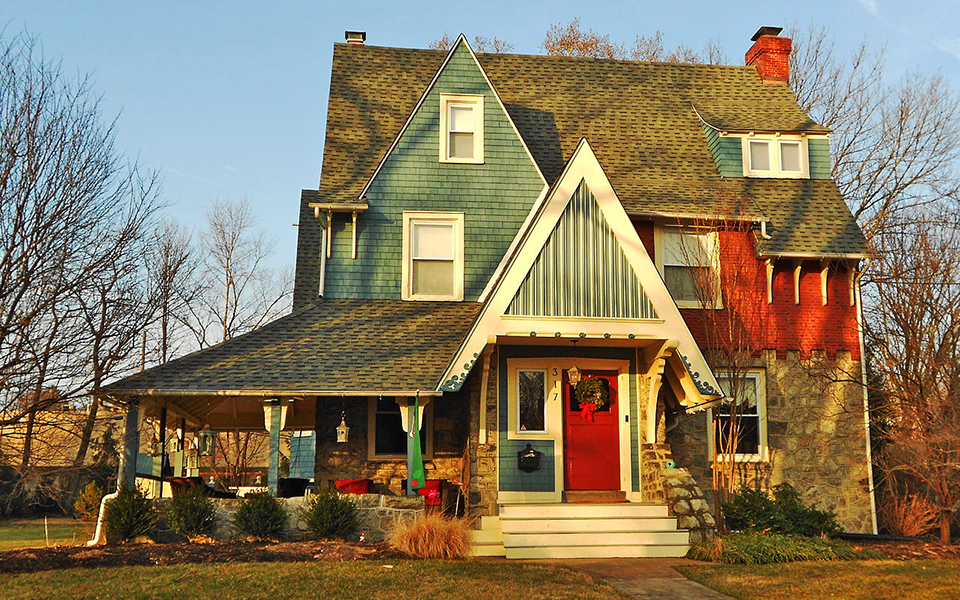 Home on Midland Avenue, circa 1894, located in the South Wayne Historic District; photo by wikipedia username:smallbones, 2013, creative commons [public domain], accessed June, 2022.
---
The South Wayne Historic District was listed on the National Register of Historic Places in 1991. Portions of the content on this web page were adapted from a copy of the original nomination document. [1]
Description
The South Wayne Historic District includes the southern half of the Drexel and Childs development known as "The Wayne Estate." It is located approximately 13 miles west of Philadelphia and is divided by the east-west corridor of both Lancaster Avenue (then known as the Philadelphia and Lancaster Turnpike) and the Pennsylvania Railroad. It encompasses all of the area of South Wayne developed by Anthony J. Drexel and George W. Childs under their managers, Herman Wendell and Frank Smith, which includes the area centered along Bloomingdale Avenue formally developed by James Henry Askin. It excludes those structures built after 1940 along Conestoga Road, Iven Avenue, Meadowbrook Circle, St. David's court and St. David's Road, which were the southern and eastern boundaries of South Wayne. The Wayne Estate was divided into two residential areas, North Wayne (National Register, 1985) and South Wayne, with a commercial center established between the two. As distinct from the grid plan adopted for North Wayne and the commercial core, South Wayne was laid out in a park-like setting with larger lots and meandering wooded avenues that more closely follow the gently sloped topography. To complement this natural setting, Drexel and Childs chose the designs of such popular local architects as the Price Brothers and Horace Trumbauer. Using stone, weatherboard, and wood and slate shingles, these architects developed several plans for comfortable and spacious two and three story suburban homes in picturesque interpretations of the Queen Anne, Shingle and Tudor and Colonial Revival styles. The only exceptions to this plan are found in the western section of the district where Askin's earlier Second Empire houses are found along Bloomingdale Avenue and later, smaller Foursquare and Colonial Revival twin and single houses are found along Owens Lane, and Lenoir and West Wayne Avenues. There are also a few public structures which were original to the district and some residential structures, which have been converted to commercial use.
South Wayne was laid out over rolling farm land in a valley of creeks and springs. A certain amount of landscaping in the center part of South Wayne, just below Lancaster Avenue, is evident on the 1881 map, which shows two lakes or ponds in the middles of the pattern. By 1892, one of the lakes was replaced with a water works and basin which complemented the South Wayne reservoir (erected by Askin) located at West Wayne and Bloomingdale Avenues. The other lake had been filled in and was bisected by St. David's Road. By 1897, the water works and basin had been removed and were filled in and Midland Avenue extended over them.
The houses in the district are situated on various sized lots. In the western section, around Runnymede and Bloomingdale Avenues, the lots are smaller (about 1/4 acre) than in the eastern end of the district where the houses are bigger with bigger lots (about 1/2 to 1 acre). The lot size changes gradually and grows larger as one moves from west to east, with the average lot size being about 1/2 acre. The lot sizes in the western end of the district were influenced by the plan established by Askin when he laid out the village of Louella along Bloomingdale Avenue. The lot sizes in the middle and eastern end of the district were established by Drexel and Childs. Because of the variances in lot sizes, set backs vary from street to street, although they are uniform in each block. They typically range from 30 to 50 feet.
Although the Wayne Estate was carefully planned from its inception, South Wayne differs from North Wayne in that, rather than being architecturally homogeneous, it has an eclectic character to it. In North Wayne, there are only two prominent architectural styles, Queen Anne and Shingle Style, both closely related. This is due in large part because North Wayne had developed first and almost exclusively utilized the designs of the Price Brothers. On the other hand, South Wayne is larger, took longer to be developed and so could accommodate a wider range of architectural styles designed by a variety of architects, all of whom, however, were working within the same aesthetic. These styles included Queen Anne, Shingle Style, Colonial Revival and Tudor Revival designed by various regionally prominent architects.
Among those architects were the three Price Brothers (William Lightfoot, Frank L., and Walter Ferris Price) and Horace Trumbauer. The Price Brothers are best known for their commercial buildings in Philadelphia and their residences in the Philadelphia suburbs built for such prominent clients as Edward Bok, Alan Reed, John Gilmore and Charles H. Hires After 1900, William L. Price went into practice with M. Hawley McLanahan (Withey and Withey 1956, p. 489).
From the beginning, Wendell and Smith used a series of Price Brothers designs in Wayne from which their clients could choose a house, either already built, or, to be built, on a lot of their choosing. Seven Price Brothers designs were planned for South Wayne. Three of these designs are found along Midland Avenue: 431 Midland is an example of Design 1890-B; 317 Midland Avenue is an example of Design 1890-C; and 402 Midland Avenue is an example of Design 1890-D. Other houses located throughout the area, but especially along Midland and Windemere Avenues, exhibit some of the other Price designs. The Price Brothers favored the Queen Anne and Shingle styles of architecture and used stone, stucco, weatherboard and wood shingle as construction materials; sometimes all on one house. Although they did not use brick extensively an outstanding exception is found at 317 Midland Avenue with its brick upper stories over a stone first story.
In 1900, William L. Price went into partnership with M. Hawley McLanahan. Together they designed at least one residence in South Wayne of importance: "Car-Alan." It was designed in 1905 for Alan Reed of the Jacob Reed clothier family, and was built on the corner of Louella and Pembroke Avenues. It is an excellent example of the Jacobethan Revival with its quoins, red brick and squat, square towers.
Horace Trumbauer is well known for his academic, commercial, public and residential buildings. He was also known for his ability to move among Queen Anne, Colonial Revival, French Eclectic and other styles. His best known works include 17 buildings at Duke University, North Carolina; several buildings, both public and residential, in Philadelphia for the prominent Widener family; and "Whitemarsh Hall" at the Stotesbury Estate, a private estate in the Philadelphia suburbs (Withey and Withey 1956, pp. 607-608).
Trumbauer began designing houses in the Wayne Estate in the early 1890s. Most of his work can be found in South Wayne. Two houses, 314 and 319 Louella Avenue, are examples of Trumbauer's interpretation of the Shingle Style. 326 Louella Avenue and 423 St. Davids Road are examples of Trumbauer's work in the Queen Anne style. 210 Pembroke Avenue is the only example of the Colonial Revival used by Trumbauer in South Wayne. Trumbauer used stone, stucco, timber framing and wood shingles according to which style he was working with. For the Shingle Style, he generally used stone for the first floor with wood shingled upper stories. For the Queen Anne, he used a combination of stone, weatherboard and half timbering. And for the Colonial Revival style, he used stone and wood. Regardless of the style, he invariably managed to incorporate a stone tower in the design. The notable exception in South Wayne is the Colonial Revival house at 210 Pembroke Avenue.
Other builders and architects have contributed to the eclectic character of the architecture in South Wayne. David Knickerbacker (D. K.) Boyd was another architect originally brought in by Wendell and Smith. He designed buildings in the Wayne Estate from 1893 to 1930, both with and without various partners, and was responsible not only for many individual residences and commercial buildings, but also a Spanish Colonial Revival apartment house at Bloomingdale and Runnymede Avenues and the Saturday Club house at 117 West Wayne Avenue. While the Saturday Club building is done in a style typical of Wayne, timber framed Tudor Revival, the apartment house is not. For this apartment house, Boyd utilized stucco as his main construction material with a stone foundation and a tile roof. This building is an exception to the general use in the district of stone, weatherboard and/or wood shingle for construction materials. Nevertheless, it does not detract from the character or integrity of the district, rather, it adds to the district with its individuality.
Architect Francis Albert Gugert, individually and in partnership with D. K. Boyd and Victor Abel, contributed several residences to South Wayne, most notably the 1896 Colonial Revival style house at 320 Louella Avenue. This house sits between two Trumbauer houses and is architecturally sympathetic with its use of stone and its incorporation of a tower as an element of the building. Another architect, Herman Louis Duhring, individually and in partnership with R. Brognard Okie and Carl Zeigler, was known primarily for his residences throughout the Philadelphia area. In 1907, Duhring designed the Tudor Revival style house at 407 Louella Avenue. When Duhring was working in the Tudor Revival, he used a combination of stone and half timbering as his construction materials.
Builders other than Wendell and Smith also worked in South Wayne. Both Boyd and Gugert used George Shoemaker; while Price, in partnership with McLanahan, used the firm of Yarnell and Ballinger Company. In addition, Jonathan Lengel and his sons constructed buildings for various clients. These buildings include the house at 320 Louella Avenue, the Saturday Club, and the house at 214 South Wayne Avenue among others. Lengel was also responsible for the small enclave of twin houses at 226-245 Lenoir Avenue and 169 Conestoga Road. These houses reflect the influence of the earlier architects, such as the Price Brothers, on Lengel's designs. The houses are Shingle Style with details varying from one set of twins to the next. Contrary to the usual practice in Wayne, the construction materials are brick and wood shingle, instead of stone and wood shingle.
In spite of the mixture of architectural styles found in South Wayne, a degree of continuity is attained in scale and materials. None of the houses are taller than three stories and most are constructed of stone or wood, with brick used more decoratively. Wood and stone carvings are also used decoratively throughout the district. The Price Brothers liked to carve fanciful designs at the ends of the bargeboards on the gables of porches and houses as well as on the lintels of their porches. They also used decorative metalwork at the base of oriel windows. As an additional detail, Trumbauer used decorative molded concrete panels on his towers.
There are nine outbuildings of substantial size which are now used as residences but were originally carriage houses and/or stables. Most of the outbuildings still standing in the district remain associated with their original principal building, usually a house, and served as stables/carriage houses. Today, they are used either as private garages or converted residences. Many of these were designed by the same architect as the accompanying house, while a few were designed at a later date by a different architect.
The intrusion of noncontributing buildings has occurred on the periphery of the district and has influenced the boundaries of the district. There are 64 noncontributing buildings and 9 lots found within the district. Most of these intrusions are residential and have been built since 1940. They are basically Colonial Revival or Ranch Style frame structures with applied stone or brick facades. They tend to be found in pockets where larger lots have been subdivided. There are two distinct clusters of post World War II houses along the south sides of the 200 blocks of Midland Avenue (eight houses) and Upland Way (seven houses). Because the 200 block of Midland Avenue was laid out in a small stream valley, it was the last and least feasible area to be developed in the heart of South Wayne. The Upland Way intrusions are the result of the subdivision of a larger property. The most prominent intrusion within the District is a recently constructed apartment complex along the east side of the 200 block of Bloomingdale Avenue. There are five intrusions that are used commercially, and they are found along Conestoga Road, West Wayne Avenue and Lancaster Avenue.
Any changes made to individual structures tend to be the unsympathetic renovation or remodeling of a structure resulting in the use of aluminum or vinyl siding to replace weatherboard or shingle siding, and asbestos or asphalt shingles to replace slate of wood roofing or siding shingles. Although these changes are common throughout the region, they are rarer in South Wayne and have little impact on the integrity of the district. Only four of the buildings have been deemed as noncontributing because their integrity has been lost through drastic remodeling.
Today, South Wayne Historic District covers approximately 270 acres encompassing 393 parcels. Of those 393 parcels, approximately 231 had been constructed by 1913 (A. H. Mueller 1913. Plate 25). Generally, the integrity of South Wayne has been maintained. Individually, the integrity of the houses is good to excellent with unsympathetic renovation and remodeling kept to a minimum. The biggest threat to the integrity of the district is the continual development of the Wayne business district along Lancaster Avenue. This development causes two problems for the district: first, the intrusion of commercial structures and the conversion of residential structures to commercial use in a traditionally residential area; and second, the accompanying increase in traffic through this area in response to the growing traffic problems along Lancaster Avenue. Attendant with the commercial development of Wayne is the pressure to provide more housing in an already densely populated area. Several sections of the district have been intruded upon by less than 50 year old townhouse apartment complexes and single family dwellings. Out of 384 buildings surveyed, 64 were deemed intrusions. The majority of the buildings surveyed were constructed between 1891 and 1930 and 107 were found to be designed by known architects and/or built by known builders. Sixty-eight of these buildings are known to have been designed by the Price Brothers, either individually or collectively, and twelve are known to have been built by Trumbauer.
Significance
The South Wayne Historic District is significant in architecture and community planning for two reasons. First, the Wayne Estate was one of the first late Nineteenth century planned suburban developments to spring up along the Main Line of the Pennsylvania Railroad that was not directly associated with or promoted by the railroad. South Wayne was laid out in 1887 with the needs and desires of the growing commuting middle class in mind. Developers Anthony J. Drexel and George W. Childs, through their general contractors and managers, Herman Wendell and Frank Smith (and later, Frederick H. Treat), met those needs and desires through a shrewd combination of planning and advertising. They laid out lots that were big enough to give the appearance of being in the country, small enough for folks accustomed to the city to find manageable. The houses were of a size that gave the appearance of grandness, but were planned for manageability and efficiency. The street patterns and the landscaping selected, especially in South Wayne, created a park-like, i.e. country, setting, which, in its turn, was complimented by the architectural styles chosen by the builders and architects. Wendell and Smith then promoted this community as a country setting with the most efficient and modern houses to be found anywhere outside the city (Historic Wayne, p. 19). This combination of city efficiency and country setting still appeals to modern suburbanites today. And second, individually, these houses provide good examples of the work of several regionally prominent architects, among them, the Price Brothers and Horace Trumbauer; as well as several well known builders, including Wendell and Smith, and Jonathan Lengel .
In response to the construction of the Erie Canal in New York, the State of Pennsylvania authorized the construction of the "Main Line Public Works" which was a transportation system that combined a railroad running west to Columbia with a series of canals, rivers and portage railroads. The eastern portion of the railroad followed the old Lancaster Turnpike (Lancaster Avenue). The ultimate goal of this system was to connect Philadelphia with Pittsburgh; it met with little success. In the early 1850s, the Philadelphia and Columbia Railroad was purchased from the State by the Pennsylvania Railroad. By 1860, the Pennsylvania Railroad had completed an all rail link between Philadelphia and Pittsburgh. Along what became known as the "Main Line," the railroad utilized existing villages for its stations as well as establishing several flag stops. These stations and flag stops encouraged development of the surrounding countryside. To begin with, the development was limited to the consolidation of several smaller farmsteads into bigger country estates by some of Philadelphia's wealthiest families. Many of these families had financial stakes in the success of the Pennsylvania Railroad and so were willing to actively help promote it by establishing their country and/or summer seats along its lines. Along the Main Line out of Philadelphia, those areas of country estates and summer seats grew up around such stops as Humphreysville (Bryn Mawr), Whitehall (Rosemont), Cleaver's Landing (Wayne), Eagle (Strafford) and Paoli.
In 1864, Philadelphia financier James Henry Askin bought a 91 acre tract of land in Radnor Township along the Lancaster Turnpike between Eagle and Whitehall at the flag stop, Cleaver's Landing. In 1865, he added 73 acres to his original purchase and in 1870, he bought a final 129 acres to bring the total to approximately 300 acres. Between 1865 and 1866, he built his mansion between the Turnpike and the Pennsylvania Railroad and named it Louella after two of his daughters. Between 1870 and 1875, Askin laid out Bloomingdale Avenue, which connected with Lancaster Pike, along the western border of his property, and established the village of Louella. He began building houses on lots to be sold to individual owners. Around the same time, Cleaver's Landing became a station and changed its name to Wayne, in honor of General "Mad" Anthony Wayne, who is buried at the old St. David's Church, two miles south of Wayne. Because of failing eyesight, Askin sold his property in 1880 to Drexel and Childs.
In 1880, banker Anthony J. Drexel was joined by George W. Childs, the publisher of the Philadelphia Public Ledger, in a developing venture located on both sides of the Pennsylvania Railroad at the Wayne station and encompassing Louella and several other neighboring farms. The name of the Drexel and Childs development was "The Wayne Estate." It was one of the first and largest planned suburban subdivisions along the Main Line in the late Nineteenth century that was not directly associated with or promoted by the railroad. However, the venture was prompted by an overall plan promoted at the time by the Pennsylvania Railroad (PRR) to enhance the usage of the railroad. The PRR was actively buying land along its right of way to subdivide and sell to its top and middle management personnel in an effort to encourage them to move to the newly emerging suburbs. At this point, most of these new suburbs surrounded older villages which had sprung up along the Lancaster Pike. The philosophy behind the railroad's plan was that by moving their own people out along the Main Line, the railroad would be encouraging other city dwellers to do the same, thus increasing the usage of the railroad to and from the city. Drexel and Childs saw the financial possibilities of this plan and bought land west of the Railroad's development at Bryn Mawr as-an investment venture.
The difference between the PRR's developing ventures and Drexel and Childs' developing venture was that Drexel and Childs bought land encompassing the new village of Louella with the intention of creating a bigger and better community not only oriented to the railroad and its convenient transportation to the city, but also embracing the Victorian ideal of "home." The first step Drexel and Childs took was bringing in Herman Wendell and Frank Smith to act as their general contractors and managers of the Wayne Estate. Frank Smith, who was Childs' personal secretary, was later replaced by Frederick H. Treat. Development of the commercial center of the Wayne Estate began in 1881 while North and South Wayne were laid out in 1887 (Warn; and Historic Wayne, p. 12). Development in North Wayne continued until 1895. Development in South Wayne started about 1890 and continued through about 1930.
In planning their community, Drexel and Childs decided that for the venture to work, they had to address the specific needs of a specific market. That market was the health and home conscious Victorian Philadelphian middle and upper class who were growing more concerned about the hazards of city living. At the same time, they were reluctant to leave all the conveniences and cultural attractions of the city behind. Consequently, instead of simply laying out lots and roads and expecting the new owners to fend for themselves when it came to basic services and amenities, Drexel and Childs decided they would provide all of the amenities that city people had come to expect and enjoy as well as offering homes designed in a variety of architectural styles that epitomized the ideal of home comforts and conveniences at prices that members of the newly emerging middle class could afford in a setting that was healthy and pure (Wendell and Smith would later advertise that "Malaria is unknown" in Wayne -Historic Wayne, p. 19). The amenities included well laid out, macadamized streets; shade trees, and a wide range of utilities. The utilities included a steam heat plant, an electric light plant, public water and sewer, and, by 1908, a telephone exchange. The steam heat and electric light plants were located north of the railroad. The water works and basin for South Wayne were directly east of the public school lot on Windemere Avenue, while the original Louella reservoir was located at Bloomingdale and West Wayne Avenues. Eventually, they ere replaced by a larger reservoir located on high ground above Wayne. The sewerage disposal plant was located about 1 1/2 miles from the railroad station where the Radnor Township building is today and the telephone exchange was installed in various drugstores (Wayne; and, Historic Wayne, p. 15). Drexel and Childs also persuaded the Pennsylvania Railroad to turn the flag stop called East Wayne into a full fledged station called St. Davids in the early 1890s to service the rapidly developing Wayne Estate.
When Drexel and Childs laid out the Wayne Estate, they choose street patterns that were compatible with the local topography. North Wayne is relatively flat, so it lent itself to the traditional grid street pattern. On the other hand, South Wayne is hilly and so lent itself to a more curvilinear street pattern. The curvilinear street pattern was becoming more and more popular with landscape architects throughout the region as they became aware of the movement, on a national level, away from the grid street pattern, established when Philadelphia was laid out in 1682, to the more romantic curvilinear street pattern.
To complement Drexel and Childs' plans for the Wayne Estate, Wendell and Smith chose architects best known for their picturesque interpretations of the current architectural styles. They also insisted that the houses be built on a scale that was spacious but manageable with such conveniences as well thought out floor plans, plenty of closet space, and indoor "water closets" (Those Comfortable Homes, p. 3; Wayne and Historic Wayne. p. 19). The first architects commissioned by Wendell and Smith were the Price Brothers. Their earliest work can be found in North Wayne. As the development of North Wayne neared completion, the Price Brothers continued their relationship with Wendell and Smith in South Wayne, where they came up with seven new designs, six of which are evident today. Most of the Price Brothers' houses were built on speculation. Horace Trumbauer was another architect used by Wendell and Smith. He did a few houses in North Wayne but mostly worked in South Wayne. Some of his houses were built on speculation and some were built according to clients' specifications. Because South Wayne took longer to develop than North Wayne, people were able to buy lots and bring in their own architects and/or builders, such as Jonathan Lengel, 0. K. Boyd, and Francis Gugert, to design and build their homes. As a result, South Wayne's architecture is much more diverse than North Wayne's.
In conclusion, despite its architectural diversity, South Wayne does exhibit a continuity of plan and character. When Drexel and Childs first decided to undertake this venture, they laid everything out and made plans in advance for all the amenities they felt the Wayne Estate homeowners would want. Then, Wendell and Smith, and later Wendell and Treat, oversaw the development of South Wayne from beginning to end, regardless of whether they were involved in the actual construction or not, and were able to enforce uniform setbacks and landscaping and encouraged the uniform use of construction materials and architectural styles. Also, the architects chose picturesque styles to complement the park-like setting created by Drexel and Childs.
While South Wayne's ability to exhibit this considerable degree of architectural and planning integrity is due significantly to the fact that Wendell and Smith oversaw its development for approximately 40 years, it also is testimony to how well planned, from its inception, the Wayne Estate was by Drexel and Childs. The lot sizes have proved to be ideal; neither too small to encourage homeowners to seek bigger properties, nor too large to encourage their subdivision. And the house sizes have proved to be manageable; the single family home status of most of the buildings is still intact. Few of the properties of been subdivided to make way for smaller houses and very few of the original houses have been converted into apartments. The scale and floor plans of the original houses are easily adapted to modern needs and conveniences with few or no alterations or additions. This means that few of the original houses have been drastically altered. Basically, the Wayne Estate established what has become the suburban ideal along the PRR. South Wayne, today, still serves the suburban market for houses in country-like settings with city services and amenities.
References
Baist, G. William. Atlas of Properties in the Northwest Suburbs of Philadelphia. Philadelphia: G. William Baist, 1893.
Brooks, Theodore. "South Wayne and the Wayne Public Safety Association." The Bulletin of Radnor Historical Society 2 (Spring 1967) 7: ps. 3-6.
Cummin, Katharine Hewitt. A Rare and Pleasing Thing: Radnor Demography (1798) and Development. Philadelphia: Owlswick Press, 1977.
Dallett, Francis James. "Three Centuries of Radnor and the Historical Society." The Bulletin of Radnor Historical Society 3 (Fall 1974) 4: ps. 6-10.
Goodman, William I. and Eric C. Freund. 3. Washington, DC: International City Planners Association, 1968.
Goshorn, Bob. "When The Pennsylvania Railroad Promoted Suburban Living". Tredyffrin Easttown History Club Quarterly 19 (January 1981) 1: ps. 13-22.
Groff, John M. "Horace Trumbauer: Architect for Town and Country." The Bulletin of 4 (1982) 2: ps. 14-21.
Historic Wayne. Wayne, Pennsylvania: The Graphics Center, Argus Printing Company [1975].
"A Historical Record and Business Guide of Wayne, Pennsylvania, 1945. " Delaware County History -Wayne Envelope, Chester County Historical Society Library, Chester County Historical Society, West Chester, Pa.
Hopkins, G. M. Atlas of Delaware County, Pennsylvania. Philadelphia: G. M. Hopkins, C E., 1870.
Hopkins, G. M. Atlas of Philadelphia and Environs. Philadelphia: G. M. Hopkins, C. E., 1877.
Hopkins, G. M. Atlas of Bryn Mawr and Vicinity or of Properties Along the Pennsylvania Railroad. Philadelphia: G. M. Hopkins, C. E., 1881.
Hotchkin, Rev. S. F. Rural Pennsylvania In the Vicinity of Philadelphia. Philadelphia George W. Jacobs & Co., 1897.
Kidney, Walter C. The Architecture of Choice: Eclecticism in America, 1880-1930. New York: George Braziller, 1974.
Lee, R. K. Atlas of Delaware County. Philadelphia: Everts and Stewart, 1875, p. 5.
Miller, William S., St. John Ogier and others. Farm, Line and Borough Atlas of Delaware -County, Pennsylvania. Philadelphia: E. W. Smith, 1892.
Mueller, A. H. 1913 Pennsylvania Railroad Atlas of the Main Line, From Overbrook to m. Philadelphia: A. H. Mueller, 1913 (Plate 25).
Noll, Brian. "North Wayne Historic District." The Bulletin of Radnor Historical Society 4 (1985) 5: ps. 7-8.
Noll, Brian, Sonja K. Keohane and Michael W. Kearney. "North Wayne National Register of Historic Places Nomination." Harrisburg, Pa.: 1985.
Platt, Frederick. "Horace Trumbauer in Wayne and St. Davids." The Bulletin of Radnor Historical Society --4 (1986) 6: ps. 8-13.
Robbins, Caroline. "Herman P. Lengel : 'Jobbing Carpenter' ." The Bulletin of Radnor Historical Society 1 (Spring 1958) 8.
Something About Those Comfortable Homes in the Country In the Highlands Not Far From Philadelphia on the Main Line of the Pennsylvania Railroad at Wayne and St. Davids, Delaware County, Pennsylvania." Wayne, Pa.: Wendell and Smith, 1892.
Spreiregen, Paul D. and ALS Staff. Pre-Design I, by the Architectural License Seminars. Los Angeles: Architectural License Seminars, 1985.
Tishler, William H., ed. American Landscape Architecture: Designers and Places. Washington, DC: Preservation Press, 1989.
"Wayne." Wayne, Pa. : Wendell and Treat, Publishers, 1899. Found in Delaware County History -Wayne Envelope, Chester County Historical Society Library, Chester County Historical Society, West Chester, Pa.
"Wayne As It Was Described By Newspapers Back In 1884." Main Line Times, 16 September 1954, Part 2 of Series. Found in Delaware County History -Wayne Envelope, Chester County Historical Society Library, Chester County Historical Society, West Chester, Pa.
Wayne Title and Trust Co., ed. Directory of Wayne & St. Davids. Philadelphia: A. H. Mueller, Lith., 1904 (Map).
Wayne Title and Trust Co., ed. Edgewood Lake, St. Davids, Radnor Township, Delaware County, Pennsylvania, Main Line Pennsylvania Railroad. Philadelphia: A. H. Mueller, Publisher, 1897 (Map).
Withey, Henry F. and Elsie Rathburn Withey. Biographical Dictionary of American Architects (Deceased). Los Angeles: New Age Publishing Co., 1956.
Dorchester, Jane E., South Wayne Historic District, 1990, nomination document, National Park Service, National Register of Historic Places, Washington, D.C.
Nearby Neighborhoods
Street Names
Aberdeen Avenue South • Askin Road • Bloomingdale Avenue • Lansdowne Avenue • Lenoir Avenue • Lisa Way • Louella Avenue • Meadowbrook Avenue • Midland Avenue • Orchard Way • Owens Avenue • Pembroke Avenue • Runnymeade Avenue • Saint Davids Court • Saint Davids Road • School Lane • Upland Way • Wayne Avenue South • Wayne Avenue West • Windermere Avenue
---