Hamorton Historic District
Post Office: Kennett Square
Zip Code: 19348
---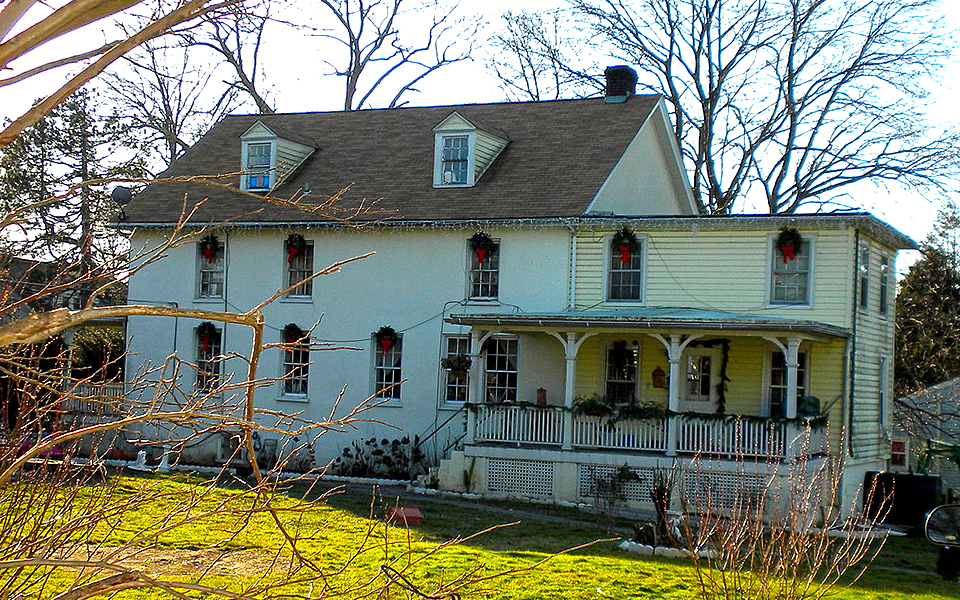 Photo: Home in the Hamorton Historic District, Kennett Township. Listed on the National Register in 1978. Photographer: wikipedia username: Smallbones, 2009, public domain; accessed August, 2022.
---
The Hamorton Historic District [1] was listed on the National Register of Historic Places in 1990.
Description
The Hamorton Historic District is a village primarily of brick, frame and stone residences constructed between 1780 and 1930. It is located at the intersection of old Baltimore Pike (Route 1) and the Wilmington Road (Route 52) in Kennett Township, Chester County, Pennsylvania. It sits atop a plateau approximately 450 feet above sea level and commands a broad view of the surrounding rolling countryside. To the east is the Old Kennett Meeting, a center of Quakerism since 1710. Immediately to the west is Longwood Gardens, the internationally renowned display gardens developed in the 1920s by P.S. duPont on the site of Pierce's Park. A few miles further west and along the Old Baltimore Pike lies the Borough of Kennett Square, incorporated in 1855.
Hamorton's original plan, laid out in the 1830s, can still be readily discerned (despite the 20th century impacts primarily from transportation demands). The original village consisted of narrow rectangular lots on the north and south sides of Baltimore Pike, then called Main Street. Running parallel were secondary streets, or "alleys," known as Ash (on the north) and Pine (on the south). The east and west limits of the village originally were West and Harlan Streets, and Main Street was bisected by narrow Walnut Alley. Another early road, Willow Street, veered southwest off Baltimore Pike and joined the Wilmington Road about a half mile below its intersection with Baltimore Pike.
Although some small amount of supplemental building occurred in the 1860s and 70s, Hamorton's second major building boom occurred nearly 100 years after its first. Between 1928 and 1930, the village was significantly expanded to the north by Pierre Samuel DuPont, owner of nearby Longwood Gardens. New streets of Elmwood, Dogwood, and Holly Drives were developed roughly perpendicular to the existing village streets, and then filled with eighteen detached examples of "company housing" for employees of his famous gardens. When referring to the village today, residents distinguish between the "old" and this "new" Hamorton.
The traditional trade route, Baltimore Pike, bisects the village. The oldest homes lie but a few feet from the roadbed which was widened in the 1920s by duPont in the course of his privately-financed model road building program. At that time, Hamorton's original store, built by Abraham Hamor in the 1830s, was sacrificed to the widening. Although Baltimore Pike has been upgraded several times in the intervening seventy years, there has been no additional demolition nor creation of new circulation patterns. Even the awkward angular intersections of the Wilmington Road and Willow Streets with Baltimore Pike date from the village's first period of development. The Wilmington Road/Baltimore Pike point, now a traffic island, was planted as the town "Green" in the 1840s-50s.
The 52 contributing, principal buildings in Hamorton span over a century from 1780-1930. Pre-1900 structures are primarily vernacular in style. From the earliest period there is a circa 1780 stone farmhouse with a double-door Georgian facade. A circa 1810 dwelling with a Penn Plan core of stone and a smaller frame wing located on the Wilmington Road is believed to be the earliest dwelling along the old Baltimore Pike. Most of the buildings fronting along the Baltimore Pike erected in the village's first spurt of growth in the late 1820s/early 1830s were two and a half-story double houses and rowhouses of brick or frame, two and four bays wide, with shallow gable roofs. In many cases they doubled as shops and stores, and even as a hotel and school. The house and barn built by Abraham Hamor in the 1830s still stand; the barn was converted by George Harlan in the 1860s to a double dwelling, an unusually early example of adaptive use of a farm building in Chester County. In the same period, Harlan also converted a house and attached shop into a double dwelling. In 1846 a large brick public hall was built which was converted to a public school in the 1850s.
From the mid 19th century are a few detached residences of brick and frame, some with Gothic Revival cross gables and pointed arch windows on larger lots and a frame church built 1873-74 showing faint influence of the Roman Revival style.
The 18 detached houses erected under P.S. DuPont between 1928 and 1930 on spacious treed lots are variations of the Colonial and Georgian Revival styles in brick and stone. Four, which were built for duPont's executive staff, are full-blown Georgian Revival examples with pointed stone walls, datestones, paneled and louvered shutters, gable roofs with dormers, dentilled cornices, pent roofs, wide center halls, butler's pantries, elaborate mouldings, and fanlights or transoms. The 14 other houses from this period were more modestly conceived Colonial Revivals.
Outstanding among this group is the brick "L-house" built in 1930 for W.J. Morrison. Its walls and foundations are solid (not faced) brick and stone and feature a water table, drip course, and flat arches above the windows. There are cast iron radiators, plaster walls, oak and pine floors, a full finished basement, a built-in corner cupboard, copper gutters, working wooden shutters, multi-paned sash windows, tiled bathrooms, and paneled doors with brass hardware. Reputedly fearful of fire, duPont equipped all his houses with fire extinguishers and forbade working fireplaces. False chimneys, however, of solid stone and, in the case of the Morrison house, brick, arise from the attic of each house. Like the rest of "new" Hamorton, the Morrison house has a one-story, detached garage with horizontal wooden siding, and a gable roof. Its interior walls are finished in tongue and groove board. Extant architectural drawings for the house and garage verify the originality of all these features.
Time and the roadside locations have not been kind to Hamorton's oldest buildings. Several have modern siding over their brick or frame walls and asphalt roofing over wood shingles. Some doors which faced the old Main Street have been sealed. These are cosmetic changes in reaction to the noise, dust, and vibration from Route One. The "old" Hamorton community has in fact shifted its focus from Main Street to its rear yards and alleys. Here, with the houses as a solid backdrop, there are long and narrow neatly fenced and lushly planted yards where residents linger and converse. They access their homes from Buttonwood Lane (Ash Street) and the bed of old Pine Street, now an unnamed alley. Unbeknownst to the passing motorist, the Hamorton community thrives behind the united brick facades lining Baltimore Pike.
Buffered from the transportation realities of the 20th century by "old" Hamorton, the houses built between 1928 and 1930 under P.S. duPont are of impeccable integrity. That these houses remain in nearly original condition can be attributed to both the excellence of their construction and the fact that they served as "company housing" for favored employees of Longwood Gardens into the 1950s-60s. As such, they were rigorously maintained by Longwood. Eventually, a number of the properties were sold to the original tenants (or their descendants) who occupy them to this day.
Contributing accessory buildings include two frame and one brick stables/shops dating from Hamorton's first period of development, nineteen garages which were built under P.S. duPont and retain outstanding integrity, and the c.1930 "electrical building," a one-story stuccoed cinder block building with a gable roof containing all of the original apparatus for Hamorton's electrical system. There is one contributing structure in Hamorton, the two-story iron water tower built c.1930 by duPont on the site of Hamorton's first reservoir.
There are two non-contributing principal buildings and eight non-contributing garages. Both principal buildings are one-story ranch type dwellings dating from c.1960s-70s which have minimal impact on the village's integrity, since they are made of materials similar to the surrounding contributing structures around them, and respect the overall village scale.
Significance
Hamorton Historic District derives its significance from its relation to the important historical themes of commerce, and social history as reflected in the abolition movement during the 19th century, and as its being a "company town" during the early 20th century. A stalwart nineteenth century crossroads and commercial center, the village today retains much of the ambiance associated with those times and styles due to its impressive retention of architecture from its two major phases of development, the 19th century commercial boom, and the early 20th century expansion associated with Pierre Samuel DuPont's construction of employee housing for his adjacent Longwood Gardens.
The Architecture
The district's early to mid 19th century buildings known as "old Hamorton" are representative of vernacular architecture found in many crossroad villages in southeastern Pennsylvania that began their growth in the 1820s-30s. Earmarks of this style of architecture are two and a half to three-story structures with usually unadorned facades grouped together, capable of being multifunctional at various times (e.g. residence, store, doctor's office, hotel — whatever the town needed at that point in its history), and relatively self-sufficient as a group.
The other part of the district, "new Hamorton's" Colonial Revival dwellings, are of impeccable integrity and high quality construction, and represent an unusually large collection of this style of architecture in this section of Chester County. Some examples of this Colonial Revival are seen to the west of West Chester, some in the Kennett Square area and a few throughout East Bradford Township, but not in the concentration that is found in Hamorton.
History of Development
Hamorton experienced three distinct periods of growth and development during which most of its historic resources were constructed: 1) 1830-40; 2) 1860-70; and 3) 1920-30. Prior to 1830, Hamorton was the site of a crossroads village which grew up around the junction of Baltimore Pike (laid out c.1742) and the Wilmington Road. The Isaac Harlan house dates to c. 1780. The village was first named Logtown, probably due to the presence of a bark mill there in which tannic acid was extracted from oak bark for use in tanning. The bark mill stood on the west side of the Wilmington Road across from the entrance to Pine Alley.
The break-up of the Ezekiel Webb estate in 1829 triggered the initial development of a small town which quickly became known as Hamorton. Webb's executors broke the complicated estate into several large and small parcels. Three adjacent lots on the north side of Route One were sold in 1829 to John Morris (lot #3), Abraham Hamor (lot #4), and Porter Strode (lot #5). There was a log house and shop on lot 5 at the time of the estate's dissolution; another lot was simply described as a desirable building lot. Most, if not all, of the dwellings fronting on Route One were erected on lots subdivided from these parcels in the 1830s-40s. Abraham Hamor built the majority of them for speculation.
When Abraham Hamor relocated from Middletown Township, Delaware County, he called himself a tailor. With his acquisition of land in Kennett Township he became a speculator, farmer, postmaster, and businessman. Besides purchasing lot 4 from the Webb estate for speculation, Hamor obtained a 47-acre parcel which extended north and south of Route One, to the west of the Morris/Hamor/Strode lots. Here he established a small farm, the house of which is still standing; the nearby double dwelling originally was Hamor's barn. In 1831, Hamor succeeded in obtaining a post office for the village and being appointed its postmaster. He probably kept the post office in the store he built on the south side of Route One, just west of its junction with Route 52, on a portion of his 47-acre farm. The Census of 1850 describes Abraham as a farmer living with his wife, Mary Ann, and several grown children. Edward, then 33, was a storekeeper and his brother James, 27, was a stonemason. Another of Abraham's sons, Patterson, 36, who lived with his wife and four children in a separate dwelling, was listed as a merchant. Both Edward and Patterson worked in the store that Abraham Hamor had built and advertised as "well established" in 1840. Abraham sold the farm in 1867 and moved to a house closer to "town" where he died in 1874. This property stayed in his family until 1907.
Following its founder's example, Hamorton became a center for commerce and industry, rivaling the nearby growing town of Kennett Square in activity. A wide assortment of cottage industry was attracted to the village, including cabinetmaking and undertaking (Abraham Bennett, Elwood Doane, and Steven Lamborn); boot and shoemaking (Taylor Woods, John Fritz, and L.M. Woods); broommaking (James Hamor); tailoring (P.R. Homes); tinsmithing and stovemaking (Cyrus and Lewis Lamborn); saddlemaking (Lewis Woodward); blacksmithing and coachmaking (Chandler Brothers). Beginning in the 1840s, the village always had a doctor's office.
Unlike many towns and villages of the period, Hamorton's retail trade never included an inn which sold liquors, a reflection of its conservative Quaker population and neighbors. For similar reasons, a Quaker-run "free store" was long established. In the 1870s, there was an ice cream parlor and cafeteria in the Elliott house. A dwelling built on speculation by Hamor in the 1830s at the corner of Main Street and Walnut Alley later became Bowman's store and the post office. Hamorton's most prominent commercial establishment, by far, was the Pyle general store. In the 1860-70s, Robert Pyle and Brothers of West Marlborough developed a chain of "General Merchandise," or department, stores in several small towns in Chester County, among them West Grove, Avondale, and London Grove. Robert Pyle purchased an existing store at Hamorton in 1871 and operated a store in the southern portion of the building which he remodeled. The family lived in the brick portion facing Route One. The property descended to Pennock M. Pyle in 1918 who continued the family business. Today the retail tradition continues in the structure under the commercial name of "Encore," a resale shop run for the benefit of the Chester County Hospital.
As a commercial center, Hamorton by the mid 1800s rivaled the nearby town of Kennett Square. Had the Philadelphia and Baltimore Central Railroad been laid out through the town (as it was in Kennett Square in the 1850s) Hamorton might have grown further and, like that town, incorporated as a borough. As it was, the railroad favored commercial development and expansion in Kennett Square over Hamorton. Despite the broad commercial foundations which had been laid at Hamorton, without access to wider markets its influence as a commercial center gradually declined. Like other important towns bypassed by the railroads in Chester County, such as Marshallton, Chatham, and New London, Hamorton is representative of a commercial district which supported the surrounding rural agricultural economy prior to the advent of modern transportation systems.
Led by Abraham Hamor, old Hamorton was created between 1830-40 on small rectangular lots subdivided from parcels from the Webb estate. Each house was given frontage on Baltimore Pike and service alleys in the rear. Side alleys defined the limits of the town which was bisected by a small street called Walnut Alley. Like so many towns of the period and Philadelphia before them, Hamorton's streets were named after trees. Its principal street, Baltimore Pike, was named Main Street within the village. A community "Green," was planted by George and Sarah Pearson on the triangular piece of ground at the intersection of Baltimore Pike and the Wilmington Road.
Intent on helping the town grow (and to promote the sale of lots he owned), George Harlan erected a waterworks to supply the village with water in 1859-60. Harlan, owner of a 71-acre tract of land just north of the village (as well as other lands in and around it), took it upon himself to supply the village with water collected from a dammed-up spring on his property. A 16-foot wheel erected at his own expense (approximately $1100) propelled water through iron pipes to the approximately 25 houses in the town. Rent was $4 per spigot and $1 per horse or cow. Harlan also provided a "basin lot" in the village for the water supply. This tiny rectangular lot held a reservoir. In 1873, Hamorton was described as "the only village of its size, or rather want of size, that can boast of a public water works."
In 1879-80, the newspapers reported that George Harlan was repairing the waterworks he built nearly 20 years earlier. A new overshot wheel was installed by wheelwright Harmon McDonald, the pump replaced, and the reservoir made 12 feet square and 12 feet deep with a concrete bottom. In 1889, the claim was made that Hamorton was better supplied with pure water than any other town in Chester County. Today the basin lot, or reservoir, is occupied by a water tower which was installed under P.S. DuPont, owner of Longwood Gardens.
The DuPont Era
Hamorton was supplied with 20th century improvements by P.S. DuPont of Wilmington, Delaware, who had acquired the nearby Pierce's Park estate in 1906, a popular local picnic spot and park. At first, he concentrated on rehabilitating the old arboretum there, restoring the Pierce mansion, laying out new gardens, and establishing a model farm. He purchased numerous adjacent properties to increase the farm's capacity. In 1921, duPont completed construction of a huge conservatory and formally opened Longwood Gardens to the public. A staunch believer in good roads (due in part to his long involvement with the General Motors Company of which he became President in 1920) and anxious to improve access to Longwood Gardens, DuPont made significant road improvements in the vicinity of Hamorton, at his own expense.
DuPont began improving roads leading to Longwood Gardens in 1906-08 by assisting with construction of a new stone road from Kennett Square to the Delaware State line via Hamorton. The first road work was carried out by duPont's Good Roads Improvement Company; later he established the Wilmington and Kennett Turnpike Company. As his initial effort resulted in a road only 12 feet wide, DuPont foresaw the need for a wider road in the future and worked with the State Highway Department to develop plans for a 24-foot wide concrete road along the same route. As a result of the widening, most of Hamorton's houses lost their small front yards. When the road work was completed in 1923, ten miles of highway between Longwood and the Delaware State line had been widened, straightened, or filled and paved with concrete. DuPont's model road was enthusiastically received by local residents and for a time called duPont Boulevard.
About the time duPont was encouraging the State Highway Department to acquire a wider right of way along Baltimore Pike, he began buying houses in Hamorton, no doubt to facilitate the acquisition of road frontages. By the early 1930s, DuPont owned a dozen houses in the village core. He authorized many improvements to the aging buildings, such as the addition of garages, sewer and electrical connections, and interior remodelings. They were rented to Longwood employees. DuPont's impact on Hamorton, however, was not limited to old Hamorton. Between 1928-30, he had doubled Hamorton in size by laying out new streets and building a planned suburban community on its north.
In contrast to houses in old Hamorton, DuPont's creations are completely residential in character, detached and spacious, and generously set back from short, quiet roads on large treed lots. Their architecture is uniformly Colonial and Georgian Revival. Harlan's basin lot was renamed the Hamorton water supply lot and a water tower was erected. Extensive provisions were made for community utilities which included electrical connections and sewer lines. A small accessory building on the Morrison House lot housed the community's central electrical equipment. Although no longer in use, today the electrical station remains in "as built" condition.
As with many early suburbs, an architect was responsible for the design of new Hamorton. E. (Edward) William Martin . (1899-1971) of Wilmington, Delaware, began his architectural career in Philadelphia where he worked in the offices of Wilson Eyre and McIlvaine and Warner and Evans following his graduation from the University of Liverpool in 1922. After this internship, Martin established a practice in Wilmington where he did work for P.S. DuPont. In 1928, about when he began work on new Hamorton, his business address was the DuPont Building. Described in a letter of DuPont's as "a very careful engineer," Martin's other projects for DuPont included the 1932 high school at 34th and Van Buren Streets in Wilmington which bore P.S. DuPont's name. Martin also designed buildings at the University of Delaware, the new State House in Dover, the Zwaanendael House in Lewes, and the U.S Post Office in Wilmington (now the Wilmington Trust Tower), a commission which it seems DuPont helped him to obtain. In Pennsylvania, Martin's work included the nearby Avongrove and Kennett Square Consolidated High Schools (to both of which DuPont lent his financial backing), and a public school in Sellersville.
In DuPont's "new Hamorton" most of the houses were designed and built between 1928-30. The master plan for some 50 houses, however, was never fully realized; only 18 houses and two main streets were constructed. The houses were rented (cheaply) to upper-level Longwood employees and scrupulously maintained by Longwood Gardens. Following DuPont's death in 1954, the houses were gradually sold, many to the employees who had occupied them since construction. A few of these individuals or their families continue in residence there.
Social History
In addition to its importance as a commercial center, Hamorton was a center of abolitionism in Chester County. The village was founded during the birth of the abolition movement in southeastern Pennsylvania and, given its location near the Kennett Friends and Longwood Progressive Meetings and the homes of several prominent Quaker abolitionists and "conductors," it served as a logical focal point for local anti-slavery activity.
Between 1835-50, the movement for social and educational reform grew increasingly strong in Chester County, an area heavily populated by Quakers whose beliefs included pacifism, temperance, quality education for both men and women, and the abolition of slavery. The Kennett area became the "hotbed" of abolitionism in Chester County. Although opposed to slavery, there was strong disagreement in the Quaker community about using the religious meeting as a forum for discussion of this political and moral issue. Fueled by the presence and speeches of anti-slavery lecturers like Charles C. Burleigh, impromptu gatherings of abolitionists often formed on the grounds outside of Quaker meetings. The need for public halls in which to discuss slavery and other reformist topics was perceived. A local resident who was instrumental in establishing such a facility in Hamorton was Dr. Bartholomew Fussell.
Fussell was born in 1794 in Chester County to a well educated Quaker family which held strong views against slavery. He received his medical degree in 1824 from the University of Maryland and while in Baltimore organized a "sabbath school" for slaves. In 1833, Fussell attended a convention in Philadelphia out of which was formed the first American Anti-Slavery Society. He became a friend of William Lloyd Garrison, Burleigh, and other abolitionists. Fussell resided in Kennett Square, York, West Vincent Township, and finally Hamorton. In Kennett Square he was a station master on the Underground Railroad, working with his friend Thomas Garrett of Wilmington, Delaware, to assist approximately 2,000 escaping slaves. In 1845, Fussell moved to a house in Hamorton and immediately advertised the opening of a Boarding School for Girls "irrespective of color." Fussell also used his house as a meeting place for several doctors who organized the Female Medical College of Pennsylvania in 1850, renamed Women's Medical College. Less than a year after Fussell's move to Hamorton, he, Abraham Hamor, and four other men acting as Trustees of "Hamorton Academy and Hall of Free Discussion Association" purchased a lot in Hamorton and erected a large two-story brick hall.
Hamorton Hall was "dedicated to Free Discussion" on April 25 and 26, 1846 with several speakers addressing the topics of slavery, temperance, capital punishment, and social and political economy. In the 1840s-50s the Hall was used extensively for meetings and lectures, with speeches from prominent abolitionists like Burleigh, Garrison, Joseph Dugdale, and Dr. Stebbins. Stebbins, like Abraham Hamor and his son Patterson, was also active in the National Free Soil Movement which opposed the extension of slavery into new territories. Fussell's school also operated in the hall. In 1854, the Hall accommodated a temporary meeting for the Progressive Friends after a disturbance occurred at their Yearly Meeting at Old Kennett Meeting. Hamorton set the example for People's Hall in Ercildoun (East Fallowfield Township) which opened for a similar purpose in 1847.
Hamorton's activity against slavery included more than building a school and hall, and listening to speeches. The village also supported a long-running "free store" operated by Sarah Harvey Pearson. Pearson first opened a store which boycotted goods produced by slave labor in a stone house on the north side of Baltimore Pike. In 1844 she built a new store of brick on a lot across the road which she had recently purchased. The store originally was kept in the north room but was moved to a frame addition built by her husband George on the south. George Pearson also was an ardent abolitionist and active in the Free Soil Movement. Pearson operated her business as a free store through 1858.
Although several homesteads in Chester County have been conclusively identified as stations on the underground railroad, many of which are in the immediate vicinity, no town in Chester County can match Hamorton for its degree of abolition activity and associated historic resources.
References
August 26, 1969, "Mr. Franklin Hanway and Mr. John M. Johnson" Interview on tape, (Eleutherian Mills-Hagley Foundation)
Chester County Recorder of Deeds, Courthouse, West Chester, PA.
Gerard Colby, DuPont Dynasty: Behind the Nylon Curtin (Secaucus, New Jersey: Lyle Stuart Inc., 1984), pp. 189, 254-55.
J. Smith Futhey and Gilbert Cope, History of Chester County, Pennsylvania (Philadelphia: Louis H. Everts, 1881) pp.557-58.
Douglas Harper, "Hamorton: sturdy whitewashed look same for 80 years," Sunday Local News, West Chester, PA, (June 21, 1987) p. A12.
Wendy P. Johnston, "Store's long history still on shelves," Kennett Paper, Kennett Square, PA, Vol. II, No. 31 (July 30, 1987) p.1.
Kennett Monthly Meeting. Bi-Centennial of Old Kennett Meeting House (Philadelphia, PA: Walter H. Jenkins, 1910) pp. 28-37.
Letter, Mrs. R. E. Baldwin to P.S. DuPont, March 22, 1928 (Longwood Manuscripts, Group 10, File 500-1, Eleutherian Mills Historical Library, Wilmington, DE).
Letter, Lenore Loller, c.1915-20 (Longwood Manuscripts, Group 10, File 500-1, Eleutherian Mills Historical Library, Wilmington, DE).
Letter, Hanna J. Doane, October 22,1919 (Longwood Manuscripts, Group 10, File 500-6, Eleutherian Mills Historical Library, Wilmington, DE).
Letter, William Cann, August 8, 1919 (Longwood Manuscripts, Group 10, File 500-6, Eleutherian Mills Historical Library, Wilmington, DE)
Map of Hamorton, c. 1920 (Longwood Manuscripts, Group 10 , File 500-1, Eleutherian Mills Historical Library, Wilmington, DE).
"E. William Martin" (Longwood Manuscripts, Group 10, Box 333, Eleutherian Mills Historical Library, Wilmington, DE).
C. C. McDonald, "The History of 24 Elmwood Drive and its Environs" (1988 unpublished manuscript held by C. C. McDonald of Hamorton).
Roger Moss and Sandra Tatman, Biographical Dictionary of Philadelphia Architects, 1700-1930 (Boston, MA: G.K. Hall and Co., 1985) p.507.
George E. Thompson, A Man and His Garden (Kennett Square, PA: Longwood Gardens, Inc. , 1976), pp.37-43, 58-61, 102-111, 120-123, 144-45.
Plan of Archie Donalson Property, Hamorton (Longwood Manuscripts, Group 10, File 500-6, Eleutherian Mills Historical Library, Wilmington, DE).
"Road Improvements, 1904-41" (Longwood Manuscripts, Group 10, File 530A, 1-4, Eleutherian Mills Historical Library, Wilmington, DE).
Paul Rodebaugh, "Out of the Past," Kennett Paper, Kennett Square, PA (1987) p.8
E. J. Slack, "Hamorton," News and Advertiser, Kennett Square, PA (December 1, 1897, Longwood Manuscripts, Group 10, File 500-1, Eleutherian Mills Historical Library, Wilmington, DE).
R.C. Smedley, History of the Underground Railroad (Lancaster, PA: Office of the Journal, 1883) p.255, 260-273.
U.S. Bureau of Census, "Census of 1850, Kennett Township, Chester County, PA" (Chester County Historical Society, West Chester, PA).
Vertical Files, Chester County Historical Society, West Chester, PA, "Kennett Township Churches," "Kennett Township History-Hamorton," "Kennett Township Lands," "Kennett Township Organizations," "Kennett Township Schools," and "Kennett Township Politics."
Adapted from: Wolf, Martha, and Maley, P., Brandywine Conservancy, Hamorton Historic District, nomination document, 1989, National Park Service, National Register of Historic Places, Washington, D.C.
Nearby Neighborhoods
Street Names
Buttonwood Drive • Dogwood Drive • Elmwood Drive • Holly Drive • Route 1 • Route 52
---