Overlook Road Carriage House District
Post Office: Cleveland
Zip Code: 44106
---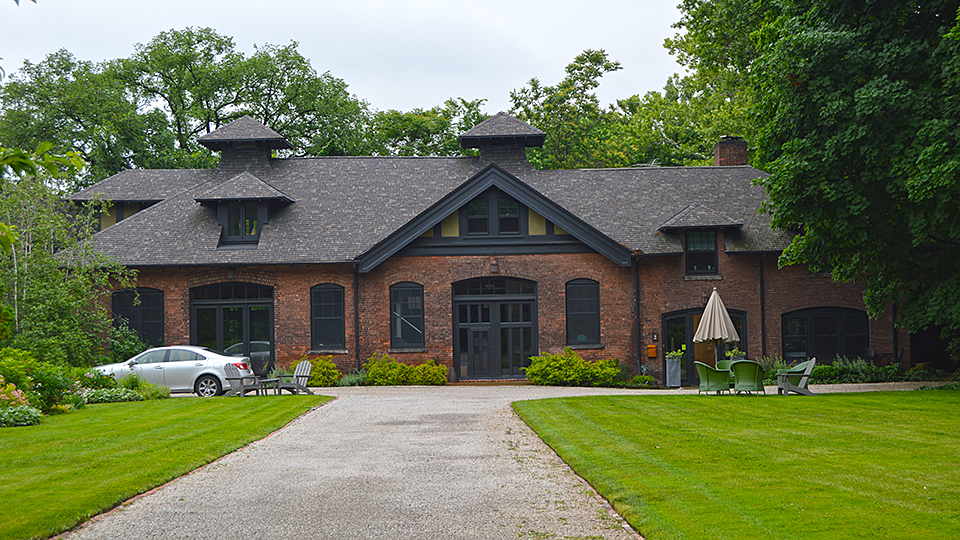 Photo: House at 2 Herrick Mews (originally a stable) in Cleveland Heights, part of the Overlook Road Carriage House District, a historic district that is listed on the National Register of Historic Places in 1974. Photographed by wikipedia username:Nyttend (own work), 2015, [public domain], via wikimedia commons, accessed October, 2022.
---
The Overlook Road Carriage House District [†] (also known as Herrick Mews) is a set of suburban stables built for the houses of five well-to-do citizens. It is a group unique in grater Cleveland to be found clustered together around a private alley and forming the equivalent of a British mews. They clearly embody one aspect of the style of living among the wealthy class at the turn of the 20th century.
The houses of the owners were located on Overlook Road northwest of the alley, and were built between 1897 and 1898. The land for the stables was purchased in 1898 and 1899, so it may be inferred that the buildings were erected shortly thereafter. The Georgian Revival stable was built for the house of Nyron T. Herrick, banker, advisor to William McKinley, and ambassador to France. It was designed by the important Cleveland architects Frank Neade and Alfred Hoyt Granger. The long stable with cupolas belonged to the house of Edward O. Gordon, broker. Across the alley was the stable of Howell Hinds, president of the United Mines Corporation. His house was on the west side of Overlook Road on the present site of the Christian Science Church. The two eastern-most stables belonged to the house of Melvin B. Johnson and Homer H. Johnson, attorneys. The later was the father of Philip Johnson, internationally known architect.
Each of the buildings is large enough to make a major residence by today's (1970s) standards. They have all been adapted for residential living. The interiors are as varied as the exteriors. For example, in the Gordon stable, most of the original spaces, including a main floor area of some 40 feet by 50 feet, have been retained, and much of the original woodwork, especially the vertical tongue-and-groove wainscoting, has been refinished. An open loft trap creates an effective light well. Second-story roof structure is exposed to make a tall, visually articulated space. The Herrick stable is only occupied at present on the second floor. Renovation of the carriage and stable spaces is planned.
† Adapted from: Eric Johannesen, Preservationist, Western Reserve Historical Society, Overlook Road Carriage House District, nomination document, 1974, National Register of Historic Places, Washington, D.C., accessed October, 2022.
Nearby Neighborhoods
Street Names
Herrick Mews • Overkook Road
---