Fayetteville Village
Fayetteville Village Hall is located at 425 East Genesee Street, Fayetteville NY 13066.
Phone: 315‑637‑9864.
---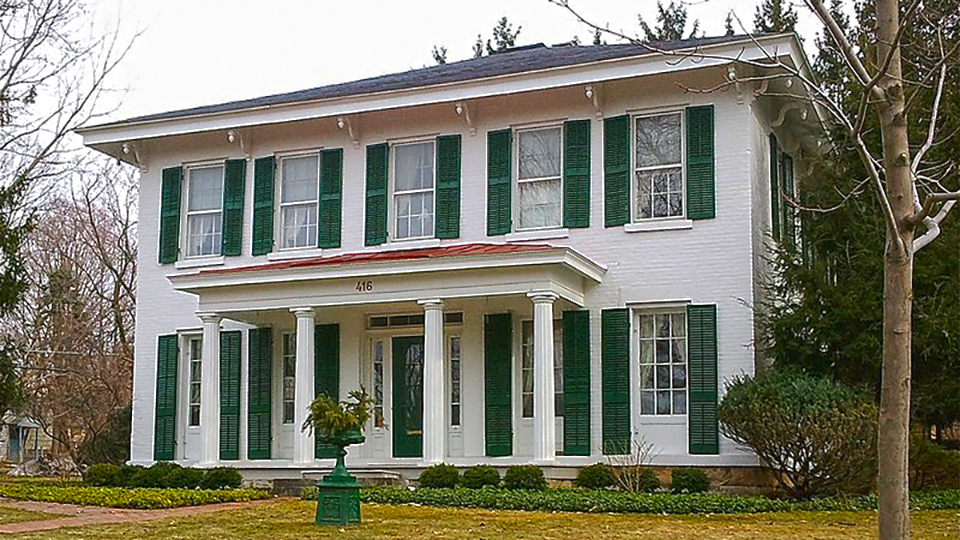 Photo: Levi Snell House, circa 1855/1946, located at 416 Brooklea Drive, Fayetteville. Listed on the National Register of Historic Places in 1982. Photographed by wikipedia username:Crazyale (own work), 2011, [public domain], via wikimedia commons, accessed October, 2022.
---
Located in Central New York, the Village of Fayetteville [] is three miles east of the City of Syracuse. The village's proximity to the city is a highly attractive factor for residents — especially those who work in Syracuse. Fayetteville is part of the Central New York Region comprised of Onondaga, , Cayuga, Madison, and Cortland counties. The Metropolitan Development Association of Syracuse and Central New York describes this 3,500 square mile region as larger than the states of Rhode Island and Delaware combined. This area serves as a major transportation center within two trucking days or one-hour flight from 62% of all manufacturing sales in the U.S. and Canada, and 52% of all businesses in the U.S.
Neighborhoods
Beginnings [1]
Fayetteville, on Limestone Creek, two miles northwest from Manlius, and one mile from the Erie Canal, with which it is connected by a navigable feeder, was incorporated May 6, 1844. It is finely situated on a gentle elevation, and has a number of valuable water privileges formed by the Ledyard canal (which was built by the citizens at a cost of $35,000,) and Bishop Brook. This canal is formed by dividing the waters of Limestone Creek, two miles south of the village, and that in connection with Bishop Brook, which runs parallel to it through the village, make 12 water powers, with an average fall of 20 feet each. It contains four churches, a graded school, a bank, a printing office and several manufacturers. Among the latter are a large flour mill, a foundry, a bedstead factory and a large paper mill, manufacturing news, book and wrapping paper. There are also mills from which are sent out an immense amount of water lime. The population of Fayetteville in 1865 was 1,480.
>Fayetteville Comprehensive Plan, 2022, www.fayettevilleny.gov, accessed October, 2022.
Child, Hamilton, Gazetteer and Business Directory of Onondaga County NY for 1868-9, The Journal Office, 1868, Syracuse
Nearby Towns: DeWitt Town • East Syracuse Vlg • Manlius Town • Manlius Vlg • Minoa Vlg •
---