Mercer County courthouse is located at 209 South Broad Street, Trenton NJ 08650; phone: 609‑571‑4000.
---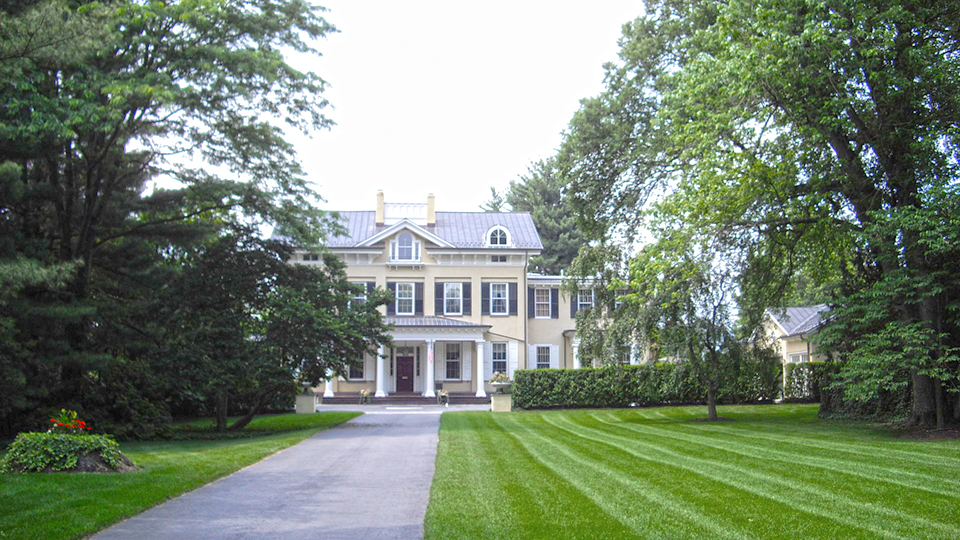 Grover Cleveland House (Westland Mansion) 15 Hodge Road, Princeton. Built in the mid 1800s it was listed on the National Register of Hisstoric Places in 1966. Photo by wikipedia username:Dmadeo, 2008, creative commons, [cc 3.0], accessed January, 2021.
---
TOWNS
Beginnings [1]
Officially founded in 1838 and carved out of other surrounding counties, Mercer County has a historical impact that reaches back to the pivotal battles of the American Revolutionary War.
General George Washington led his famous December crossing of the Delaware and routed the Hessians right here in Mercer County. That turning point of our country's struggle for independence and liberty is just one of the many historically significant things to have happened here in Mercer.
Further, when the Revolutionary War concluded, the City of Trenton and Princeton Township took turns serving as the temporary Federal Capital.
Mercer County is named in honor of General Hugh Mercer, a distinguished hero of the Revolution, who died from wounds inflicted during the Battle of Princeton in 1777.
Other notable historical figures of America's past have also become part of the history of Mercer County. Former Vice President Aaron Burr, Presidents Grover Cleveland and Woodrow Wilson, and the Marquis de Lafayette have all become part of the history of Mercer County.
Mercer County also has the dubious distinction of being the famed landing spot for a Martian invasion of the United States. In 1938, in what has become one of the most famous radio addresses of all time, Orsen Welles acted out his 'War of the Worlds' invasion. Wells landed his imaginary aliens on Mercer County soil, using what is now West Windsor Township as the point of first contact. And our history is continually being added to daily by our residents.
Mercer County New Jersey website, www.mercercounty.org, accessed October 2006
HISTORIC SITES
Abbott, John II, House
Abbott-Decou House
Anderson-Capner House
Baker-Brearley House
Berkeley Square Historic District
Bow Hill
Clay, Henry and Bock and Company Cigar Factory
Cleveland, Grover, Home
Dickinson, Gen. Philemon, House
Douglass House
Drumthwacket
Einstein, Albert, House
Green, William, House
Green-Reading House
Harbourton Historic District
Hart, John D., House
Hart-Hoch House
Henry, Joseph, House
Herring, Donald Grant, Estate
House at 379 West State Street
Hunt Farmstead
Hutchinson House
Jugtown Historic District
Kingston Mill Historic District
Kuser, Rudolph V., Estate
Lake Carnegie Historic District
Lawrence Township Historic District
Leigh, Ichabod, House
Mansion House
Maybury Hill
Mill Hill Historic District
Morven
Mountain Avenue Historic District
Old Ryan Farm
Pearson, Isaac, House
Phillips, Joseph, Farm
President's House
Princeton Historic District
Prospect
Rogers, John, House
Sloan, Samuel, House
Smith-Ribsam House
State House Historic District
Stevens, Israel, House
Stockton Street Historic District
Stout, Joseph, House
Titusville Historic District
Trenton Ferry Historic District
Tusculum
Van Cleve, Col. John, Homestead
Vandyke, Jeremiah, House
Watson, Isaac, House
Welling, John, House
White, John, House
William Trent House
Windsor Historic District
Woolsey, Jeremiah, House
---