Saint Louis County, Missouri
---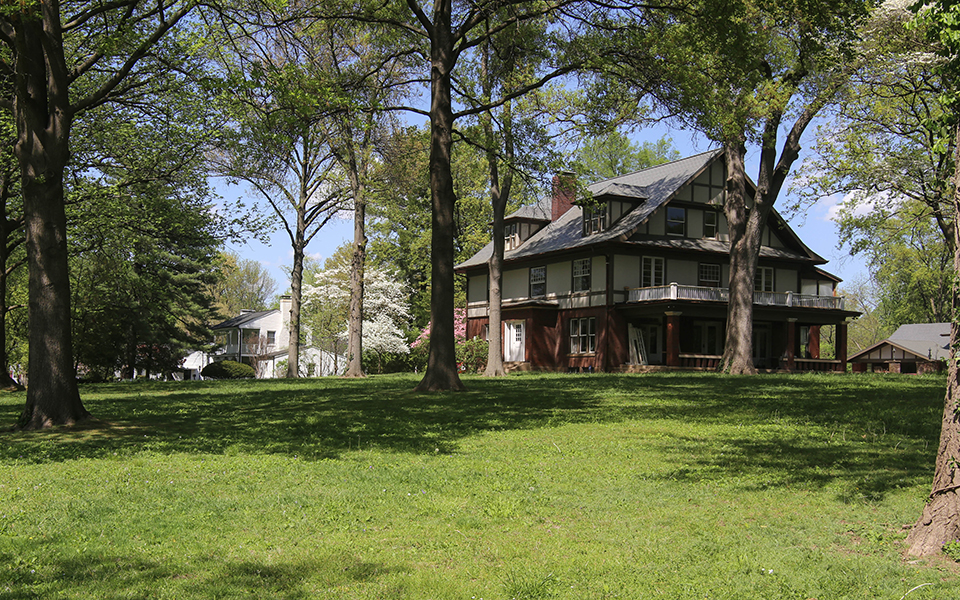 Photo: John C. and Georgie Atwood House, circa 1910, Located at 100 South Clay Avenue, Ferguson. Listed on the National Register of Historic Placesin 2018. Photographer: wikipedia username: Paul Sableman, own work, 2018, [cc-2.0]; accessed November, 2022.
---
TOWNS
Affton
Bel-Nor Vlg
Bel-Ridge Vlg
Bella Villa City
Bellefontain Neighbors City
Bellerive Vlg
Berkeley City
Beverly Hills City
Black Jack City
Breckenridge Hills City
Brentwood City
Calverton Park Vlg
Champ Vlg
Charlack City
Clarkson Valley City
Cool Valley City
Country Club Hills City
Country Life Acres Vlg
Creve Coeur City
Crystal Lake Park City
Dellwood City
Des Peres City
Edmundson City
Eureka City
Fenton City
Flordell Hills City
Frontenac City
Glen Echo Park Vlg
Glencoe
Glendale City
Grantwood Vlg Town
Green Park City
Greendale City
Grover
Hanley Hills Vlg
Hazelwood City
Hillsdale Vlg
Huntleigh City
Jennings City
Kinloch City
Ladue City
Lakeshire City
Lemay
Mackenzie Vlg
Manchester City
Maplewood City
Marlborough Vlg
Maryland Heights City
Mehlville
Moline Acres City
Normandy City
Northwoods City
Norwood Court Town
Oakland City
Oakville
Olivette City
Overland City
Pagedale City
Pasadena Park Vlg
Pine Lawn City
Richmond Heights City
Riverview Vlg
Rock Hill City
Sappington
Shrewsbury City
St Ann City
St George City
St John City
Sunset Hills Vlg
Sycamore Hills Vlg
Town and Country City
Twin Oaks Vlg
Uplands Park Vlg
Valley Park City
Velda City
Velda Vlg
Velda Vlg Hills
Vinita Park City
Vinita Terrace Vlg
Warson Woods City
Webster Groves City
Wellston City
Westwood Vlg
Wilbur Park Vlg
Winchester City
Woodson Terrace City
The Saint Louis County Courthouse is located at 7900 Carondelet Avenue, Clayton MO 63105; phone 314-615-8029.
Organized October 1, 1812, as one of the five original counties; named for St. Louis (King Louis IX of France), patron saint of King Louis XV.
HISTORIC SITES
1907 Dorris Motor Car Company Building
A & P Food Stores Building
Advertising Building
Alswel
Ambassador Theater Building
American Theater
American Zinc, Lead and Smelting Company Building
Anheuser-Busch Brewery
Antioch Baptist Church
Arcade Building
Archambault House
Aubert Place
Aubuchon, August, House
Aubuchon, Baptiste G., House
B'nai El Temple
Ball-Essen Farmstead Historic District
Balmer & Weber Music House Co. Building
Barr Branch Library Historic District
Barretts Tunnels
Barteau House
Barton House
Bassett, Dr. Samuel A., Office and Residence
Bayley, Romanzo N., House
Beaumont Medical Building
Beaumont Telephone Exchange Building
Beethoven Conservatory
Bell Telephone Building
Bellecourt Apartments
Benoist, Louis Auguste, House
Benton Park District
Bissel Street Water Tower
Bissell, Gen. Daniel, House
Blackwell-Wielandy Building
Blair, Frank P., School
Blake, John P. and Dora, House
Blind Girls' Home
Block Unit #1 Historic District
Boatman's Bank Building
Bockwrath-Wiese House
Bonhomme Creek Archeological District
Bopp, William, House
Bouas House
Brentmoor Park, Brentmoor and Forest Ridge District
Brown Shoe Company's Homes-Take Factory
Brown, A. D., Building
Brown, Paul, Building
Buehler, William, House
Building at 1009 Olive St.
Building at 1121-23 Locust St.
Building at 1300 Washington Avenue
Building at 3910-12 Laclede Ave.
Buildings at 2327-31 and 2333-35 Rutger Street
Burkhardt Historic District (Boundary Increase)
Burkhardt Historic District
Busch's Grove
Buster Brown Blue Ribbon Shoe Factory
Butler House
Campbell, Robert G., House
Cape, Dr. Leander W., Buildings
Carlin-Rathgeber House
Carr School
Carrswold Historic District
Casa Alvarez
Centenary Methodist Episcopal Church, South
Centennial Malt House
Central Carondelet Historic District
Central Institute for the Deaf Clinic and Research Building
Central Webster Historic District
Century Building and Syndicate Trust Building
Charbonier Bluff
Charles Turner Open Air School
Chatillon-DeMenil House
Chemical Building
Chopin, Kate, House
Chouteau Apartments/Parkway Dwellings
Chouteau Building
Christ Church Cathedral
Church Street Commercial District
City Club Building
City Hospital Historic District
Clarke, Judge Enos, House
Clemens House-Columbia Brewery District (Boundary Increase)
Clemens House-Columbia Brewery District
Colchester Apartments
Coldwater Cemetery
Comfort, James H. and Marietta, House
Compton Hill Water Tower
Convent of the Sisters of St. Joseph Carondelet
Coral Court Motel
Cori House
Cotton Belt Freight Depot
Council Plaza
Crescent Quarry Archeological Site
Crittenden Historic District
Crunden-Martin Manufacturing Company
Cupples Warehouse District
Cupples, Samuel, House
Czufin, Rudolph and Dorothy C., House
De Hodiamont Car House Historic District
DeHodiamont, Emmanuel, House
DePaul Hospital
Delaney School
Delany Building
Delmar Loop-Parkview Gardens Historic District
Des Peres Presbyterian Church
Des Peres School
Dickmann Building
Dolman Row
Donaldson Court Apartments
Dorris Motor Car Company
Douglas House
Dr. Edmund A. Babler Memorial State Park Historic District
East Monroe Historic District
Eliot School
Emerson Electric Company Building
Emerson, Ralph Waldo, School
Erlanger, Joseph, House
Fairfax House
Fairgrounds Hotel
Falstaff Brewing Corporation Plant Number 1
Farmers State Bank of Chesterfield
Fashion Square Building
Ferguson School Central School
Ferguson, Charles W., House
Field, Eugene, House
Field, Eugene, School
Fishback, George W. and Virginia, House
Ford Apartments
Ford Motor Company Building
Forest Park Headquarters Building
Forest Park Hotel
Forest Park Southeast Historic District (Boundary Increase II)
Forest Park Southeast Historic District (Boundary Increase)
Forest Park Southeast Historic District
Fox Theater
Franklin School
Frisco Building
Fullerton's Westminster Place
Fulton Bag Company Building
GOLDENROD
Gateway Arch
General American Life Insurance Co. Buildings
Gerhart Block
Goldbeck House
Goodfellow-Julian Concrete Block District
Grace Episcopal Church
Grand Avenue Water Tower
Grand-Leader (Stix, Baer & Fuller Dry Goods Co.) Building
Grant School
Gravois-Jefferson Streetcar Suburb Historic District
Greenwood Cemetery
Greenwood Historic District
Guth, Edwin F., Company Complex
Haarstick-Whittemore Houses
Haas Building
Haas, Elias, Building
Hadley-Dean Glass Company
Hager, C., and Sons Hinge Co.
Halsey, Egbert W., Cottage
Halsey-Packard Building
Hamilton Place Historic District
Hamilton-Brown Shoe Factory
Hampton Park
Hanley, Martin Franklin, House
Hanson House
Hargadine-McKittrick Dry Goods Building
Harris Teachers College
Hawken House
Henry Avenue Historic District
Hi-Pointe-De Mun Historic District (Boundary Increase)
Hi-Pointe-De Mun Historic District
Hickory Street District
Holy Corners Historic District
Holy Cross Parish District
Hotel Jefferson
Hotel Statler
Hubecky House
Hunt, Wilson Price, House
Immaculate Conception School
International Fur Exchange Building
J. Milton Turner School
J.C. Penney Co. Warehouse Building
Jack Rabbit Candy Company Building
Jackson School
Jarville
Jefferson Barracks Historic District
Jefferson Barracks National Cemetery
Jefferson National Expansion Memorial National Historic Site
Jefferson-Argonne Historic District
Jewel Box
Jones, William Cuthbert, House
Joplin, Scott, House
Keith, David, House
Kennard, J., and Sons Carpet Company Building
Kiel Opera House
Kirkwood Missouri Pacific Depot
Koch, Robert, Hospital
Koken Barbers' Supply co. Historic District
Kramer House
Kraus, Russell and Ruth Goetz, House
Kuehn House
Kulage, Otto, House
Laclede Building
Laclede Gas Light Company Pumping Station G
Laclede's Landing
Lafayette Square Historic District (Boundary Increase)
Lafayette Square Historic District
Lambert Building
Lambert-Deacon-Hull Printing Company Building
Lambskin Temple
Lance House
Laramie, Marcus, House
Larimore, Wilson, House
Lee, Robert E., Hoel
Lennox Hotel
Leonardo
Lesan-Gould Building
Lewis Place Historic District
Liggett & Myers Tobacco Co. Building
Liggett and Myers (Rice-Stix) Building
Lincoln Trust Building
Lindell Real Estate Company Buidling
Lindenwood School
Lister Building
Locust Street Automotive District
Long, William, Log House
Louise Apartments
Lucas Avenue Industrial Historic District
Lyceum, The
Manchester Methodist Episcopal Church
Maplewood Commercial Historic District at Manchester and Sutton
Marshall Place Historic District
Maryland Terrace Historic District
McGarry House
McKinley Fox District
McLagan, Lizzie, House
McMullen, Patrick and Moire, House
McPherson-Holland House
Meyer House
Midtown Historic District
Miltenberger, Eugene and Mary A., House
Missouri Electric Light and Power Co.
Missouri Pacifc Building
Moellring, Frank, House
Moller House
Moloney Electric Company Building
Moon Brothers Carraige Company Building
Mount Cabanne-Raymond Place Historic District
Mount Hope Cemetery
Mudd's Grove
Mullanphy Historic District
Murphy-Blair District
Myers, John B., House and Barn (Boundary Increase)
Myers, John B., House
Narrow Gauge Railroad Station
Neighborhood Gardens Apartments
New Mount Sinai Cemetery
Nicolay House
Nipher, Prof. Frances e., House
North Riverfront Industrial Historic District
Norwood Hills Country Club
Oakherst Place Concrete Block District
Old Stone Church
Old Webster Historic District
Olive Chapel African Methodist Episcopal Church
Olive Street Terra Cotta District
Olympia, The
Orrville Historic District
Otzenberger House
Pappas, Theodore, A., House
Parkview Historic District
Pasadena Hills Historic District
Patterson, Elisha and Lucy, Farmstead Historic District
Payne-Gentry House
Peters House
Pine Lawn Carriage House
Plant, Samuel, House
Price School
Rannells, Charles S. and Mary Warder, House
Red Cedar Inn
Reeb House
Richter, Theodore and Lena, House
Rickelman House
Ripple, Otto, Agency
Robinson, George R. and Elsie, House
Rockwood Court Apartments
S.S. Cyril and Methodius Historic District
Sanford Avenue Historic District
Sappington, Joseph, House
Sappington, Thomas J., House
Sappington, Zephaniah, House
Schlichtig House
Schmidt House
Schmitt, Anton, House
Schmitt, Anton,House
Schoonover House
Seed, Miles A., Carriage House
Seven Gables Building
Shanley Building
Shaw Avenue Place
Shelley House
Sioux Passage Park Archeological Site
Smith House
Soulard Neighborhood Historic District
Soulard-Page District
South Fourth Street Commercial District
Speck District
St. Boniface Neighborhood Historic District
St. Ferdinand Central Historic District
St. Ferdinand's Shrine Historic District
St. John Nepomuk Parish Historic District
St. Stanislaus Seminary
St. Vincent's Hospital
Steins Street District
Steins, Jacob, House
Stockton, Robert Henry, House
Stone Houses
Stroer House
Sutter-Meyer House
Taille de Noyer
Tebeau House
Tebeau, Marvin, House
Thornhill
Tiffany Neighborhood District
Tolhurst, G.W., House
Tower Grove East Historic District
Tower Grove Heights Historic District
Tower Grove Heights Historic District
Tower Grove Park
Tower, George F., Jr. and Carrie, House
University City Education District
University Heights Subdivision Number One
Unsell, Elijah J., House
Utz-Tesson House
Washington Avenue Historic District
Washington Metropolitan African Methodist Episcopal Zion Church
Washington University Hilltop Campus Historic District
Waterman Place /Kingsbury Place1 Washington Terrace Historic District
Way, James W. and Mary, House
Webster College-Eden Theological Seminary Collegiate District
West Cabanne Place Historic District
West Locust and Olive Street Commercial and Industrial District
West Pine-Laclede Historic District
White Haven; Ulysses S. Grant National Historic Site
Wildwood House
Williams Creek Archeological District
Winston Churchill Apartments
Withington House
Wydown-Forsyth District
Zeiss Houses
---