Clayton City
Clayton City Hall is located at 10 North Bemiston Avenue, Clayton, MO 63105.
Phone: 314‑727‑8100.
---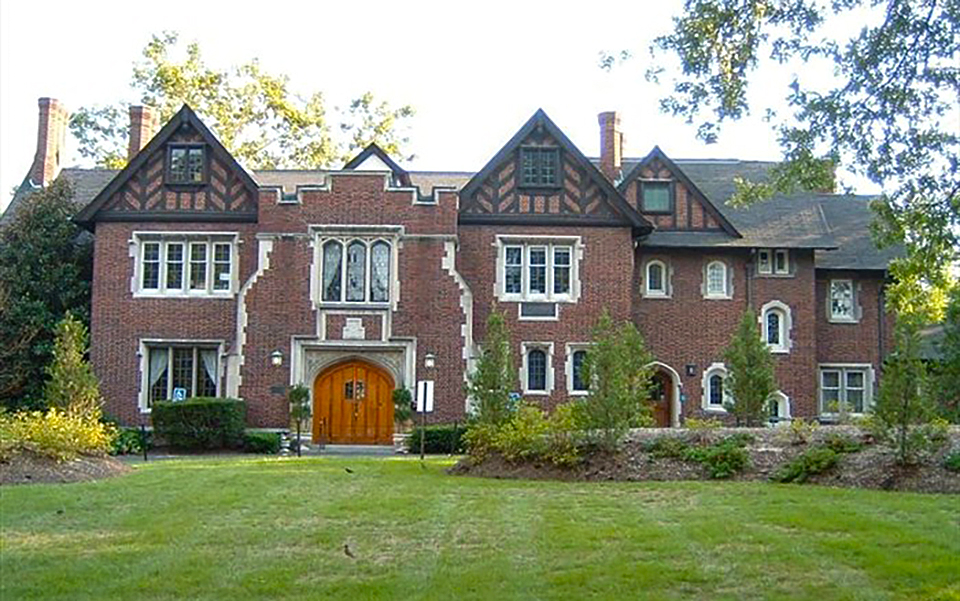 Photo: Haarstick-Whittemore Houses (Whittemore House Club), circa 1912, located at 6420 and 6440 Forsyth Boulevard, Clayton. They were listed on the National Register of Historic Placesin 1982. Photographer: wikipedia username: Clubwiki, own work, 2006, [cc-3.0]; accessed November, 2022.
---
Neighborhoods
Bemiston
Brentmoor
Brentmoor Park-Forest Ridge Historic District
Buckingham Place Condominiums
Byron
Cameo Condos
Carrswold
Carrswold Historic District
Cavalier
Central Pointe
Central View
Claverach Park
Clayshire Ridge
Clayton Gardens
Claytonian Condos
Crescent Condos
Cromwell
Cromwell Condos
Davis Place Condos
Daytona Pointe
Delmonico
Demun Park
Demun Pointe
Ellenwood
Forest Court Commons
Forest Court Walk
Forest Ridge
Fountain View
Hanley Place
Hanley Towers
Hanover Townhouse
Hi Pointe
Hi Pointe Lofts
Hi Pointe-De Mun Historic District
Hillcrest
Imperial Condos
Kingsbury Place
Kingsbury Terrace
Maryland Walk
Moorlands
North Central Place
North Pointe
Oaks in Olde Towne
Old Town Hanley Place
Old Town Village
Park Tower Condos
Parkside
Richmond Place Condos
Rosebury Place
San Bonita Ave Condos
Shaw Park Place
Shaw Park Villas
Skinker Heights
South Hanley Condos
South Rosebury Condos
Southmoor
Southwood
The Claytonian
The Crescent
The Crescent In Clayton
The Moorlands
The Parkdale
The Plaza
The Residence
The Whitehall
Trianon
West Wydown Place Condos
Westwood Court Condos
Westwood Place Condos
Westwood Terrace
Whitburn Condos
White Oak Townhomes
Whitehall Club
Whitehall Condos
Windown-Forsyth Historic District
Wydown Court
Wydown Forest
Wydown Pointe
York Condos
Beginnings [1]
Since it was first established, Clayton has been a center for government and business in the St. Louis area. Downtown Clayton was originally defined by the 1877 construction of a new county courthouse. As the town had few residents at that time, local businesses initially catered to the courthouse traffic that arrived from all over St. Louis County. Clayton was formally incorporated in 1913 and soon became a favorite relocation destination for a number of prominent St. Louisians who chose to escape the crowded city for the relative quiet of the surrounding area. This movement had a profound effect on Clayton, doubling its population and tripling its property values during the 1920s. The historic Hanley House, listed on the National Register, is one of the last remnants of this time period and the oldest building in Clayton.
Clayton was somewhat sheltered from the Great Depression that followed, and found itself in the midst of another boom following World War II. This spurt of post-war growth greatly influenced the look and feel of today's Downtown. In 1952, the central business district was rezoned to allow for retail and commercial expansion and in 1957 height limits on new buildings were abolished altogether. Clayton's first office towers opened in the early 1960s and were immediately popular, many fully leased before construction even finished.
While Clayton remains a prime location for corporations in St. Louis County and a substantial upscale residential community, the Downtown has lost much of the retail base which had defined Clayton as a major hub of St. Louis County in the 1980s. Today, with a substantial employment base, a proximate concentration of residential neighborhoods and excellent infrastructure including highway access and light rail, Clayton has the potential to create a truly vibrant pedestrian-oriented environment that will allow it to regain the retail base it has lost in the past couple decades to the surrounding suburbs and single-use malls. The identification of retail opportunities, the creation of a downtown vision and the development of strategies for implementation have the potential to renew the core of Downtown Clayton.
City of Clayton, Downtown Clayton: Master Plan Update and Retail Strategy, 2010, www.claytonmo.gov, accessed November, 2013.
Nearby Towns: Crestwood City • Ferguson City • Kirkwood City • Pasadena Hills City • University City •
---