Wildwood City
Wildwood City Hall is located at 16860 Main Street, Wildwood, MO 63040.

---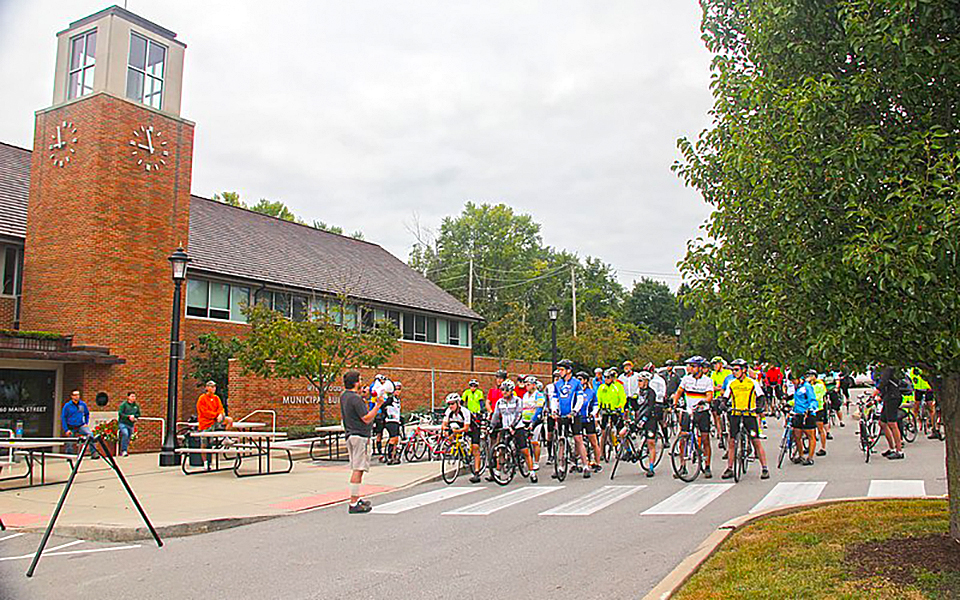 Photo: Tour de Wildwood 2016. Photographed by Tam Brownlee (own work), 2016, [cc-2.0], via Wikimedia Commons, accessed November, 2022.
---
The City of Wildwood was incorporated on September 1, 1995. This City occupies a 68 square‐mile area in western St. Louis County that is generally bounded on the west by the Franklin County line; on the south by Interstate 44, the City of Eureka, and the Meramec River; and on the east and north by the Cities of Ellisville, Clarkson Valley, and Chesterfield, and the Missouri River. The major focal point of the City is its Town Center Area, which includes many of the City's commercial land uses, institutional uses, and unique architecture and streetscapes. An integral part of the Town Center Area is the intersection of State Route 109 and State Route 100, the center of its four (4) recognized quadrants: northeast, northwest, southwest, and southeast, which includes the Town Center Area. These quadrants extend from this intersection outward to the corresponding City boundaries.
† City of WIldwood, Master Plan, 2016, www.cityofwildwood.com, accessed November, 2022.
Neighborhoods
Acacia
Allenton Forest
Allenton Trails
Arbor Chase
Arbor Trace
Ashford Oaks
Audubon Village
Autumn Farms Estates
Babler Meadows
Babler Park Estates
Babler Woods
Bartizan Point Estates
Bartizan Pointe Estates
Ben Alder
Bouquet Ridge Farm
Breton Woods
Bridle Spur Estates
Brookhollow
Cambury Townhomes
Carr Creek Estates
Carriage Crossing
Carriage Crossing Estates
Carrington Village of Babler Park
Chesterfield Shores
Chimney Top Farms
Claycrest Estates
Conestoga Trail
Copper Lakes
Cougar Trails
Country Oaks
Courtyards at West Park
Cove at Lake Chesterfield
Crown Point Estates
Dartmouth
Dartmouth Crossing
Deer Creek Estates
Deer Field
Deer Hollow
Deer Pointe Estates
Dogwood Acres
Eagle View Ridge Estates
Eagles Rest
Enclaves at Cherry Hill
Estates at Lake Chesterfield
Evergreen
Fairhaven Estates
Fleur De Lis Estates
Fox Creek Valley
Fox Mountain
Fox Mountain Estates
Garden Valley
Garden Valley Farms
Grover Crossing
Harbors at Lake Chesterfield
Hawks Rest
Hickory Manor
Hickory Manor Estates
Hickory Manor Village
Highlands at Wildhorse
Highlands of Chesterfield
Hillside Farm
Hollow Hills
Homestead Estates
Indian Tree
Jaeger Farms
Kenkel
Lafayette Trails
Lake Chesterfield
Lakes at Sheffield Forest
Landings at Lake Chesterfield
Lewis Spring Farms
Lions Head
Madisons Creek
Meadow Forest
Meadow Forest Estates
Meadow Ridge
Meadows of Wildwood
Melrose Trails
Meridien
Nantucket
Oak Park
Oak Ridge Trails
Oaks at Wildwood
Old Grover Estates
Old Manchester
Old State Farms
Old Wild Turkey
Ossenfort
Paige Estates
Pehle Acres
Pine Creek
Pine Ridge Estates
Pleasant Valley Meadows
Pointe Clayton
Pond Bridge
Portland Cove
Portland Crest
Questover Canyon
Radcliffe Place
Remington Heights
Riverbend Acres
Rockwood Forest
Saddle Ridge Acres
Sandalwood Creek
Sassafras Place
Shepard Oaks
Spoonville
St Albans East
St Albans Forest
Starwood
Strecker Farms
Summer Place Farms
Tall Oaks
The Enclaves at Cherry Hills
The Estates at August Tavern Creek
The Estates at Deer Hollow
The Grove
The Oaks at Wildwood
Three Sisters Farm
Timber Ridge Estates
Turnberry Place
Tuscany Ridge
Valley Farm
Victoria Crossing
Villages at Cherry Hills
Wakefield Farm
West Palisades
Westglen Farms
Westhampton Woods
Westridge Oaks
Westwood Estates
Wild Horse Creek Bluffs
Wild Horse Farm
Wilderness at Wildhorse
Wilderness Ridge
Wilderness Trails
Wildhorse Spring Farm
Wildhorse Village
Wildwood Meadows
Willow Crossing
Willow Glen
Winding Trails
Winding Woods
Windsor Crest
Woodcliff Heights
Woodland Meadows
Wycliffe
Wynncrest
Nearby Towns: Chesterfield City • Ellisville City •
---