Covington City
Covington City Hall is located at 638 Madison Avenue, Covington, KY 41011.
Phone: 859‑292‑2160.
---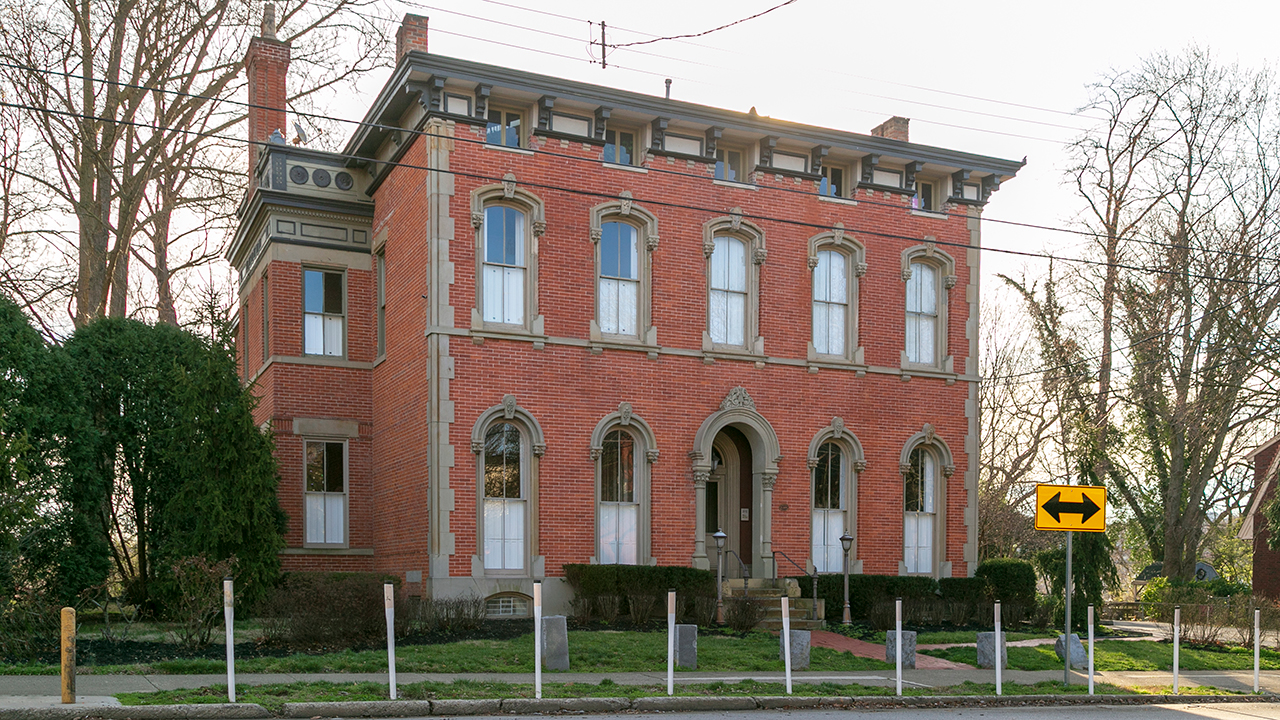 Photo: Hearn House, circa 1874, located at 500 Garrard Street. Listed on the National Register of Historic Places in 1974. Photographed by User: Christopher L. Riley ( own work), 2020, [cc-4.0], via Wikimedia Commons, accessed August, 2021.
---
Beginnings [1]
Covington was initially platted in 1816, when a group of developers purchased 160 acres from Thomas Kennedy, platted the city south from the Ohio River to Sixth Street and west from the Licking River to Washington Street, and began selling lots at public auction. The investors, John and Richard Gano and Thomas Carneal, named the city after General Leonard Covington, who was killed during the War of 1812. The city was an early speculative venture, with investors interested in capitalizing on the growing metropolis of Cincinnati, founded in 1788, and located on the Ohio River directly opposite Covington.
Neighborhoods
Albros
Arnold Homestead
Ascent at Roeblings Bridge
Ashford Village
Austinburg Historic District
Austins
Bahama Garden
Barrington Woods
Behringer
Berlings Addtion
Bluffs at Devou Park
Brandtly Ridge
Bush
Byrd
City Realty Co
Clover
Clover Meadows
Country Garden Estates
Covington Heights
Cumberland Ridge
Devou Park
Downtown
Eastside Homes
Edgewood
Emery Rowhouse Condos
Fowler Ridge
Frazier
Gouvion
Governors Point
Grandview Park
Green
Greers Addition
Harvey Heights
Hawthorne Addition
Heathermoor
Herring
Hillcrest
Holmesdale
Keen Jos A
Kennedy
Kenton Hills
Kenton Vale
Lakeview Park
Lakewood
Lakewood Hills
Latonia
Latonia Lakes
Lee
Lee-Holman Historic District
Lemaire
Levassor Park
Lewis
Lewisburg Historic District
Ludlow
Ludlow Estates
Ludlow Farm
Main Strauss
Mainstrasse Lofts
Manor Hill
McCulloms
Monte Casino
Montgomery
Morgan
Mutter Gottes Historic District
Nixons
Ohio Riverside Historic District
Old Seminary Square
Patton
Perry
Pienza at Tuscany
Pike Street Lofts
Rice
Riddles
Ridgeport
Rittes Corner
Rittes Corner Historic District
Riverside Historic District
Rosedale
Sahons
Saylor Woods
Saylors Meadow
School View
Scott
Sehon
Seminary Square Historic District
Shinkle Row Townhomes
South Dinmore Park
South Lakewood Hills
Southgate
Storers
Sunnyside
The Ascent
The Views
Visalia
Wallace
Watkins
Wellers
Wellington Place Condos
West 15th Street Historic District
West Side-Main Strasse Historic District
Winters
Wolf
Woodland Park
Woods
Covington grew very slowly in the early years. Most of the buildings were clustered around a ferry landing, with residential structures along the confluence of the Ohio and Licking Rivers. A flood in 1816 and a national depression in 1819 contributed further to Covington's slow growth. As a result, the developers dissolved the land company in 1824, although many of the city's lots remained unsold. Four years later, in 1828, growth of the young city was stimulated by Robert Buchanan's construction of a cotton factory west of Covington's public square. Development took off, and between 1826 and 1830, Covington's population had doubled to 716 residents. By 1834, Covington was large enough to be formally incorporated as a city. [‡]
At this time, most of the lots in the original plat of Covington had been developed, and the city continued to grow. Covington clearly profited from its proximity to Cincinnati. In the 1830s, Cincinnati was one of the fastest growing cities in the United States, and Covington benefitted from this growth. By 1640, Covington had more than 2,000 residents, many of whom had relocated from Pennsylvania, Virginia and Maryland. [‡] In response to this increase in population, Covington's city fathers began to consider expanding the city to the west and the south. In 1841, Covington annexed land to the west as far as Willow Run Creek and to the south as far as 12th Street. Before the decade was out, Covington would expand even further south.
‡ Thomason, Phillip. Covington, Kentucky Eastside Multiple Resource Area National Register Nomination. Nashville: Thomason and Associates, 1986.
Leah Lonicki, consultant, Moser Family Houses, Kenton County, KY, nomination document, 2000, National Park Service, National Register of Historic Places, Washington, D.C.
Nearby Towns: Bellevue City • Cincinnati City • Fort Thomas City • Ludlow City • Newport City • Park Hills City •
---