Kenton County administrative offices are located at 303 Court Street, Covington, KY 41011; phone: 859-392-1400.
The county was created in 1840 and named for Brigadier General Simon Kenton [1755-1836]. Kenton is reported to have saved Daniel Boone's life at Boonsborough.
---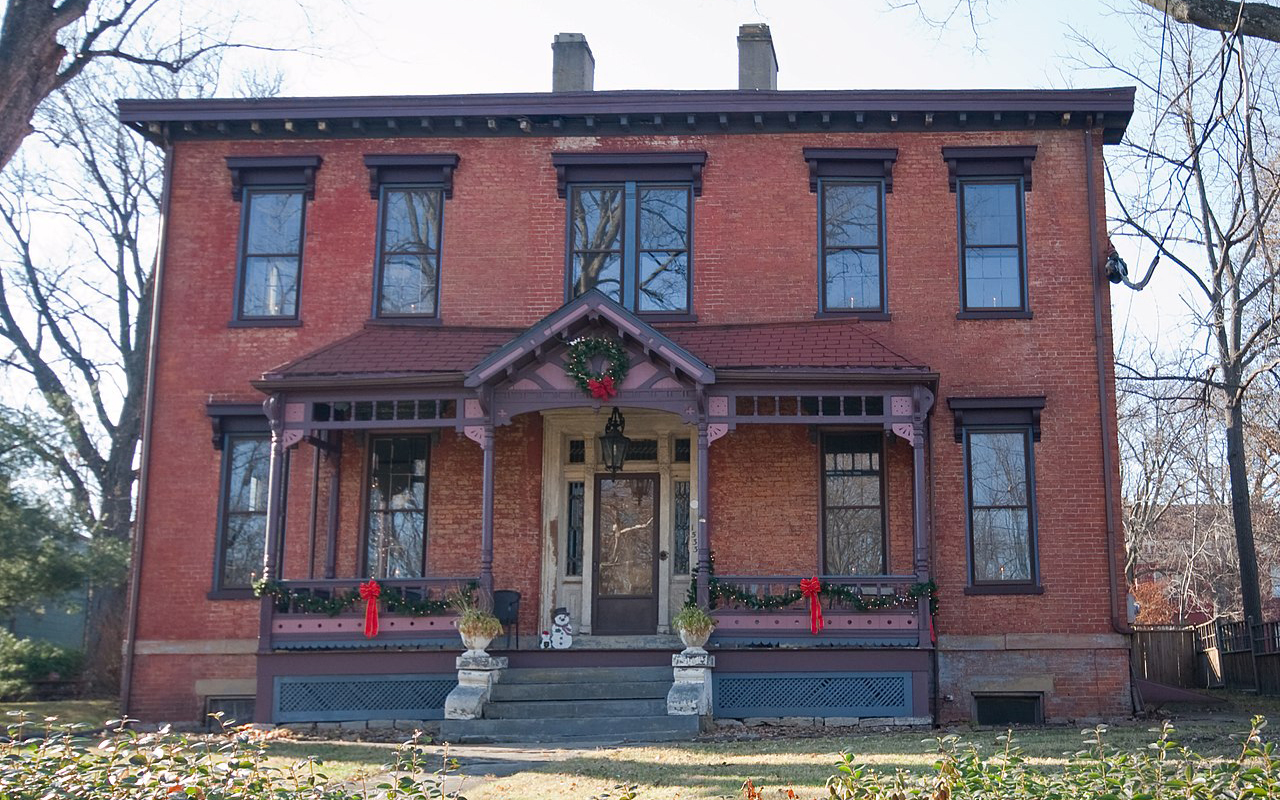 Photo: Robert Patton House, circa mid-1850s, located at 1533 Garrand Street, Covington, KY. Listed on the National Register of Historic Places in 1986. Photographed by user:Greg5030 (own work), 2010, [cc-3.0], via Wikimedia Commons, accessed August, 2021.
---
TOWNS
Bromley City
Crescent Park
Crescent Springs City
Crestview Hills City
Edgewood City
Elsmere City
Erlanger City
Fairview City
Fort Mitchell City
Fort Wright City
Kenton Vale City
Lakeside Park City
Latonia Lakes City
Ryland Heights City
Taylor Mill City
Villa Hills City
Visalia City
HISTORIC SITES
Austinberg Historic District
Beard, Daniel Carter, Boyhood Home
Beechwood Historic District
Central Ludlow Historic District
Covington Downtown Commercial Historic District
Dixie Highway Historic District
Emery Row
Emery-Price Historic District
Erlanger Proper Subdivision Historic District
Fort Mitchell Heights Historic District
Hearne House
Helentown Historic District
Highland Cemetery Historic District
Holy Cross Church and School Complex--Latonia
House at 855-857 Oak Street
House at 859 Oak Street
Kruempelman Farmhouse
Lee-Holman Historic District
Lewisburg Historic District
Licking Riverside Historic District
Maxwell House
Merry, Prettyman, House
Metcalfe-Stephens House
Moser Family Houses
Mutter Gottes Historic District
Ohio Riverside Historic District
Old Fort Mitchell Historic District
Park Hills Historic District
Patton, Robert, House
Pleasant Run Stone House I
Pleasant Run Stone House II
Ritte's Corner Historic District
Riverside Drive Historic District
Seminary Square Historic District
Shinkle, Amos, Summer Residence
Timberlake-Stevenson House
Wallace Woods Area Residential Historic District
West Fifteenth Street Historic District
West Side-Main Strasse Historic District
Yeager, William A., and Edward Mohr Farmstead
---