St Petersburg City
St. Petersburg City Hall is located at 175 5th Street North, St. Petersburg, FL 33701.
Phone: 727‑893‑7171.
---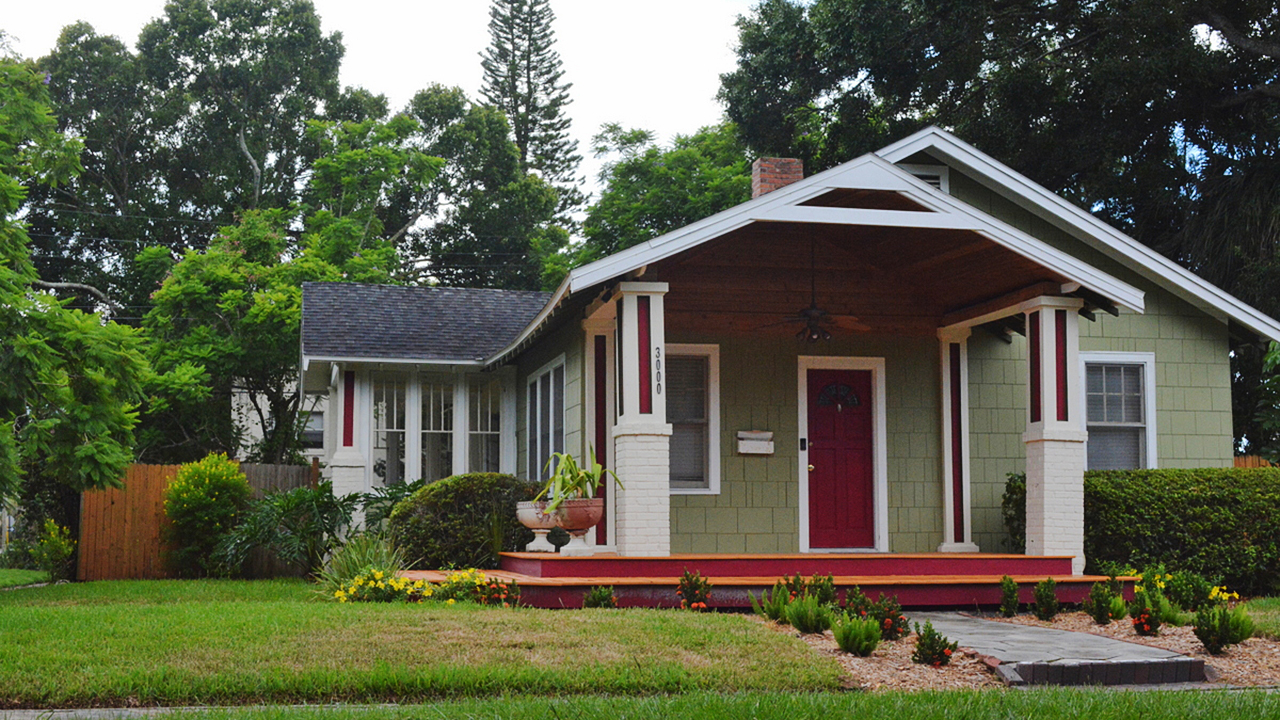 Photo: Home located in the Kenwood Historic District. The district was listed on the National Register of Historic Places in 2003. Photographed by User:Jrozwado (own work), 2018, [cc-4.0], via Wikimedia Commons, accessed August, 2021.
---
St. Petersburg as Described in 1939 [1]
Conceived and publicized almost solely as a winter resort, St. Petersburg's leading industry is its tourist business. Its healthful location was approved as early as 1885 by the American Medical Association, when one scientist completed records at Pinellas Point showing the peninsula to be one of the sunniest regions in the United States.
Neighborhoods
Airy Acres
Allen Gay
Allendale Terrace
Alma Heights
Anchor Cove
Angels
Angie
Ann Park Heights
Antondale
Arbor Grove Condos
Arbor Heights
Arcadia
Arcadian Heights
Arlington Lofts
Arlington Park
Asbury Arms
Asplins
Austins
Avalon
Avocado
Back Bay at Carillon
Back Bay Homes
Back Bay Manor
Bacopa Bay
Bahama Beach
Bahama Park
Bahia Del Mar
Bahia Shores Condos
Bahia Vista
Bakers
Banyan Bay
Barcelo Park
Barcley Estates
Barkwood Square
Barnards
Barrys Hillside Homes
Bartletts Orange Park
Batemans
Bay Breeze Cove
Bay Colony Estates
Bay Front
Bay Island
Bay Isle Key
Bay Park Gardens
Bay Pines
Bay Pines Estates
Bay Pines Lakes
Bay Pines Terrace
Bay Point Plaza Apartments
Bay Shore
Bay Shore Park
Bay State
Bay Villas Condos
Bay Vista Park
Bayboro
Baybridge Heights
Bayfront Tower
Baynard Lee
Bayou Bonita
Bayou Bonita Park
Bayou Grande
Bayou Heights
Bayou View
Bayou Vista
Baypointe Preserve
Bayview Addition
Bayview Terrace
Bayway Condo
Bayway Condos
Bayway Isles Condos
Beach Drive Condos
Beacon
Beauclaire Highlands
Bell Place
Bellbrook Heights
Bellecrest Heights
Bellwood
Belvidere
Benbows
Bengers
Bennington
Bentons
Bermuda Bay Beach
Bethwood Terrace
Beulah Park
Bickleys Lakewood
Big Bayou
Biltmore Terrace
Blackwoods
Blossom Lake Village
Bobbitts
Boca Ceiga Heights
Boca Ciega Club
Boca Ciega Isle
Boca Ciega Point
Boca Ciega Point East
Boca Ciega Shores
Boca Ciega Woodlands
Bon Air
Bon Creek Park
Bonnie Belle
Bonnivista
Boones
Bordo
Boswells
Bozemans
Brentwood Heights
Brevard Terrace
Briarwood Acres
Bridgeton North Condos
Bridgetown
Bridgeview
Bridgewater Place
Bridgeway Addition
Bridwells Shadow Lawn Park
Brighton Bay
Brightwaters Tower
Brightwood
Broadacres
Broadmoor
Broadwater
Broadway Add
Broadway Addition
Bronx
Brookside Mobile Manor
Brookside Park
Brookville Heights
Brownleigh Court
Brunson
Brunsons
Bryn Mawr
Buckeye
Buena Vista
Bungalow Terrace
Burnside at Lellman
Calais Village Condos
Caldwells
Caledonia
Calla Terrace
Captivas at Marina Bay Condo
Caroline Park
Carriage Bay
Cary
Casa Del Mar
Casablanca
Cashwells
Casler Heights
Catalina Gardens
Caya Costa
Central Avenue Heights
Central Avenue Homes
Central Park
Chalet on the Lake Condos
Chambers Addition
Charles Court
Chateaux Versailles
Chatham Park
Checkerboard Court
Cherokee
Chevy Chase
Chicago
Childs Park
Ciega Verde Condo
Cinnamon Lake
Cisney Homes
Citrus Heights
Citrus Park
City Lofts South
Clear Vista
Clearview
Clearview Highlands
Clearview Oaks
Cloister Beach Drive
Club at Feather Sound
Club Bahia Vista
Club Chalet Mobile Homes
Cluster Homes Condos
Coffee Pot Bayou
College Landings
College Park
Colonial Annex
Colonial Court Condos
Colonial Heights Addition
Colonial Parks
Columbia Heights
Columbia Towers Condos
Concord Towers Condos
Concord Village
Continental Towers
Coolidge Park
Coppins Court
Coquina Key
Coronado Lake
Corsons
Country Club Homes
Country Club Villas
Crescent Heights
Crescent Lake City
Crescent Lake Gardens
Crescent Lake Heights
Crescent Lake Park
Crescent Lake Terrace
Crescent Lake View
Crescent Park Heights
Crestmont
Crestwood
Crisp Manor
Cromwell Heights
Cross Corners
Crossroads Estates
Crosswinds
Crump
Darrow Estates
Davista
Dearmins
Del Centro Condos
Delmar Villas Condos
Delmonte
Disston Arms
Disston Gardens
Disston Heights
Disston Hills
Disston Manor
Disston Park
Disston Terrace
Disstonia
Dixie Crossings
Dixie Terrace
Dolphin Cay
Dominica at Dolphin
Doris Heights
Dorothy Manor
Douglas Park
Downtown Historic District
Driftwood
Eagle Court
Eagle Crest
Eagle Manor
East Pasadena
East Roselawn
East View Addition
Easterbrook
Eden Isle
Eden Shores Condos
Edenwood Addition
Edgemoor Estates
Edgewater Estates
Edgewood Court
Edmoor Estates
Edward Lawrence Apts
El Dorado Hills
Enclave
Enclave at Sabal Pointe
Enclave at St Peters
Estelle Manor
Euclid Estates
Euclid Grove
Euclid Highlands
Euclid Manor
Euclid Park
Euclid Place
Eveland Rep
Fair View Heights
Fairfield View
Fairmount Park
Fairview Estates
Fairway Green
Fareham Square Condos
Farrington Arms
Fern Lake Rev
Five Towns
Flemings
Floral Villa Estates
Floral Villa Park
Florencia Condo
Floriana Park
Florida Heights
Foremans
Forest Heights
Forest Hill
Fourth Street North
Francella Park
Franklin Heights
Fraze Acres
French Quarter North
Fruit Haven
Fruitland Heights
Fuller Garden Homes
Gables Crescent Park
Galea Heights
Gandy Townhomes
Garden City
Garden Manor
Gateway By Bay Condos
Gateway Estates
Gateway Square Apartments
Gautier
Gentry Gardens
Georgian Terrace
Gilmore Heights
Glen Oak Court
Glenside
Glenwood
Glenwood Heights
Glenwood Park
Golden Crest
Golden Flamingo
Golden Gate Condos
Golden Glow Grove
Golden Palm Manor
Granada Heights
Granada Terrace
Grand View Terrace
Grande Verandahs
Greater Euclid Place
Green Acres
Green Lawn
Greenwood Park
Griffins
Grove Heights
Grove Park
Grovemont
Halls Central
Hamilton House Condos
Hampton
Hancocks
Hanna Park
Harbor Isle
Harbor Lights
Harbordale
Harcourt
Harcourt Estates
Hargraves
Harper Circle
Harper Terrace
Harrington Heights
Harris Farms
Harshaw
Harshaw Lake
Harveys
Hauk Sub
Havana Park
Haven Park
Hazens
Heritage House Condos
Heritage Oaks
Herkimer Heights
Herron Heights
Hialea
Hidden Bay Villas
Highland Courtyard
Highland Groves
Highland Terrace
Highview
Hiland Corners
Hilcrest
Hillbrook Estates
Hillside Terrace
Hilltop Grove
Hodgson
Hoeldtke Grove Sub
Hoeldtke Heights
Hoeldtke Homes
Hoerners Homesite
Holdcroft Heights
Holiday Park
Hollywood Addition
Homeville
Hotel Detroit Condos
Hudson City
Hudson Heights
Huntington Townhomes
Hurds
Hyde Park
Hylands
Idlewild
Ingleside Terrace
Ingram Place
Inter Bay
Intermont
Isla Del Sol
Isla Key
Jackson Square
Jacksons
Jamestown Condos
Jefferson House Condos
Jefferson Manor Addition
Joslyn Park
Jungle Beach
Jungle Country Club
Jungle Cove
Jungle Park
Jungle Prada Twnhms
Jungle Shores
Jungle Terrace
Kapok Grand
Kappler
Kellhurst
Kendale Park
Kenilworth
Kennedys
Kenwood Historic District
Kerr Addition
Key Manor
Key West Cottages
Kings Moorings
Kingston Court
La Puerta Del Sol
La Salle Gardens
Lafayette Condo.
Lafayette Condos
Lake Euclid
Lake Louise
Lake Maggiore Park
Lake Overlook Apartments
Lake Palms Apartments
Lake Park
Lake Pasadena
Lake Rich Village
Lake Sheffield
Lake Venice Shores
Lake Vista
Lakeside Addition
Lakeside Estates
Lakeview Heights
Lakeview Manor
Lakeview Terr
Lakeview Terrace
Lakewood
Lakewood Country
Lakewood Estates
Lakewood Shores
Lakewood Terrace
Langs
Larrys
Las Palmas
Las Perlas Condos
Laughners
Lawrenceville
Lealman
Lealman Heights
Lealman Highlands
Leberts
Leland Park
Leneves
Leslee Heights
Lewarn
Lewis Bay Park
Lewis Island
Lewis Island
Lewiston
Lexington Towers
Library Lake Condos
Lincoln Place
Lindenwood
Little Pinellas Farm
Lofts at 341 Condos
Lone Oak Addition
Lone Oak Park
Long Bayou Condos
Longleys
Lowell Manor
Luptons Court
Lynndale
Lynnmoor
Macks
Madison at St Pete
Magnolia Manor
Magnolia Ridge
Maine
Mango Park
Mangrove Cay
Mankato Heights
Manor Condos
Mansfield Heights
Marguerite
Marilyn Heights
Marina Bay
Marina Bay Gardens
Marina Harbour Condos
Mariners Landing
Mariners Pass
Martin Grove
Martin Manor
Marvilla
Masri Estates
Massey
Mathis
Maximo Harbor Condos
Maximo Heights
Maximo Moorings
Maximo Point
Maximo Woods
Mayfair Condo in Par
Mayfair Condos
Mayfair Manor
McKee Lake Estates
McMillins Choice
McNulty Lofts
Meadow Lawn
Meadowville
Melody Gardens
Melrose
Michaels
Michigan Park
Midway
Miles Pines
Millbrooke Ranch
Minnesota Court
Mira Bella
Mirror Lake
Mockingbird Hill
Moffetts Court
Mohawk Park
Monterey
Monticello Park
Moorefield Heights
Morningside
Moulton Heights
Mount Vernon
Mount Washington
Mullers
Naylor Terrace
Nebraska Place
Nebraska Terrace
New England
New Home
Norma Addition
Norris
North Bay Heights
North East Park
North Euclid Oasis
North Midway
North Ridge Park
North Shore Historic District
North Shore Landings
North Side Park
North St Pete
North St Petersburg
North West Highland
North Woodlawn
Northeast Park Apartments
Northwood Heights
Nortons
Oak Grove
Oak Grove Manor
Oak Harbor
Oak Heights
Oak Hill
Oak Ridge Acres
Oak Ridge Court
Oak Ridge Estates
Oak Run Ridge
Oakdale
Oakhurst
Oakwood
Oakwood Manor
Ocean Sands
Ogle
Ohio Park
Old Kentucky
Old Northeast
Olga Estates
Orange Estates
Orange Heights
Orange Hill
Orangewood
Orangewood Heights
Orion
Osborne Place
Osprey Point at Dolphin Cay
Ovation
Packards
Paines
Pallanza Park
Palm Gardens Condos
Palma Del Mar
Palmetto Park
Palmetto Park
Palmway
Paradise Shores
Paradiso Condos
Parc Vendome
Park Central Towers
Park View Condos
Park West
Parklane Condos
Parkshore Plaza
Parkside Villas
Parkwood Square
Parque Narvaez
Pasadena Estates
Pasadena Golf Club Estates
Pasadena Park
Pasadena Terrace
Pasadena Vista
Patrician Condos
Patrician Point
Patriot Square
Payson Park
Pecan Highlands
Peeples Addition
Pelham Manor
Peppertree Lake
Perrydale
Phair Acres
Piedmont Place
Pillsbury Park
Pine Bay Park
Pine City
Pine Glade
Pine Grove
Pine Heights
Pine Hills
Pine Key Lodge Condos
Pine Knoll
Pine Lake Park
Pine Lawn
Pine Park
Pine Ridge
Pine Ridge Estates
Pine Rush Villas Condos
Pine View Manor
Pinebrook Manor
Pinellas Farms
Pinellas Point
Pineville
Pinewood
Pirates Cove Club
Placido Bayou
Placido Gardens
Playa Escondida
Plaza Terrace
Plunketts
Plymouth Heights
Poinciana Condos
Poinsettia Gardens
Point Brittany
Point Pinellas
Pollards
Pomeroys
Ponce De Leon Park
Ponderosa Shores
Porachs Addition
Portofino
Premier Terrace
Presstmans
Rainbow Valley
Ranch Lake Estates
Ravenswood
Reading Acres
Regency Condos
Regina
Reinhardt
Reisset
Remsen Heights
Reserve at Harshaw
Ridge Crest
Ridge Manor
Ridgeway
Ridgewood
Rio Vista
Riviera
Riviera Bay
Riviera North
Roberts
Robin Terrace
Robinson Court
Rochester Heights
Romeo Heights
Rondo
Roosevelt Park
Rose Mound Groves
Rosedale
Ross Oaks
Round Lake Chalet
Round Lake Historic District
Rouse Manor
Rouslynn
Royal Palm Heights
Royal Palm Park
Royal Poinciana
Russell Park
Saffords
Sage Condos
San Carlos
Sans Souci Estates
Saxony Place at Carillon
Schaefers
School Park Addition
Scott Park
Sea Horse Mobile Homes
Sea Towers
Seagirt
Seapointe Terrace
Seminary Heights
Seminole Heights Addition
Setchells Add
Setchells Addition
Shadow Lawn
Shady Acres
Sheffield Manor
Shelton Heights
Sheryl Manor
Shieders
Shore Acres
Shore Crest
Signature Place
Silver Lake
Sinclairs
Sir Lee Heights
Sirmons Acres
Sirmons Estates
Sixth Avenue Villas
Sky Harbor Apartments
Sky View
Snell Arcade Condos
Snell Gardens
Snell Isle Shores
Snell Isles
Snell Park Estates
Snell Shores
Snell Shores Manor
South Bay Condos
South Shadow Lawn
South Shore Park
Spanish Palms Condos
Spauldings
Spencer
Spring Gardens
Spring Hill
Stahls
Stanley Heights
Stephenson Manor
Stewart Grove
Stonemont
Stones Throw
Straub Court
Summit Grove
Summit Lawn
Summit Park
Sumners
Sun Deck Homesites
Sun Gate Condos
Sun Haven Homes
Sun Ketch Townhomes
Sun Lit Shores
Sun Plaza Isles
Sun-Lit Shores
Suncoast Towers
Sundown Woods
Sunny Lawn Estates
Sunny Mead Heights
Sunny Slope
Sunnydale
Sunnydale Northside
Sunrise
Sunshine
Sunshine Park
Suttons
Sycamore Park
Sylvester
Tangerine Central
Tangerine Gardens
Tangerine Highlands
Tangerine Park
Tangerine Terrace
Tanglewood
Tanhurst
Taylors
Teresa Gardens
Terrace Park
Tetreault
The Beacon On Third
The Wave
Thompson Heights
Thompson Terrace
Thornberry Ponds
Thorntons Addition
Three Lakes
Thuma
Thunderbird Hill
Tierra Condos
Tierra Sails
Tierra Sound
Tierra Verde
Tiffany Arms Condos
Tiffany Gardens
Tiffanys Addition
Tioga
Touchette
Toussie Terrace
Townsends
Townview Condos
Trafalgar Square
Tre Miste Condos
Trelain Addition
Tropical Shores
Trotter
Tudor Apartments
Tulane Condos
Tuscawilla Heights
Twin Lakes
Two Lakes
Tyrone Acres
Tyrone Gardens
Tyrone Park
Tyrone Villas
Union Heights
Vagabond
Valara
Valencia Townhomes
Vantage Point Condos
Variety Village
Velvet Cloake Condos
Venetian Bay
Venetian Harbor
Venetian Isles
Vera Manor
Vermilya
Verona
Victory Estates
Victory Heights
Vilage Lake Condos
Villa Del Mar
Villa Park Estates
Villa Valencia Gardens
Village Lake Condos
Villas at Long Bayou
Villas Carillon
Villas Del Mar
Villas of Carillon
Villas of Del Mar
Villas On Point Brittany
Vinoy Place Condos
Vinsetta Park
Virginia Heights
Vista Del Mar Condos
Vista Verde Condos
Vista Verde East
Vista Verde North
Vista Verde West
Waldomar Groves
Wallace
Wander Residences
Washington Heights
Washington Terrace
Washington Towers
Waterford Estates
Waterfront Park Apartments
Watermark Condos
Waterside at Coquina
Waterway Estates
Wave Condos
Waverly Place
Wayne Heights
Wedgewood Forrest
Wedgewood Park
Weedon Cove
Welshs Lakeview
West Bay View
West High Addition
West Oakland
West Shadow Lawn
West Shore Village
West Wedgewood
West Wedgewood Park
Westchester Estates
Westgate
Westgate Heights North
Westgate Heights South
Westgate Manor
Westminster Place
Westwood
Whisper Wood
Whispering Waters
White Way Annex
White Wood Terrace
Whites Lake
Whiteway
Whitney Plaza
Wildwood
Wildwood Gardens
Wilkinsons
Williamsburg Condos
Wilshire
Windjammer Condos
Windsor Gardens
Windward Pointe Condos
Winoca Terrace
Winston Gateway
Winston Park
Woodbine
Woodbrook Place
Woodhurst
Woodland Heights
Woodland Terrace
Woodlawn
Woodlawn Estates
Woodlawn Heights
Woodridge Terrace
Woodstock
Worleys
York Manor Condos
Zehrcrest Heights
Zimrings
Narvaes, Spanish explorer and commissioned governor of Florida, landed in 1528 somewhere along the Boca Ciega waterfront and marched across the peninsula to Tampa Bay; but the first recorded white settler did not arrive until 1843, when Antonio Maximo set up a fish "rancho" on a point of land at the southern extremity of the peninsula, now called Maximo Point. When his holdings were swept away by a hurricane five years later, he disappeared. The first house inside the present city limits was built in 1856 by James K. Hay, who came to look after hogs and cattle for Tampa stockmen.
Upon the outbreak of the War between the States, Union blockaders stopped fish shipments, shelled one of the houses and drove most of the inhabitants to Tampa. A few returned at the end of the war, were joined by squatters, and resumed their former occupations of fishing and farming. Some of the first citrus groves were planted at this time. By 1876 a small community, christened Pinellas, had sprung up around Big Bayou, several miles south of Central Avenue; a post office was established, boat service to Tampa was inaugurated, and the settlement became the largest on the peninsula.
John C. Williams of Detroit, St. Petersburg's founder, acquired acreage in 1876 which became the nucleus of the city. Williams, later given the honorary title of "General," cleared some of the land and attempted to farm, but finally turned his efforts to urban development. He made a deal with Piotr Alexeitch Dementieff, a Russian exile of noble birth who simplified his name to Peter Demens upon his arrival in Florida, offering him an interest in the land to build a railroad into the territory. The Russian's road, known as the Orange Belt Line, reached St. Petersburg from Lake Monroe, near Sanford, in 1888, when the community had a population of 30.
Williams and Demens, according to the most popular story, tossed a coin to decide upon a name for the new town. The Russian won and the settlement was christened St. Petersburg in honor of Demens' birthplace. Later, Williams built the first large resort hotel at the corner of Central Avenue and 2nd Street, calling it The Detroit, for his home town. Williams died in St. Petersburg in 1892; Demens went to California in the 1890s and never returned to the city he named.
St. Petersburg, with a population of 300, was incorporated in 1892. Among early settlers were British from the Bahamas and Key West, later joined by pioneers who arrived in response to land exploitation campaigns in England. From adjoining southern States came agriculturalists, many of Scottish ancestry.
Except for its one railroad, which became a part of the Plat System and later was absorbed by the Atlantic Coast Line, the peninsula was still isolated. Known as West Hillsborough, it remained a part of Hillsborough County until 1911, when Pinellas County was created and the first major land boom got under way. Central Avenue and a streetcar line were extended westward to Boca Ciega Bay and the city took in a mile-wide strip paralleling it. Thousands of lots in this territory were sold from a plat at a tent auction, the most spectacular sale in the history of the city, not excepting those of 1924-1926 boom days.
The resort remained a one-railroad town until 1914, when the Tampa and Gulf Coast Railroad, later taken over by the Seaboard Air Line, reached the city. By 1920 St. Petersburg claimed more than 14,000 inhabitants, and the population increased to 50,000 five years later. Miles of new roads were constructed, dozens of subdivisions laid out, and several million-dollar hotels erected. A ferry began operating to Manatee County, making possible a direct route to southern points, and the Gandy bridge, spanning upper Tampa Bay, provided a short cut to Tampa. Two free causeways were built across Boca Ciega Bay to bring a belated boom to the long neglected islands. Building permits during 1924-1925 reached a high total of $25,000,000. Meanwhile, in an extensive landscaping program, miles of Tampa Bay waterfront were filled in, improved with sea walls and promenades, and transformed into a string of municipal parks. In 1939 Central Avenue was extended by means of a causeway across Boca Ciega Bay to the island Gulf Beaches.
St. Petersburg, occupies a semi-isolated area of 58 square miles on the southern tip of the Pinellas peninsula, a 25 mile projection between Tampa Bay and Boca Ciega Bay. US Route 19, entering from the north, is its only free trunk highway. A toll bridge provides connection with Tampa on the east, and a ferry, crossing the bay on the south, carries traffic from central and southern points. Because of tolls the city is sometimes referred to as a pay-as-you-enter playground.
St. Petersburg's front yard is a series of landscaped parks and driveways paralleling Tampa Bay, a filled-in stretch of 2 miles embracing the city's harbor, yacht basins, municipal pier, and major recreational attractions. North and west of the pier lie North Shore, the pioneer residential section, and Snell Isle. The latter, dredged from the bay, is reached by a short bridge over Coffee Pot Bayou. Both are planted with a variety of palms, Australian pines and subtropical shrubs. Northward, following the irregular, pumped-in shores of Tampa Bay, is Shore Acres.
Five miles south around Pinellas Point, a newer residential district occupies the site chosen by the town's first white settler and overlooks the main ship channel leading into the Gulf. Bordering the bay to the southwest is Gulfport, a wedge-shaped municipality, its streets a continuation of St. Petersburg's, and served by the latter's trolley lines. Carved from the jungled western border of the peninsula, homes, many built upon Indian mounds, face shallow Boca Ciega Bay, across which lie the shimmering sand keys that are the city's Gulf bathing beaches. A green wall of citrus groves and open pine woods form much of the northern border.
Although many Florida resorts feature their abundant sunlight, St. Petersburg alone has been shrewd enough to capitalize on "Old Sol" and to spend a million dollars advertising itself as the "Sunshine City." To make the name authentic, the publisher of the city's afternoon paper announced that he would give away his entire edition every day the sun failed to show its face up to 3 o'clock. In 26 years the paper was distributed free 124 times, an average of less than 5 editions a year. The record endurance contest was 546 days, ending on a Friday the 13th in 1935. Letters addressed to "Sunshine City" are sent to St. Petersburg.
Having advertised its place in the sun, St. Petersburg provided its visitors with ample means of absorbing the ultra-violet and infra-red rays. More than 5,000 green benches, in recreation centers and flanking the sidewalks of the thoroughfares, have converted the city into a park. Their color, size and design are standardized by municipal ordinance. These slatted divans serve as mediums of introduction, with the weather the opening and principal topic. Operations, symptoms, and remedies run a close second. The benches are the open-air offices of the promoter, the hunting grounds of the real estate "bird dog," a haven for the lonely and a matrimonial bureau for many. They have figured in fiction, swindles and divorce courts.
St. Petersburg's sunshine and green benches combine to create the illusion that life gets off to a good start at 75, not 30. Although persons of advanced years predominate, the majority of bench warmers are not strictly sedentary. The city is a place of energetic participation in outdoor recreation, and for the most part sitting is but an interlude. In fact, those in the higher age brackets, including guests of the expensive hotels, and trailer-car transients, as well as those who own their winter homes, are banded together in the Three-Quarter Century Club, whose members top three-score and fifteen. These oldsters stage their own dances, theatricals, boxing exhibitions, and ball games, always events of lively interest. So while the city offers interesting sights to the stranger, it is in reality one of organized activity rather than eye-filling vistas; lifetime habits of industry reassert themselves here in channels of recreation.
In addition to its recreational and sports attractions, St. Petersburg's cultural outlets offer a cosmopolitan blend found only in a city of diverse population. The range of music reaches from operatic concerts by metropolitan artists to daily band concerts in the downtown park. The band with its soloists is composed almost wholly of former members of Sousa's and Pryor's organizations and the Boston Symphony Orchestra. Eighty percent of the members of the local Art Club are professionals. Several magazine illustrators and a number of leading comic-strip artists make St. Petersburg their permanent home and hold annual exhibitions.
The city has furnished locale and color for many professional writers. The late Ring Lardner's short story, The Golden Wedding, was a Sunshine City tale. Rex Beach, George Ade, and Sewell Ford have used St. Petersburg and its environs for fiction background. Since it plays host to two major-league ball clubs each spring — the New York Yankees having trained here since 1924—St. Petersburg perhaps datelines more baseball copy than any other city in the State. Although it is the acknowledged winter baseball capital of the Nation, and ranks highest among Florida cities in gate receipts, including capacity Sunday exhibitions, nevertheless several churches hold double services twice a day on Sunday to accommodate the overflow of worshippers.
Federal Works Agency, Works Progress Administration, Federal Writers' Program, Florida: A Guide to the Southernmost State. American Guide Series, Florida Department of Public Instruction, 1939.
Nearby Towns: Pinellas Park City •
---