Sanford City
Sanford City Hall is located at 300 North Park Avenue, Sanford, FL 32771.
Phone: 407‑688‑5000.
---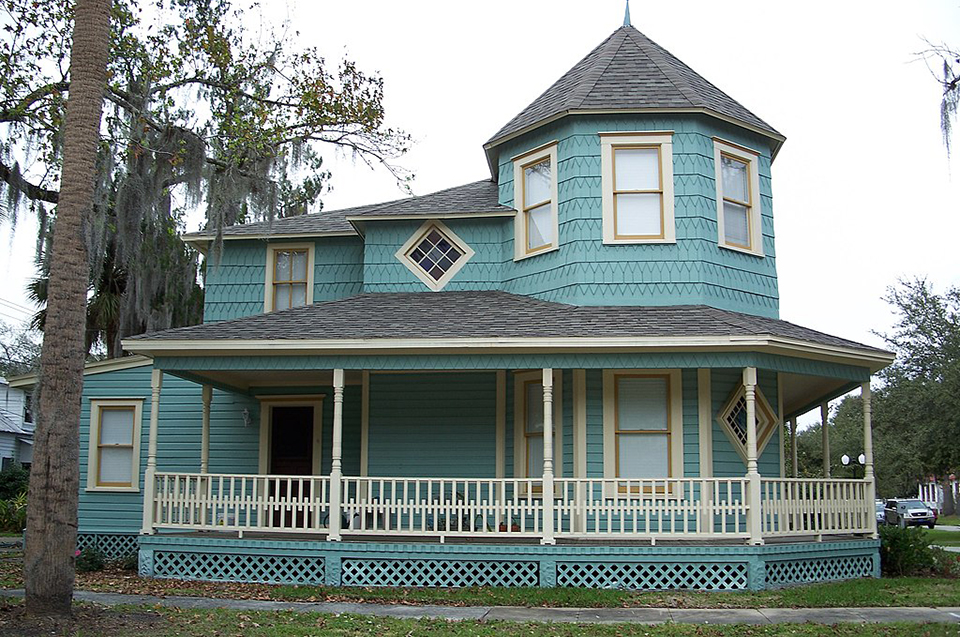 Photo: Home located in the Sanford Residential Historic District, Sanford, FL. The historic district was listed on the National Register of Historic Places in 1989. Photographed by User:Ebyabe (own work), 2007, [cc-by-3.0], via Wikimedia Commons, accessed September, 2021.
---
Beginnings [1]
In 1870 Henry Sanford bought land near Mellonville (then the county seat of Orange County) in order to begin creation of what he believed would become the transportation central hub for Southern Florida. Sanford was incorporated in 1877 and in 1883 Mellonville was annexed. Sanford established Belair, an experimental citrus grove where more than 140 varieties of citrus were tested. The local citrus industry was devastated during the winter of 1894-1895, but those who stuck it out regrouped and developed artesian wells and an irrigation system that fed the growing of vegetables. In the early 1900s Sanford had become one of the most productive vegetable distribution centers in the country, earning it the nickname "Celery City" after its most-abundant crop.
Neighborhoods
Academy Manor
Alexandria Village
Amberlee
Arbor Lakes
Arbors at Hidden Lake
Autumn Chase
Bakers Crossing
Bel-Air
Bel-Isle
Bella Foresta
Berington Club
Brynhaven
Buckingham Estates
Buena Vista Estates
Bungalow City
Canaan
Capri Cove
Cardinal Pointe
Carriage Homes at Dunwoody Commons
Cedar Hill
Celery Estates North
Celery Key
Celery Lakes
Citrus Heights
Colonial Estates
Country Club Manor
Country Club Park
Crown Colony
Crystal Park
Dawn Estates
Doan Acres
Dreamworld
Druid Park
Dunwoody Commons
East Cove at Silver Lake
Elnora Square
Estates at Wekiva Park
Eureka Hammock
Evans
Evans Terrace
Fairlane Estates
Fairview
Flagship Park
Flora Heights
Forest Cove
Forest Glen
Fort Mellon
Fountains Market Place
Foxspur
Franklin Terrace
Gardenia
Garners Addition
Gateway at Riverwalk
Geneva Terrace
Glades on Sylvan
Golden Gates
Groveview Village
Hamilton Place
Hardens Addition
Hazel Glen
Heatherwood
Hidden Creek Reserve
Hidden Lake
Highland Park
Holly Homes
Idyllwilde of Loch Arbor
Joyce Estates
Kays Landing
Kaywood
Lake Forest
Lake Jesup Woods
Lake Markham
Lake Markham Estates
Lake Markham Preserve
Lake Sylvan Cove
Lake Sylvan Estates
Lanes Addition
Lansdowne
Leavitts
Lexington Park
Lindsey Estates
Loch Arbor Country Club
Lockharts
Lordland
Madeira Townhomes
Magnolia Club
Magnolia Heights
Magnolia Park
Markham Estates
Markham Forest
Markham Park Heights
Martins Addition
Marvania
Mayfair
Mayfair Club
Mayfair Oaks
Mayfair Villas
Mecca Hammock
Mellonville
Middleton Oaks
Midway
Midway Park
Monroe Meadows
Monroe Terrace
Monterey Oaks
Neaves Addition
New Upsala
Normany Square
Northlake Village
Oak Hill
Oaks of Sanford
Orange Park
Oregon Trace
Otters
Palm Hammock
Palm Place
Palm Point
Palm Terrace
Palmers
Pamala Oaks
Park View
Pine Crest Heights
Pine Ridge Club
Pinehurst
Placid Lake
Placid Woods
Preserve at Astor Farms
Preserve at Eagle Lake
Preserve at Lake Monroe
Princeton Place
Ramblewood
Ravenna Park
Reddings
Regency Oaks
Renaud Park
Reserve at Hidden Lake
Retreat at Wekiva
Ridgewood Acres
River Crest
Riverview
Rosalind Heights
Rose Court
Rose Hill
Roseland Park
Ross Lake Shores
Russells Addition
San Clar Farms
San Lanta
San Sem Knolls
Sandlewood Condos
Sanford Celery Delta
Sanford Central Park
Sanford Farms
Sanford Heights
Sanford Place
Sanford Trails Estates
Sanora South
Savannah Park at Heathrow
Seminole Estates
Seminole Gardens
Seminole Park
Sharps
Shephards Addition
South Pinecrest
South Sanford
South Sanford Heights
South Sylvan Lake Shores
Spencer Heights
St Johns River Estates
St Johns Village
St Josephs
Stendifords Addition
Sterling Meadows
Sterling Woods
Sunland Estates
Sunvista
Sylvan Acres
Sylvan Lake Reserve
Symes Loch Arbor
Tall Trees
Tee N Green Estates
Terracina at Lake Forest
Trove Park
Tusca Place North
Tusca Place South
Venetian Bay
Villas Du Soleil
Washington Oaks
Wayside Estates
Wayside Woods
Wellingtons Addition
West Haven
Westlake Estates
Whippoorwill
Whippoorwill
Wilson Park
Wilson Place
Windsor Lake
Woodbine
Woodmere Park
Woodmere Terrace
Woodruffs
Woodsong
Wynnewood
Yankee Lake
Seminole County was established in 1913 with Sanford as its county seat.
A U.S. Naval Air Station was in operation from 1942-1968, diversifying the population. After the base closure, the facility was developed into the Sanford International Airport.
Sanford Historic Preservation Board, A Brief History & Walking Tour of Sanford, sanfordhistory.tripod.com, accessed October, 2011.
Nearby Towns: Longwood City •
---