Utah County, Utah
Utah County Administrative Offices are located at 100 East Center Street, Provo UT 84606; phone: 801-370-8000.
---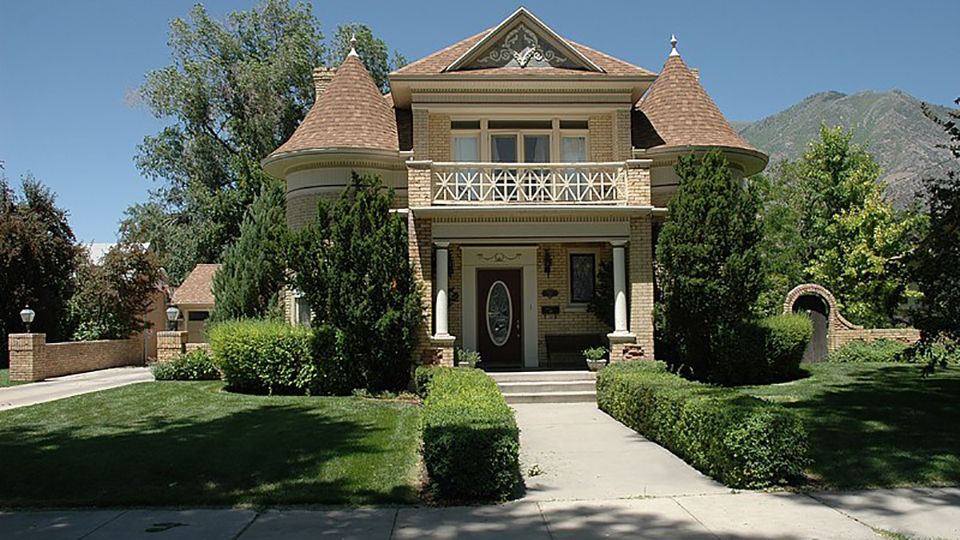 Photo: The T.R. Kelly House, circa 1903, located at 164 West 200 South, Springville, UT. Listed on the National Register of Historic Places in 1993. Photographed by User:Ntsimp (own work), 2012, [cc-by-1.0 public domain], via Wikimedia Commons, accessed October, 2021.
---
TOWNS
Cedar Fort Town
Eagle Mountain Town
Elk Ridge City
Genola Town
Goshen Town
Highland City
Lindon City
Mapleton City
Salem City
Santaquin City
Saratoga Springs Town
Spanish Fork City
Woodland Hills City
Beginnings [1]
Although home to Native Americans for many centuries, the first white men to set foot in what is now known as Utah County were most likely Father Escalante and Father Dominquez and their party of explorers on September 23, 1776.
From approximately 1825 to 1847, various trappers and mountain men spent time in the valley, but the first permanent settlers were Mormon pioneers sent south from the Salt Lake Valley by their leader, Brigham Young, in 1849.
Provo was apparently the first settlement, getting its name from the Provo River, which in turn took its name from the mountain man, Etienne Provost. Many of the other communities were officially founded the following year,1850, including Alpine, American Fork, Lehi, Pleasant Grove, Payson and Springville.
County of Utah, www.co.utah.ut.us, accessed April, 2009
HISTORIC SITES
Adams, George and Temperance, House
Adams, John Alma, House
Alexander, William D., House
Allen, Dr. Samuel H., House and Carriage House
American Fork Historic District
Ashton-Driggs House
Austin, Thomas, House
Baxter, David and Drusilla, House
Beebe, Angus, George and Martha Ansil, House
Beers House-Hotel
Bird, Roswell Darius, Sr., House
Booth, John E., House
Bringhurst, William and Ann, House
Brown, George M., House
Bullock, Benjamin Kimball, Farmhouse
Bunnell, Stephen and Mary, House
Carter-Terry-Call House
Chipman, Delbert and Ora, House
Christeele Acres Historic District
Clark-Taylor House
Clinger-Booth House
Cluff, Harvey H., House
Cordner, Alexander and Nellie P., House
Cordner, William James and Edna, House
Cordner-Calder House
Crandall Houses
Cullimore, William J. and Lizzie, House
Cutler, Thomas R., Mansion
Dallin House
Davies, Charles E., House
Davis, Joshua House
Davis-Ercanbrack Farmstead
Deal, Roe A. and Louise R., House
Dimick, Cecil I. and Mildred H., House
Dixon, Christopher F., Jr., House
Dixon, John, House
Douglass, Samuel, House
Dunn, Frederick and Della, House
Eddington, Dr. Elmo and Rhea, House
Eggertsen, Simon P. Sr., House
Frisby, Joseph H., House
Fugal Dugout House
Gappmayer, Roy H. and Florence B., House
Gardner, Ira W., House
Gardner, James H. and Rhoda H., House
Goode, Charles T.H., House
Goodwin, Samuel I. and Olena J., House
Green, Samuel, House
Hafen, John, House
Harper, Alfred William, House
Houtz, Jacob, House
Jensen, Lars and Agnes, House
Johnson, Mont and Harriet, House
Johnson, Peter Axel, House
Johnson-Hansen House
Johnson-Kearns Hotel
Jones, David H., House
Kelly, T.R., House
Kindred, Nephi and Annie, House
Knight Block
Knight, Jesse, House
Knight-Allen House
Knight-Finch House
Knight-Mangum House
Knudsen, Christian and Sarah, House
Larsen, Christen, House
Larsen, Neils Peter, House
Lehi Main Street Historic District
Lewis Terrace
Lewis, John S. and Izola, House
Lim, William, House
Loose, Charles E., House
Meneray, William H. and Sarah D., House
Morgan, David, House
Oakley, Ami and Amanda, House
Olpin, Joseph, House
Olsen, Lars and Christina, House
Packard, Milan and Margaret, House
Pleasant Grove Historic District
Provo Downtown Historic District
Provo East Central Historic District
Ray, William H., House
Reynolds, Henry T. and Rebecca, House
Reynolds, John T. and Henry T., Jr., House
Richins, Thomas A., House
Roberts, William D., House
Silver Row
Skinner, Alfred and Rosy, House
Smith, Hannah Maria Libby, House
Smith, John Y. and Emerette C., House
Smith, Warren B., House
Smoot, Reed, House
Springville Historic District
Stewart-Hills House
Strang, James P. and Lydia, House
Stratton House-Orem City Hall
Superintendent's Residence at the Utah State Hospital
Talmage, James E. and Albert, House
Taylor, George, Jr., House
Taylor, Thomas N., House
Timpanogos Cave Historic District
Twelves, John R., House
Upper American Fork Hydroelectric Power Plant Historic District
Wadley, Edward, House
Ward, Patrick L. and Rose O., House
Washburn, Alvin and Grace, House
Webb, Thomas and Mary, House
Wentz, Peter, House
White, Jacob Hanmer, House
Wood-Harrison House
Yard-Groesbeck House
Young, William Friend, House
---