Knoxville City
The Knoxville City/County Building is located at 400 Main Street, Knoxville TN 37902.
Phone: 865‑215‑2534.
---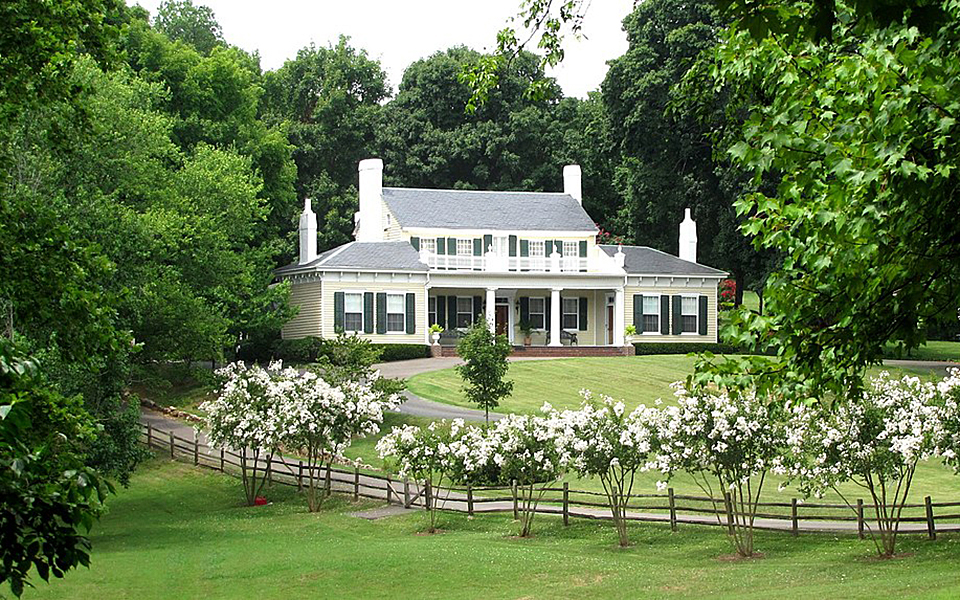 Photo: Middlebrook, circa 1845, located at 4001 Middlebrook Pike, Knoxville. Listed on the National Register of Historic Places in 1974. Photographed by User: Brian Stansberry (own work), 2010, [cc-3.0], via Wikimedia Commons, accessed December, 2021.
---
Beginnings
Knoxville was founded and named in 1791. The constitution of the United States had been in operation three years; Washington had been president two years; and William Blount had been governor of the territory south of the Ohio River one year. The year is significant as that which saw the passage of the first internal revenue bill, the establishment of the United States Bank, and the differentiation of two great political parties based on principles outlined and advocated respectively by Hamilton and Jefferson.
Neighborhoods
Abbington
Adair Gardens
Adams Place
Admiral Bend
Admirals Landing
Ag French Place
Alanridge
Alderwood Court
Allison Park
Alpine Meadows
Alta Vista
Amber Meadows
Amberleigh
Amberwood
Ambrister
Amherst Homesites
Amherst Woods
Anderson Ridge
Andes Place
Andorian Hills
Andover Court
Andover Place
Andrew Place
Andrews Crossing
Andrews Landing
Annies Place
Ansley Oaks
Ansley Woods
Anteelah
Arbor Creek
Arbor Gate
Ardilla Point
Arlington Addition
Arrowhead
Art Lofts at the Candy Factory
Asbury Place
Asheville Heights
Ashford Glen
Ashley Oaks
Ashley West Condominiums
Atlee Fields
Augusta Hills
Austin Landing
Autumn Place
Autumn Ridge
Autumn Walk
Avery Woods
Bailey Park
Bakertown Station
Bakertown Village
Bakertown Woods
Balcaro
Baldwin Park
Ball Ridge
Ballcamp Villas
Barbara Heights
Barclay Heights
Barineau Hills
Bayou Bend
Bayview West
Beall View
Bearden
Beaumaris Park
Beaver Brook Acres
Beaver Brook Estates
Beaver Ridge Estates
Beaver Ridge Heights
Beaverdale
Bedford Oaks
Beech Grove Springs
Belcaro
Bell
Belle Meade
Belle Terra
Belleview
Belmont
Belmont Park
Benington
Benjamin Knob
Bennett Place
Bent Creek
Bent Tree
Bent Wood
Bentley Park
Benton
Bentwood
Berkshire Woods
Bethany Springs
Beverly
Beverly Acres
Beverly Oaks
Beverly Place
Beverly Square
Bexhill
Biddle Heights
Biltmore Forest
Biscayne
Bishop Ridge
Bishops Court
Black Oak Crest
Black Oak Heights
Black Oak Hills
Black Oak Meadows
Black Oak Ridge
Blairwood
Blakewood
Blang Addition
Blueberry Hills
Bluegrass Court
Bluegrass Heights
Bluegrass Village
Bluff Point
Bonta Vista
Bonview Addition
Border Addition
Bowles Farm
Boxwood Hills
Braddocks Place
Bradford Acres
Bradford Place
Bradley Lake
Bradley Place
Bradshaw Gardens
Bramblewood
Brentmoor
Brentwood
Bretton Ridge
Brewer Estates
Briarcliff
Briarglen
Briarwood Estates
Bridgemore
Bridgewater
Brier Meadows
Brierley Heights
Brighton Farms
Brighton Park
Brittany Place
Brixworth
Brookfield Acres
Brookhaven
Brookmill Estates
Brookshire
Brookside Villas
Brooksong
Brookstone
Brookvale Estates
Brookwood
Brown Gap Villas
Brownlow Lofts
Brownvue
Bryson Place
Buckhaven
Buckhead
Buckhorn Woods
Buffat Trace
Bunker Hill
Burlington
Burnette Heights
Burnhurst
Burnt Chimneys
Burrier Farms
Cabot Ridge
Cain Ridge Estates
Calabrese Estates
Callahan Farm
Callaway Hills
Cambridge
Cambridge Woods
Camelot
Cameron Park
Campbell Creek
Campbell Station
Canby Hills
Candlewick
Candy Factory Condos
Canmore Place
Canterbury Hills
Canton Place
Cantrell Heights
Carlton Homes
Carlton Manor
Carollwood
Carpenter Ridge
Carriage Lane
Carrington Place
Carrolwood
Carter Mill
Carter Ridge
Casa Bella
Cascade Falls
Cascade Villas
Castle Heights
Castle Pines
Castlegate
Cavets Station
Cedar Bluff
Cedar Breeze
Cedar Chase
Cedar Crest
Cedar Crossing
Cedar Flats
Cedar Grove
Cedar Heights
Cedarchase
Cedarcrest North
Cedardale
Centeroak
Chadwick Place
Channel Point
Chanterelle Glen
Chaparral Trail
Chapel Hill
Chapman Heights
Charles Gambill
Charles Towne Landing
Charlton Park
Chase Trail
Chatam Ridge
Chatham Village
Chatsworth
Chenoweth Condos
Cherokee
Cherokee Bluff
Cherokee Peak
Cherokee Ridge
Cherokee Springs
Cherry Hill Park
Cherrybrook
Chesterfield
Chestnut Grove
Chestnut Hill
Chestnut Ridge
Cheville Addition
Chilhowee Court
Chilhowee Hills
Chips Crossing
Chlhowee Park Historic District
Choto Estates
Choto Farms
Choto Fields
Choto Mill
Chukar Station
Church Downs
Churchhill Addition
Churchhill Downs
Churchwells
Churchwells Oakhill Add.
Circle View
City Homes
Cityview at Riverwalk
Claiborne Place Addition
Clear Springs Plantation
Clearview Hills
Cleveland Park
Club Estates
Cobblestone Park
Coker Hill
Coker Hills
Cokers Addition
Colchester Court
Cold Springs Addition
Colonial Estates
Colonial Forest
Colonial Heights
Colonial Park
Colonial Village
Colonies
Colony Village
Commerce Lofts
Concord Farms
Concord Landing
Concord Villas
Concord Woods
Conners Creek
Cooper Meadows
Copperfield
Copperstone
Cora Henry Estate
Coram
Corryton
Cottages at Crippen
Cottages at Harvest Towne
Cottington Court
Couch Mill Estates
Country Club Estates
Country Corner
Country Meadows
Country Sites
Countryhill Estates
Countryside
County Club Estates
Court of Coventry
Cove Point
Cove Ridge
Coventry
Coventry Park
Covered Bridge
Cowans
Craig Cove
Craig Road Estates
Crawford
Creekside
Creekstone
Crest Brook
Crest Haven
Crestline
Creston Court
Crestwood
Crestwood Forest
Crestwood Heights
Crestwood Hills
Creswell Court
Creswell Park
Crippen Park
Crossfield
Crossroads
Crossroads North
Crossroads Way
Crossway Addition
Crown Court Condominiums
Crystal Lake
Crystal Springs
Cumberland Estates
Cumberland View
Cumberland Woods
Cutters Run
Dailey Heights
Daisys Landing
Dakota Hills
Dalton Place
Damaron
Dante Court
Dante Cove
Darnell
Davenport Farms
Davenport Heights
Davenport Homestead
David Park
Deadricks Addition
Dean Hill Estates
Deanbrook
Deane Hill Estates
Deep Woods
Deer Creek
Deer Run
Deerfield
Delle Meade
Dempster
Denton Place
Denwood
Derby Chase
Devanshire
Dodson
Dogwood Cove
Dogwood Gardens
Dogwood Heights
Dogwood Hills
Dogwood Manor
Dogwood Trails
Dogwood View
Dolltown
Dovington Estates
Downtown
Doyle Heights
Dunbarton Oaks
Duncan Villas
Duncan Woods
Duncans Landing
Durham Park
Dutch Valley Heights
Dutchtown Villas
Eagle Glen
Eagle Ridge
East Hills
East Towne Villas
Eastbrook
Eastwood Estates
Echo Valley
Ederol Heights
Edgehill Manor
Edgewater
Edgewood
Edgewood Heights
Edgewood Park
Edmonds Addition
Elbert Kitts Farm
Elizabeth Downs
Ellistown Estates
Elmwood
Emerald City
Emerald Pointe
Emerald Way
Emma Aults Addition
Emoriland Park
Emoriland Park Addn
Emory Acres
Emory Chase
Emory Estates
Emory Farms
Emory Fields
Emory Heights
Emory Park Historic District
Emory Pointe
Emory Rd
Emory Vista
Evans Gate
Evergreen Court
Evergreen Hills
Evian Tower Condos
Fair Garden
Fair Lawn
Fair Oaks
Fairgarden
Fairmount
Fairmount Park Addition
Fairoaks
Fairview Addition
Fairview Heights
Falcon Pointe
Falling Waters
Far View Hills
Farmington
Farmington West
Farragut Commons
Farragut Heights
Farrington
Farview Hills
Fenton Heights
Fieldstone Farms
Fire Street Lofts
Florence Gardens
Flowerland
Foothills Est.
Foothills Estates
Ford Valley Estates
Forest Landing
Forest Acres
Forest Brook
Forest Brook Park
Forest Heights
Forest Hills
Forest Hills Boulevard Historic District
Forest Landing
Forest Mill
Forest Park
Forest View
Forest Village
Forestdale Addition
Foresthill Acres
Forestwood Court
Forrest View
Forrestwood Court Condominiums
Fort Hill
Fort Sanders
Fort Sandes Historic District
Fountain City
Fountain City
Fountain City Heights
Fountain Gate
Fountain Heights
Fountain Park
Fountain Place
Fountain View
Fountaincrest
Fountainhead
Fourth and Gill Historic District
Fox Bend
Fox Chase Hills
Fox Creek
Fox Den Condos
Fox Den Villas
Fox Fire
Fox Hollow
Fox Landing
Fox Ridge
Fox Run
Fox Springs
Foxboro
Foxfield
Foxfire
Foxoboro
Francis Station
Franklin Creek
Franklin Hill
Franklin Station
Freemans Farm
Frenchs Place
Fugate Estates
Galbraith School Heights
Galewood
Gallaher Station
Gallaher View
Game Day Condos
Garden Valley
Gardner Grove
Garfield Estates
Gateway Addition
Gatewood
Gay Street Commercial Historic District
Georgetown
Gettysvue
Geyland Heights
Ghiradelli
Gibbs Drive Historic District
Gibson Terrace
Gilbert Estates
Gilbert Glen
Gilbert Lane
Gilbert Station
Gillenwater
Gills Addition
Gleason Commons
Gleason Court
Glen Arden
Glen Cove
Glen Dale Estates
Glen Ives
Glen Lake
Glen Ridge Gardens
Glen View
Glencree
Glendale Estates
Glenlake
Glenmay
Glenmora Grove
Glennwood Park
Glenridge Gardens
Glenview Estates
Glenwood Park
Glenwood Village
Golden Acres
Golden Hills
Golden Meadows
Golden Ridge
Goldenview
Goldsmith
Gossetts
Governors Landing
Governors Mill
Gracemont
Grand Meadows
Grandview
Grassy Valley
Grassy View
Gray Eagle Springs
Gray Oaks
Graybeal
Graybrook Park
Graysburg
Green Valley
Greenbriar
Greenbriar Unit
Greenbrook
Greenfield
Greenfield Add
Greenfield Court
Greenland Addition
Greenwood Forest
Greenwood Heights
Greyland Hills
Greystone
Greywood Crossing
Griffin Trace
Griffins Gate
Griffith
Griffith Place
Griffith Trace
Grigsby Gate
Gritzland
Grove Park
Grove Pointe
Gulf Chase
Gulf Park
Gulfwood
Hall Heights
Hallbrook
Halls
Hamilton House
Hamilton Place
Hampton Court
Hampton Hall
Hanfield Estates
Hannahs Grove
Harbor Cove
Hardin Fields
Hardin Valley Farms
Hardin Valley Woods
Harill Hills
Harmony Heights
Harrill Heights
Harrill Hills
Harrison Forest
Harrison Keepe
Harrison Springs
Hart Cove Landing
Harts Ridge
Harvest Grove
Hatcher
Havenwoods Addition
Hawks Landing
Hawks Nest
Hawthorne Heights
Hawthorne Place
Haynes Hills Addition
Haynesfield
Hazens Hill
Heather Heights
Hencks Addition
Henderson Bend
Hendrix Place
Henning
Henry Davenport Farm
Hensley
Heritage Oaks
Heritage Place
Heritage Woods
Herons Pointe
Hewgley Park Condominiums
Hialeah
Hickey
Hickory Brook
Hickory Heights
Hickory Hills
Hickorybrook in Raintree
Hidden Brook
Hidden Cove
Hidden Glen
Hidden Hills
Hidden Valley
Hidden View
Hiddenbrook
Higgins Place
High Gate at Lyons View
High Meadow
High Mesa
Highgate
Highgrove Gardens
Highland Condominiums
Highland Creek
Highland Heights
Highland Hills
Highland Homesites
Highland Park
Highland Point
Highland View
Highlands
Highlands at Northshore
Highpoint
Highvue Acres
Hill Dale
Hill View Farm
Hillcrest Addition
Hillshire of Whittington
Hillwood Heights
Holiday Hills
Holland
Holly Crest
Hollywood Hills
Holston
Holston Acres
Holston Heights
Holston Hills
Holston Meadows
Holston Park
Homestead
Honey Groves
Hoopers
Hope Meadows
Hopewell Estates
Hudson Addition
Hundred Oaks
Huntcrest
Hunter Estates
Hunters Creek
Hunters Crossing
Hunters Ridge
Hunters Trail
Hunting Hills
Hunting Ridge
Huntington Place
Ian Landing
Idlewood
Imperial Estates
Indian Crossing
Inglewood
Inskip Heights
Inverness
Inwood
Iris Glen
Ivybridge
Jackson Avenue Warehouse District
Jackson Pointe
Jackson Square
Jacksonian Lofts
James And Johnnie Bell
James Duncan Farm
Jefferson Park
Jenkins Creek
Jennifer Place
John Sevier Estates
Johnstone
Jones Farm
Joseph Gate
Joshua Place
Joshuas Landing
Karns Meadows
Kaye Crest Hills
Keeble Addition
Keeneland Heights
Kelsey Forest
Kendrick Place
Kenesaw Manor
Kenilworth Square
Kennon Park
Kensington
Kenwood
Kesterbrooke
Keystone
Kidder Court
Kimberlin Heights
Kincer Farms
Kings Valley
Kingsgate
Kingston Hills
Kingston Park
Kingston Pike Estates
Kingston Pike Historic District
Kingston Place
Kingston Woods
Kirby Glen
Kirkwood
Knollwood
Knottingham Forest
Knottingwood Forest
Knoxville College Historic District
Lake Cove
Lake Forest
Lake Glen
Lake Park Springs
Lake Plaza Condominiums
Lake Point
Lake Ridge
Lake Springs Addition
Lake Terrace
Lakemoor Hills
Lakemoor Village
Lakeridge
Lakeshire
Lakeshore Meadows
Lakeside Park
Lakewood
Lancaster Ridge
Landmark
Larkland
Laurel Hills
Laurel Oak Villas
Laurel Place
Laurel Station
Laurel Villas
Laurel Woods
Laurens Glen
Ledgerwood Heights
Ledgerwood Square
Legacy Park
Lennox Court
Lennox Place
Lennox View
Lerner Lofts
Lewisbrooke
Lincoln Park
Lincoln Park
Linda Heights
Lindsey Place
Lindy Heights
Linwood
Lippencott
Lochamore Hills
Loftwood Estates
Logans Court
Logans Landing
Lonas Heights
Longsdale
Longview Estates
Lonsdale
Lonus Drive
Loveland
Loveland Heights
Lovell Heights
Lovell Hills
Lovell View
Lovell Woods
Lowes Ferry Heights
Lucas Addition
Lucerne
Lyons Bend
Lyons Crossing
Lyons Head
Lyons Head Condo
Lyons Ridge
Madison Ridge
Madison Square
Magnolia Park
Magnolia Pointe
Magnolia Villas
Maitland Woods
Maitland Woods
Mallard Bay
Maloney Heights
Maple Chase
Maple Chase Condo
Maple Grove
Maple Hollow
Maple Lawn
Maple Ridge
Maple Run
Maple Square
Maple Valley
Maple View
Maples Glen
Maplewood
Marashi Heights
Marble Springs Estates
Marietta Addition
Mariners Pointe
Market Square Commercial Historic District
Marlee Park
Marris Farm
Martha Washington Heights
Marthas Vineyard
Martin Mill Heights
Mascarene Acres
Mascarene Hills
Mathis Bush Addition
Matthews Place Condos
Mayfield Addition
Maynard Farm
McCampbell Hills
McCleans
McClouds Landing
McKamey Park
McKenzie Meadows
McKinnons Ridge
McMahon Manor
McMillan Heights
Meadow Crest
Meadow Hills
Meadow Oaks
Meadow View Gardens
Meadow Wind
Meadowcrest
Meadows of Millertown
Mechanicsville Commons
Mechanicsville Historic District
Medlin Heights Addition
Melton Hills
Mendonhall Estates
Meredith Place
Meridian Heights
Merrywood
Metler
Micah Creek
Middle Brook Acres
Middlebrook Acres
Middlebrook Heights
Middlebrook Ridge
Middleridge
Midway Addition
Mill Creek Farms
Mill Run
Millers Plantation
Millertown Acres
Millington Park
Millstone
Mineral Springs
Minnis
Miroe Heights
Misty Pointe
Mitchells Addition
Mockingbird Hills
Montclair
Montgomery Cove
Monticello Addition
Montrose Court
Montwood
Moreland Heights
Morgan Addition
Morgan Place
Morningside Addition
Morrell Heights
Morris Estates
Moshina Heights
Moss Creek
Mount Olive Homes
Mount Pleasant
Mount Royal
Mountain Lake
Mountain Place
Mountain Shadow
Mountain View
Mountain Vista
Mourfield Estates
Mulberry Square
Murphy Hills
Murray Place
Nature View Condos
Neals Landing
Needham Addition
Neena
New Castle
Newcomb
Nicholas Crossing
Nicholas Landing
Nicholas Manor
Nicholas Park
Nicole Chase
Nine Oaks
Norman Addition
Normandy Chateau
North Hampton
North Hills Addition
North Hills Estates
North Meadows
North Pointe
Northampton Commons
Northbrook
Northeast Knox
Northern Heights
Northhampton
Northpark Addition
Northpointe
Northridge Acres
Northshore
Northshore Commons
Northshore Cove
Northshore Grove
Northshore Hills
Northshore Landing
Northshore Village
Northshore Woods
Northwest Hills
Norwood Heights
Norwood Hills
Norwood Meadows
Nottingham Estates
Oak Chase
Oak Forest
Oak Grove
Oak Grove Heights
Oak Hill
Oak Park
Oak Springs Crossing
Oak Springs Villas
Oakdale Ridge
Oakland
Oakland Park
Oakleigh Estates
Oakmont
Oakwood
Old Colony Village
Old French Estates
Old Mechanicsville
Old Mill Crossing
Old North Knoxville Historic District
Old Westmoreland
Olde Colony Village
Opportunity Ridge
Orchard Creek
Orchard Hills
Orchid Hills
Overbrook
Overhill
Overlook Estates
Oxmoor Hills
Painter Farms
Pallisades Condos
Panorama Condominiums
Panorama Condos
Papermill Addition
Paradise Ridge Estates
Paradise Valley
Park City Historic District
Park Homes
Parkridge
Parkview
Parkway Heights
Parkway Manor
Parkwood Manor
Patterson Cottages
Paul A Kinzer
Peach Grove
Peach Tree Farms
Pebble Stone
Pebblestone
Pelham Park
Pelleaux Estates
Pemmbrooke
Pendelton Place
Peppertree Estates
Pershing Hill
Peterson Place
Pheasants Glen
Pickett Place
Piedmont
Pine Dell
Pine Grove
Pine Hurst
Pine Meade
Pine Ridge Crossing
Pine Springs
Pine View Park
Pinebrook
Pinecrest
Pineview Park
Piney Grove Woods
Pittman Place
Plantation Hills
Plantation Oaks
Plantation Springs
Pleasant Acres
Pleasant Hill
Pleasant Ridge
Pleasant Ridge Estates
Pleasant Ridge Park
Pleasant Trace
Pleasant View Height
Pleasant View Heights
Pleasent Ridge Estates
Pleasent View
Plumb Creek
Plummer Hills
Polo Club
Poplar Place
Potomac Place
Powell
Prestwick Ridge Apartments
Promontory Point
Providence Park
Quail Run
Racquet Club Villas
Ragsdale Addition
Raintree
Raleigh Court
Rambling Acres
Ramsey
Ramsgate
Randy Place
Ravenbrook
Ravenwood
Reagan Woods
Reagans Landing
Rectors
Red Bud Hills
Reece Mills
Regal Ridge
Regency Heights
Remington Ridge
Renaissance
Rennboro
Residences at Market Square
Rhodes Hill
Richland
Richland Colony
Richmond Heights
Richmond Hills
Ridge Creek
Ridgefield
Ridgeland
Ridgewood Heights
Rivendell
River Club
River Oaks
River Place
River Shores
River Sound
River Towne Condos
River View Gardens
Riverbend
Riverchase
Rivercrest
Riverdale
Riverdale Heights
Riverdale Historic District
Rivergate Estates
Rivermist
Riverside Condos
Riverview Estates
Riverview Gardens
Riverview Terrace
Roback Estates
Robin Heights
Robinson Ridge
Rock City
Rockwell Farm
Rocky Hill
Roefield Manor
Rohar Acres
Rolling Acres
Rolling Heights
Rolling Place
Rolling Ridge
Rosedale Addition
Rosewood
Rotherwood
Royal Court
Royal Knox
Royal Oaks
Royal Springs
Rudder Falls
Rudder Valley
Rushland Park
Saddle Ridge
Saddlebrooke
Sailview
Saint Andrews
Saint Charles
Saint Croix
Saint Ives
Sands Pointe
Sandstone Court Condos
Sara View
Saybrook Village
Scenic Crest
Scenic Hills
Scott Oakhill
Scotts Oak Hill
Scotts Park
Seaver
Sedgefield
Sequoyah Gardens
Sequoyah Hills
Sequoyah Square
Serenity River
Serentiy Hills
Settlers Pond
Seven Oaks
Seven Springs
Sevenoaks
Sevier Heights
Sevier Highlands
Shadow Creek
Shadow Path
Shadowbrook
Shadowood
Shady Oak
Shalimar
Shanandoah Hills
Shangri-La Hills
Shannon Valley Farms
Shawnee
Sheafields
Shenandoah Hills
Sherman Oaks
Sherwood Forest
Sherwood Oaks
Shiloh Gardens
Shoreline Estates
Silver Chase
Silver Creek
Silverbrook
Silverdale
Silverstone
Simpson Heights
Skyland Park
Skyland Park Add
Smallwood
Smoky River
Snyder Ridge
Solar Hills
Solomons Place
South Cedar Bluff
South Creek
South Doyle
South Forest
South Haven Hills
South Heights
South Hills
South Markey Historic District
South Oak
South Pointe
South Ridge Heights
South View Acres
Southbrook
Southern Shade
Southern Terminal and Warehouse Historic District
Southhills Addition
Southland Park
Southridge
Spanish Trails
Spradlin Place
Sprankles
Spring Hill Villas
Spring House
Spring Place
Spring Ridge
Springfield
Springplace
Springvale
Stephens Landing
Sterchi Hills
Sterchi Park Condos
Sterchi Village
Stewart Ridge
Still Meadows
Stillbrook
Stone Wood Hills
Stonebridge Gardens
Stonebrook
Stonebury Court
Stonecrest
Stonehaven
Stonehenge
Stoneridge Gardens
Stonewall Villas
Stonewood Hills
Stoney Point Farm
Stony Point Meadows
Stratford Park
Strawberry Hills Estates
Suburban Hills
Sullins Ridge
Summer Hill
Summer Place
Summer Rose
Summerhall
Sumter Hills
Sunny Hill
Sunny Slope
Sunnyview
Sunset Cove
Sunset Hills
Sunset Park
Sunset Ridge
Sutherland Heights
Sutherlands Condominiums
Sweet Briar
Sweetbriar
Sylvania Heights
Tanglewood
Tansie View
Tatewood
Taylors View
Tazewell Pointe
Tecumseh Hills
Tekoa Village
Temple Acres
Temple Terrace
Templeton Court
Templeton Gardens
Tenwood
Terra Verde
The Anchorage
The Anthem
The Breakers at Riversound
The Colonies
The Cottages at Dogwood
The Elms
The Enclave
The Gallery Lofts
The Gazebo at Waterford Cove
The Glen at Hardin Valley
The Highlands at Northshore
The Holston
The Livery
The Manor at Glen Abbey
The Meadows
The Phoenix
The Preserve at Gleason
The Quarry at Keller Bend
The Racquet Club
The Summit at Rocky Hill
The Willows at Hardin Valley
The Woodlands
The Woods at Bluegrass
The Woods at Montgomery Cove
The Woods of Dunbarton Oaks
Thomas Court
Thompson Trail
Thompsons Place
Thornton Heights
Three Points Landing
Tidewater
Tierra Verde
Tillery Place
Tillery Square
Timbercrest
Timberidge
Timberlake Estates
Tippit Village
Tipton Station
Tooles Bend
Topside
Torbett Addition
Tower Heights
Trails End
Treeland
Trentville Ridge
Trey Oaks
Treybrooke Village
Treymour Village Condos
Triple Springs
Turkey Creek Woods
Turnberry
Turning Leaf Trails
Turtle Point
Twin Brooks
Twin Creek
Twin Pines
Twin Springs
Tyrrell
University Towers
Upland Close
Urban Park Condos
Urban Park Villas
Valley Green Estates
Valley Ridge
Valley View
Valleytowne Village
Vandiver
Vanosdale Place
Vestal Heights
Victor Heights
Victorias Inlet
Victorias Landing
View Park Pointe
Villa Gardens
Village at Avery
Village at Beaver Brook
Village at Roefield
Village at Saddlebrooke
Village at Timberlake
Village Gardens
Villas at Cove Ridge
Villas at Forest Brook
Villas at Lyons Crossing
Villas of Wellsley Park
Vineyard Crest
Vineyards Addition
Vista Gardens
Wahli Addition
Waldenwoods
Walker Tract
Walkers Gate
Walkers Reserve
Wallace Hills
Wallingford Estates
Walnoaks
Walnut Grove
Walnut Hills
Walnut Ridge
Walters Landing
Washington Heights
Wassman
Water Place
Waterford
Waterfront Bh
Waters Edge
Waterside
Waverly Court
Waynesboro
Weatherly Hills
Weatherstone
Wedgewood Hills
Weisgarber Heights
Welker Prop
Wellington Chase
Wellington Woods
Wells Creek
Wellshire
Wellsley Park
Wesgate Downs
Wesley Heights
Wesley Place
Wesley Ridge
West Adair Addition
West Adair Heights
West Adair Hills
West Forest
West Grove
West Hampton
West Haven Village
West Hills Estates
West Hills Park
West Oaks
West Pines Estates
West Towne Estates
Westborough
Westbrooke
Westbury
Westchase
Westchester
Westcliff
Western Hills
Westfield Acres
Westgate
Westhampton
Westhaven
Westland Acres
Westland Court
Westland Crossing
Westland Forest
Westland Lakes
Westland Manor
Westland Meadows
Westlyn Hills
Westminister Ridge
Westminster Place
Westminster Ridge
Westmoreland
Westmoreland Estates
Westmoreland Heights
Westmoreland Hills
Westop
Westridge Meadows
Westshore
Westville
Westwood
Wexford Downs
White Creek
White Oak Heights
Whites Creek Woods
Whittle Heights
Whittle Springs
Whittney Place
Wildtree
Wildwood Gardens
Wildwood Villas
Wilkesboro
Wilkshire Estates
Williamsburg Manor
Williford
Willow Bend Estates
Willow Brook
Willow Creek
Willow Oak
Willow Place Condos
Wilson Heights
Wimbledon
Windcrest
Windermere
Windfield
Windrush
Windsong Condos
Windsong Mountain Estates
Windsor Park
Windtrace
Windtree Oaks
Windy Hill
Wisteria Plantation
Wittenburg
Wood Crest Village
Wood Run Estates
Wood Song
Woodand Park
Woodbrook
Woodcreek Reserve
Woodcrest
Wooddale Acres
Woodfield
Woodfield Park
Woodford Reserve
Woodhaven
Woodland Acres
Woodland Heights
Woodland Park
Woodland Reserve
Woodland Springs
Woodland Terrace
Woodland Trace
Woodlawn Gardens
Woodlawn Heights
Woodlawn Park
Woodlawn View
Woodmere
Woodpointe
Woodridge
Woodson Trail
Woodvale
Wrens Creek
Wrens Crossing
Wrenwood
Wrights Ferry Landing
Wyndham Pointe
Wyngate
Yarnell
Yellowstone
Yorkshire Hills
Youngs Addition
February, 1792 has been accepted generally as the date of the establishment and laying off of Knoxville, but as to the exact time much confusion exists. The two oldest and most widely known historians of the state, Haywood and Ramsey, make contradictory statements, each in his own work. Speaking of the Knoxville Gazette, Haywood calls attention to the name and date of the paper, alleging, however, that "Knoxville was not laid off till February, 1792." Farther on, citing the act of the territorial legislature establishing Knoxville, he says, "which had been laid off by Col. James White in the year 1791." Ramsey, speaking of the Gazette, says: "In February of the next year (1792) Knoxville was laid off by Col. White," yet farther on he says: "Some of the lots were sold in 1791, but no considerable improvement was commenced until February of 1792, when several small buildings were erected." The semi-centennial of Knoxville was celebrated February 10, 1842, the date having been arbitrarily fixed. On this occasion the late Dr. Thomas W. Humes was the orator. In the appendix to his published address is a letter from Hugh Dunlap to E. G. Eastman, then editor of the Knoxville Argus, in which he says: "I am the only man, whom I know to be alive, who was living there when the lots were laid off. In February, 1792, Col. Charles McClung surveyed the lots and laid off the town. I do not recollect on what day of the month . It excited no particular interest at the time."
The beginnings of Knoxville lay in White's Fort, which was founded by Col. James White upon the extreme border land of the Indian country. He had entered the region thereabout as payment for his services in the Revolutionary war. To reward the valor and heroism of her officers and soldiers in that war, North Carolina gave of her immense domain westward large grants of land for their services, reserving only as hunting grounds for the Cherokee Indians the region included within the Tennessee, French Broad, and Big Pigeon rivers, east to the North Carolina line and south to that of Georgia. Immediately after the passage of this act by the North Carolina legislature, in 1783, James White, in company with Robert Love, F. A. Ramsey, who was a practical surveyor, and others, began an exploration to select the most advantageous regions open for the location of land warrants. This party, beginning its work on the French Broad river not far from where Newport now stands, followed its valleys southwestward to the mouth of Dumplin creek, where they crossed over into the lands lying between the French Broad and Holston rivers. Crossing the Holston several miles above the present site of Knoxville and entering Grassy valley, they examined the lands adjacent to the Holston as far as its confluence with the then Tennessee river, opposite the present Lenoir City, thus passing through the territory which was to include the future Knoxville. It is maintained that this exploration was continued as far down the river as Southwest Point, now Kingston.
With the passage of the act of the North Carolina legislature in May, 1783, for the sale and disposition of western lands and with the entry of much of these by May, 1784, in the land office at Hillsboro, the strong tide of emigration from North Carolina poured into what is now Tennessee, thus counterbalancing that influx of population which had hitherto flowed from Virginia. Returning to his North Carolina home Col. White made preparation to move. In 1784 he went to Fort Chiswell, Virginia, where he made a crop. By 1785 he had settled in the new territory. His temporary abode was four miles above the junction of the Holston and French Broad rivers, where he remained only one year. In 1786, joined by an old neighbor and fellow-soldier, James Connor, likewise of Rowan, now Iredell, county, North Carolina, he moved thence, following the water courses downward, and established himself on the north bank of the Holston below the confluence of the two rivers. Here, several hundred yards from the Tennessee River, he built his cabin and fort. Beauty of situation, availability of water power, proximity to numerous springs, and other natural advantages rendered the spot peculiarly attractive. The first clearing, according to tradition, was on ground that now includes the site of the First Presbyterian church, though the monarch trees near by would seem to question the correctness thereof. The cabin, one and a half or two stories high, was erected north of the clearing, between the present Union and Commerce streets. Having regard to the purposes of defense, it stood at one corner on a quarter of an acre of ground quadrangular in shape. Three other cabins not so pretentious occupied the other angles, and were connected therewith by heavy stockades eight feet high, provided with port-holes well arranged for defense. More recent writers upon local history disconnect the fort or blockhouse and the cabin, placing the former on or between the sites of the Palace Hotel and the Hampden Sydney School and the latter on the present site of Mrs. Jane Kennedy's residence, just back of the Imperial Hotel.
William Rule, editor, George F. Mellen, Ph.D. and J. Wooldridge, Collaborators, Standard History of Knoxville, Tennessee, The Lewis Publishing Company, Chicago, 1900.
---