Adair Gardens Historic District
Post Office: Knoxville
Zip Code: 37918
---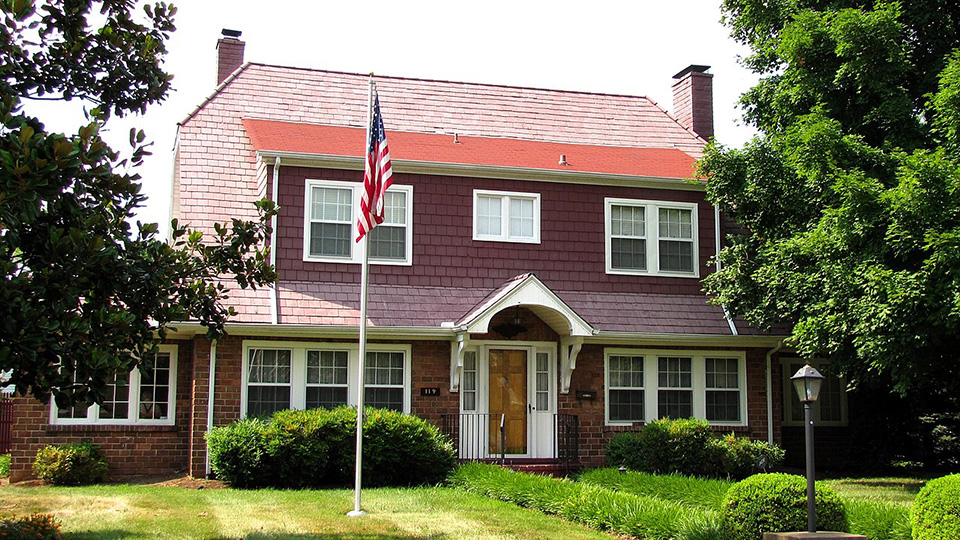 Photo: House at 119 Adair Drive in the Fountain City community of Knoxville. The Adair Gardens Historic District was listed on the National Register of Historic Places in 1994. Photographed by User:Brian Stansberry (own work), 2010, [cc-3.0], via Wikimedia Commons, accessed October, 2023.
---
The Adair Gardens Historic District [†] encompasses part of five blocks that face Adair Drive, Coile Drive, and Rose Drive, in north Knoxville. The primary streets run east from Broadway, which is a major traffic arterial. Forty-five primary properties make up the district, with the district boundaries at the back property lines north of Adair Road and south of Rose Drive. The district slopes up from Broadway, with the roads in a fairly rectangular pattern that was platted in 1920, when the area was developed as the Adair Gardens Subdivision. Surrounding residential areas contain properties that are newer, have been altered so that they retain little integrity, or differ in character because they are commercial properties constructed recently.
Development of the Adair Gardens Historic District follows the pattern for streetcar suburban growth as outlined in the Property Type Suburban Growth and Development of Knoxville and Knox County, 1870-1940. The district shows a transition between dependence on streetcar (see streetcar suburbs) transportation and the private automobile (see early automobine suburbs). The buildings in the district are primarily single family dwellings, which occupy relatively small lots with mature landscape plantings. Nearly all secondary structures are private garages, with some of the residences having contemporary associated garages, since Adair Gardens was a transition area developed partially as a streetcar and partially as an automobile suburb. Adair Gardens remains primarily residential in use, with only two or three houses located adjacent to commercial property on Broadway now being utilized for offices.
Houses in the district are of frame construction, with the majority being one to one and one-half stories in height. The most common wall covering is brick veneer, although some stucco and wood shingles are present. The secondary structures are also frame, usually of weatherboard, but sometimes covered in brick veneer.
Adair Gardens contains one of Knoxville's best examples of lower middle class suburban development, with the preponderance of Tudor Revival and Minimal Traditional
Adair Gardens was platted in 1920 as the Adair Gardens Subdivision. Its western terminus on Broadway, the location of streetcar tracks, and later bus lines, made it attractive as a commuter suburb. Later emphasis on the automobile also focused on Broadway, a major traffic arterial in Knoxville, so that construction was continuously encouraged. The portion of the residential development included in this nomination is the first subdivision in the area, and includes the houses that were constructed as part of the first flush of development. The houses in Adair Gardens were built for speculation. The area bordering the district and separated by streets were subdivided after Adair Gardens.
The district illustrates architectural development in Knoxville and Knox County in the first quarter of the twentieth century. Buildings date from circa 1920 through circa 1930, and reflect the Tudor Revival, Colonial Revival and Neoclassical styles prevalent for that time period. Aerial photographs made for the Tennessee Valley Authority in 1935 show most of the structures had been constructed by that time. The houses present an attractive and distinctive entity. Their distinctiveness is reinforced by their massing, and use of common materials such as brick veneer.
There are many subdivisions that began during this period of Knoxville's history. However, only a few were developed fully enough to present a unified appearance and only a few were developed with the uniformity of scale and building materials that make Adair Gardens such a distinctive representation of the smaller housing built for this era. Early residents of the area included salesmen, teachers, service employees, bookkeepers, and laborers. The district clearly illustrates the trend away from development on mass streetcar transportation, and towards reliance on the automobile, yet its street layout reflects the streetcar form of subdivision, with long rectangular blocks and a grid street pattern, unlike other automobile-oriented subdivisions. These attributes make it distinctive in Knoxville's built environment.
Street Names
Adair Drive • Broadway • Coile Drive • Rose Drive
---