Media Borough
Media Borough offices are located at 301 North Jackson Street, Media, PA 19063.
Phone: 610‑566‑5210.
---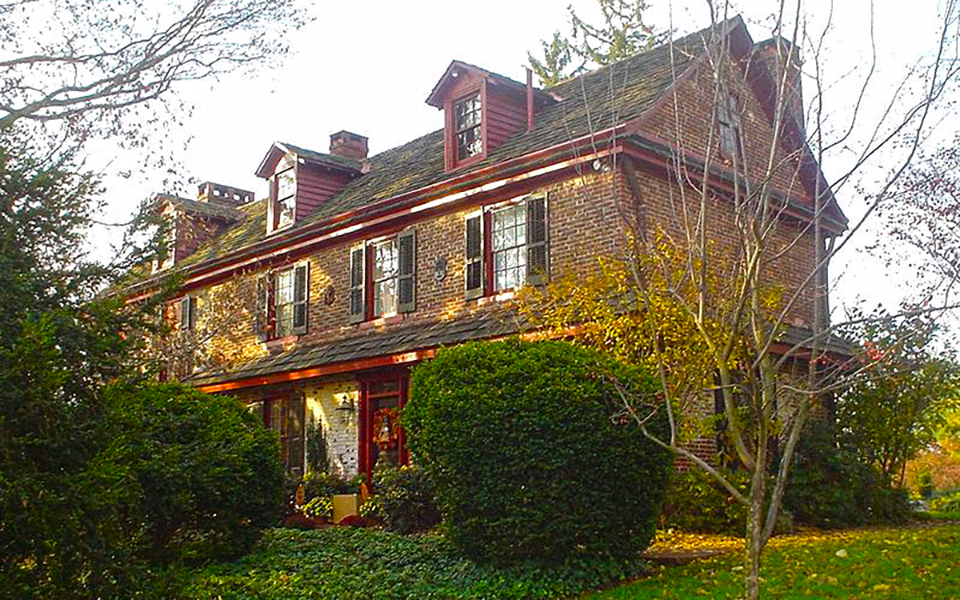 Photo: Chamberlain-Pennel House, circa 1822, located at U.S. Route 1 at Valley Brook Road, Media. Listed on the National Register of Historic Places in 1977. Photographer: wikipedia username: Smallbones, 2009, public domain; accessed November, 2021.
---
Neighborhoods
Bowling Green
Christie Condominiums
Granite Run
Hickory Hill
Hickory Valley
Holly House
Jefferson Square
Oakmont Mews
Plum Street Villas
Trinity Walk
West End Walk
Media Borough [†], a municipality of approximately three‑quarters of a square mile, is located at the center of Delaware County and has served as the County seat since the time of its establishment in 1850. The Borough shares borders with Upper Providence and Nether Providence Townships, though it is located within three miles of several other municipalities, including Middletown, Marple and Springfield Townships, and Rose Valley and Swarthmore Boroughs. The Borough is approximately 20 miles from Center City Philadelphia and Wilmington, Delaware by motor vehicle.
Media is connected to its neighboring municipalities, Delaware County, the Philadelphia region and beyond through an extensive transportation network. Interstates 95 and 476 ("The Blue Route"), as well as U.S. Route 1 and Baltimore Pike serve residents and visitors for local and regional trips. Additionally, the Borough has some of the best access to public transit in the region, with proximity to SEPTA Regional Rail, bus lines, and the 101 trolley that bisects State Street en route to the 69th Street Transportation Center.
The Borough is defined by the distinct character of its residential and business districts. Walkable neighborhoods, a variety of shopping and dining options and an employment base in the public, private and nonprofit sectors make Media virtually a self-sufficient community, and it is this bustling, small-town atmosphere that attracts visitors from across the region to the business district.
The economy of the Borough is buoyed by a wide range of government, professional and service sector jobs, with an employment count that may be twice as large as the number of Borough residents. The role of Media as the county seat in Delaware County helps the Borough maintain a significant daytime population of workers and visitors, served by the multitude of retail shops, services and dining establishments located along Baltimore Avenue and State Street in the central business district. This mix of businesses separates Media's economy from other neighboring municipalities. Community events such as "Dining Under the Stars" a weekly restaurant event, attract area residents to the downtown of Media on summer nights and weekends.
Additionally, other events, theater and diverse culture encourage the involvement and engagement of the greater Media community. Numerous Borough-sponsored and nonprofit organizations and committees coordinate Borough events and initiatives, including numerous types of art festivals, Fair Trade practices (Media is the first "Fair Trade" town in the U.S.) and sustainable living. Media's inclusive appeal as "Everybody's Hometown," and its high level of civic engagement attracts residents from neighboring communities to become involved in local organizations and events.
† Media Borough Comprehensive Plan, 2015, www.mediaborough.com, accessed January, 2021.
Nearby Towns: Aston Twp • Bethel Twp • Brookhaven Boro • Chester City • Chester Heights Boro • Chester Twp • Clifton Heights Boro • Darby Twp • Eddystone Boro • Edgmont Twp • Glenolden Boro • Greenwich Twp • Haverford Twp • Lower Chichester Twp • Marple Twp • Middletown Twp • Morton Boro • Nether Providence Twp • Newtown Twp • Norwood Boro • Parkside Boro • Prospect Park Boro • Radnor Twp • Ridley Park Boro • Ridley Twp • Rose Valley Boro • Royersford Boro • Rutledge Boro • Springfield Twp • Swarthmore Boro • Trainer Boro • Upland Boro • Upper Chichester Twp • Upper Darby Twp • Upper Providence Twp • Willistown Twp •
---