New Britain Township
New Britain Township municipal offices are located at 207 Park Avenue, Chalfont PA 18914.
Phone: 215‑822‑1391.
---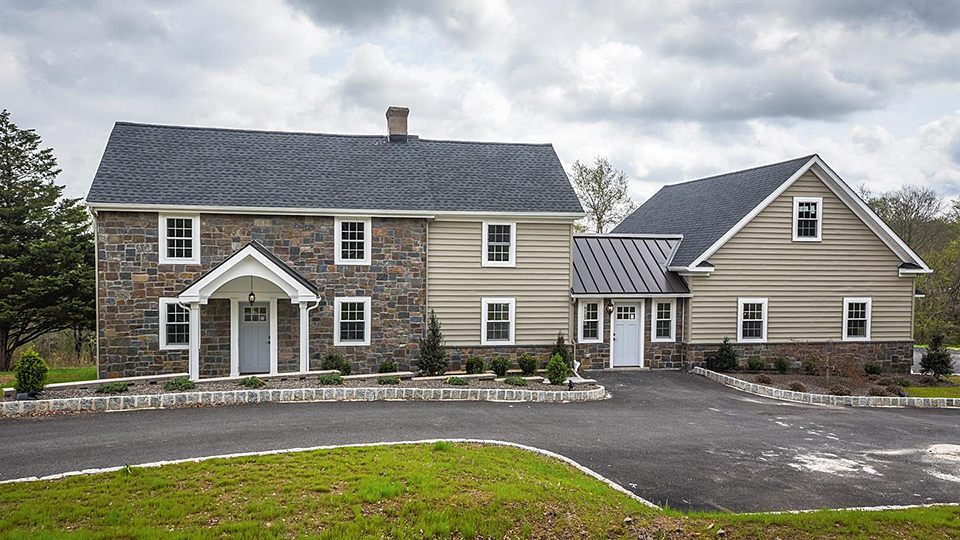 Photo: Circa 1875 Colonial on South Limekiln Pike sold by Keller Williams Real Estate, Yardley, PA. [ The Mary Ann O'Keeffe Team, Realtors ]
---
Neighborhoods
Avallon at Moyers
Cedar Lea
Colebrook
Fox Pond
Fox Run
Glen Eagles
Green Valley
Highland Farms
Hunters Run
Julius Farm
New Britain Woods
Tower Hill
When organized as a township in the early 1700s, New Britain contained what is now Chalfont Borough, New Britain Borough, and parts of Doylestown Township. The township was slow to settle and develop, primarily because many of the large landholdings were owned by people who did not settle in the area. By 1720 the large land parcels began to be subdivided, bought primarily at first by Welsh Baptist settlers from Philadelphia. Famous early settlers included Daniel Boone's parents. The township was incorporated in 1723.
The township contains traces of five historic villages: Fountainville (intersection of Swamp [route 313] and Ferry Roads), Line Lexington (formerly 'Middletown,' County Line Road and Hilltown Pike), Naces Corner (Stump and Upper Church Rd), New Galena (New Galena and Old Limekiln Rd), and Newville (New Galena Rd and Limekiln Pike [Route 152]).
The focal point of the township is Peace Valley Park which is home to Lake Galena ... man-made following the "lead rush" of the 1860s.
Nearby Towns: Chalfont Boro • Doylestown Boro • Doylestown Twp • Dublin Boro • Hatfield Twp • Hilltown Twp • Montgomery Twp • New Britain Boro • Plumstead Twp • Silverdale Boro • Warminster Twp • Warrington Twp • Warwick Twp •
---