Milford Township
Milford Township municipal offices are located at 2100 Krammes Road, Spinnerstown PA 18968.
Phone: 215‑536‑2090.
---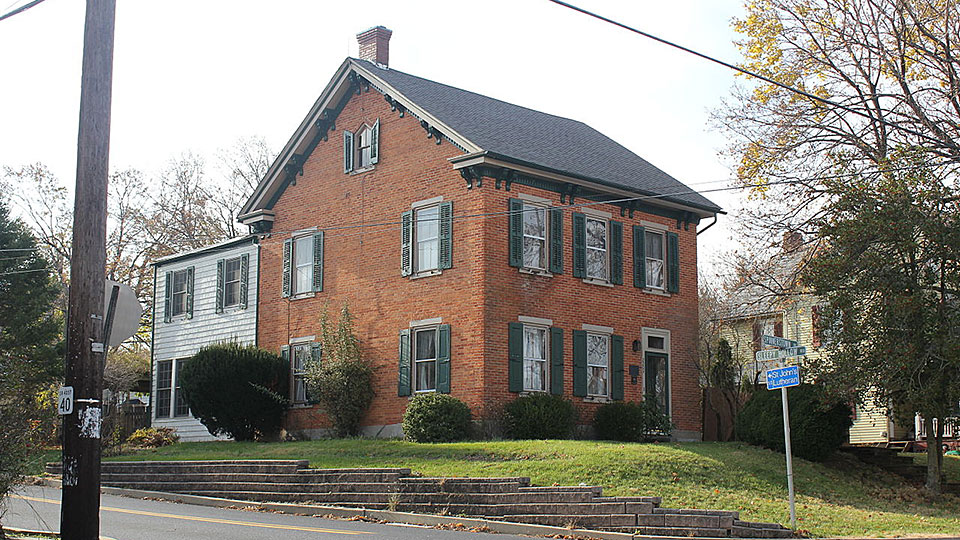 Photo: Spinner House, circa 1860, located at Spinnerstown and Sleepy Hollow Roads, Milford Township. Listed on the National Register of Historic Places in 1979. Photographed by User:PattiParker (own work), 2012, [cc-3.0], via Wikimedia Commons, accessed February, 2023.
---
Concentrations of older homes are found along Allentown Road, Baumans Road, Geryville Pike, Kumry Road, Milford Square Pike, Old Bethlehem Pike, Spinnerstown Road and Weiss Road.
It is believed the name Milford arose from the large number of mills and fords located on the township's several streams. The area's first settlers, aside from the Indian tribes, were Mennonites who came here around 1712 or earlier from Germany. William Penn sent English and Welsh people to live here and they were later joined by Lutheran and Reformed people from the Palatenate in Germany and Swiss and French Huguenots. The township is comprised of the villages of Brick Tavern, Finland, Geryville, Milford Square, Mumbauersville, Spinnerstown, and Steinsburg. The town of Trumbauerville located in the center of the township is an independent borough and is not now considered to be part of Milford Township.
Source: Milford Township Historical and Preservation Society, PO Box 73, Spinnerstown PA 18968; 215-538-8101.
Neighborhoods
Blackledge Estates
Countryside Estates
Crossings of Bucks County
Emerald Hollow Estates
Oak Knoll
Parkview
Quakertown East
Quakerview Mhp
Quakerview Mhp
Rosedale
Nearby Towns: Coopersburg Boro • East Greenville Boro • Green Lane Boro • Lower Milford Twp • Marlborough Twp • Pennsburg Boro • Quakertown Boro • Red Hill Boro • Richland Twp • Richlandtown Boro • Salford Twp • Telford Boro • Telford Boro • Trumbauersville Boro • Upper Frederick Twp • Upper Hanover Twp • Upper Milford Twp • Upper Salford Twp • Upper Saucon Twp • West Rockhill Twp •
---