Yardley Hunt
School District: Pennsbury
Post Office: Yardley
Zip Code: 19067
Builder(s): Toll Brothers, K Hovnanian
Elementary School: Afton
---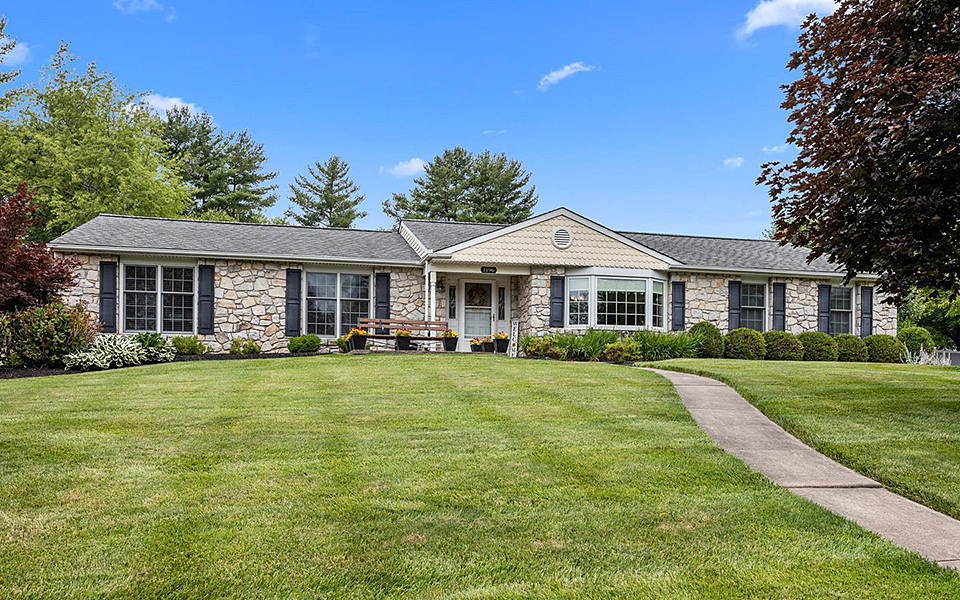 Photo: Circa 1976 Ranch on Dickinson Drive sold by Keller Williams Real Estate, Yardley, PA. [ The Mary Ann O'Keeffe Team, Realtors ]
---
Yardley Hunt is a residential subdivision of approximately 600 detached, single family homes built primarily by Toll Brothers from 1976 through 1988. About 40 of the homes are Ranch style; they are located on Buford Drive, Clark Drive, Gayes Circle, Hudson Drive, Hudson Drive, Madison Drive, Morgan Drive, Pickering Drive, Randolph Drive, Revere Road, Sumter Drive, Ward Drive, and Wayne Circle. The remainder are 2 story colonials.
Typical homes have 4 to 5 bedrooms with 2‑1/2 to 3‑1/2 baths. Lot sizes range from 1/4 to 1 acre with a median of slightly more than 1/3rd acre. Approximately 1 in 5 homes have inground swimming pools. Most of the homes have 2‑car attached garages. About 5% of the homes have a 3‑car garage.
Lot frontage ranges from 100 to 200-plus feet (100 ft. median).
Homes were constructed from the late 1960s through the mid 1980's. (circa 1980, median age)
The Covered Bridge subdivision which was begun by K. Hovnanian about 1979, is today generally recognized as being part of Yardley Hunt.
The majority of the homes have 4 bedrooms, with some 3 bedroom and some 5 bedroom models to be found.
Numerous mature trees, wide streets and setbacks provide a nice blend of privacy and community.
Models include Ranches, Colonials, and Split Levels.
The subdivision was built in phases which were given names, including: Bridle Path, Winner's Circle.
Access to the Yardley Hunt neighborhood is onto various streets from Edgewood Road, Sandy Run Road and Langhorne-Yardley Road.
Nearby: Lower Makefield Municipal Complex which includes administrative offices, Bucks County public library, swimming pool, ball fields, and childrens' playground.
Nearby Neighborhoods
Street Names
Adams Circle • Buford Drive • Canterbury Drive • Clark Drive • Clinton Drive • Colony Way • Dawes Drive • Dekalb Drive • Gates Circle • Hale Drive • Hamilton Drive • Hancock Drive • Henry Drive • Hudson Drive • Knox Circle • Knox Drive • Lee Circle • Lexington Drive • Madison Drive • Monroe Drive • Morgan Drive • Patriot Drive • Pickering Drive • Putnam Road • Quincy Drive • Randolph Drive • Revere Road • Salem Court • Stark Circle • Sumter Drive • Ward Drive • Wayne Circle • Winthrop Drive
Models / Floorplans: Alexander, Andover, Aspen, Bedford, Bennington Tudor, Concord, Danford, Essex, Foxcroft, Georgetowne, Henley, Lexington, Oxford, Oxford Colonial, Oxford Federal, Provincial, Randolph, Stratford, Uxbridge Federal, Uxbridge Provincial, Uxbridge Tara, Windsor
---