Bolton Mansion
School District: Bristol Township
Post Office: Levittown
Zip Code: 19055
---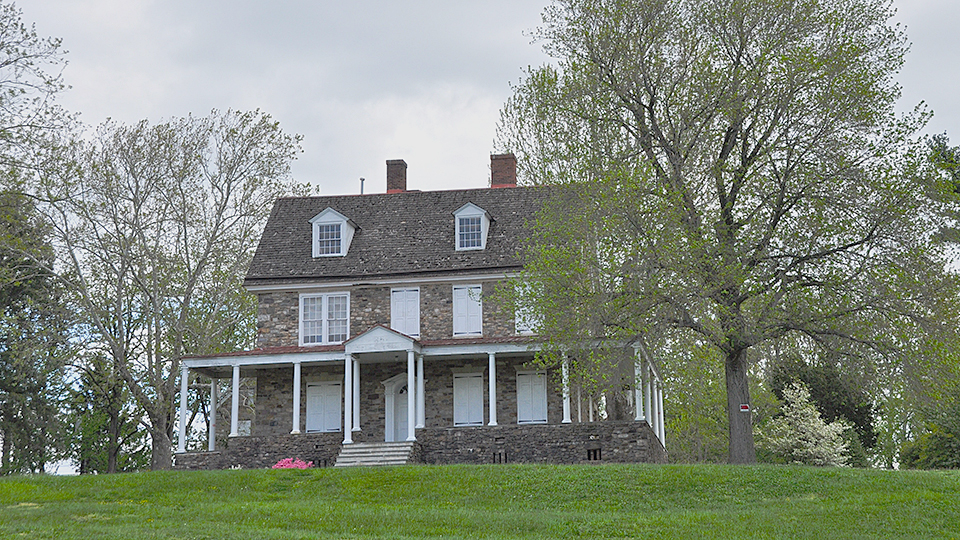 Photo: The historic Phineas Pemberton House (Bolton Mansion), circa 1687, located on Holly Drive in Levittown.. Listed on the National Register of Historic Places in 2972. Photographed by User:Magicpiano (own work), 2012, [cc-4.0] via Wikimedia Commons, accessed June, 2021.
---
Bolton Mansion (also known as the Phineas Pemberton House) was entered onto the National Register of Historic Places in 1971. Portions of the content on this web page were adapted from a copy of the original nomination document.
The Bolton Mansion, consisting of four connected structures, was begun in 1687 and completed in 1790. The earliest portions of the house are located to the rear of the 1790 front section. The rear wing consists of Phineas Pemberton's 1687 house, a later enlargement and a section connecting the rear wing to the main house. This two-story wing was constructed of rubble fieldstone and has brick chimneys. One is located in the middle while the other is situated at the end farthest from the main house. Fenestration consisted of a dormered roof, four six-over-six small paned windows on the second floor, and four six-over-six windows on the first floor.
The main section, completed in 1790 by descendants of Phineas Pemberton, is a late Georgian country mansion. The house is an excellent example of the transition from Georgian to the Neo-Classical style. This two-story four bay building has a gambrel roof and is constructed of semi-dressed fieldstone. On the first floor there are two chambers on either side that are bisected by a central hall. The fenestration consists of a dormered roof, four six-over-six small paned windows on the second floor, and three six-over-six windows on the first floor. This lack of symmetry denotes alterations. The windows are trimmed with stone arches with central keystones. The entrance is pedimented with a fan transom (destroyed) and with pilasters with Doric capitals. The chimneys are no longer standing. The original woodwork and small-paned windows were destroyed.
Bolton Mansion, named for a location in England, was the second home of Phineas Pemberton. Pemberton had a profound impact on the settlement of Pennsylvania and Bucks County. His talents and responsibilities in shaping a government in the wilderness were a great help to William Penn. Pemberton took an active interest in public affairs on both the state and county levels. His was a member of the provincial council 1685-1687, 1695, 1697-1699. He served as a member of the Assembly in 1689, 1694, 1698 and 1700. During the 1698 term Pemberton served as Speaker of the Assembly. In 1701 he was a member of Penn's council of state.
Pemberton was also involved in the affairs of early Bucks County. He served as Register of Wills, Recorder, and Clerk of the courts. For a time he held the positions of Master of Roles, Register General, and Recorder of Proprietary Quit Rents for the province.
Nearby Neighborhoods
Street Names
Holly Drive
---