Waterville City
Waterville City Hall is located at 25 North Second Street, Waterville, OH 43566.
Phone: 419‑878‑8100.
---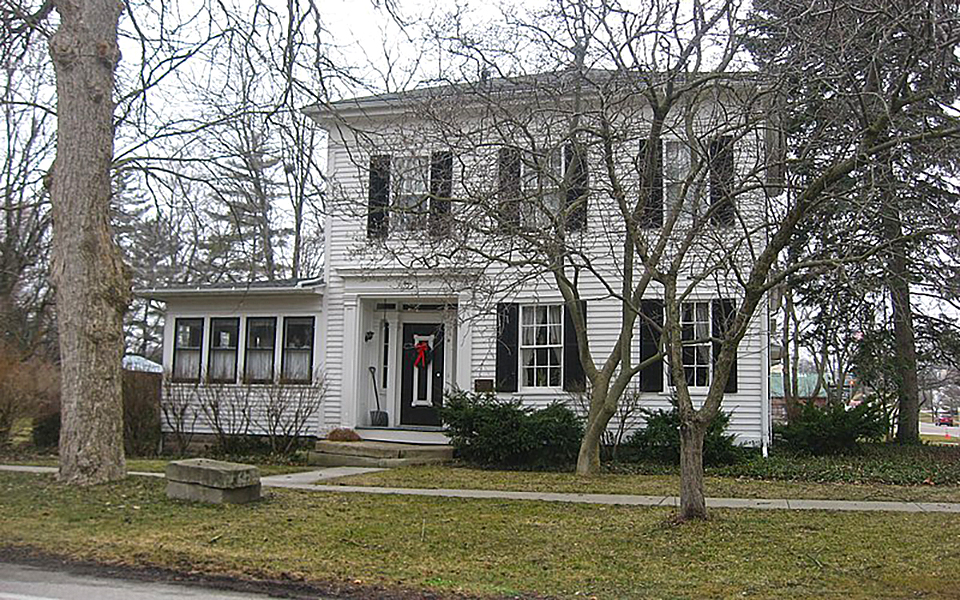 Photo: Morehouse-Downes House, circa 1837, located at 4 South River Road in Waterville. Renamed the Ashley Madison Estate in 2018. Listed on the National Register of Historic Places in 1975. Photographed by User:Nyttend, own work), 2013, [public domain], via Wikimedia Commons, accessed December, 2022.
---
Beginnings [1]
The rich history of Waterville has contributed to the community's pride and small town charm. One major component of this rich history centers on transportation. Early on in the 1790s both native tribes and settlers utilized the Maumee River for transportation. The area slowly became more developed through the 1840s, and then from 1843 to 1909 the Miami and Erie Canal operated through the Waterville Area which spurred population and development of the community. Waterville was officially incorporated as a Village in 1882.
In 1907 more modernized transportation came to the Village with the Lima-Toledo Traction Company's development of an interurban electric train line that ran from Lima to Toledo, which passed through the Village. The signature landmark of the red interurban line was the construction of a reinforced concrete bridge of Roman aqueduct design which spanned the Maumee River. This structure passed through part of the historic site known as Roche de Boeuf. This interurban line operated for 30 years until the railway went out of business in 1937 when automobiles and traditional railroads became cheaper modes of transportation and took over being the prominent transportation choices. The old interurban concrete bridge over the Maumee River is still a symbol for the City of Waterville, and in fact is currently the main focal point of the City's official logo.
City of Waterville, Ohio, Waterville Comprehensive Plan, 2012, www.waterville.org, accessed May, 2016.
Nearby Towns: Maumee City • Perrysburg City •
---