Toledo City
Toledo City Hall is located at #1 Government Center, Toledo, OH 43604.
Phone: 419‑936‑2020.
---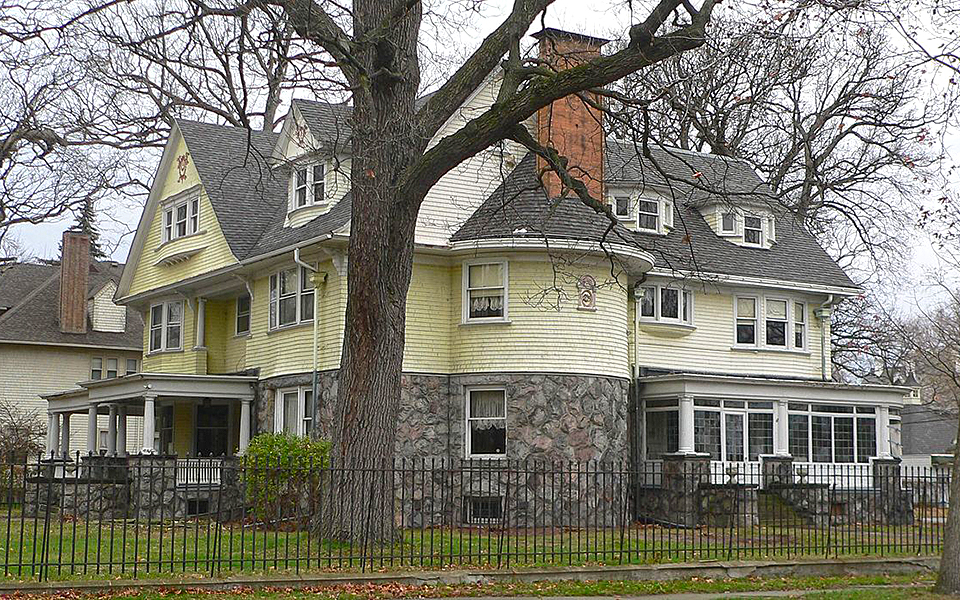 Photo: Edward D. Libbey House, circa 1895, Shingle Style House designed by David L. Stine, architect. Located at 2008 Scottwood Avenue, Toledo. Listed on the National Register of Historic Places and designated a National Historic Landmark in 1983. Photographed by User:Ammodramus, own work), 2011, [public domain], via Wikimedia Commons, accessed December, 2022.
---
Located around the Maumee River where it empties into Lake Erie, Toledo was built from 2 former towns, Vistual and Lawrence, which were located at the site of a ca. 1800 stockade known as Fort Industry. Toledo was incorporated in 1836, the same year that the city was chosen as a termination point for the Wabash and Erie Canal. From 1840 to 1880 Toledo grew from 1,300 to more than 50,000 people, spurred by the arrival of several railroads and the creation of industries such as furniture manufacture, carriage making, breweries and glass makers. The Libbey Glass works, together with other glass manufactures, resulted in the city becoming known as the "City of Glass" during the later part of the 19th century. By the turn of the 21st century, Toledo's population exceeded 300,000.
Neighborhoods
Beverly-Harvard
Birmingham
DeVeaux
Downtown
Eastside
Englewood
Five Points-Library Village
Fort Industry
Franklin Park
Glendale-Heatherdowns
LaGrange
North River
North Towne
Old West End
Onyx
Ottawa
Point Place
Reynolds Corners
Scott Park
Southside
Southwyck
Warren-Sherman
Westgate
Whitmer-Trilby
Nearby Towns: Maumee City •
---