Perrysburg City
Perrysburg City Hall is located at 201 West Indiana Avenue, Perrysburg, OH 43551.
Phone:
---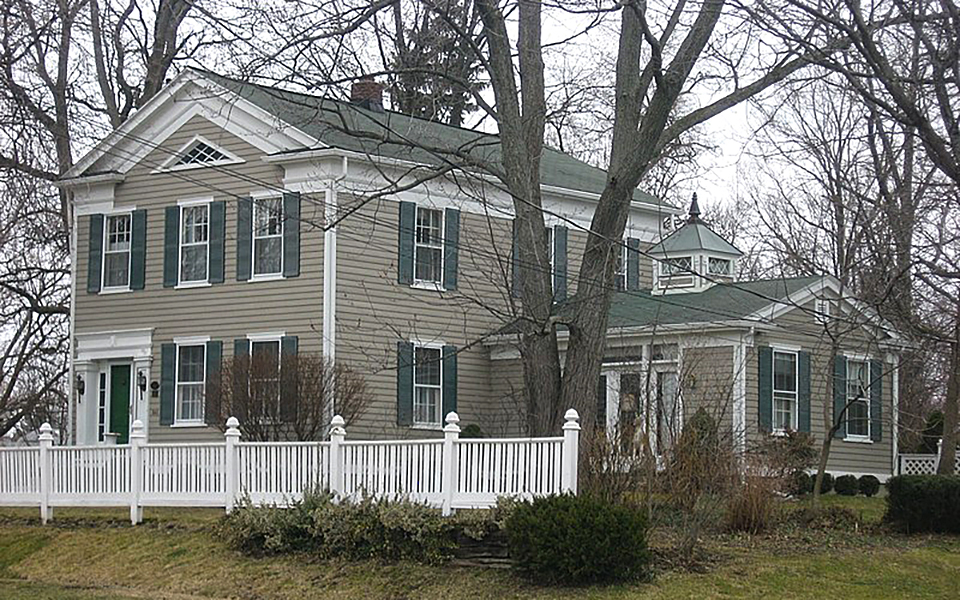 Photo: John J. Yeager House, circa 1840, located at 343 West Indiana Avenue, Perrysburg. Listed on the National Register of Historic Places in 1985. Photographed by User:Nyttend, own work), 2013, [public domain], via Wikimedia Commons, accessed December, 2022.
---
Perrysburg [†] has a long and rich history dating back to the late eighteenth century when the federal government hoped to create a major port on the banks of the Maumee River. The City was designed and platted by the federal government in a traditional square mile grid pattern with two radiating boulevards. Perrysburg's historic and cultural resources are evident throughout the community, including: the Fort Meigs Memorial State Park, Perrysburg Historic District, Maumee River, historic downtown, and original grid framework. These historic and cultural resources define Perrysburg's past and present, and are elements of the community's small town character. The local character is cherished by residents and distinguishes the community in a regional and historical context.
Perrysburg is one of two cities platted by the federal government: The original mile square of the City was laid out in 1816 by Joseph Wampler and William Brookfield. The City was intended to serve as a major port on the Maumee River and function as the "New Orleans of the North." The historic grid, which is now defined by the boundary streets, laid out in 1816 is home to downtown and Perrysburg's historic neighborhoods.
† Comprehensive Plan, City of Perrysburg, 2006, www.ci.perrysburg.oh.us, accessed December, 2022.
Nearby Towns: Maumee City • Waterville City •
---