Mount Auburn Historic District
Post Office: Cincinnati
Zip Code: 45219
---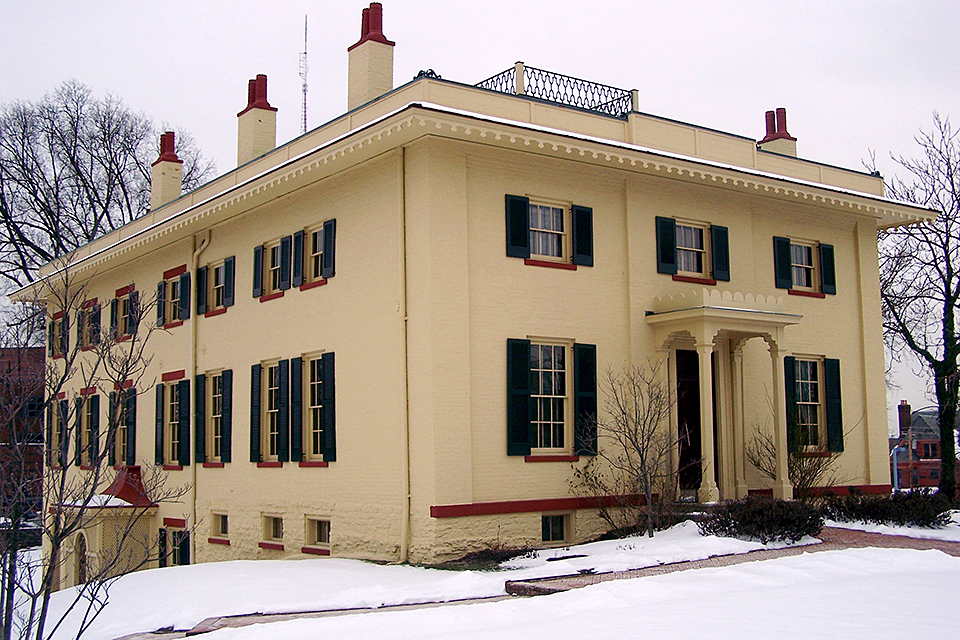 Photo: William H. Taft House, circa, 1840, located at 2038 Auburn Avnue, in the Mount Auburn Historic District, Cincinnati. In the 1960s the home was designated both a National Historic Site and a National Historic Landmark. Photograph by wikipedia username: Cory Maylett, own work, 2007, [cc-3.0], via wikimedia commons, accessed January, 2023.
---
The William Howard Taft Home was built circa 1840 as part of the Mt. Auburn [†] neighborhood, a suburb of the city of Cincinnati, Ohio, developed during the mid- to late nineteenth century atop the hills that frame the downtown to take advantage of healthful breezes and picturesque views of the city. The neighborhood became an important locus for the civic, social, industrial, business, cultural, and religious leaders of Cincinnati. Scores of homes were built along a grid of streets established over the sloped terrain of Mount Auburn between 1830 and 1900. Auburn Avenue, which became known as the 'Fifth Avenue' of Cincinnati, was the most prominent among them. Homes were designed in a variety of architectural styles, including Federal, Greek Revival, Italianate, Romanesque revival, and Georgian revival.
† Adapted from: Melissa Dirr Gengler and Liz Sargent, Lonncoln, NE and Roger Reed and Patty Henry, National Park Service, William Howard Taft Home, nomination document, 2015, National Park Service, Washington, D.C.
Street Names
Auburn Avenue • Hollister Street East • Ringold Street • William H Taft Road
---