The Morris County Courthouse is located at Washington and Court Street, Morristown NJ 07960; phone: 973‑656‑4000. Built in 1827, the courthouse is listed on the National Register of Historic Places.
---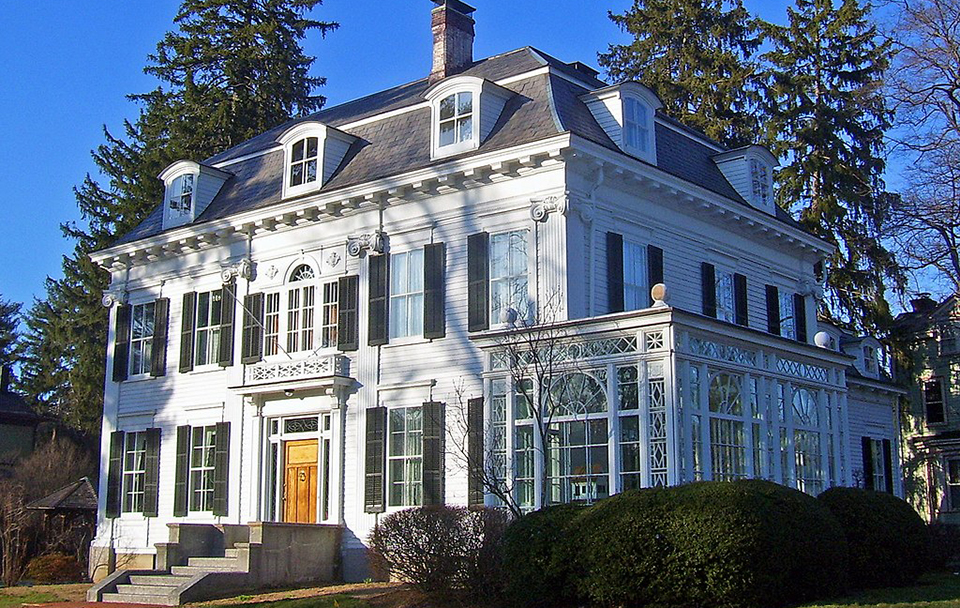 Photo: Thomas Nast Home, circa 1873, located at MacCulloch Avenue and Miller Road, Morristown, NJ. The house was designated a National Historic Landmark in 1964 and was listed on the National Register of Historic Places in 1966. Photographed by User:Daniel Case (own work), 2008, [cc-3.0], via Wikimedia Commons, accessed September, 2021.
---
TOWNS
Chatham Boro
Chester Boro
Chester Twp
Florham Park Boro
Jefferson Twp
Kinnelon Boro
Lincoln Park Boro
Long Hill Twp
Mendham Twp
Mine Hill Twp
Morris Plains Boro
Netcong Boro
Parsippany-Troy Hills Twp
Passaic Twp
Pequannock Twp
Rockaway Twp
Victory Gardens Boro
Washington Twp
Wharton Boro
Beginnings [1]
Morris County was created in 1738 from Hunterdon County. Originally it included the territory that is now Sussex and Warren Counties. It was named for Lewis Morris who was serving as New Jersey's governor at the time the county was organized.
John W. Barber and Henry Howe, Historical Collections of the State of New Jersey, Benjamin Olds publisher, New Haven, 1844.
HISTORIC SITES
Acorn Hall
Alnwick Hall
Anthony-Corwin Farm
Ayres' Farm
Berry, Martin, House
Blackwell Street Historic District
Boisaubin Manor
Boonton Historic District
Bottle Hill Historic District
Bower, David S., House
Bowers-Livingston-Osborn House
Bowlsby-Degelleke House
Boyle/Hudspeth-Benson House
Brookside
Carey, Lewis, Farmhouse
Cary, Stephen, House
Combs Hollow
Condict, Dr. Lewis, House
Condit, Stephen, House
Cook, Ellis, House
Cooper, Gen. Nathan, Mansion
Craft-Clausen House
Craftsman Farms
Cutler Homestead
Davenport-Demarest House
Decker-Kincaid Homestead
Dixon, James, Farm
Dod, John, House and Tavern
Doremus House
Dusenberry House
Flock-Stephens Farmstead
Ford, Samuel, Jr.'s, Hammock Farm
Ford-Faesch House
Fordville
Fosterfields
Fredericks House
German Valley Historic District
Gibbons Mansion
Gibbons, William, Stable and Farm
Glynallen
Grimes Homestead
Hanover Village Historic District
Hartley Farms
Howell, Benjamin, Homestead
Jackson, Joseph, House
Jenkins-Mead House
Kemble, Peter, House
King Store and Homestead
Lindenwold
Low, Effingham, House
Madison Civic Commercial District
Mendham Historic District
Merchiston Farm
Middle Valley Historic District
Miller-Rinehard Farmstead
Miller-Kingsland House
Mills, Timothy, House
Morris County Courthouse
Morristown Historic District
Mount Arlington Historic District
Mount Kemble Home
Mountain Lakes Historic District
Nast, Thomas, Home
Neighbor, Jacob Wise (J. W.), House
Neighbor, Leonard, Farmstead
New Vernon Historic District
Oak Dell
Parlaman, Johannes, House
Pruddentown Historic District
Ralston Historic District
Rarick-Kellihan House
Revere, Joseph W., House
Riggs, Silas, House
Ringling, Alfred T., Manor
Sayre House
Schooley's Mountain Historic District
Sharpenstine Farmstead
Silver Lake Historic District
Smith, Bridget, House
Smith, John, House
Speedwell Village Historic District
Spring Brook House
Tempe Wick Road-Washington Corners Historic District
Thompson, David, House
Thorne and Eddy Estates
Trimmer-Dufford Farmstead
Tuttle House
Van Duyne, James, Farm House
Van Duyne, Martin, House
Van Duyne, Simon, House
Van Duyne-Jacobus House
Washington Valley Historic District
Whippany Farm
---