Omaha City
Omaha City Hall is located at the Omaha‑Douglas City Center, 1819 Farnam Street, Omaha, NE 68183.
---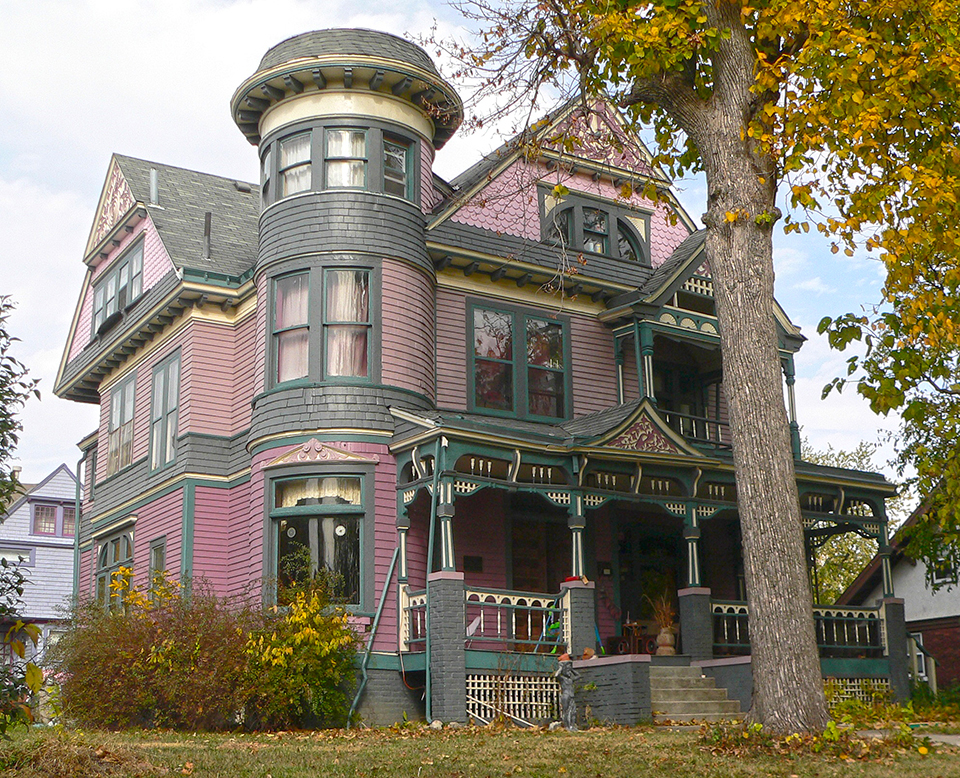 Photo: Edgar Zabriskie House, circa 1889, located at 3524 Hawthorne Avenue, Omaha, NE Listed on the National Register of Historic Places in 1978. Photographed by User:Ammodramus (own work), 2011, [cc-1.0, public domain], via Wikimedia Commons, accessed September, 2021.
---
Beginnings [1]
The City of Omaha traces its beginning to the establishment in 1853 of a ferry crossing that linked Council Bluffs, Iowa, with what would soon become the Nebraska Territory. The next year, speculators platted a 320-block townsite named Omaha, which subsequently became the territorial capital. By the Fall of 1854, twenty houses had been built within the community. These domiciles generally consisted of log cabins, sod dugouts and frame shacks. The Territorial Legislature granted a city charter to Omaha in 1857, which provided for a mayor and city council. Due to its location on the Missouri River, Omaha emerged as a significant steamboat stop, as well as a point of origin for several of the westward migration trails. These factors firmly established the community. But it was the construction of railroads and the establishment of agriculture that made the river town into a prominent city.
Neighborhoods
Aksarben Heights
Aksarben Hill
Aksarben Village Apartments
Albrights Choice
Alscher Homes
Ames Place
Ames-Benson
Apsen Condos
Arbor Gate
Arbor Oaks
Arbor Ridge
Archer Place
Ardmore
Arlington
Armbock Parkview Estates
Armbrust Acres
Armour Place
Ashland Park
Aspen Condos
Auburn Hill
Autumn Grove
Autumn Heights
Autumn Ridge
Avalon
Baker Place
Balla Machree
Ballena
Ballena Replat
Banyan Hills
Barkalows
Barrington Park
Bartletts
Bay Meadows
Bay Shores
Bay Wood
Baywood
Beacon Hill
Beckwith
Bedford
Bedford Place
Beebe Runyan Lofts
Bel Air
Belcaro Heights
Belevere
Belle Isle
Belle Meade
Belmont
Belvedere
Belvedere Heights
Belvedere Point
Belvedere Vista
Bemis Park
Bemis Park Residential Historic District
Bennington Lake
Benson
Benson Acres
Benson Crest
Benson Gardens
Benson Heights
Benson View Acres
Bensonhurst
Bensonvale Acres
Bent Creek
Bentley Apartments
Beverly Hills
Beverly Manor
Birch Tree Lofts
Birchfield
Birkhauser
Blackstone
Bloomfield Hills
Blossoms Apartments
Boardwalk Condos
Boulevard Park
Bowers
Bowery Hill
Bowling Green
Brevoort Place
Briarcliff
Briarwood Apartments
Bridgeford
Bridlewood
Briggs Place
Brighton Square
Bristol Square
Brittany Estates
Broadmoor Heights
Broadmoor Hills Apartments
Brook Hollow
Brookfield
Brookhaven
Brookline
Brookline Hills
Brown Park
Bryn Mawr
Buckeye Place
Burlington
Burlington Road
Burlington Square
Butler Ridge
Caldwell Acres
Cambridge Oaks
Camden Grove
Campbell Vale
Candlewood
Canterberry Crossing
Capitol Townhomes
Carat Homes
Carriage Hill
Carriage Hills
Carrigan Place
Carthage Addition
Casita Villa
Castle Creek
Castle Heights
Catalpa
Cattail Creek
Cedar Addition
Cedar Brook
Cedar Hills
Cedar Hollow
Cedar Ridge
Centennial
Central Park
Chapel Hill
Charleston Woods
Charlsew Heights
Cherry Garden
Cherry Hills
Cherry Ridge
Cheyenne Country Estates
Chicago Square Condo Prop Regime
Chimney Ridge
Christie Heights
Cimarron Woods
Cinnamon Acres
Cinnamon Creek
Clairmont
Clairmont Heights
Clarks Place
Clearview
Clifton Hill
Clifton Place
Cloverdale
Club Terrace
Coburns
Colfax
Collier Place
Colonial Acres
Colonies
Columbus Park
Concord Place
Concord Square
Condos at Mill Pointe
Conestoga Place
Conrad
Contour Park
Convent Place
Copper Hollow
Copper Ridge
Copperfields
Cornish Heights
Coronado
Corrigan Place
Cottage Park
Cottonwood Creek
Country Club Heights
Country Club Hills
Country Club Manor
Country Club Woods
Country Manor
Country Squire Estates
Coventry
Coyote Run
Creighton
Creighton Heights
Creighton Park
Creightons
Crescent Oaks
Crescent Park
Crestwood
Crosskey Village
Crown Park Apartments
Crown Point
Cummings Heights
Dahlman
Davenport
Dean Place
Deauville
Deer Creek Highlands
Deer Park
Deer Ridge
Deerwood
Denises
Denman Place
Dennetts
Devries
Dickinsons Landing
Dillons
Disney
Donovans
Drews Hill
Druid Hill
Dundee
Dundee Park
Dundee Place
Dundee Place Condos
Dunsany Flats
Eagle Point
Eagle Run
Eagle Run West
Echo Hills
Eckerman Place
Edgemoor
Edgewood
Edwards Place
Eldorado
Elizabeth Place
Elk Creek Crossing
Elk Ranch Estates
Elk Ridge
Elkhorn View Estates
Elmwood Acres
Elmwood Gardens
Elmwood Park
Elmwood View
Emerald Oaks
Englewood
Epworth
Erskine Park
Escalante Hills
Evanston
Fair Meadows
Fairacres
Fairfax
Fairview Heights
Fairway Point
Fairway Ridge
Falcon Ridge
Falling Waters
Farmington Woods
Faulkland Heights
Fawn Heights
Field Club
Fire Ridge Estates
Firestone
Five Fountains
Florence
Florence Fields
Florence Mills
Florencewood
Fontelle Square
Fontelle View
Fontenelle Estates
Fontenelle Meadows
Fontenelle Park
Fontenelle View
Forbes
Ford Lofts
Forest Hill
Forest Run
Fort Redman
Fountain Hills
Gambles
Garden View
Gardiner Acres
Georgetown
Gifford Park
Giles Ridge
Ginger Cove
Giovanna Rows
Glen Oaks
Glenbrook
Golden Hills
Golden Valley
Gramercy Park
Grand Oaks
Green Meadows
Greenacres
Greenfield
Greentree
Halcyon Heights
Hammond Place
Hanover Falls
Hanscom
Hanscom Park
Hansen Place
Hansens Country Club Hills
Happy Hollow Hills
Harrison Heights
Harrison Hills Apartments
Harrison Woods
Hartman Avenue
Harvey Oaks
Hawaiian Village
Hawes
Hawthorne
Hencks
Hensons
Heritage Hills
Hickory Ridge
Hickory Ridge
Hidden Creek
Hidden Hills
High Meadows
Highland Gardens
Highland Gardesn
Highland Place
Highland South
Highlander
Hill Top Manor
Hill View
Hillcrest
Hillsborough
Hillsborough Estates
Hillsdale
Hillside Acres
Hilltop Gardens
Hilltop Heights
Hilltop Manor
Hoffman Terrace
Holling Heights
Holy Cross
Homdedale
Homestead Acres
Homestead Addition
Homewood Park
Hoppers
Horizons
Hummingbird Heights
Hummingbird Hill
Indian Creek
Indian Hills
Iron RIdge
Irvington
Jackson Square
Jamison Condominiums
Jetters
Joslyn Castle Townhomes
Junction View
Kameo Estates
Kellys
Kensington
Kenwood
Keystone
Keystone Meadows
Keystone Park
Kilby Place
Kimball Lofts
Kingswood Estates
Kirkwood
Knob Hill
Knoblauch Addition
Knolls Townhomes
Knollwood
Kochers
La Vista
Lafayette Place
Lake Cunningham Hills
Lake Cunningham Ridge
Lake Forest
Lake Ridge Estates
Lake Shore
Lakeview Heights
Lakewood Gardens
Lakoma Heights
Latvian Tower
Laurel Park
Laurelton
Laytons
Le Beau
Leavenworth Heights
Leawood
Lee Valley
Legacy Villas
Lenox
Lincoln Heights
Linden Estates
Linden Park
Lindenwood
Linwood
Lloyds Addition
Lockwood
Logan Place
London Square Apartments
Lonergan Woods
Longview Addition
Looking Glass Hills
Loveland Addition
Lowes Addition
Lynch Park
Maenner Hillside
Maenner Meadows
Maloneys Addition
Mammouth Park
Manchester Park
Manchester Ridge
Maple Crest
Maple Grove
Maple Hill
Maple Village
Mapleview
Maplewood
Marshs Addition
Maryville
Mathews
Maxwell
Mayfair
Meadow Crest
Meadow Ridge
Meadowbrook
Meadowbrook Estates
Meadowview
Melrose Hill
Meridan
Merrifield Village
Miami Heights
Midtown
Midtown Crossing
Military Avenue
Millard Heights
Millard Highlands South
Millard Oaks
Millard Park
Miller Park
Millpark Estates
Miracle Hills
Mission Heights
Mission Hills
Mission Park
Mission Pines
Mission Ridge
Mockingbird Heights
Mockingbird Hills
Molton Meadows
Monmouth Park
Montclair
Montclair West
Monterey Village Condos
Morningside
Morton Heights
Morton Meadows
Morton Park
Mount Pleasant
Mount Pleasant
Mount Vernon
Murphys Addition
Murray Hill
Nakoma Townhomes
Nelsons Creek
Newport
Newton Addition
Nielsens
North Gold Coast
North Oaks
North Omaha
North Ridge Heights
Northern Hills Estates
Northfield Addition
Northhampton Court
Northwest Village
Northwood Heights
Northwoods Estates
Norwick Addition
Oak Brook
Oak Heights
Oak Hills
Oak Hills Highlands
Oak Knoll
Oak Ridge Estates
Oakbrook Meadows
Oakdale Woods
Oakhurst
Oakmont
Old Loveland
Old Market Downtown
Old Market South
Olive Crest Country Estates
Omaha Heights
Omaha View
Orchard Heights
Orchard Hill
Orchard Hill
Orchard Park
Orchard Place
Overland Hills
Overlook Addition
Pacific Heights
Pacific Hollow
Pacific Meadows
Pacific Pines
Pacific Pointe Estates
Pacific Ridge
Pacific Springs
Pacific Woods
Palisades
Papillion
Park East
Park Forest
Park West
Parkside
Parkvale
Parkwood
Pattersons
Pawnee Hills
Paxton
Peaceful Valley
Pebblebrooke
Penfields
Pepperwood
Pheasant Run
Piedmont
Piedmont Townhomes
Pierce Point
Pine Creek
Pine Ridge
Pinecrest
Pinetree
Pinewood
Piney Creek
Plainview
Ponca
Ponca Hills
Poppleton Park
Portal Ridge
Prairie Hills
Prairie Lane
Prairie Park
Prairie Pointe
Prairie Ridge
Prairie Village
Pratts
Prospect Hill
Prospect Place
Quail Hollow
Quail Ridge
Quail Run
Queens Addition
Radial Hills
Radio Heights
Rainwood
Rambleridge
Ramblewood
Ranch View Estates
Ranch View Place
Raven Oaks
Redicks
Redmans
Reeds
Regency Homes
Regency Townhomes
Rener Gardens
Residences on the Green
Richmond Addition
Ridgefield
Ridgewood
Rileys
River Park Apartments
Riverfront Place
Riverside Hills
Roanoke
Roanoke Estates
Robin Hill
Robin Valle
Rockbrook
Rockbrook Creek Estates
Rockbrook Heights
Rockbrook Park
Rockbrook Village
Rogers
Rogers Ridge
Rolling Hills
Rolling Meadows
Rorick Condominiums
Rose Garden Estates
Rose Hill
Roxbury
Royal Woods Estates
Royalwood Estates
Saddle Hills
Saddlebrook
Sagewood
Savanna Shores
Scarborough
Schlesingers
Schriver
Schwalbs
Seven Pines
Seville
Seymours Addition
Shadow Glen
Shadow Lake
Shadow Run
Shadow View
Shadowbrook
Shaker Heights
Shelbys
Sherman
Sherwoods
Shimers
Shinns
Shulls Addition
Signal Hill
Silver Creek Estates
Silverleaf Estates
Silverwood
Skylark Heights
Skyline Meadows
Skyline Oaks
Skyline Ranches
Skyline Woods
Solomons
Soma Lofts
Somerset
Sothridge
South Omaha
South Shore Heights
South Side Acres
South Side Terrace
Southbridge Condos
Southfork
Southridge
Southshore Heights
Southside Acres
Southwest Village
Spanish Village
Spring Green
Spring Lake
Spring Ridge
Spring Tree Apartments
Springbrook
Springhill
Spyglass Hill
St Andrews Pointe
St Clare Condominiums
Standing Bear Pointe
Standing Bear Village
Sterling Ridge
Still Meadow
Stone Brook Villas
Stone Creek Village
Stone Park
Stonecrest
Stonegate
Stonehenge
Stoneridge
Stonybrook
Sullivans
Sumbrust Acres
Summerwood
Summit Hill
Summit Park
Summit Ridge
Summit Townhomes
Sun Valley
Sunburst
Suncrest
Sunny Slope
Sunny View
Sunridge
Sunset Hills
Sunset Valley Condominiums
Sunshine Addition
Sunshine Farms
Sunshine Meadows
Sutton Place
Swanson Towers
Syndicate Hill
The Hamptons
The Jackson Apartments
The Mill at Timber Creek
The Prairies
The Reserve
The Ridges
The Sanctuary
Thomas Woods
Thomasville Apartments
Thornburg
Tiburon Estates
Tiburon Pointe
Tiburon View
Timber Creek
Tomahawk Hills
Tomlinson Woods
Torrey Pines
Tower Plaza
Town & Country
Towns at Little Italy
Tranquility View
Traverhurst
Tregaron
Trendwood
Tudor Arms
Turnbridge
Turtle Creek
Tuscan Ridge
Tuttles
Twilight Hills
Twin Ridge
Twin Towers Condominiums
Twinridge
Underwood Hills
Union Place Addittion
University Place
Upland Homes
Urban Heights
Wakeley
Wallace Place
Walnut Grove
Walnut Hill
Walnut Lake
Walnut Ranches
Walnut Ridge
Waterford
Waverly Park
Wedgewood
West Bay Shores
West Bay Springs
West Bay Woods
West Benson
West Country Club Heights
West Dodge Addition
West Dodge Station
West Fairacres
West Highlands
West Lawn Addition
West Lawn Hill
West Lincoln
West Loveland
West Moreland
West Omaha
West Pacific Hills
West Shores
West Side
Westbrook
Westchester Addition
Westchester of Millard
Western Addition
Western Hills
Western Oaks
Western Springs
Western Trails
Westgate
Westgate
Westmont
Westmoreland
Westridge
Westside
Westwood
Westwood Heights
Whispering Hollow
Whispering Pines
Whispering Ridge
White Hawk
Whitehall
Whitehawk
Wiercrest
Wilcox Addition
Willow Creek
Willow Park Apartments
Willow Park South Apartments
Willow Wood
Wilshire Heights
Wilson Gardens
Wilsons
Winchester Heights
Windridge Estates
Windridge Hills
Windsor Place
Witherbee
Wood Creek
Woodbine
Woodbridge
Woodgate
Woodhaven Meadows
Woodhurst
Woodlands
Woodlyn Park
Woods Park
Woods Place
Woodstone
Woodyard
Wycliffe
Wyland
Wyman Heights
Wyndham Hill Apartments
Wyndham Villas Apartments
Wynnewood
Yale Place
Yorkshire Hills
During the 1850s, Omaha was among the several starting points discussed for the proposed transcontinental railroad, but movement on the issue did not occur until the start of the Civil War. The first step of this process began in 1862 when local entrepreneur Edward Creighton completed a transcontinental telegraph that connected Omaha and points east with San Francisco. Also in that year, the Pacific Railroad Act created the impetus to place the transcontinental railroad's eastern terminus in Omaha. Construction on the railroad began after the Civil War and Omaha boomed as a result. Thousands of workers flocked to the city to work on the railroad or in its supporting businesses. Omaha grew between 1865 and 1870 from a town of 3,000 to a city of 16,500, the western boundary of which was 36th Street. As a result, Omaha cemented its status as the largest city in Nebraska.
After the transcontinental railroad was completed, Omaha became a regional metropolis due to the rapid settlement of Nebraska and the upper Great Plains. The city was transformed into an important agricultural shipping center as a result of the region's growing farm production.
Heritage Research, Ltd, Menomonee Falls, WI, prepared for the City of Omaha and the Nebraska State Historical Society, City of Omaha: Neighborhoods of Dundee and Twin Ridge/Morton Meadows, Nebraska Historic Buildings Survey, August, 2004, www.nebraskahistory.org, Reconnaissance Surveys and final county reports, accessed August, 2011.
Nearby Towns: Bellevue City • Papillion City •
---