Raleigh City
Raleigh City Hall is located at 222 West Hargett Street, Raleigh NC 27601.
Phone: 919‑89‑‑3040.
---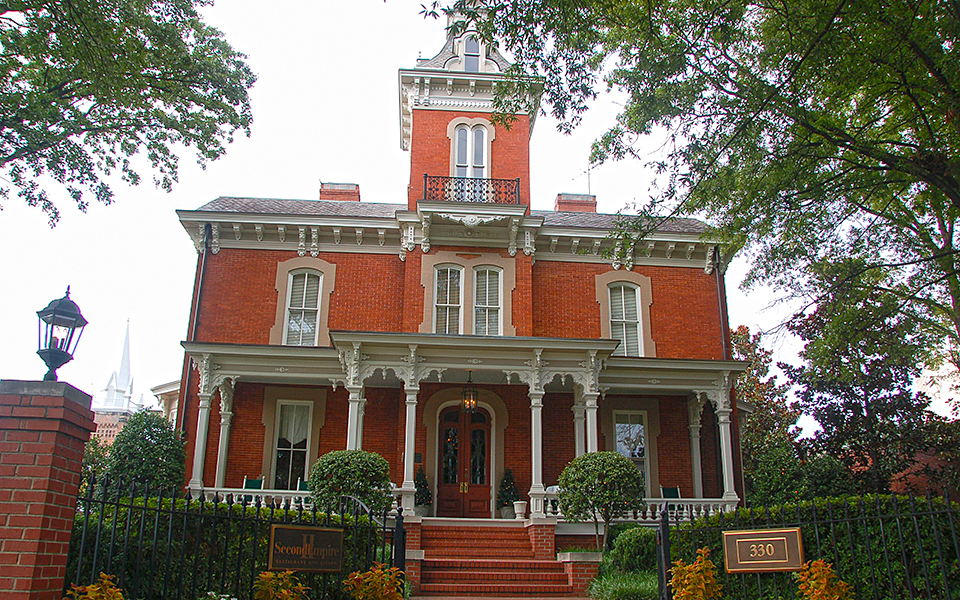 Photo: Dodd-Hinsdale House, circa 1879, located at 330 Hillsborough Street, Raleigh, NC. Listed on the National Register of Historic Places in 1971. Photographed by User:Mark Turner (own work), 2010, [cc1.0], via Wikimedia Commons, accessed July, 2021.
---
Raleigh was officially established as the Wake County Seat and the North Carolina State Capital in 1792. It is one of a handful of U.S. cities entirely planned and built specifically to serve as a state capital.
A small portion of the City of Raleigh lies within Durham County.
Neighborhoods
Addison Reserve
Allyns Landing
Altice Estates
Alyson Pond
Amanda Estates
Amberfield
Anderson Forest
Anderson Heights
Anderson Pointe
Annies Woods
Apollo Heights
Arbor Chase
Arbor Ridge
Arden Forest
Arrowood Hills
Asbury
Ashebrooke
Ashworth Estates
Aspenwald
Athena Woods
Athens Grove
Augusta Crossing
Augusta Landings
Autumn Chase
Autumn Crest Farms
Autumn Woods
Avent Ferry
Baileys Landing
Banbury Woods
Banks Pointe
Barham Place
Barrington Woods
Barton's Creek
Bashford Ridge
Battery Heights
Battle Ridge
Bayleaf Forest
Beachwood
Bedford Estates
Belmont Hall
Belmont Ridge
Belvidere Park
Bennett Place
Bent Creek
Bent Tree
Bentley Ridge
Bentley Woods
Berkshire Downs
Biltmore Hills
Biltmore Trace
Bloomsbury Estates
Blount Street Commons
Blount Street Historic District
Bradford Place
Brandywood
Breezewood
Brentwood
Brentwood Estates
Brentwood Hills
Briarcliff
Briarwood
Bridge Port
Bridgepoint
Bridgeton Park
Bridgeton Pointe
Brier Creek
Brittany Estates
Brittany Woods
Broad Oaks
Broadlands
Brook Crossing
Brook Forest
Brookhaven
Brooklyn
Brookshire
Brookside
Brookstone
Brookwood
Byrum Woods
Cambridge Corner
Camden Park
Cameron View
Cameron Village Condos
Cameron Village Historic District
Capitol Square Historic District
Caraleigh
Caraleigh
Caraleigh Mills
Cardinal Grove
Cardinal Hills
Carleigh
Carlton Heights
Carlton Park
Carlton Square
Carlyle
Carnegie Park
Carolina Pines
Carriage Bluffs
Carriage Hills
Carriage Woods
Carries Meadow
Cartier Drive
Castle Ridge
Castleberry
Cedar Hills
Cedar Village
Celebration Squares
Chadleigh Pointe
Chadwick
Chandler Place
Chandler Pointe
Charleston Park
Chasteal Trails
Chatsworth
Chester Place
Chestnut Hills
Chestnut Oaks
Church Street
Churchill Woods
Clandon Forest
Claridge
Clyde Barrington
Coachmans Trail
Cobble Creek
Cobblestone
Coldwater Springs
Coley Forest
Coley Lakes
Colinwoods at Stonehenge
College Manor
College Park
Colonial Heights
Colony Woods
Conerstone
Cooper
Copperfield
Cornerstone Park
Cornerstone Village
Cottages Of Stonehenge
Cotton Mill
Cotton Place
Country Club Hills
Country Club View
Country Life Estates
Country Village
Courtney Place
Coventry
Coventry Creek
Crabtree Forest
Crabtree Heights
Crabtree Pines
Crabtree Woods
Creedmoor
Creekside
Crestview
Crimson
Cross Gate
Crossgate
Crossings at Tryon
Crosslink Central
Crosslink Trace
Crossmoor
Crosswinds
Crown Oaks
Cymen Commons
Dacian Valley
Daltons Ridge
Dandridge Downs
Daniels Landing
Dartmoor
Davis
Dawson
Dayton Woods
De Montfort
Deblyn Park
Deer Creek
Deerfield Square
Deerview Forest
Delta Ridge
Depot Historic District
Devon
Devonwood
Dominion Park
Dowling Ridge
Draymoor Manor
Drewry Hills
Driftwood Manor
Durant Quarter
Durant Trace
Durant Trails
Durston
Dutch Village
Dutchman Creek
Dutchman Downs
Eagle Chase
Eagle Creek
Eagle Mountain
Eagle Ridge
Eaglechase
Earle Ridge
East-Raleigh-South Park Historic District
Eastgate
Eastwinds
Eastwood
Ebenezer Park
Echo Heights
Eden Croft
Eden Forest
Edgewater at Rogers Farm
Edgewater Townhomes
Edwards Mill
Emerald Chase
Emerald Village
Enchanted Oaks
Ethans Glen
Evans Pines
Everett
Faircroft
Fairfield
Fairmont
Fairview Acres
Fairview Hills
Fairway
Falcon Ridge
Fallon Oaks
Fallon Park
Falls Church
Falls Commons
Falls Glen
Falls of Neuse
Falls Pointe
Falls Preserve
Falls River
Falls Village Townhomes
Farmington
Farmington Woods
Farrington Grove
Farrior Hills
Fieldstone Crossing
Fieldstream Farm
Fisher Heights
Flythe Hills
Forest Acres
Forest Brook
Forest Hills
Forest Trail
Forestbrook
Forestville Farms
Founders Row
Fox Den
Fox Glen
Fox Hollow
Fox Run
Foxcroft
Foxfire
Foxmoor
Fuller Heights
Fynland
Gardens On Glenwood
Garner Place
Georgetown
Glen Arbor
Glen Eden
Glen Forest
Glen Laurel
Glen Meadow
Glen Valley
Glenlake South
Glens at Riverside
Glenwood Crossing
Glenwood North Townhomes
Governors Square
Graedon
Gralyn
Granite Ridge
Green Park Townes
Green Valley
Greenbelt
Greenbriar Estates
Greenbrook
Greenfield Manor
Greenview Bluffs
Greenwood Farms
Gresham Hills
Gresham Trace
Greystone
Greythorne
Greywalls at Trego
Griffis Glen
Groves Edge
Grovewood
Guard Hill
Hadley Meadows
Hampton Hills
Hampton Oaks
Hampton Ridge
Hamstead Crossing
Harps Mill Woods
Harrington Grove
Harrington Meadows
Harrington Pointe
Hayden Woods
Hayes Barton Terrace
Headlaw
Heatherbrook
Heatherstone
Hedingham
Henley
Heritage Heights
Heritage Manor
Heritage Point
Herndon Oaks
Heron Woods
Hertford Village
Hickory Hills
Hidden Valley
High Meadows
High Park
High-Mount Historic District
Highland Creek
Highland Forest
Highland Gardens
Highland Trails
Hilburn
Hobson Court
Holiday Estates
Holland Park
Holland Ridge
Holly Lane Condos
Home Acres
Homemont
Homeplace
Homeplace Square
Hudson Meadows
Hunters Bluff
Hunters Club
Hunters Creek
Hunters Creek West
Hunters Crossing
Hunters Glen South
Hunters Knoll
Huntingwood Estates
Hutchins
Hyde Park
Hymettus Woods
Idlewild
Idlewood Village
Inman Park
Ivy Hall
Jacobs Ridge
Jacqueline Place
Jefferson Hill
Jeffreys Creek
Joe Louis Park
Johns Pointe
Jordan Ridge
Kaplan Ridge
Keeneland Trails
Keith Woods
Kelly Heights
Kentwood
King Lar
Kings Crest
Kings Grant
Kings Ridge
Kingsboro
Kingsmill Village
Kingswood Forest
Kirkwood Park
Lacrosse Pointe
Lafayette
Lake Anne
Lake Boone Place
Lake Forest
Lake Johnson Harbour
Lake Park
Lake Rand
Lake Wheeler Village
Lake Woodard Townhomes
Lakeland Estates
Lakeland Estates
Lakemont
Lakepark
Lakes at Umstead
Lakeside
Lakestone Place
Landings at Neuse Crossing
Landover
Laneridge
Lantern Square
Lassiter Farms
Lassiter Mill
Lassiter Place
Laurel Brook
Laurel Hills
Laurel Manor
Laurel Woods
Lauren Oaks
Layton Glen
Lead Mine Lake
Leadmine Lake
Leas Mill
Leesville Crest
Leesville Downs
Leesville Hollow
Leesville Ridge
Leonard Place
Leone Landing
Lexington Park
Leyland Heights
Lincoln Park
Linville
Lisbon Woods
Lockewood
Londonderry Townhomes
Long Lake
Long Lake Views
Long View Gardens
Longacres
Longview Gardens
Longview Park
Lyndhurst Manor
Lynn Pointe
Lynn Ridge Townhomes
Lynnbrook
Lynndale Estates
Lynndale Townhomes
Lynnridge
Lyon Park
Macadie Park
Macon Ridge
Macons Court
Mactavish
Madison Park
Magnolia
Mallard Crossing
Manchester
Maplewood Forest
Marinique
Martinique
Massey Preserve
Maybrook Crossings
Maybrook Townes
Mayfair
McCullers Pines
McKinley Mill
Meadowbrook
Meadowood Crossings
Meadowood Park
Meadowridge
Medfield Estates
Meredith Townes
Meredith Woods
Meryton
Mial Plantation
Midland Townes
Midland Townhomes
Mill Ridge
Millbrook Estates
Millbrook Village
Mine Valley
Mitchell Mill
Montague
Montclair
Moore Square Historic District
Mordecai
Mordecai Manor
Mordecai Place Historic District
Mordecai Townes
Moriah
Mount Vernon Crossing
Mountainbrook
Mt Vernon
Muirfield
Murray Hill at Crosswinds
Neuse Crossing
Neuse Ridge
New Hope Crossing
Newport
Newton Parish
Noble Townes
Normandy Glen
North Bend Townhomes
North Clift
North College Park
North Farms
North Glen
North Haven
North Hills Estates
North Park
North Pines
North Raleigh Meadows
North Ridge
North Shore
Northclift
Northridge Trace
Northwest
Northwood
Nottingham Forest
Nowell Ridge
Oak Creek
Oak Forest Estates
Oak Grove
Oak Haven
Oak Park
Oak Run Townhomes
Oak Winds
Oakcroft
Oakdale
Oakland Acres
Oakleigh
Oaklyn
Oakton
Oakwood
Oakwood Garden
Oakwood Park
Oberlin Ridge
Oberlin Village Historic District
Old Milburnie Crossing
Old Stage Place
Old Stone Crossing
Olde Creedmoor
Olde Mill Forest
Olde Province Townhomes
Olde Raleigh
Olde Raleigh Villas
Olde Towne Village
Oleander Park
Our Dominion Park
Oxford Hills
Oxford Park
Palladium Plaza
Pannonia
Panther Branch
Panther Run
Papillon Park
Paramount
Park at Perry Creek
Park at Sanderford
Park at Westgate
Park Devereux
Park Glen
Park Ridge
Parker Falls
Parkers Ridge
Parkland
Parklyn Woods
Parkridge
Parkside
Pattington Village
Pecan Acres
Pecan Townes
Pendleton Lake
Penny Road
Pepperdine
Perry Creek Farms
Person Pointe
Peyton Hall
Pickwick Village
Pine Hall Plantation
Pine Knoll
Pine Ridge
Pine Winds
Pinecrest
Pinewood Village
Pinnacle Ridge
Pleasant Grove
Pleasant Hills
Pleasant Ridge Estates
Poole Acres
Powell Townes
Prince Hall Historic District
Promenade
Providence
Providence Square
Pullen Park Terrace
Quail Forest
Quail Hollow
Quail Meadows
Quarry Hills
Quarry Pointe
Quarterpath Village
Radcliffe
Raintree
Ralina
Ramblewood
Ramsgate
Ramsgate Heights
Rand Meadows
Rangewood
Raven Pointe
Ravens Creek
Ravens Ridge
Ravenwood
Rebel Acres
Reedham Oaks
Remington Forest
Remington Park
Renaissance Park
Richland Run
Richmond Hills
Ridgecrest
Ridgecroft
Ridgeloch
Ridgewood
River Bend
River Birch
River Chase
River Hill
River Landings
River Oaks
River Ridge
River Run
River View Estates
Riverbend Plantation
Riverbirch
Riverbrooke
Riverknoll
Riverknoll Estates
Riverside
Riverview Estates
Roanoke Park
Roberts Park
Robinfield Estates
Rochester Heights
Rollingwood Estates
Rose Hall
Rosemont Gardens
Roswell
Roundtree
Roylene Acres
Saddleridge
Sagewood
Saint James Place
Salem Woods
Sandy Creek
Sandy Forks Commons
Sandy Forks Place
Sauls Ridge
Savannah Ridge
Scarborough Ridge
Scarsdale
Sedgefield Woods
Shamrock Meadows
Shannon Woods
Sheffield Estates
Sheffield Manor
Sherwood Forest
Silver Lake Bluffs
Silver Pointe
Silverstone
Simms Branch
Six Forks North
Skycrest Village
Smoketree
Somerset Acres
Somerset Place
Somerset Springs
Sorrell Grove
South East Street Townhome
South Meadow
South Mountain
South Park
Southall Commons
Southern Meadows
Southern Oaks
Southern Winds
Southgate
Southhall Commons
Spring Garden Townhomes
Spring Pines
Spring Valley
Springdale Estates
Springdale Gardens
Springfield
Springstone
St Matthews
Stablegate
Stafford
Stagecoach
Starmount
State Street Village
Steep Hill
Stephens Pointe
Sterling Park
Stone Creek
Stone Falls
Stone Ridge
Stonebridge
Stoneham Acres
Stonehaven
Stonehenge
Stonemoor
Stonerose
Stonewater
Stoney Hollow
Stoney Manor
Stowecroft
Stratford Park
Stratton Park
Strawns Crossing
Straws Crossing
Sumerlyn
Sumerset Acres
Summer Place
Summerfield
Summerfield North
Summerwinds
Summerwood
Summit Ridge
Sun Ridge Farm
Sun Splendor at Wyckford
Suncreek
Suncrest Village
Sunnybrook Estates
Sunpointe
Sunscape Townhomes
Sunset Hills
Sunset Manor
Sunset Terrace
Sussex Acres
Sutton Estates
Swallow Cove
Swans Mill
Sweetbriar Forest
Swift Creek Townhomes
Swift Ridge
Tanglewood
Tatton Place
Tavernier
Taylors Creek
Tazwell
Tealbriar
Tealbrook
The Cottages at Whitaker
The Forest at Victory Church
The Gates at Ethans Glen
The Glen On Spring Forest
The Landings at North Ridge
The Links Club Condos
The Oaks at Fallon Park
The Oaks at Meadowridge
The Park at Perry Creek
The Perserve
The Pointe at Lemuel
The Reserve at Bishops Park
The Ridges Of Maybrook
The Townes at Crabtree
Thistledown Townhomes
Thornton Commons
Thornton Square
Thorpshire Farm
Timber Oaks
Timberlake Estates
Tischer Road Townhomes
Top Of The Pines
Tower Villas
Townes at Umstead Park
Tradewinds
Traemoor
Traemoor Manor
Traemoor Village
Trailside Commons
Trailwood Heights
Trailwood Hills
Trailwood Knoll
Trailwood Springs
Trillium
Trinity Grove
Triple Creek at Valley Stream
Trotters Ridge
Tryon Pines
Tryon Place
Turnberry
Turner Downs
Turner Farms
Tuscan Lake
Tyler Farms
Umstead Crossing
Umstead Ridge
Umstead Village
University Oaks
University Park
University Woods
Upchurch Place
Valley Cove
Valley Crest
Valley Estates
Valley Stream
Vantage Point at River Ridge
Velvet Cloak Villas
Victoria Place
Village at Beacon Hill
Village at Pilot Mill
Village at Pinecrest
Village at Westgate
Village Glenn
Village Grove
Village Lakes
Village Of Inverarry
Village On The Green
Villages Of Fox Run
Villages Of Tryon
Waco Heights
Wakefield
Walden Pond
Walden Woods
Walnut Bluffs
Walnut Creek
Walnut Ridge
Waterford Landing
Waterford Square
Waverly Pointe
Wayland Heights
Wayneridge
Weatherby Villas
Weatherhill
Weathersfield Place
Weaver Land
Wedgewood
Wellington Commons
Wellington Woods
Wesley Woods
Weslyn
West Parkland
West Skycrest
Westavia
Westborough
Westbury Manor
Westchester
Western Manor
Western Park
Westgate
Westgrove Towers
Westlake Pointe
Westlake Reserve
Westlake Village
Westover
Westover
Westridge
Wheeler Park
Wheeler Place
White Oak Forest
Whitecroft Manor
Whitehall
Whitehurst
Whittingham
Wilders Ridge
Wildwood Green
Williams Condominiums
Williamsborough
Williamsborough Square
Williamsburg Court
Williford Place
Willow Lake
Willow Lakes
Willow Ridge
Wills Grove at Alyson Pond
Wilmont
Winchester
Winchester Pointe
Windchase at Beechtree
Windsor Forest
Windsor Park
Windsor Place
Windward Downes
Windy Hills
Winterpark
Wood Grove
Wood Spring
Wood Valley
Wood Valley
Woodbridge
Woodcrest
Woodhaize
Woodland Ridge
Woodlawn
Woodrow Park
Woods Of Ashbury
Woods Of North Bend
Woods Of Northridge
Woods Of St Albans
Woods Of Stonehenge
Woods Of Tiffany
Woodscreek
Worthdale
Worthington
Wyckford
Wyman Park
Wynbrooke
Wyndcroft
Wynde Pointe
Wyndfield
Wyndham
Wynford Place
Wyngate
Wynstone
Wyntree
Yarborough Park
Yester Oaks
Yorkshire Downs
Beginnings [1]
The [North Carolina] General Assembly of 1787, sitting at Tarboro, in providing for calling a Convention to consider the adoption of the Constitution of the United States, recommended the people of the State to "fix on the place for the unalterable seat of government." The Convention, which met at Hillsboro in 1788, resolved that "this Convention will not fix the seat of government at one particular point, but that it shall be left to the discretion of the General Assembly to ascertain the exact spot, provided always that it shall be within ten miles of the plantation whereon Isaac Hunter lived, in the county of Wake."
In 1791 an act was passed by the General Assembly to carry the ordinance of 1788 into effect. It was provided that nine commissioners be appointed to lay off and locate the city within ten miles of the plantation of Isaac Hunter, in the County of Wake, and five persons "to cause to be built and erected a Statehouse sufficiently large to accommodate with convenience both houses of the General Assembly, at an expense not to exceed ten thousand pounds."
This historic tract of Isaac Hunter lies about three and a half miles north of Raleigh, on what was once the great road from the North to the South by way of Petersburg, Warrenton, Louisburg, Wake Court-House to Fayetteville, Charleston and other points.
The act provided for one commissioner from each of the eight judicial districts, and a ninth from the State-at-large. The following were elected: For the Morgan District, Joseph McDowell, the elder; Salisbury District, James Martin; Hillsboro District, Thomas Person; Halifax District, Thomas Blount; Edenton District, William Johnston Dawson; New Bern District, Frederick Hargett; Fayetteville District, Henry William Harrington; Wilmington District, James Bloodworth; State-at-large, Willie Jones.
Willie Jones, of Halifax, was the leader in the State of the anti-Federalists, a member of the Provincial Congress at New Bern in 1774, and chairman of the Committee on Safety in 1776. He refused to accept a seat in the Constitutional Convention of 1787 at Philadelphia, and led the party in the State Convention of 1788 opposed to the adoption of the Federal Constitution. He eventually removed to Wake County, and bought, the plantation now owned in part by the St. Augustine Normal School. It was on this place he was buried, but there is now no stone to mark the spot.
Frederick Hargett was for many years Senator from Jones. James Martin was a colonel of militia in the Revolution, and participated in winning the victories of Moore's Creek Bridge and Guilford Court-House. The deed from Joel Lane for the land purchased for the capital was to James Martin in trust for the State.
Thomas Blount, of Edgecombe, had been a Revolutionary officer. He was the same year elected to the National House of Representatives, and afterwards represented Edgecombe in the State Senate.
Thomas Person, of Granville, was a general of militia in the early Revolution, and afterwards represented his county in the General Assembly. He was a benefactor of the University, and in his honor the County of Person was named.
James Bloodworth, of New Hanover, had often represented his county in the General Assembly. He was a son of Timothy Bloodworth, a gunmaker, and was afterwards Speaker of the House of Commons (as the House of Representatives was then termed), a Representative in the Congress of the Union, and a United States Senator.
Col. Joseph McDowell, the elder, of Burke, was distinguished for his services in the Revolution, and for being a leader of the anti-Federalist party in the West, opposing, in the Conventions of 1778 and 1789, the proposed "immediate and unconditional ratification of the Federal Constitution."
William Johnston Dawson, of Chowan, was a member of Congress and a man of great influence in the Albemarle country.
Henry William Harrington, of Richmond, was an officer in the Revolutionary struggle. He was a member of the Legislature and famed as a planter of immense estates and baronial style of living.
The following were chosen as the Building Committee: Richard Benehan, of Orange; John Macon, of Warren; Robert Goodloe, of Franklin; Nathan Bryan, of Jones, and Theophilus Hunter, of Wake.
The ordinance locating the seat of government in the County of Wake. The first to suggest "Raleigh" as the appropriate designation for the future capital was Governor Alexander Martin.
James Iredell afterwards had the distinction of being honored with a seat on the bench of the United States Supreme Court, and is to be distinguished from James Iredell, his son, who was Governor in 1827, and at the time of his death, at an advanced age, a resident of Raleigh.
The commissioners were directed to purchase not less than six hundred and forty nor more than one thousand acres, and to lay off a town of not less than four hundred acres. The main streets — Fayetteville, Halifax, Hillsboro and New Bern were required to be 99 feet, the remainder 66 feet wide. Twenty acres or more were to be allotted for public squares.
The commissioners were to be allowed twenty shillings (two dollars) per day and expenses.
First Sale of Lots.
The same commissioners who located the city made the first sale of lots, one acre each. The square on which Dr. Hogg lived, bought by General Davie, brought $254 — the two lots fronting on Wilmington Street, $60 each; the two others on Blount Street, $66 and $68, respectively. The lot (No. 211) on which the Supreme Court and Agricultural buildings are now situate brought $263. At this sale, Treasurer John Haywood (grandfather of Mr. Ernest Haywood) purchased the site on which the latter now resides (on New Bern Avenue), and in 1793 erected thereon the house which has been the residence of the Haywood family to this day.
Raleigh is situated about the center of the State, a little to the northeast of the geographical center. It is located in a gently rolling region of the oldest Laurentian system. Average temperature: Spring, 58.7; summer, 77.6; autumn, 61.0; winter, 43.2 — comparing favorably with Los Angeles, Mexico, Naples, and Rome. During the Civil War it was designated by a board of eminent surgeons, appointed to select sites for hospitals, as one of the several sites in the State most suitable for that purpose, because of its remarkable salubrious climate, combining as far as possible all influences conducive to convalescence of invalids and health of attendants. The fine old trees which were spared by the original settlers, but rapidly disappearing with city improvements, gave it the sobriquet of the "City of Oaks."
At the southeast corner of the Capitol Square, it will be observed, there are three large stones set in the earth, being about four feet apart and all apparently three feet in height. Between two of these stones, and nearly level therewith, is another though smaller stone, into which is cut a cross mark, representing the points of the compass. The question is frequently asked concerning the significance of these stones and mark. The answer is found in the reference to the longitude and latitude of the city. This was officially determined many years ago, under direction of the United States Geodetic Survey, and these stones were then erected to mark the spot from which the officials took their reckoning.
The altitude of Raleigh is 363 feet, denoted by an inscription on a small copper plate, set in the cornerstone of the capitol, on the northeast corner of the building. This was authorized by the United States Geological Survey, which, through its engineer, Mr. W. Carvel Hall, obtained permission from Governor Carr in 1876, to make a permanent record of this fact in the manner above mentioned.
Amis, Moses N., Historical Raleigh with Sketches of Wake County and Its Important Towns, Commercial Printing Company, Raleigh, 1913
---