Montgomery County, Maryland
Montgomery County Courthouse is located at 100 Maryland Avenue, Rockville MD 20850; phone: 240‑777‑7900.
---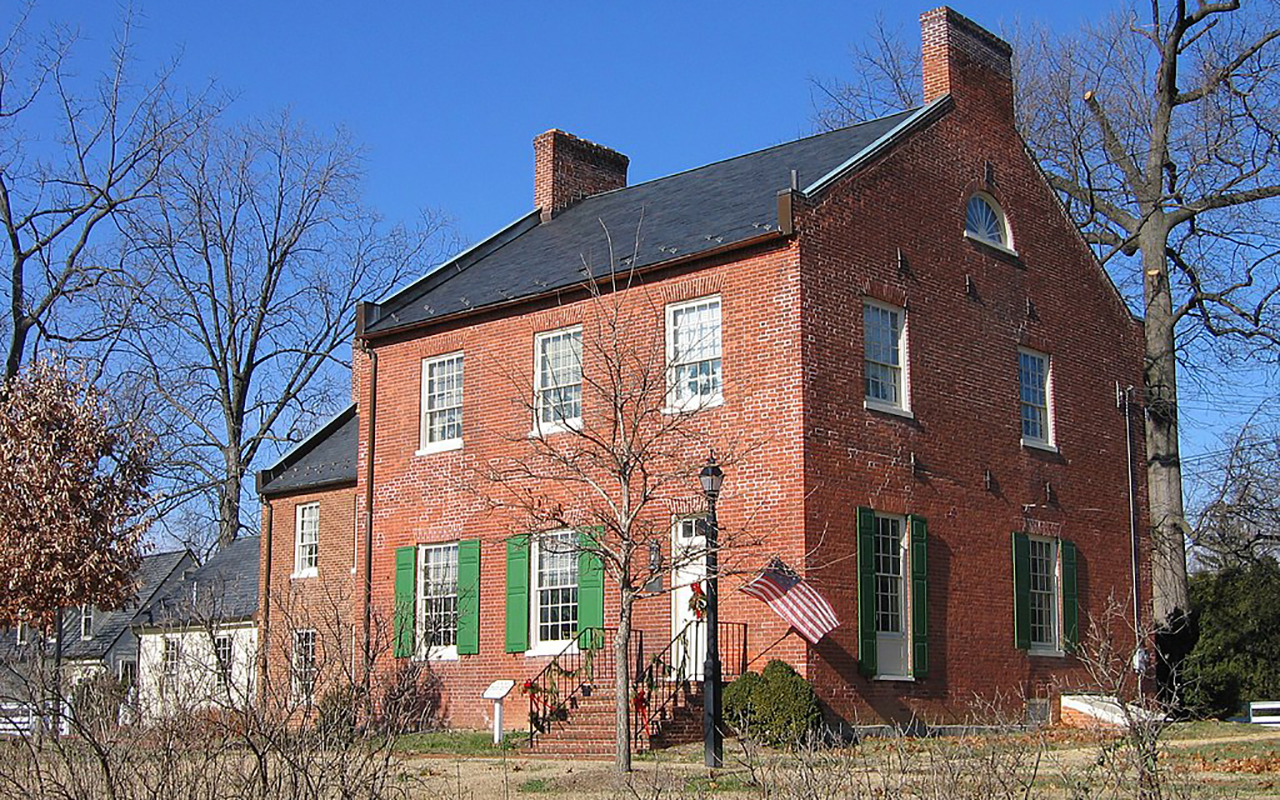 Photo: Beall-Dawson House, circa 1815, located at 103 West Montgomery Avenue, Rockville, MD. Built by Upton Beall, Clerk of the Montgomery County Court. It is now a museum, operated by the Montgomery County Historical Society. Listed on the National Register of Historic Places in 1973. Photographed by User:Aude (own work), 2005, [cc-by-2.5 (creativecommons.org/licenses/by/2.5)], via Wikimedia Commons, accessed August, 2021.
---
TOWNS
Arcola
Aspen Hill
Barnesville Town
Brookmont
Cabin John
Calverton
Clarksburg
Cloverly
Colesville
Colesville
Damascus
Fairland
Forest Glen
Friendship Heights Vlg
Germantown
Glen Echo Town
Kemp Mill
Laytonsville Town
Montgomery Vlg
North Bathesda
North Kensington
Olney
Poolesville Town
Redland
Rossmoor
South Kensington
Takoma Park City
Town of Chevy Chase View
Town of Kensington
Town of Somerset
Travilah
Village of Martins Additions
Village of North Chevy Chase
Washington Grove Town
Montgomery County administrative offices are located at 101 Monroe Street, Rockville, MD 20850; phone: 240-777-0311.
Beginnings [1]
On September 6, 1776, the County of Montgomery was formed out of the "Lower District of Frederick," and named in honor of that illustrious hero, General Richard Montgomery, killed at Quebec the previous year. The county furnished a conspicuous part of the Maryland Line during the Revolution; also, troops in every subsequent war in which the country has been engaged. The first school of any reputation in the county was a seminary for young men, established toward the close of the Revolution, and memorable as the alma mater of William Wirt. The Rockville Academy (1809) and Brookeville Academy (1814) were next chartered and liberally endowed.
In the early history of the county corn and tobacco were the staple products of the soil, until it became so exhausted that Montgomery lost by emigration to the new country beyond the Ohio River large numbers of her population. In 1790 the population was over 18,000 and, fifty years later, 15,456. By the introduction of guano in 1845 by the Society of Friends, a wonderful advance was made in the growing of cereals and grass, and the value of land and farm products materially enhanced. The population of Rockville at the beginning of the 20th century was about 1,200 residents.
Gambrill, J. Montgomery, Leading Events of Maryland History, 1904, Athenaeum Press, Ginn & Company, Boston
HISTORIC SITES
Annington
Beale, Edward, House
Beall-Dawson House
Bingham-Brewer House
Brookeville Historic District
Brookeville Woolen Mill and House
Carson, Rachel, House
Clara Barton National Historic Site
Clifton
Clover Hill
Corby Estate
Darnall Place
Davis-Warner House
Dawson Farm
Dowden's Luck
Drury--Austin House
East Oaks
Garrett Park Historic District
Glen Echo Park Historic District
Hammond Wood Historic District
Hanover Farm House
Johnson-Wolfe Farm
Kensington Historic District
Layton House
Milimar
Milton
Montgomery County Courthouse Historic District
Moreland
National Park Seminary Historic District
Oaks II
Old Chiswell Place
Polychrome Historic District
Poole, Nathan Dickerson, House
Poolesville Historic District
Ridge, The
Rock Creek Woods Historic District
Salmon-Stohlman House
Seneca Historic District
Susanna Farm
Takoma Avenue Historic District
Takoma Park Historic District
Valhalla
Washington Grove Historic District
West Montgomery Avenue Historic District
Wiley-Ringland House
Woodend
Wright, Robert Llewellyn, House
---