Bloomington City
Bloomington City Hall is located at 401 North Morton Street, Bloomington, IN 47404.
Phone: 812‑349‑3408.
---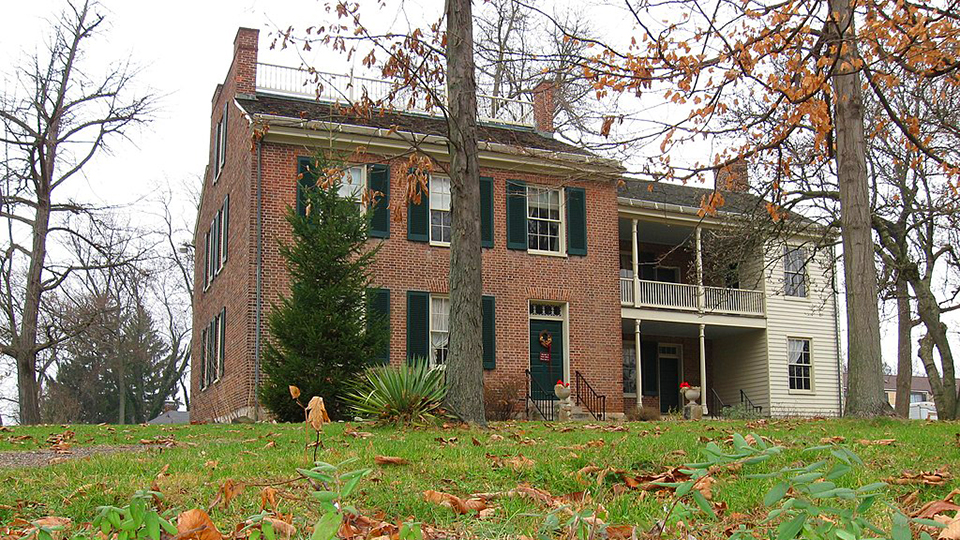 Photo: Andrew Wylie House, circa 1835, located at 307 East 2nd Street, Bloomington, IN. Listed on the National Register of Historic Places in 1977. Photographed by User:HomColumbia (own work), 2009, [cc-1.0 (public domain], via Wikimedia Commons, accessed September, 2021.
---
Beginnings [1]
Upon the establishment of Monroe County in 1818, Bloomington was immediately laid off and lots were offered for sale at public auction.
Neighborhoods
Allen Valley
Arbors at Woodgate
Arden Place
Ashwood
Autumnview
Barclay Gardens
Batchelor Heights
Bay Pointe
Bayberry at Winslow Farm
Bellevista
Bent Tree
Bittner Woods
Bloomington Central Business District
Branches
Broadview
Cascade
Courthouse Square Historic District
Crestmont
Dixon
Eagleview
East Grove Street Historic District
Eastside
Edgemont Park
Elm Heights Historic District
Fair Meadow
Fairview Historic District
Forest Chase
Forest Park Heights
Fritz Terrace
Garden Acres
Gentry Estates
Georgetown Village
Gramercy Park
Grandview Hills
Greater Prospect Hill Historic District
Greater Restaurant Row Historic District
Green Acres
Green Hill
Harbour Pointe
Hays
Hearthstone Village
Highland Homes
Highland Village
Hindustan
Hoosier Acres
Hyde Park
Hyde Park Village
Jackson Mill
Jerden Meadow
Karst Farm
Kensington
Ketcham Ridge
Kingston Estates
Lakeview
Lanam Ridgeview Estates
Lasalles Woods
Leonard Springs
Lockerbie Court
Maple Grove Road Rural Historic District
Maple Heights
Matlock Heights
Maxwell Manors
McCoy
McDoel Gardens Neighborhood Historic District
McDoel Historic District
Moss Creek Village
Near West Side
North Indiana Avenue Historic District
North Kinser Point
North Washington Street Historic District
Northwood Estates
Oaklawn Park
Old Northeast
Parkridge
Parkridge East
Parkview
Pedigo Bay
Pinestone
Plateau Place
Pointe Cove
Prominence Pointe
Prospect Hill
Prospect Hill Historic District
Raub Heights
Red Oak Estates
Ridgefield
River Bend
Rockport Hills
Rush Ridge
Shadow Creek
Shelburne Estates
Sherwood Hills
Sherwood Oaks
Showers Brothers Furniture Factory Historic District
SoMax
South Griffy
Southern Pines
Steele Dunning Historic District
Sterling Woods
Stonechase
Stonecrest at Fieldstone
Summers Place
Sunny Slopes
Sutton Place
Sycamore Knolls
The Highlands
The Woodlands
Timber Ridge
Van Buren Park
Varsity Villas
Vinegar Hill Limestone Historic District
Walnut Creek
Walnut Springs
Waterman
Waterman
West Pointe
West Side Historic District
Westmont Estates
Westwood
White Place Historic District
Windfree Estates
Wynbrooke Estates
First incorporated as the Town of Bloomington in 1828 and re-incorporated in 1859. In 1866 petitions were begun to incorporate the town as a city.
In 1830 Bloomington's population surpassed 700. At that time the "Indiana College" had a large attendance, and excellent corps of instructors and a superior curriculum. There were numerous factories of leather, liquor, domestic and farming implements, flour, tailor goods, and oil. There were many shops, offices, mechanics, artisans, tradesmen, educators, professional men and speculators. It was a prosperous place.
Charles Blanchard, editor, Counties of Morgan, Monroe and Brown, Indiana, F. A. Battey & Company, Publishers, 1884, Chicago.
---