Monroe County, Indiana
The Monroe County Court administrative offices are located at 301 North College Avenue, Bloomington, IN 47404; phone: 812-349-2614.
---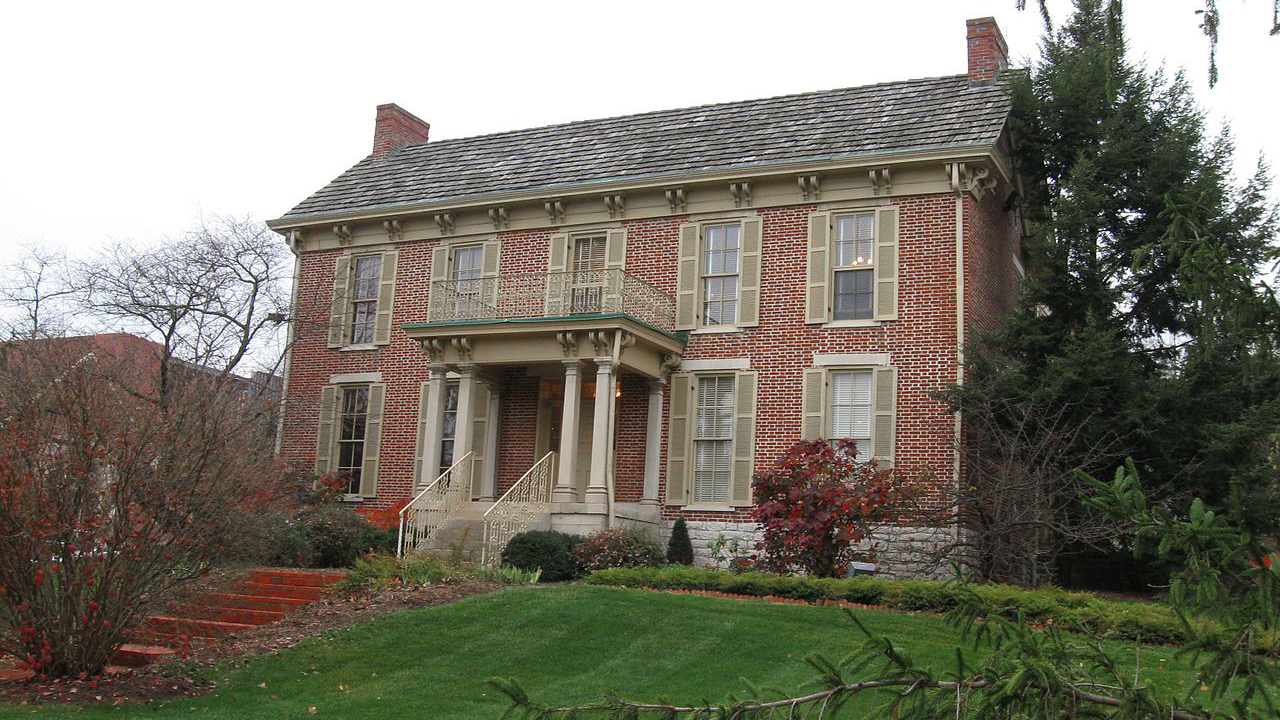 Photo: Cochran-Helton-Lindley House, circa 1849, located at 405 North Rogers Street, Bloomington. Listed on the National Register of Historic Places in 1979. Photographed by User:HornColumbia (own work), 2009, [cc-1.0, public domain], via Wikimedia Commons, accessed September, 2021.
---
TOWNS
Bean Blossom Twp
Benton Twp
Clear Creek Twp
Ellettsville Town
Richland Twp
Salt Creek Twp
Beginnings [1]
The territory that would become Monroe County was on the boundary between the land of the Delawares and that of the Piankeshaws and Pecankeeshaws, so that it was the home and hunting ground of these three tribes as well as of the Miamis.
The territory was not obtained from the Indians wholly at one time from various treaties, and the county was organized before the last treaty was signed. In the southern portion, William Harris and Arthur Henrie surveyed the county lands in the autumn of 1812. In the north a survey was done by Thomas Brown and J. Hedges in 1819.
The legislature approved the county in 1818. A courthouse was established at the home of Adam Blair, and Bloomington was laid out to serve as the county seat, and a log courthouse was quickly built there. The first meeting of the Commissioners of Monroe County was held in April, 1818. The Commissioners were Bartlett Woodward, Michael Buskirk and James Parks.
Charles Blanchard, editor, Counties of Morgan, Monroe and Brown, Indiana, F. A. Battey & Company, Publishers, 1884, Chicago.
HISTORIC SITES
Abel, Elias, House
Blair-Dunning House
Bloomington City Hall
Bloomington West Side Historic District
Cochran-Helton-Lindley House
Courthouse Square Historic District
Ellettsville Downtown Historic District
Legg House
Maple Grove Road Rural Historic District
Mayfield, Leroy, House
Millen House
Mitchell, Joseph, House
Monroe County Courthouse
Morgan House
Nichols, J.L., House and Studio
North Indiana Avenue Historic District
North Washington Street Historic District
Old Crescent, The
Prospect Hill Historic District
Steele Dunning Historic District
Stinesville Commercial Historic District
Stout, Daniel, House
University Courts Historic District
Vinegar Hill Historic District
Wylie, Andrew, House
---