The Bibb County Courthouse is located at 601 Mulberry Street, Macon, GA 31201; phone: 478-621-6468.
---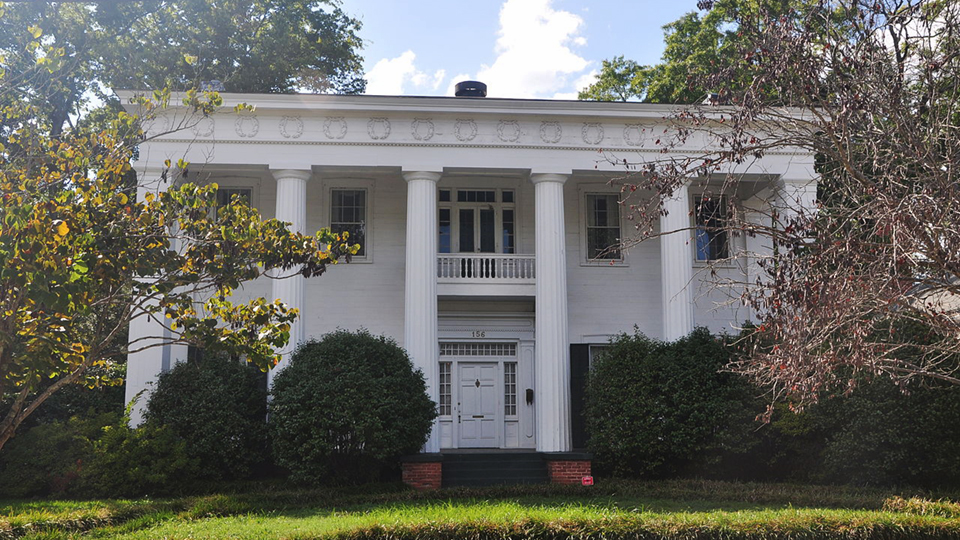 Photo: Circa 1846 Small House, 156 Rogers Avenue, Macon. Listed on the National Register of Historic Places in 1971. Photographed by User:Timkemp (own work), 2014, [cc-by-3.0], via Wikimedia Commons, accessed March, 2921.
---
TOWNS
In a 2012 referendum, voters approved the consolidation of the governments of the City of Macon and Bibb County, and Macon became Georgia's fourth-largest city. The two governments officially merged on January 1, 2014.
Macon‑Bibb County [1] is located in Middle Georgia, approximately 70 miles south of Atlanta and 150 miles northwest of Savannah. Mostly urban in nature, Macon‑Bibb County encompasses 255 square miles and has a population of more than 150,000 making it the 13th largest county in the State. The county is home to nine institutions of higher education and three major hospitals that provide world‑class care, including the area's only Level One trauma center. Macon‑Bibb County is also the cultural center for the Middle Georgia region with the Museum of Arts and Sciences, Tubman African American Museum, Macon Symphony Orchestra, and Georgia Sports Hall of Fame. In addition, Macon‑Bibb County has a strong presence of historic resources, such as the Ocmulgee National Monument, Fort Hawkins, the Ocmulgee River, 10 historic districts and numerous structures listed on the National Register of Historic Places. The county is also home to six annual festivals and a multitude of events, including the Macon Cherry Blossom Festival, Ocmulgee Indian Festival, Tubman Pan African Festival, Mid‑Summer Macon, Arrowhead Indian Festival, and many others. The city and county once relied on the textile industry for its economic foundation. These industries have not only left the area, but for the most part have left the country. This shift resulted in the county scrambling to replace lost jobs, maintain current jobs, and create new opportunities for residents.
Organized in 1822, Bibb County [2] was named for Dr. William Wyatt Bibb, who was born in Prince Edward County, Virginia, in 1780. Wyatt served as a U.S. Senator (1806-1816) and as the first Governor of Alabama. [1]
Macon – Bibb County &mdasg; Big Picture Comprehensive Plan Update 2040, www.dca.ga.gov, accessed March, 2021.
John C. Butler, Historical Record of Macon County and Central Georgia, J. W. Burke & Co., Printers and Binders, Macon, 1879.
---