Macon City
Macon City Hall is located at 700 Poplar Street, Macon, GA 31201.
Phone: 478‑751‑7400.
---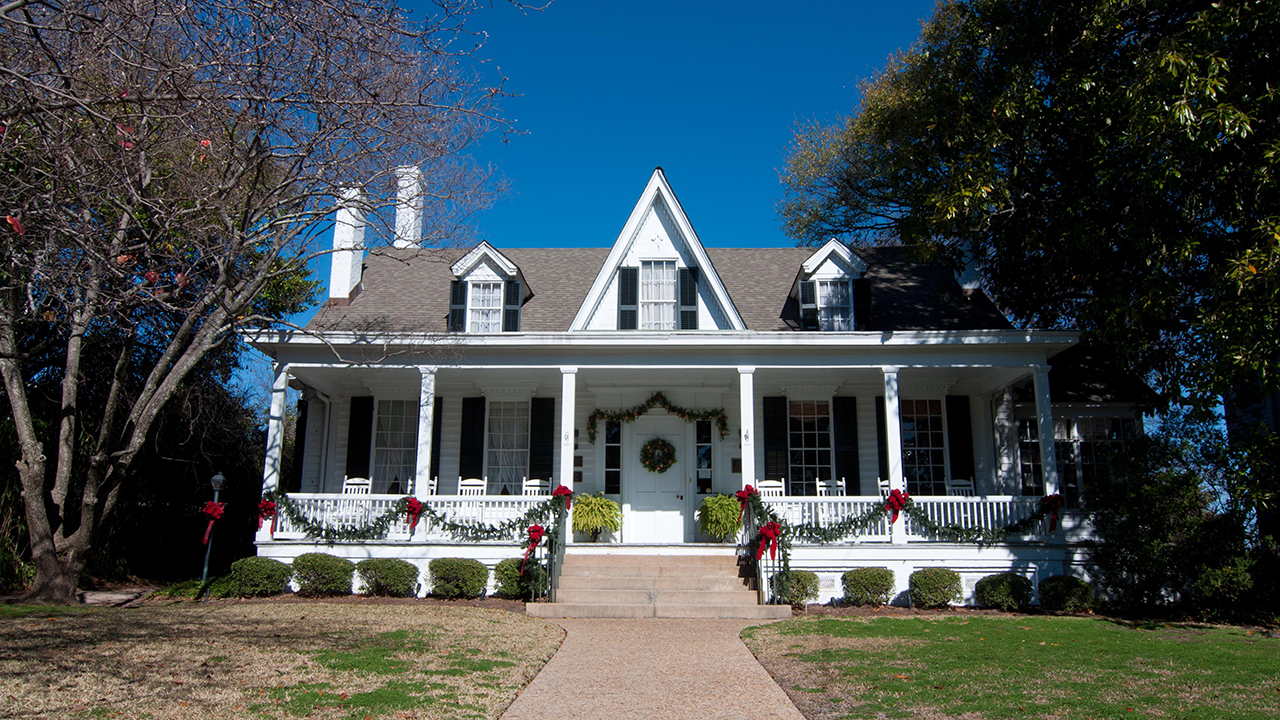 Photo: Sidney Lanier Cottage, circa 1840, located at 935 High Street, Macon, GA. Listed on the National Register of Historic Places in 1972. Photographed by User:Rheave (own work), 2012, [cc-3.0], via Wikimedia Commons, accessed August, 2021.
---
Beginnings [1]
The State Legislature, in connection with the act to establish Bibb County in 1822, authorized the commissioners to lay off a plan for a county town to be called Macon, on the west reserve on the Ocmulgee River. The survey was made in the early part of 1823 by James Webb, the appointed surveyor. It was done in the form of a rectangle with wide streets running nearly north and south in parallels, and those in an opposite direction running nearly east and west. The first row of streets were named numerically one to eleven inclusive, and the opposite row were named Wharf, Walnut, Mulberry, Cherry, Poplar and Pine. At the time the survey was made there was not a single frame building within its limits. Thomas Tatum, in 1822, had built a log cabin, containing several small rooms, which was weatherboarded and used that year and in the early part of 1823 as a tavern and inn. At the upper ferry, just above First Street, there was a single cabin where Mr. E. C. Beard lived; he had been in charge of the old ferry since 1821. The Federal road crossed at his place.
Neighborhoods
Allen
Amber Forest
Antioch Heights
Ashley Oaks
Audubon Pointe
Aultman Pines
Autumn Valley
Azalea Park
Barrington
Bass at Rivoli Farms
Bealls Hill
Beaver Oaks Point
Bedingfield
Bellevue Waters
Berry Hills
Bevinwood
Bloomfield Estates
Blue Branch
Bond Estates
Bradshire
Bristol Forest
Brookefield
Brookhaven
Brookstone
Browns Landing
Burns
Calloway
Camden North
Camp Creek
Canes Crossing
Carsons Walk
Castlegate
Chads Crossing
Chandler Downs
Chappel Hill
Chastain Place
Cherokee Gardens
Cherokee Heights Historic District
Chick-A-Dee
Christophers Cove
Clifton Ridge
Colebrook
Collins Estates
Confederate Acres
Country Club Estates
Country Oaks
Cross Keys Estates
Crumps Park
Danny Place
Desoto Park
Dogwood Acres
East Macon Historic District
Ellis Lands
Elton Park
English
Fairmont North
Fairview
Forest Heights
Forsyth Circle
Fort Hill Historic District
Fosters Green
Fountainbleau
Georgia Terrace
Glen Cove
Glenhaven Addition
Godfrey
Goodall Woods
Grand Harbor
Greenwood
Greystone at Madison
Griffin Crossing
Griswoldville Estates
Groveland
Hallam
Hampton Glen
Hampton Lakes
Healy Plantation
Heritage
Hickory Ridge
High Point North Condos
Highland Hills
Highlands
Hillcrest Heights
Holly Bluff
Home Acres
Hooper Hills
Horseshoe Bend
Howard
Hudson Estates
Huguenin Heights
Huntcliffe at Providence
Ingleside Addition
Ingleside Historic District
Ingleside Place
Ingleside Woods
Irongate
Jackson Heights
Jarrell Heights
Jefferson Hills
Jenkins
Johnson
Jones Crossing
Jordan Forest
Kelli Lane
Kings Forest
Kings Park
Kingsview Village
Kingswood Forest
Kinsale
Lake Sardis Estates
Lake Wildwood
Laura Ann Place
Level Acres
Liberty View
Listening Hills
Lokchapee
Lokchapee Landing
Lundy Terrace
Luvenia Paradise
Lynmore Estates
Lynmore Place
Macon Historic District
Madison
Martha Jones
Mcevoy Heights
Meri Hill
Mikado Place
Mimosa Drive
Montpelier Heights
Napier
Napier Heights
Nautica Pointe
Nelson
Newton
North Haven
North Highlands Historic District
North Wesleyan Gardens
Northminster
Northridge
Northwest Reserves
Northwoods
Nowell Estates
Oaks at Zebulon
Oakview
Oakview Estates
Ocala Plantation
Ousley Place
Overlook at Walnut
Park Place
Patricia Heights
Pecan Woods
Pierce Avenue Heights
Pine Forest
Pinefield
Pineworth Pointe
Pleasant Hill Historic District
Poplar Pointe
Powers Plantation
Preserve at Thomaston
Providence
Quail Ridge
Railroad Industrial District
Richland Estates
River North
Riverside Park
Riverview Addition
Riveside Park
Rivoli Country
Rivoli Downs
Rivoli Lakes
Rivoli Landing
Rivoli Oaks
Robin Lyn Condos
Roycrest
Rutherford Addition
Sabbath Crossings
Savage Creek
Shannon Ridge
Shirley Oaks
Shurlington
Skipper Hills
Sorrell Estates
Springdale Woods
Springfield
Springwood
St Anthonys
St Croix Place
St Ives
Stanislaus
Stone Edge
Stonefield
Stuart Park
Stubbs Hill
Summit Ridge
Sunnydale Acres
Tatnall Square Heights
The Highlands
The Overlook
The Preserve
The Villas at Barrington Hall
The Woods at Ocala
Thornwood
Tiffin Hills
Timber Rdige
Timber Trace
Tindall Heights Historic District
Trotters Ridge
Troupe Hill
Turner
Vineville Heights
Walnut Acres
Waterford Cottages
Waverly Place
Wellington
Wesleyan Estates
Wesleyan Woods
West End Hights
West Highlands
West Ridge Circle
Westchester Hills
Westfaul Estates
Westfield
Westgate Estates
Wheeler Heights
William Gray
Willow Creek Condos
Wimbish Hills
Windmere
Winship Hills
Winslow Oaks
Winslow Terrace
Wolf Creek Run
Wood Valley
Woodland Hills
Woolfolk
In 1822 and 1823 number of immigrants came upon the reserve on the west side of the Ocmulgee. They were known as squatters, who without authority, and before the lots were sold, began the construction of what were called "board camps," which they inhabited. After the lots were sold they moved to the southwestern commons, established as an independent settlement, and became the first suburban neighbors of Macon. They named the suburb "Tigertown," after their ferocious leader, Tiger Jenkins, and well did he deserve the name. He is represented as having been a very rough and muscular man, with a visage as ugly as it was frightful. Like Attila the Hun, he could direct his followers to action by his grimaces, and without uttering a word in command.
The first frame house in town was located on the corner of Fifth Street, commonly called Bridge Street, and Wharf Street. It was built by Henry G. Ross and Dr. S. M. Ingersoll; the first story was occupied for a store, and the upper story for a dwelling. The house was neatly built and was painted white.
John C. Butler, Historical Record of Macon County and Central Georgia, J. W. Burke & Co., Printers and Binders, Macon, 1879.
---