West Palm Beach City
West Palm Beach City Hall is located at 401 Clematis Street, West Palm Beach, FL 33401.
Phone: 561‑822‑1299.
---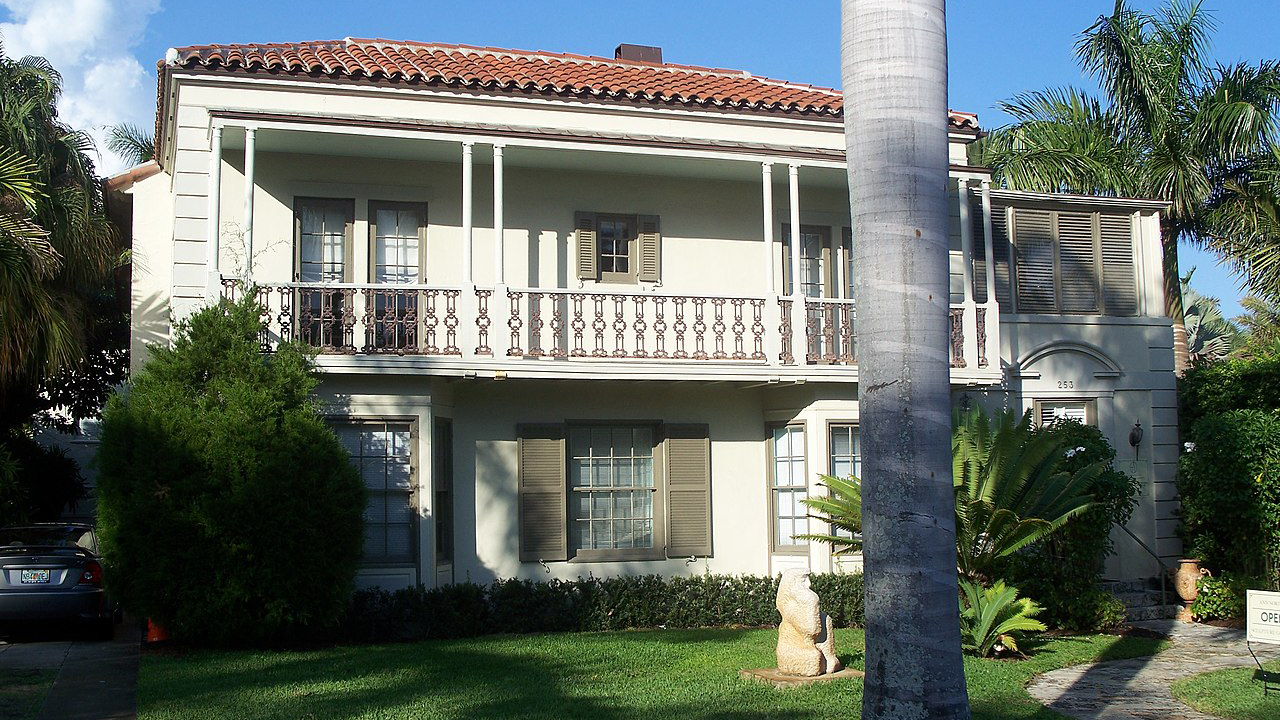 Photo: Norton House, circa, 1925, located at 253 Barcelona Road, West Palm Beach, FL. Listed on the National Register of Historic Places in 1990. It is also a contributing resource in the El Cid Historic District. Photographed by User:Ebyabe (own work), 2010, [cc-3.0], via Wikimedia Commons, accessed September, 2021.
---
Neighborhoods
Abbey Park
Abbey Park Gardens
Acacia Gardens
Acacia Villa
Acrehome Park
Adams
Addis Ababa Addition
Alhambra Park
Alicia
Almeria Addition
Andover Condos
Andros Isle
Anna Johns Estates
Annunziata Palm Beach Farms
Anthony Groves
Arbours Palm Beaches
Arlington Place
Avondale
Bahama Heights
Banyan Lakes
Barristers Bldg Condos
Bay Hill Commons
Bay Hill Estates
Baywinds
Beach Shores
Bear Island
Bear Lakes Estates North
Belair Historic District
Belle Vue Addition
Belvedere Court
Belvedere Isles
Belvedere Park
Bethesda Park
Beymers
Blue Heron
Bonnyview
Boundbrook
Breakers West
Breakwaters
Breckenridge
Brelsford
Brelsford Park
Briar Bay
Briarwood Condos
Briarwood North
Brittany Village
Broadmoor
Bryn Mawr
Bunker Hill Addition
Caloosa Addition
Cam Estates
Camden Condos
Canal Road Addition
Cannongate
Canterbury Condos
Carlberg Court
Carleton Oaks
Central Park Addition
Central Park Historic District
Century Village
Charter Club
Chatham Condos
Chelsea of Wedgewood Condos
Cherry Lane
City Palms
Cityplace
Cityside Condos
Classics at Bear Lakes
Clear Lake Palms
Clematis Street Commercial Historic District
Cleveland Grove Acres
Cloud Lake
Clows Addition
Collinwood Heights
Colonial Estates
Colony
Congress Heights
Connemara Condos
Consulate Condos
Convention Center Townhomes
Country Club Park
Country Grove Condos
Courtyards at Cityplace
Cove at Briar Bay
Coventry Condos
Cresthaven
Cresthaven Villas
Cross Creek
Cypress Estates
Cypress Lakes
Cypress Trail Condos
Dellawana Place
Dillman Heights
Dillman Park
Dover Condos
Drew Manor
Dryden
Ducks Nest
Dunbar Terrace
Dunes Towers Condos
East of Olive
Easthampton Condos
Eastpointe
Echo Lake
Eden Place Condos
Edge Condos
Edgewater
Edgewater Park
Edmor Estates Addition
El Cid
El Cid Historic District
Ellamar
Elmwood Estates
Elwa Place
Embassy Park
Emerald Dunes
Emerald Isle
Emory Villas East
Envoy Condos
Essex Lane
Estates of Baywinds
Estates of Lake Clarke Shores
Estates of South Palm Beach
Eton House
Fairview Villas
Falcon Green
Federal Gardens
Fergusson Court
Fernwood
Flagler Landing
Flagler Manor
Flagler Pointe
Flagler Promenade
Flagler Yacht Club Condos
Flamango Lake West
Florida Mango Estates
Florida Mango Grovelets
Forest Estates
Forest Glen
Forest Hill Club Condos
Forest Hill Gardens
Forest Hill Park
Forest Hill Village
Forest Hill Villas Gardens
Forest Homes
Forest Lakes
Forest Manor
Forest Ridge Park
Foxhall
Foxwood Estates
Frenchmens Landing
Freshwater Addition
Garden Hills
Georgetown Condos
Gladeport
Glenwood Village
Golden Lakes Village
Golf View Heights
Golfs Edge Condos
Golfview Heights
Gramercy Park
Grand Isles
Grandview Heights Historic District
Grant Park Addition
Green Terrace Condos
Greenview Cove
Griffin Square
Grovedale Park
Gun Club Estates
Hamilton Bay
Harbor Towers
Harmony Heights
Hastings Condos
Haverhill Acres Addition
Haverhill Homesites
Haverhill Riding Estates
Haverhill Road Condos
Heritage Village
Highlands Center
Hillside Park
Historic Northwood
Homewood
Humani Court
Ibis
Ibis
Ibis Golf And Country Club
Independence Cove
Independence Point
Indian Plaza Condos
Inlet Grove
Ironhorse
Ironhorse Country Club
Ironhorse Sanctuary
Jamestown Condos
Jonathans Cove
Kelly Addition
Kenwood
Kirklington Park
Knollwood Club
Knotty Pine Acres
Knowles Court Addition
La Fontana
Lafayette Park
Laguna Park
Lake Belvedere Estates
Lake Clarke
Lake Clarke Heights
Lake Clarke Isle
Lake Clarke Manor
Lake Clarke North
Lake Clarke Shores
Lake Clarke Waterway Estates
Lake Clarke West
Lake Colony
Lake Forest Park
Lake Harbor Cove Condos
Lake Harbour Towers
Lake Harbour Towers East
Lake Mango Shores
Lake Mangonia
Lake Patrick
Lake Place
Lake Ridge Park
Lakes of Laguna
Lakeshore Club Condos
Lakeside Green
Lakeview Park Addition
Lakeview Ridge
Lakewood
Lands of the Presidents
Lang Acres
Larson Addition
Lauraville
Lawn Lake
Lena Lane West
Lewis Shore Estates
Liberty Bay
Liberty Isles
Lincoln Park
Links at Emerald Dunes Condos
Lone Pine Estates
Mackle Park
Madden Lake
Maddock
Magnolia Court
Maheu Estates
Majestic Towers
Mango Promenade
Mangonia Hills
Mangonia Park
Marguerita Villas
Mariners Cove
Marsh Harbour
Martinique
Mayan Towers
Mayan Towers North
Meadow Park
Meadowbrook
Mediterranea
Melaleuca Estates
Mercer Park
Merlin Park
Metropolitan Condos
Mezzano Condos
Milano Condos
Military Hill
Military Park
Millers Pines
Miramar
Miramar Park
Miramar Shores
Monceaux
Monmouth Estates
Monroe Heights
Morningside Park
My Place Condo
Normandy Village
North Landing
North Palm Beach
North Shore
North Shore Terrace
North Tamarind
North Wood Harbor
Northboro Park Historic District
Northmore Addition
Northview Addition
Northwest Historic District
Northwood
Northwood Harbor
Northwood Hills
Northwood Pines
Northwood Shores
Norton Park Place
Norwich Condos
Oakton Preserve
Oceans Edge at Singer Island
Oceantree Condos
Old Northwood Historic District
Olive Tree
One City Plaza Condos
One Watermark Place
Opabola Square
Orchid Lane
Orchid Reserve Condos
Osprey Isles
Overbrook
Paddock Park
Palisades
Palm Acres Estates
Palm Beach Country Estates
Palm Beach Farms
Palm Beach Gardens
Palm Beach Grande
Palm Beach Heights
Palm Beach House
Palm Beach Lakes
Palm Beach Lakes North
Palm Beach Lakes South
Palm Beach Place
Palm Beach Shores
Palm Beach Square
Palm Club
Palm Club East
Palm Club Village
Palm Club Village
Palm Club West
Palm Club West Village
Palm Estates
Palm Harbor
Palm Hill Condos
Palm Hill Villas
Palm Lake Condos
Palm Lake Coop
Palm Lake Villas
Palm Ridge Estates
Palma Park
Palmbrooke
Paradise Cove
Park Manor
Park Place
Park Place Townhomes
Park Ridge
Parker Ridge
Parkside Green
Parkview Place
Parliament Condos
Parliament Golf Villas
Pershing Park Lake Addition
Pheasant Run
Phillips Point Addition
Phoenix Towers
Pine Air
Pine Glen at Abbey Park
Pine Hollow
Pine Lake
Pine Ridge at Haverhill
Pine Ridge North
Pine Ridge North Vil
Pinewood
Pinewood Condos
Pinewood Park
Pipers Cay
Placido Mar
Plantation Mobile Home Estates
Plantation Village
Pleasant City
Pleasant City Addition
Poinsettia Park
Polo Club Estates
Ponte Verde
Portofino North
Portofino South
Portosol
Presidential Estates
Presidential Golfview
Price Lake
Prospect Park
Prospect Park South
Prospect Park West
Prospect Park-Southland Park Historic District
Providence Park
Purdy Lane Estates
Quail Hollow
Railway Addition
Ranch House Estates
Rapallo North
Rapallo South
Regents Place
Renaissance
River Bridge
Riverwalk
Rivewalk
Riviera Beach Heights
Rolling Hills
Roosevelt Estates
Rosedale Addition
Rosemont
Royal Forest
Royal Palm
Royal Palm Estates
Rustic Lakes
Sagewood
Sail Harbor
Salisbury
San Michele
Sandalwood
Sandalwood Lakes
Sandalwood Lakes South
Sandpiper Village
Santa Lucia
Santrys
Saratoga at Royal Palm
Saratoga Bay
Saratoga Pointe
Sea Dunes
Seawinds Condos
Seminole Colony Condos
Seminole Heights
Seville
Shadowlawn
Sheffield Condos
Sherwood Village Condos
Shoma
Shoma Courtyards
Sierra West
Silver Beach Acres
Sky Ranch
Slade
Sleepy Hollow
Sloans
Somerset
Sonoma Bay
South End
South End
South Lake Clarke
South Palm Beach Estates
South Trail Park
Southboro Park
Southbridge Condos
Southdale
Southerly Hill
Southland Park
Southland Park Addition
Southside
Southwind
Southwood Heights
Spa at Sunset Isles
Spencer Lakes
Spencer Lakes
St Andrews
St Anns Roman Catholic Church Historic District
Stamford
Sterling
Sterling Villages
Stonehaven
Stonehaven Estates
Stonwall Estates
Strand
Suburban Homes
Sugar Pond Manor
Sugar Sands Condos
Summit Lake
Summit Pines
Summit Run
Summit Trails
Summit Villas
Sunbeam Park
Sunny Palms Villas
Sunshine Park
Sunshine Park
Sunterra
Sussex
Tahoe
Tamarind Park
Taylor Estates
Terracina
The Courtyards at Cityplace
The Cove
The Edge Condos
The Enclave at Breakers West
The Pines
The Prado
The Resort at Singer Island
The Sterling
The Strand
The Whitney
Thousand Pines
Thousand Pines Estates
Tiffany Lake Condos
Timberline
Toledo
Towner Park Rep
Trail Acres
Trails End Villas
Tree Lake
Trianon
Tropical Villas at Forest Hill
Turtle Cay
Vedado
Vedado Historic District
Ventura
Ventura Greens
Via Jardin Condo
Victoria Grove
Victoria Woods
Viking Arms
Villa Del Lago
Villa Lofts
Village of Sandalwoo
Villages of Palm Beach Lakes
Villas at Emerald Dunes
Villas of Ironhorse
Virginia Terrace
Vista Del Lago
Vista Encanto
Washington Heights
Water Glades
Waters Edge
Waterside
Waterview Towers
Waterways
Wedgewood
Wellesley at Lake Clarke Shores
Wellington View
Wenonah Place
West Gate Estates
West Northwood Historic District
Westchester Townhomes
Westfield
Westfield
Westgate
Westward Ho
Westwoods
Whippoorwill Lakes
Whispering Oaks
Whispering Pines
White Caps
Whitehall Condos
Whitney Condos
Willa Park
Willfred Park
Wilshire West Condos
Wilson Estates
Wind in The Pines
Windjammer Cove
Woodbridge Lakes
Woodcrest
Wooded Acres
Woodland Heights
Woodlawn
Woodstock
Worthington
Worthington Estates
Wynnewood Acres
Yacht Club Towers
Yacht Harbor Manor
Yorktown
Yorktown Condo
West Palm Beach as Described in 1939 [1]
West Palm Beach occupies a ribbon of land 8 miles long and approximately 2 miles wide along the western shore of Lake Worth. Although it is the business and railroad center for Palm Beach on the opposite shore, West Palm Beach, with its large hotels and recreational facilities, is a popular winter resort in its own right. Three ornamental bridges and a ferry connect the two communities.
Coconut palms flourish throughout the business and residential districts; thousands more are set out every year by civic organizations. Bicycles are a popular means of conveyance, but in the closely built-up business area, motorcar congestion has necessitated extensive one-way traffic regulations. Through traffic, southbound, passes over the Old Dixie Highway, and northbound, over US 1, one block to the east. Curio shops display articles fashioned locally of native woods, grasses, shells, and clays. Among the winter attractions is the sailfish fleet, with bases on both sides of the lake, which carries anglers to the Gulf Stream fishing grounds.
A small proportion of the population is of Scandinavian origin, descendants of artisans who were brought here to build the first Palm Beach hotels; others are descendants of New Englanders whose forbears pioneered the district. Blacks live in a colony west of the railroad and find employment as field hands, as gardeners and housemen on Palm Beach estates, and in the hotels of both cities during the winter season.
In 1880, Irving R. Henry homesteaded 130 acres of land embracing all of the present business section. His application for registry stated that his nearest neighbor was 3 miles away, that most of his land was a sandy waste encumbered with swamps, and that he had improved 5 acres at a cost of $500. Thirteen years later Henry Flagler, pioneer railroad builder, having selected the island opposite as the site of his new resort, Palm Beach, purchased Henry's tract and developed it as the commercial section of the new community.
Streets were laid out through the flatwoods; waterworks and other improvements were installed; a post office and schools were established. Stores sprang up rapidly, particularly after the coming of Flagler's East Coast Railway in 1893. When the settlement was incorporated in 1894, it had a population of approximately 1,000, composed almost wholly of workers engaged in building the Royal Poinciana Hotel at Palm Beach.
Wishing to exclude all business enterprises from Palm Beach, Flagler proposed to develop the new town merely as an adjunct to his fashionable colony, but West Palm Beach has long since outgrown its subsidiary position. Until Lake Worth was spanned in 1895, passengers leaving trains in West Palm Beach were ferried across to Palm Beach hotels. The wooden railroad bridge was replaced with the concrete Flager Memorial Bridge in 1938.
In 1909 Palm Beach County was created by division of Dade County, and West Palm Beach was designated as the county seat. Although the population grew from 1,700 in 1910 to more than 8,000 in 1920, it retained the atmosphere of a small town. In 1924-1926, West Palm Beach shared in the real-estate boom. Approximately 100,000 visitors stormed the city and vicinity, many remaining to become permanent residents. Accommodations were inadequate in spite of the erection of 4,000 new houses, hotels, and apartments. Lots in the outskirts originally priced at $250, sold for $1,000, and then soared to $50,000. The population increased to 30,000. For a time the city limits, expanded to include mushroom developments laid out in flatwoods and on built-up swampy areas, embraced 11 miles of Lake Worth waterfront and included part of the Everglades.
Two projects contributed materially to the city's steady growth. In 1925-26 the West Palm beach Canal, extending from Lake Okeechobee to the Atlantic, made the community a local point of the Everglades reclamation district. In addition to drainage facilities, the canal, deepest and widest in Florida, provided a short water route for small craft between the lake and east coast resorts. At the same time the Seaboard Air Line Railway built its cross-State extension, linking Tampa with the east coast cities; this line opened a rich and hitherto neglected agricultural territory, and West Palm Beach became the outlet for its products.
Tourist trade supplies the major part of the city's income, and the sailfish fleets provide a livelihood for a large number of people.
Tropical storms occasionally sweep the Palm Beaches; those of 1926 and 1928 were notably destructive, but loss of life was largely confined to the region around Lake Okeechobee.
Federal Works Agency, Works Progress Administration, Federal Writers' Program, Florida: A Guide to the Southernmost State, American Guide Series, Florida Department of Public Instruction, 1939.
Nearby Towns: Lake Worth City • Palm Beach Town •
---