Bay Shore Historic District
Post Office: Miami
Zip Code: 33137
---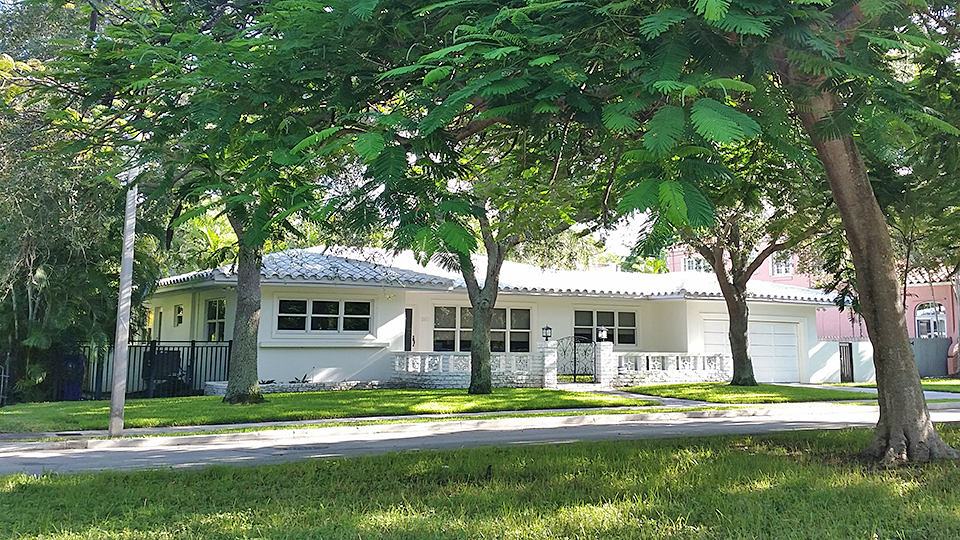 Photo: Home in the Bay Shore Historic District, Miami Listed on the National Register of Historic Places in 1999. Photographed by User:Pietro (own work), 2014, [cc-3.0], via Wikimedia Commons, accessed October, 2022.
---
The Bay Shore Historic District [‡]
Description
The period from 1920 to 1925 was a time of growth and development in Miami. The population doubled and the commercial area expanded, forcing residential developments further away from downtown. Bay Shore's first three subdivisions were platted north of downtown along Biscayne Bay between 1922 and 1924. All three developments were laid out with irregular lot lines. A fourth subdivision, located south of N.E. 55th Terrace, was platted in Bay Shore in 1936 and continued the same general plan established by the earlier subdivisions.
Both the neighborhood's bayfront location and the landscape and streetscape improvements provided by the developer were important ingredients in defining the character of what is known as Bay Shore Historic District. Center parkways were laid out on most streets, with circular islands at many intersections. Thousands of trees and foliage were planted in the parkways and in swale areas between sidewalks and curbs. All east-west streets, except the most northern and southern two, terminate at Biscayne Bay, providing visual access to the water.
To discourage encroaching commercial development from Biscayne Boulevard, the City of Miami designated Bay Shore a local historic district in 1984. In 1991, the city restricted access to the neighborhood by authorizing the closing of a majority of streets at their intersection with Biscayne Boulevard. Bay Shore Historic District maintains its historic and architectural integrity to a high degree and remains one of Miami's most intact and distinct historic neighborhoods.
The general character of the district and the quality of its architecture are largely due to deed restrictions enforced by the developer. No building was permitted to be constructed until plans were approved by the developer. The minimum price of each residence was specified, with the price of bayfront houses almost double that of those on the westernmost blocks. Masonry was the only permitted building material. Various setbacks were established for different sections of the subdivision, ranging from twenty-five to seventy-five feet for front yards. Side setbacks were set at five feet. Land use was restricted to single family residences and necessary garages, and density was limited to one house per lot.
Architecturally, the Bay Shore Historic District reflects the diverse stylistic trends of early twentieth century residential design and the adaptation of these styles to the South Florida environment. Mediterranean Revival is the dominant style in the district and was the original developer's choice to define the architectural character of the area. Generally two stories in height, these buildings display such stylistic features as textured stucco surfaces, Mission tile roofs, round arched casement or double hung windows, cornice moldings, decorative tiles, and wrought iron work. Representative examples of Mediterranean Revival style houses include 5945 N. Bayshore Drive, 601 N.E. 56th Street, 5929 N.E. 6th Court, and 545 N.E. 59th Street.
Although Mediterranean Revival style houses were built throughout the district's period of significance, the Art Deco and Art Moderne architectural styles increased in popularity during the late composition, these buildings feature smooth stucco surfaces, stylized decoration around steel casement windows and doors, a prominent entry way, porthole windows, and glass block. Examples include 695 N.E. 59th Street and 5911 N.E. 6th Avenue.
Buildings classified locally as Masonry Vernacular were built during all periods of the area's development. Several of the Vernacular houses in Bay Shore are very simple in design and do not exhibit the architectural features of any particular style. Other houses, however, contain elements of one or more architectural styles, but cannot be categorized as an example of a particular style. Many, for example, exhibit the influence of both Mediterranean Revival and Art Deco or Moderne styles. These houses generally feature smooth stucco surfaces, Mission tile roofs, and double hung or steel casement windows. Stylized relief ornamentation is a common feature on many of Bay Shore's Masonry Vernacular houses. Representative examples of these houses include 493 N.E. 55th Street and 560 N.E. 55th Terrace.
Other architectural styles that can be found in the district in lesser numbers include Colonial Revival, Mission, and Tudor Revival. Bay Shore's Colonial Revival style houses date from the 1930s and early 1940s and display the adaptation of this national style to the South Florida locale. Generally two stories in height and symmetrical in composition, these houses are often embellished with pedimented doorways, quoins, and columned porticos. Many were built with steel casement windows instead of the more typical multi-light double hung windows, and some have tile roofs. An example is located at 677 N.E. 56th Street.
The Mission style houses in the Bay Shore Historic District were built during the Boom years of the 1920s and are noted for the simplicity of their design and ornamentation. Either one or two stories in height, these houses typically feature central curved or bell-shaped parapets that conceal a flat roof. Arched openings are also common. An excellent example of the style can be found at 549 N.E. 59th Street.
Perhaps the most unusual architectural style represented in the district is Tudor Revival, which can be seen at 467 N.E. 55th Terrace. Characterized by a smooth stucco surface with ornamental half-timbering details, central tower, steeply pitched gable roof, and casement windows, the house is one of the few examples of the style in Miami.
Because of deed restrictions that prohibited frame buildings, all houses in the district are constructed of masonry. Although most are constructed of concrete block, with either smooth or textured stucco surfaces, one house is built of local oolitic limestone. Several houses are faced with dyed keystone, a limestone quarried in the Florida Keys, while others are embellished with stucco scored to resemble stone. In a few cases, surface treatments even include brick, a material rarely used in South Florida.
Many houses were built with detached garages, a majority of which contained servants' quarters, and sheds. In nearly all cases, these outbuildings are located in the rear of each property, behind the principal building, and are not visible from the street. The outbuildings are consistent with the architectural character of the main house.
Significance
Between 1920 and 1925, the population of Miami more than doubled. Prices of land could double or triple in a day during the height of the Boom. Front page stories in major newspapers replaced paid advertisements as the means of promoting South Florida.
In 1922, a large, undeveloped bayfront tract near Miami's northern city limits was platted. Called Bay Shore, this area was subdivided by the Bay Shore Investment Company and was the first of three phases that would be developed by the company between 1922 and 1924.
James H. Nunnally, president of the Bay Shore Investment Company, envisioned Bay Shore as an exclusive residential community and planned for every modern convenience. In designing Bay Shore, the project architects and landscape designers adapted the best of the Garden City concept which had been developed by Ebenezer Howard in England, as well as contemporary American suburban planning concepts, to this bayfront location. The intent was to create a small, satellite residential district, bounded by major streets, with the entire project area focused on abundant green spaces.
Before the first lot was offered for sale, the subdivision was fully developed. Streets, which bore such names in the community's infant years as Toxaway, Hibiscus, Cocoanut, and Albermarle, were paved and curbed; parkways were curbed and trees, foliage, shrubbery, and grass were planted between sidewalks and curbs; and street lighting was laid in underground conduits.
The Boom reached its peak in the fall of 1925, but it had done so on too many empty promises. Although some developments, like Coral Gables, Miami Shores, and many of the smaller subdivisions in Miami delivered on the quality they had promised, too many others had no streets, public utilities, or buildable lots. After a railroad embargo in late 1925 and an accident in the Miami harbor in early 1926, real estate prices began to sink, and the Boom cooled considerably. It was not until the killer hurricane of September 1926, however, that the Boom was dealt its final blow.
The years following the Depression saw the introduction of an impressive new architectural style to Miami—Art Deco or Tropical Deco, as it is typically referred to locally. This century's first popular style to break with traditional revivals, Art Deco looked to the future, not the past, for inspiration. As this style grew in popularity in Miami, the motifs employed became uniquely adapted to South Florida. Nautical and tropical themes were favorite decorative motifs, with pelicans, flamingos, palm trees, ocean waves, and porthole windows embellishing many of the buildings. Architects further adapted the style, melding Art Deco ornamentation with Moderne design and massing. As with the Mediterranean Revival style that preceded it, Tropical Deco became a playful style, uniquely suited to South Florida.
At a time when many lots in other Miami subdivisions were being sold undeveloped and unimproved, Bay Shore was notable for its carefully conceived and executed plan for development.
The exclusiveness of the area was also guaranteed by the deed restrictions that the developers attached to the sale of each lot. These restrictions specified the minimum construction price of each house, ranging from a low of $7,000 inland to $13,000 for lots abutting the Bay. Only single family, detached houses were allowed, while duplexes, apartments, and hotels were prohibited. Construction materials were regulated in that no house could be constructed of wood. Building setbacks and lot frontage were also controlled, and the developer required that all building plans be submitted to the company for approval prior to construction. Houses approved by the developer were primarily Mediterranean Revival in style, featuring Spanish, Moorish, or Italian architectural design elements.
Although Bay Shore developed steadily during the Boom years and even during the Depression, the area witnessed its greatest building expansion between 1936 and 1942. Many of the district's finest houses were built in this period. In 1936, the neighborhood was enlarged. A small area south of Bay Shore, along N.E. 55th Street and N.E. 55th Terrace, was subdivided as Bay Shore Plaza by Islands Incorporated. Although the houses were somewhat smaller than those in Bay Shore, similar deed restrictions guaranteed a continuity in architectural development. Following the United States entry into World War II, construction in the district, and in the city as a whole, virtually stopped.
From its inception in 1922, Bay Shore has been home to many prominent and influential local residents. James H. Nunnally, president of the Bay Shore Investment Company which developed the Bay Shore subdivisions, built his own house on the Bay at 759 N.E. 57th Street in 1927. Edwin S. Blodgett, secretary-treasurer of the Bay Shore Investment Company, built one of the district's first houses.
Other developers and financiers have also lived in Bay Shore, including Paul Scott, who constructed his house at 598 N.E. 56th Street in 1926. Scott was an attorney and vice president, and later president, of the Biscayne Boulevard Company, the group responsible for the development of Biscayne Boulevard from N.E. 13th Street northward to Miami Shores. This project was the single most ambitious individual development project in Miami's early history.
Among the many politicians and government officials who built homes in Bay Shore was Frank Wharton, whose house was constructed in 1926. Wharton was Miami's city manager when he moved to Bay Shore and had previously served as the city's mayor from 1907 to 1911.
Laura Cushman, one of Florida's most respected educators and founder of the Cushman School, continued to occupy the house built by her father in 1925 until her death in 1986. The Cushman School is the oldest private elementary school in continuous operation in Dade County and is noted for its innovative approach to childhood education.
Other noted residents have included William Welch, member of the famous grape juice family; Sidney Meyer, secretary-treasurer of Wometco Theaters; and Harold Steward, a local architect with the prominent firm of Paist and Steward. Lawyers, physicians, realtors, business magnates, and other executives have also populated Bay Shore throughout its history.
Houses constructed in the Bay Shore Historic District reflect the architectural eclecticism popular in early twentieth century Miami. The earlier buildings in the district are predominantly Mediterranean Revival in style, while houses built in the late 1930s and early 1940s are frequently Art Deco. Outstanding examples of both styles are found here.
Bay Shore also features a large number of Masonry Vernacular buildings that frequently utilize diverse elements characteristic of one or more popular architectural styles. Local adaptations of the Colonial Revival style, fine examples of Mission style architecture, and an unusual Tudor Revival style house add to the area's architectural diversity.
Many of the buildings in the district display a variety of distinctive local materials, such as keystone and oolitic limestone. Decorative tropical motifs add to the vernacular expression. Especially prevalent are wrought iron screen doors and precast concrete vents displaying palm trees, flamingos and pelicans. The utilization of these materials and motifs to embellish popular architectural styles creates a distinct architectural expression that provides the Bay Shore Historic District with a special sense of time and place.
The Bay Shore Historic District features the work of more than forty well-known local architects. Kiehnel and Elliott, who introduced the Mediterranean Revival style to South Florida, designed several houses, including those at 463 N.E. 55th Terrace, 527 N.E. 56th Street, and 759 N.E. 57th Street. Marion Manley, South Florida's first known female architect, designed the house at 598 N.E. 56th Street. Gene Baylis, L. Murray Dixon, H. George Fink, Martin Hampton, Gordon Mayor, V. H. Nellenbogen, Paist and Steward, and Robert L. Weed are also well-known, local architects whose works are represented in the district.
The Bay Shore Historic District stands today as one of Miami's most intact historic neighborhoods. It is significant for its representation of the various architectural styles that were popular in South Florida during the 1920s and 1930s. Despite the presence of post-1942 buildings in the area, Bay Shore retains a high degree of historic and architectural integrity. This is due, in part, to the fact that most later buildings are not instrusive, but emulate the earlier structures in scale, setback, materials, and workmanship.
‡ Adapted from: Tulie W. Taylor, Historic Sites Specialist and Sarah Eaton, City of Miami Bureau of Historic Preservation, Bay Shore Historic District, Miami-Dade County, Florida, nomination document, 1992, National Park Service, National Register of Historic Places, Washington, D.C.
Street Names
55th Street NE • 55th Terrace NE • 56th Street NE • 57th Street NE • 58th Street NE • 59th Street NE • 60th Street NE • 6th Avenue NE • 6th Court NE • Bayshore Drive North • Biscayne Boulevard
---